Filling your resume with exclusively truthful statements about your career is harder than you might think. Lying on a resume can take many forms. Don't give in to temptation.
The pressure to write a winning application leads to the temptation of lying on your resume. Especially when you doubt your chances.
When you sit down to write, you don't even know whether you will get any interviews, let alone job offers. You imagine job seeker rivals with more relevant experience and magical skill sets. You question whether you are good enough. It is a slippery slope.
So, you amend one of your job titles, lengthen one of your roles by a few months to cover a gap, and claim ownership of achievements that were never yours. You tell yourself that no one will find out and that you will tell the truth during an interview. 
Big mistake. Lying on your resume will lead to interview lies. 
Some job seekers do lie on their resumes and get away with it. Many are found out and are blacklisted. Take a moment to consider some truths about lying on your resume. Lying on your resume isn't clever. It puts your entire application at risk, not to mention your professional reputation. You never know when that hiring manager might pop up again.
Here is what we cover in this blog:
Why do job seekers lie on their resumes?
The most common resume lies
How can an employer catch you fibbing?
What does concealing the truth reveal about you?
Expert tip
How do you feel about someone who has lied to you? You would likely never fully trust them again. You would certainly doubt everything that they had said immediately preceding and following the lie. Can you see how this would not work out well in a job search context? A potential employer needs to believe that you are telling the whole truth.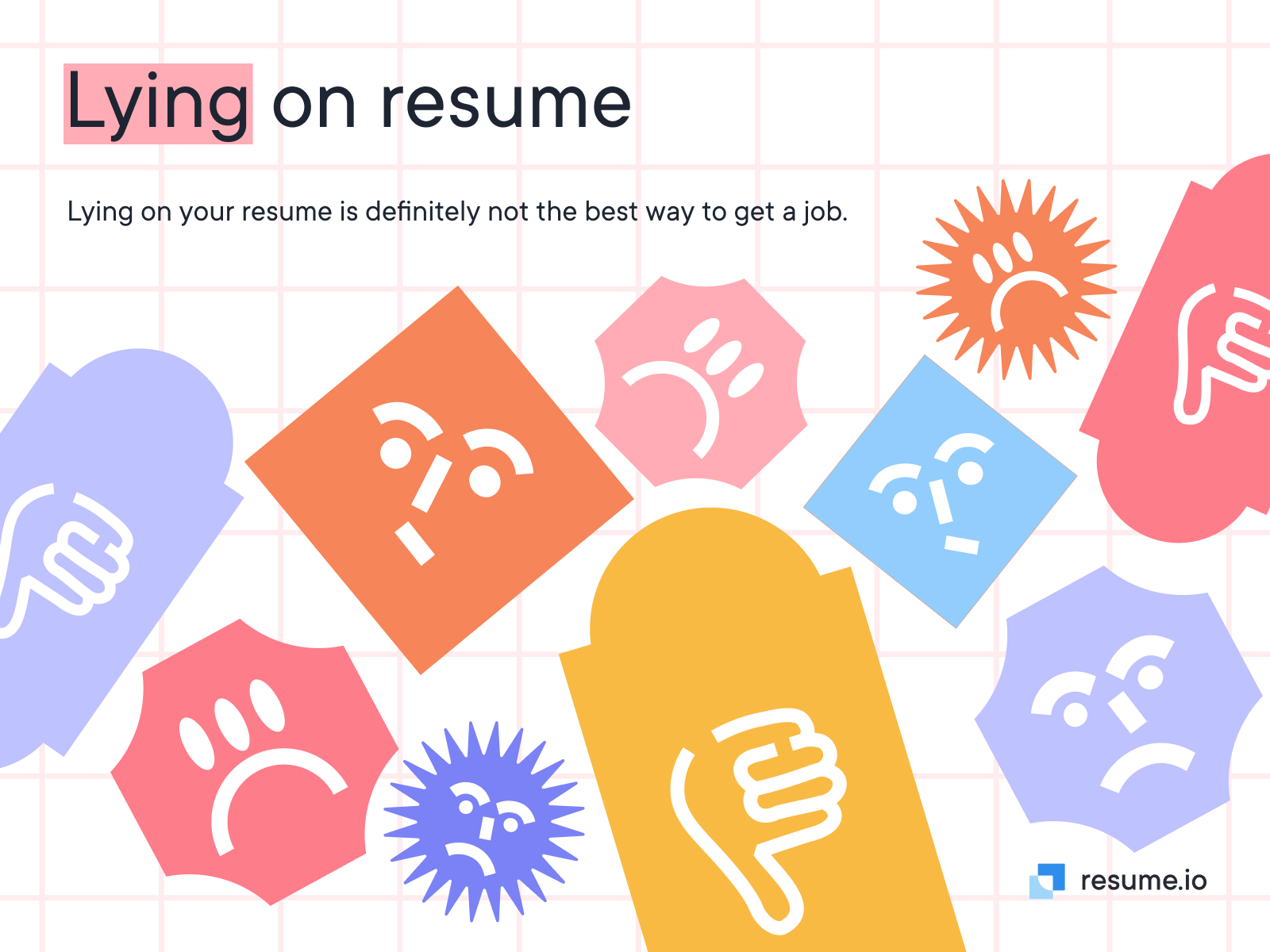 Why do job seekers lie on their resumes?
Insecurity. 
They do not think that they are worthy of the job, so they lie. They write a resume that makes them sound better than they are. It happens with worrying frequency. However, because making a poor hiring decision can be costly, most hiring managers possess a well-honed BS detector. When you get to the interview stages it is all too easy to sniff out those resume lies. Then your application is toast.
While it may be obvious to warn against lying on a resume, the temptations are real. Beware of the most common resume lies and realize how an employer can find out. Lies have a habit of coming to light at the most inopportune times.
The 6 most common lies on resumes
Every job seeker should embrace job search best practices and avoid job search pitfalls. Hopefully, the following will be enough to convince you to tell the truth on your resume.
1. Exaggerating achievements
Being vague about the nature of achievements is a common resume white lie. Candidates may choose to omit the extent of their participation to create a veneer of success. 
The trouble comes when they are asked to expand on their claims during an interview and the truth comes to light. Your resume is about your achievements. Don't attempt to take credit for the work of others.
2. Fictional education details
While few people will make up their top-line college or university education details, some may be tempted to add additional courses or awards that never existed. It is especially tempting to maintain that you graduated when you didn't quite finish the course. In this case, just give the honest dates of study – and be ready with your reasons.
University reference systems are automated. They will shoot out accurate references in an instant, so don't think that your activity will not have been accurately recorded.
3. Creativity with employment dates
Everyone knows that employment gaps are viewed with suspicion, although the best policy here is to have a ready explanation. But what if you were looking for a job for nine months? You decided to take a break and it took you longer than expected. The thought of a potential employer wondering about the gap makes you feel insecure. 
Then you think of a solution that seems simple enough: Why not add a couple of months onto one role and make the next role start a couple of months earlier? Bad idea. You may be asked for references from previous roles. If you are really that worried, you may consider omitting the months altogether, although this could also raise suspicions. 
4. Imaginative job titles
There is little more frustrating for a job applicant than a previous title that didn't reflect the nature of the role. Some companies simply call things by different names. A manager in one place can be an assistant in another place – and do the same job.
Future employers will scan the titles first to get a sense of your career progression, but it is the detail of your resume that really matters. If they know their market well, they will be aware of how certain companies name their roles. Don't be tempted to lie about past titles.
5. Was the team that big? 
Saying that you worked in a team of six when there were only two of you will not end well. The scope of the work will likely punch holes in your argument and your impact on the eventual outcome may well seem diluted.
Any kind of suspicion can be easily satisfied by a quick message on social media to a previous colleague. You can't get away with lying about numbers. It will be expected that you have edited your resume carefully – take care to get your figures right.
6. Faking your vital statistics
Whether you are lying about your address, your previous salary, or your age, falsely portraying any aspect of your application can have consequences. If employers sense that you have something to hide, they will dig deeper into all sorts of other areas.
There is nothing worse than work celebrating your 50th birthday when you are actually 54! What if they find out somehow? Exaggerating salary is also one of the most foolish lies. The most basic of referencing processes will uncover this one.
How can an employer catch you lying on your resume?
Employers do not open a resume and begin to hunt for inconsistencies. They think the best of any applicant until they realize they are mistaken. 
Here are just a few of the ways in which your lies may be uncovered:
You can't do what you stated you can do
The resume doesn't match your LinkedIn profile
References do not match in certain ways
Don't lie about your age if you are nearing retirement
They learn about the lie from your previous colleague
If you have a lie on your resume and then sense that you might get found out, there are still a few things you can do. There is the option of making a correction to your resume while you are in the recruitment process, or once you are in the job you can do your best to correct the lie where possible (by learning that language or improving that certain skill).
Owning up may still cost you the job, but at least it will be out in the open. Will you be able to sleep at night with a devastating lie hanging over your career? Probably not. The best advice is to avoid lying in the first place.
What does lying tell a hiring manager about you?
Nothing good. They won't think you are creative nor will they be understanding. Unless you are an aspiring politician or snake oil salesman, there is nothing positive about fabricating the truth. Lying once on such an important document will suggest to your future boss that you can do it again. 
If hiring managers find out about a lie in your application, they have no obligation to bring it up with you. They simply won't hire you and will put a "don't not hire" note about you in their ATS system. Oh, and they will tell the recruiters that are working with them – who also may never call you again as an association with you may tarnish their reputation.
Certain lies in certain countries and states may also be more serious, they could cause you to lose your job down the line if discovered and they may also land you in court. Also, if your employment is later deemed illegal, you may have no legal recourse against an employer yourself. Be careful with lies during a hiring process – they can come back and haunt you.
Key takeaways
Start your job search the right way with a compelling and truthful account of your career. If you are lying on your resume you are lying to yourself. Are you right for the job if you need to lie to get it? It's most likely you won't last long if that is the case.
There is no reason to lie on your resume. You will be found out if you do.
You will get the job that you deserve, without pretending to be someone else.
Lying on a resume is common. Employers can spot the signs.
Don't allow resume lies to haunt the rest of your career