Personal banking is a best-of-both-worlds career choice for anyone who enjoys working with people as much as numbers. An outstanding personal banker resume will showcase your talents on both counts.

With 300+ occupation-specific writing guides and free resume examples, Resume.io is here to help with job-winning resources you can bank on for success. This guide, along with the corresponding personal banker resume example, will cover these topics:
Role of personal bankers and the job market outlook
How to write a personal banker resume, including general tips and the best format for structuring the information
Advice on each resume section: header, summary, work history, education and skills
Professional resume layout and design advice.
What does a personal banker do?
The apt occupational title points to what makes a personal banker different from an investment banker. Personal bankers primarily assist individuals with their banking or financial needs, while investment bankers typically work with corporate and institutional clients.
Retail banking (sometimes called consumer banking or personal banking) is the employment sector where personal bankers perform a vital customer service role in community settings. They help customers open checking and savings accounts, obtain mortgages and personal loans, choose banking investment products, and evaluate options for retirement and education funds.
Statistical insight
The job outlook for personal bankers is tough to forecast precisely. As the most commonly cited source of U.S. occupational data, the Bureau of Labor Statistics (BLS) does not have a specific enough job category. But it seems safe to conclude that job growth from 2020 to 2030 will be slow, if these BLS projections are any indication.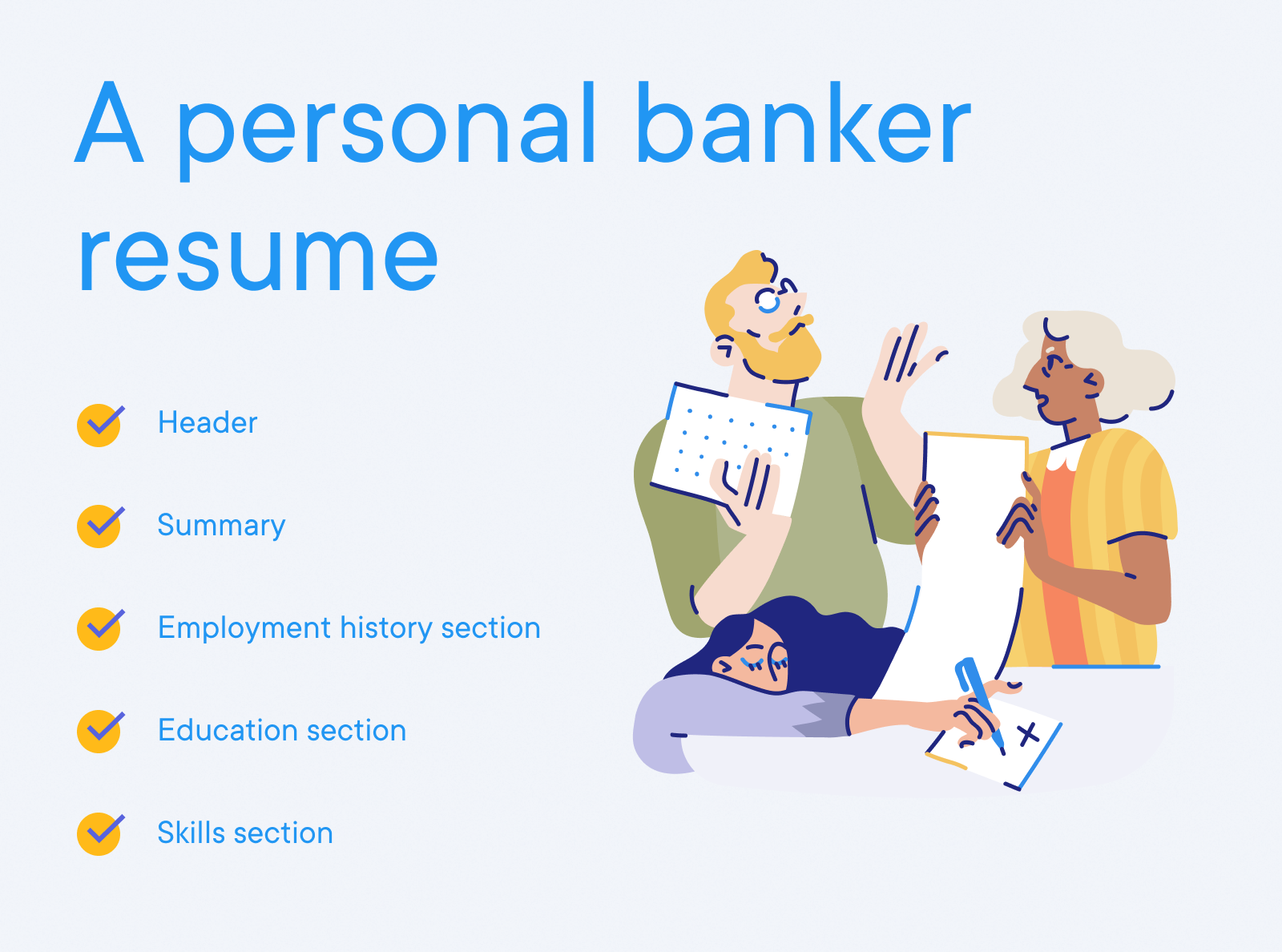 How to write a personal banker resume
Your personal banker resume should fit on a single page and be structured as follows:
Header
Summary
Employment history section
Education section
Skills section
Before offering tips for hitting the mark in each section, here is some general advice for the best sum total. 
Customize your personal banker resume for the specific job application and optimize it for an applicant tracking system (ATS). The hand-in-hand objectives are to: 
Convey that you're an excellent fit for this personal banking position by speaking directly to the employer's needs and wants.
Use enough keywords to pass through the ATS software that many hiring organizations use to electronically filter online job applications. Only resumes that rank high enough for keywords will pass through the filter for review by recruiters.
Choosing the best resume format for a personal banker
Unless personal banking is a significant career path departure, the most commonly used chronological resume format will likely be the most suitable way to organize your job-related background. Recruiters generally prefer this structure for easily reviewing work history listings below employer headings and dates, in order from most recent to earliest.
Other resume formats are worth looking at for less straightforward work history and skills content, especially if you have not consistently held employee positions. Working independently as a financial consultant, for instance, or in any field where specific expertise or niche markets are relevant, might be a reason to consider a functional resume format. Hybrid (combination) resume formats, with both chronological and functional elements, are another versatile option. 
Resume header
A distinctive header gets your personal banker resume noticed off the top, and later makes it easy for duly impressed recruiters to get back to you with an interview appointment. 
On both counts, never underestimate the header's importance. An eye-pleasing header design contributes to your resume's reader-friendliness, while also readily identifying who the document belongs to with vital contact information. Check out our personal banker resume sample for more ideas on creating a great header.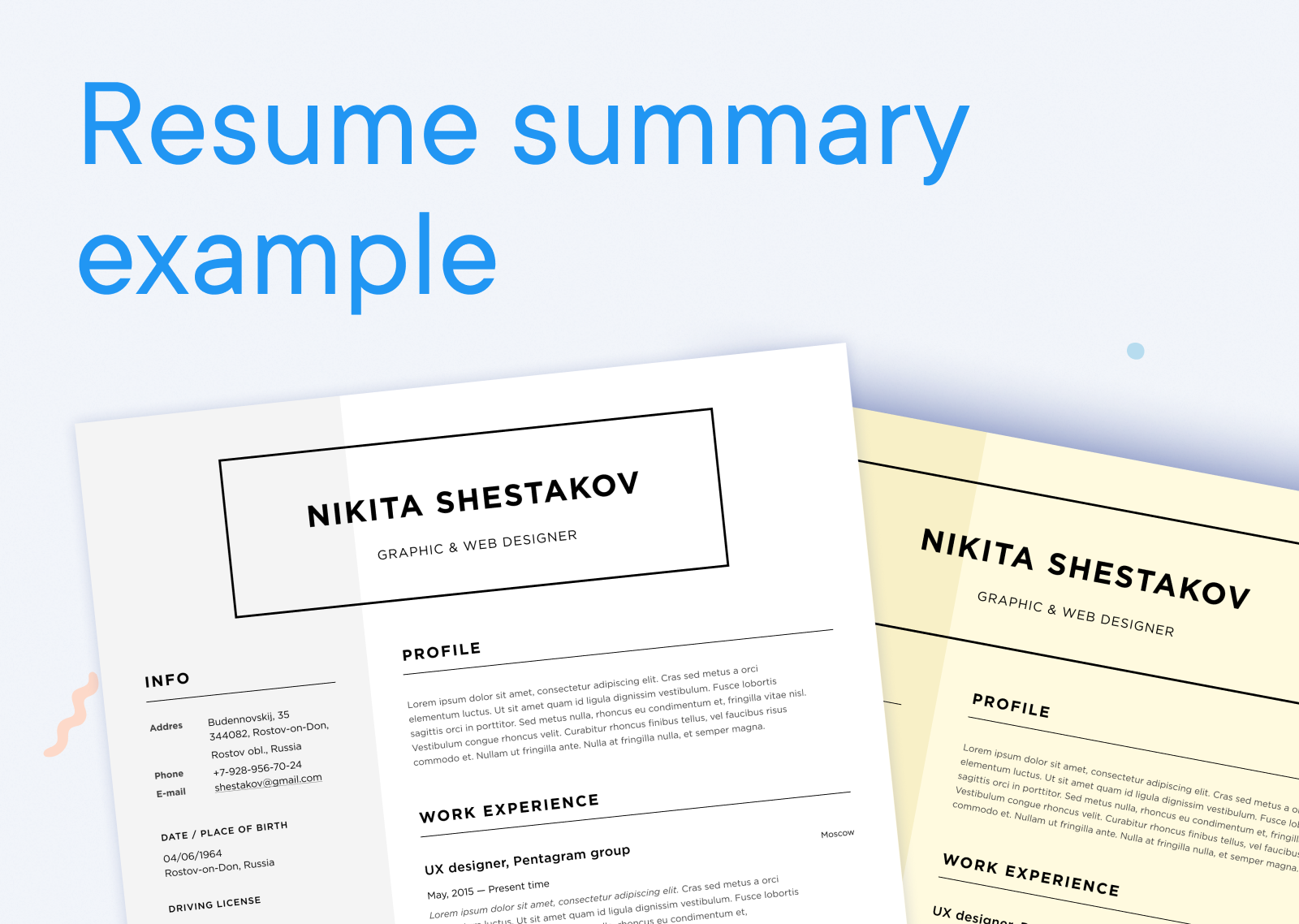 Resume summary example
The summary of your personal banker resume packs promise and potential into a deceptively small space. It should make hiring managers intrigued enough to learn more by giving them an immediate sense that you would be a lucky find for filling this position.
Your efforts to take the employer's perspective with a custom-tailored resume should first be noticeable in this section. As a synopsis of your most relevant and relatable qualifications, the summary (sometimes called "profile" or "personal statement") should also give glimpses of your personality and professionalism. Using descriptive and dynamic action verbs will help you sound energetic, self-assured and results-oriented.
Below is a personal banker resume example summary you can customize.
Adaptable resume summary example
Highly dynamic and attentive personal banker with 10+ years of experience helping clients to make responsible and beneficial financial decisions while effectively working to support all branch operations.
Employment history sample
The more work experience you have, the more selective you need to be in deciding what to include in the employment history section of your personal banking resume. Here, your qualifications are geared most directly and specifically to the needs of the financial institution, its customers and the job itself. This is also the place to set yourself apart from other qualified candidates by articulating strengths that their job applications convey less effectively.
Recruiters are much more interested in your potential future contributions than they are in your past job titles and duties. Try to help them envision the benefits of hiring you for this personal banking position. Focus on specific accomplishments with tangible results that resonate. Include dollar and percentage figures to quantify the impact of business gains to your credit, from new account openings and investment product sales to the interest value of mortgage and loan approvals. Beyond financial bottom line boosts, cite gains in new customer referrals, retention statistics and satisfaction ratings.
Below is a personal banker employment history resume sample you can use while writing your own.
Adaptable resume employment history example
Personal Banker, TD Bank, Norwalk
Feb 2017 - Sep 2021
Developed strong relationships with current and prospective clients, as well as business partners.
Ensured compliance with operational, risk, security and audit procedures and policies.
Assisted clients by providing exceptional customer service and knowledge of products, services and offerings.
Accurately and efficiently processed 100+ transactions a day.
Maintained the confidentiality of clients and their accounts at all times.
Followed policies and procedures to minimize risk.

Personal Banker, Unity Bank, West Hartford 
Jun 2011 - Jan 2017 
Worked to provide an exceptional client experience on a daily basis.
Cultivated strong relationships with partners, small businesses and personal wealth management professionals.
Maintained a strong understanding of Unity Bank's policies, standards and procedures to ensure the security of bank and client assets.
Assessed risks during business decisions, and helped clients to make the safest and most beneficial financial choices possible.
Recognized the transaction needs of clients and educated clients about digital self-service options.
Personal banker resume education example
The education section of your personal banker resume should list your most relevant and recent college degrees in reverse chronological order, from highest to lowest level. 

Include scholastic awards or other special achievements and honors. An impressive GPA is worth noting only if you graduated within the last two or three years.
Include diploma programs, internships and on-the-job training, along with workshops or online courses you've completed as a job requirement or on your own. The same goes for professional association memberships demonstrating your commitment to continuous learning. 
You may have licensing credentials that also belong here, or certifications such as those awarded by the Financial Industry Regulatory Authority.
Below is the education section from a personal banker resume sample.
Adaptable resume education example
Molloy College, Bachelor of Science in Mathematics, Rockville Centre 
Sep 2007 — May 2011 

Long Island City High School, High School Diploma, Queens, NY
Sep 2003 — Jun 2007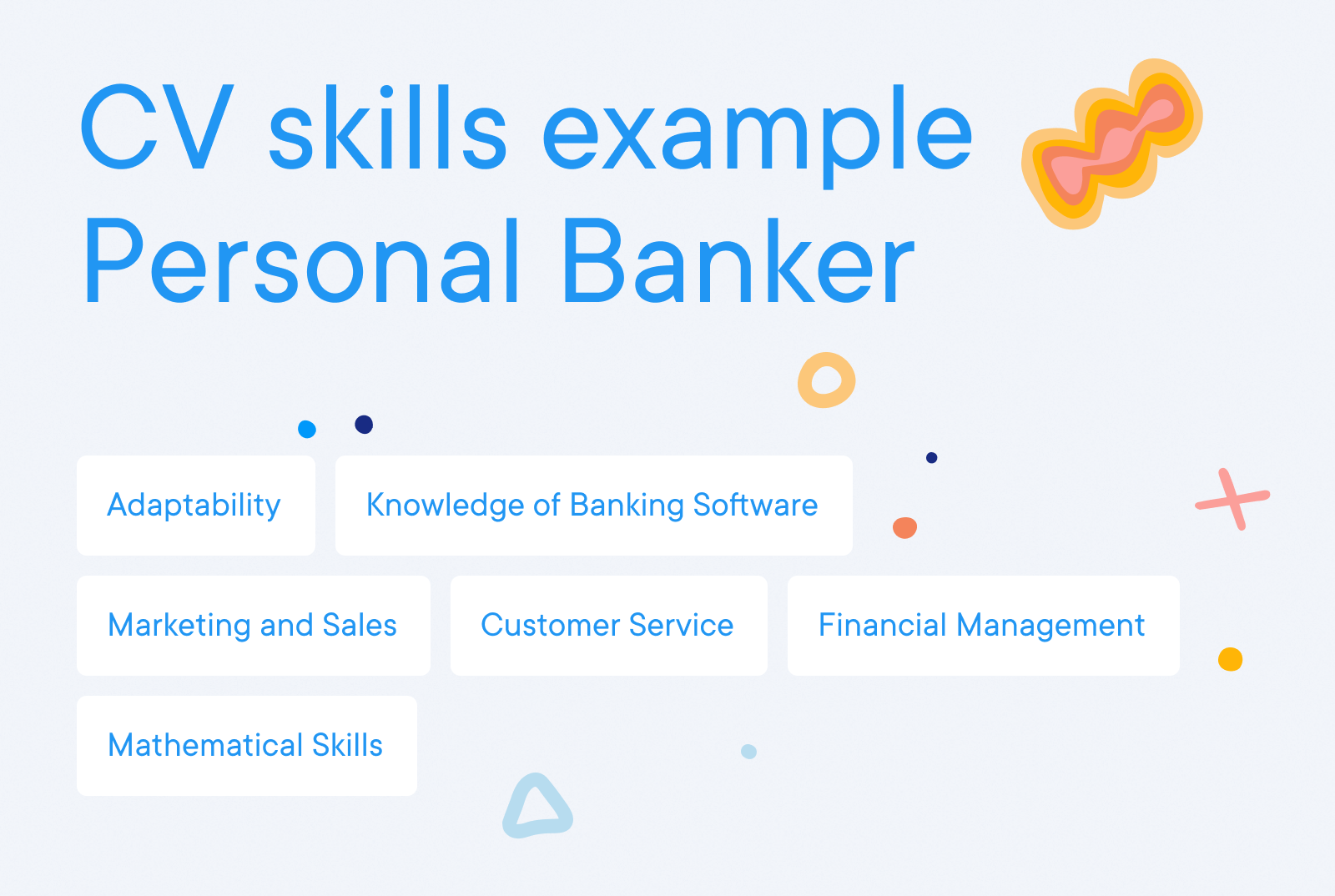 CV skills example
Again, we emphasize the importance of tailoring your personal banker CV to the opportunity you're pursuing. You'll have a long list of essential skills that come with the territory, which hiring managers would expect you to have. That includes knowledge of specific retail banking products and services, and of relevant best practices and regulations.

The tricky part is to cherry-pick from your list those skills that could give you an edge. It also means putting your own spin on the wording to avoid overused skill jargon. Don't be the 101st "detail-oriented team player" that recruiters have heard from this week.

Above all, don't downplay your soft skills just because number-crunching and technical skills are so obviously important for personal bankers. 
Expert tip
In an Investopedia.com blog post, writer Greg Depersio emphasizes the importance of people skills — notably relationship building — for a successful personal banker.
"The ability to forge and maintain strong relationships within the community is by far the most important skill for a personal banker...Most personal banking products are straightforward, but the personal banker has to make the client comfortable enough to want to purchase them with him."
Check out a personal banker resume sample for the skills section below.
 
Adaptable resume skills section example
Adaptability
Knowledge of Banking Software
Marketing and Sales
Customer Service
Financial Management
Mathematical Skills
Resume layout and design
A buttoned-down look, befitting your professional image, is ideal for a resume layout and design that ensures every last detail is impeccably well put together in the cleanest, neatest sense. But that doesn't mean stark or sterile. At arm's length, your resume should appear every bit as inviting to read as it is polished. These are not mutually exclusive goals for a document that's also eye-catching. It's putting your best face forward ahead of the job interview you seek to land. 
Be sure to balance out the text-dense blocks with white space in the surrounding page margins and between lines and paragraphs. Readability should guide all of your text formatting decisions from  font style and size to graphic elements. The use of color and other creative touches should be sparing.
Expert tip
If you don't want to leave any aspect of the formatting to chance, you may consider using a professionally-designed resume template. This is a great way to save time and focus on the writing while being sure you've created an attractive and functional page design.
Key takeaways for a personal banker resume
An exceptional personal banking resume is essential to compete for career opportunities that arise in this tight job market.
Matching your strengths and achievements to what the bank and its customers need is how you strategically tailor every section of your resume.
Quantify your most relevant and impressive accomplishments in dollar or percentage terms.
Be sure to highlight the people skills that are vitally important in your customer service role.
Check out our personal banker resume sample for more ideas on creating an eye-catching page layout.