Think TikTok is all about lip-syncing and dance moves? Think again. The new generation of job seekers post resumes on this social media platform. Here's what you need to know about why and how to create a TikTok resume.
The realms of TikTok aren't all about fast dance moves and lip-syncing. You can now post your resume directly to the platform — as a video. Here's what you need to know about this trend and how it might just land you an interview. 
As a job seeker, you don't want to leave any stone unturned. While there's a lot to be said for the traditional job application process, it's always worth exploring new mediums. Last year, one of the world's biggest social media platforms launched a program to help job seekers. Say hello to the TikTok resume. Within this guide, we will cover the following: 
What a TikTok resume is
Why you might want to consider making one
What to include on your TikTok resume
How to get started (with tips and tricks)
Whether you're new to the platform or already an influencer, you can jump on this job-searching trend. Read on to learn everything there is to know about video resumes.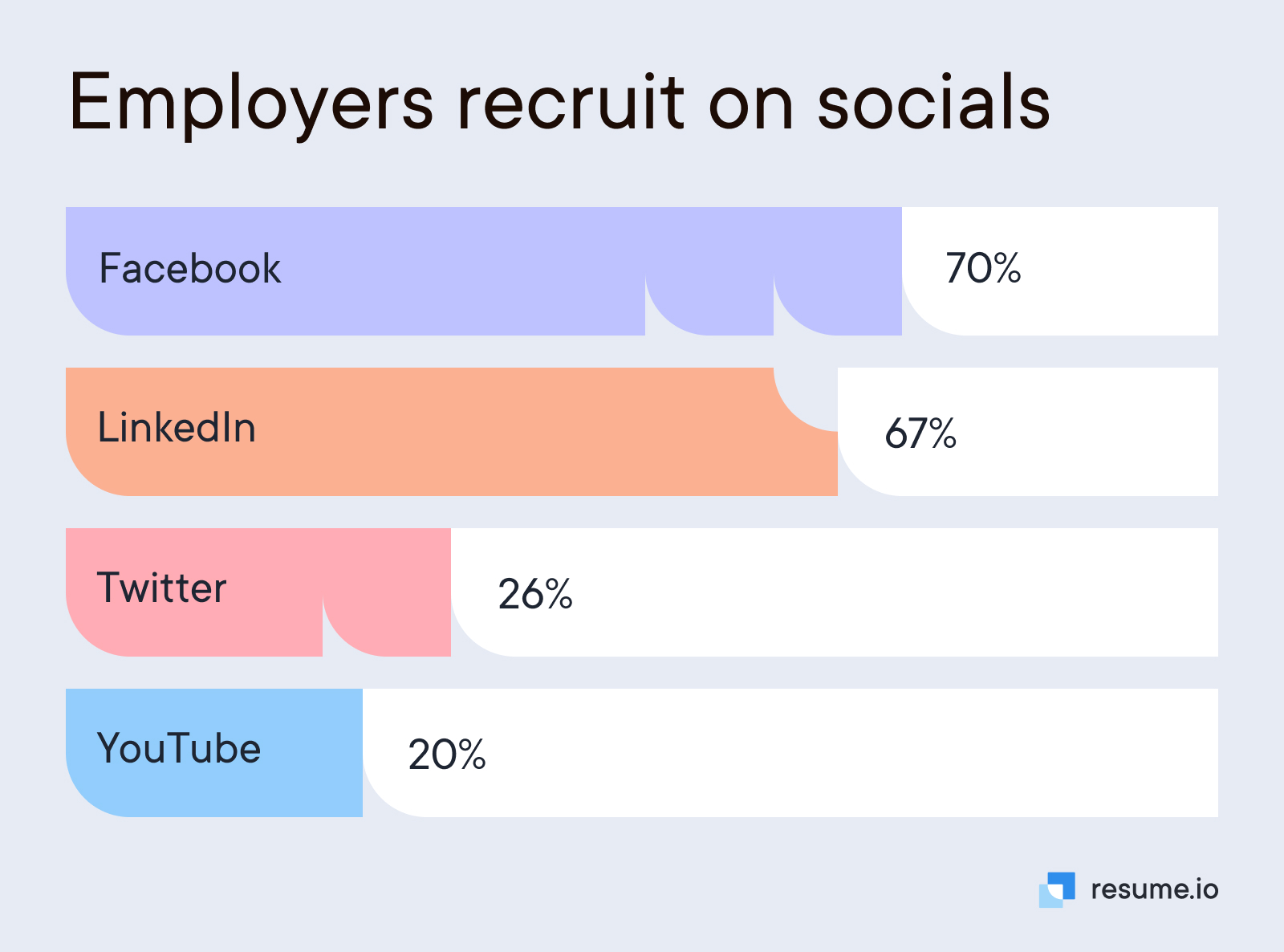 What is a TikTok resume?
Back in July 2021, TikTok launched a pilot program allowing users to post resumes on the platform. That is the short origin story of TikTok Resumes. The idea was simple: Users share their experiences and skills in a clip and send it directly to participating employers.
To kick things off, the social media channel teamed up with 38 companies, including Chipotle, Target, Forever 21, WWE, Alo Yoga, Shopify, and Contra. Those who took part had the opportunity to showcase their expertise to recruiters from these big-name brands.
The pilot program ended at the end of July that year. There is currently no information available on when the next round of TikTok resumes will be. However, there's a good chance that the platform will make the feature permanent. Should that happen, knowing how to make an effective TikTok resume could help you land your next dream job. 
Expert tip
Don't let your social media profiles ruin your job search! 
More than 70% of recruiters agree that social media screening is effective when hiring professionals. Put simply, a potential employer may check out your social media presence when they are deciding whether you are the right person for the job. 
You don't want to put recruiters off. Keeping your Facebook, Instagram, TikTok, and Twitter clean is the key to success. That means ensuring that your privacy settings are high, that you don't post anything rude or offensive, and that the pictures are tasteful.
What to include on your TikTok resume
Thinking of filming a TikTok resume? The first thing you need to know is what elements to include. When you're dictating your resume, be sure to mention the following: 
Your name and a quick introduction
The company and/or brand you're applying to
What you will bring to the business
Your skills and areas of expertise
Your TikTok resume should flow naturally. Rather than simply listing all of the above, try to relate one thing to another. For instance, instead of saying "I have great communication skills," you could say "I developed great communication skills in my previous job at Talk Media." Your video should sound more like a conversation than a scripted speech. 
How to create a TikTok resume: our top tips
While there's no word on when the next round of TikTok resume applications will commence, it pays to be ahead of the game. Learning how to create an effective video resume that turns heads may be easier than you expect. Check out our pro tips: 
First up, dress to impress 
You might be shooting your TikTok resume in the comfort of your own home, but you still need to dress to impress. Wearing your PJs or comfortable sweatpants won't cut it. Instead, you should dress in formal, professional clothing. That means wearing clothes that you would typically wear to an interview. Plan your outfit ahead of time. 
Find a professional setting 
Recording your TikTok resume on your bed is not the smartest idea. A recruiter will look at every part of the video, including the background. If you've got dirty laundry in the corner while you're shooting this, you can bet your bottom dollar an employer will notice. Don't make that mistake. Find a place where the background is neutral or professional. For example, if you have a home study, it may be the perfect setting for your resume video. 
Start by creating a brief script
Before you start shooting your TikTok resume, you need to write a brief outline. You don't want the resume to appear too scripted or wooden. If you don't at least have an idea of what you want to share, you may end up rambling or forgetting to mention certain things. To help you overcome this problem, be sure to write a short script to use as a guide. 
Kick things off with a snappy hook 
When the camera starts rolling, you may be tempted to launch into what makes you the perfect employee. Hold your horses there. Before you share your skills and experience, you need to pique the recruiter's interest. That means introducing yourself in a snappy way. Begin the resume video with a quick hello and a brief overview of who you are. 
Highlight the value you will bring 
When a recruiter is watching your TikTok resume, they want to know one thing. What value will you bring to the team? Use that question as a starting point when writing your script. Talk about what makes you different from other candidates. For example, if you have gained industry-specific awards or achieved impressive feats, mention them now. 
Time is of the essence. You don't have an hour to reel off every professional experience you've ever had. Rather than simply giving a rundown of your professional life so far, focus on your top accomplishments. It may be helpful to write a list and rank them by value. 
Expert tip
Lights, camera, action! 
You don't have to be Steven Spielberg to perfect this art. Luckily, nobody expects you to shoot an award-winning feature film. Scale back. Scale way back. 
Focus on the basics. You can use a ring light — or a strategically positioned lamp — to make sure the video is lit well. Ensure that recruiters can see your face and that the clip is good quality. Use a portrait view and position your smartphone so that only your top half is in shot. The rest, as the old saying goes, will take care of itself.  
Tailor your TikTok resume
Applying for more than one job? You don't want to use a blanket approach when it comes to your TikTok resume. Take the time to look into the participating employers before you make your video. If you want to apply to multiple companies, you will need to tailor your resume to each. That may mean shooting a few different versions of your video resume. 
Practice makes perfect 
Are you feeling camera shy? If you're not at ease in front of the camera, recruiters will be able to tell. For that reason, it's worth practicing your TikTok resume before you film it. You might find it helpful to have a trusted friend go through the basics with you. Rehearsing what you're going to say — and how you're going to say it — will make all the difference. 
Add a closing statement 
Ready to sign off? The closing statement is a good opportunity to add some pizzazz to your TikTok resume. You are speaking directly to the hiring manager. Make it count. Say something specific about the company at hand. For example, you might say that you would love to 'join the Forever 21 team'. Naming the business will make a real impression.
Use the caption feature
You need your TikTok resume to stand out from the crowd. When you've recorded the clip, there's one final thing that you need to do. Click on the 'caption' button on the right of the screen. This trick means that your video will have real-time subtitles. So, when a hiring manager is looking at your TikTok resume, they will catch every last word.
Use the right hashtags 
Spoiler: The main hashtag you need to use is #TikTokResumes. However, you can afford to add a few more in there. You might want to use #CareerTok, #JobSearch, and #JobSeeker. This tip may help you boost your chances of getting found by employers. 
Key takeaways
TikTok launched the pilot program for job seekers last year. We are currently awaiting news on when the full feature will be live.
Crafting a video resume takes time and energy. You will need to wear the right clothes, find the perfect location, write a script, practice it, and even edit it.
Knowing what to include in your video resume will help you along the way. Take the time to consider what employers want to know about you.
Stand out from the crowd — speak directly to the recruiter in a conversational manner.