An informative LinkedIn profile can be a crucial asset to any job seeker. In which circumstances should you choose to include LinkedIn on your resume?
LinkedIn offers many more opportunities for a job seeker to tell their story than a resume.
The multimedia aspects of a LinkedIn profile combined with the social proof of an active network make it a compelling place to visit for any employer who wants to do a deep dive on their future employee. It can be a valuable addition to a resume and cover letter.
The answer to the question "Should you include LinkedIn on your resume?" is a resounding "Without a doubt!" for many and a "nice to have" for others. With one caveat: you need a decent LinkedIn profile in the first place.
In this blog we will explore the nuances of including LinkedIn on your resume, including:
Why do I need to put LinkedIn on my resume?
Where should I showcase LinkedIn on my resume?
Who would benefit from including LinkedIn?
When should you not include a LinkedIn profile?
Job seekers should make the most of every opportunity to sell themselves. LinkedIn opens up a whole new dimension of storytelling potential.
Expert tip
Do employers look at LinkedIn? If you were looking to make a critical hire for your business, would you want to find out as much about them as possible? A recent study found that 95 percent of will delve into the LinkedIn profiles of applicants (whether it is on your resume or not). Including the link on your resume will simply make it easier for them to access. It is a no-brainer for most.
Why do I need to put LinkedIn on my resume?
Over the past decade, LinkedIn has become an essential piece of the job search jigsaw. 
It is a place to find jobs and be found for jobs. You can network with potential hiring managers, work out the most influential recruiters in your industry and read fascinating industry insights from leading thinkers to inform your career choices.
If you are not on LinkedIn (with certain exceptions) you are not interested in your career.
The majority of job seekers choose to put their LinkedIn profile on their resumes, but the quality of profile varies considerably. Ask yourself whether your profile would be interesting for a potential hiring manager? If it is not, either improve it or do not put it on your resume.
Not telling your career story in a different way on LinkedIn would be a missed opportunity. The more time an employer spends considering your application, the more cemented your candidature is in their mind. It is like dwell time on a video or social post – keep those eyeballs on your story for as long as possible.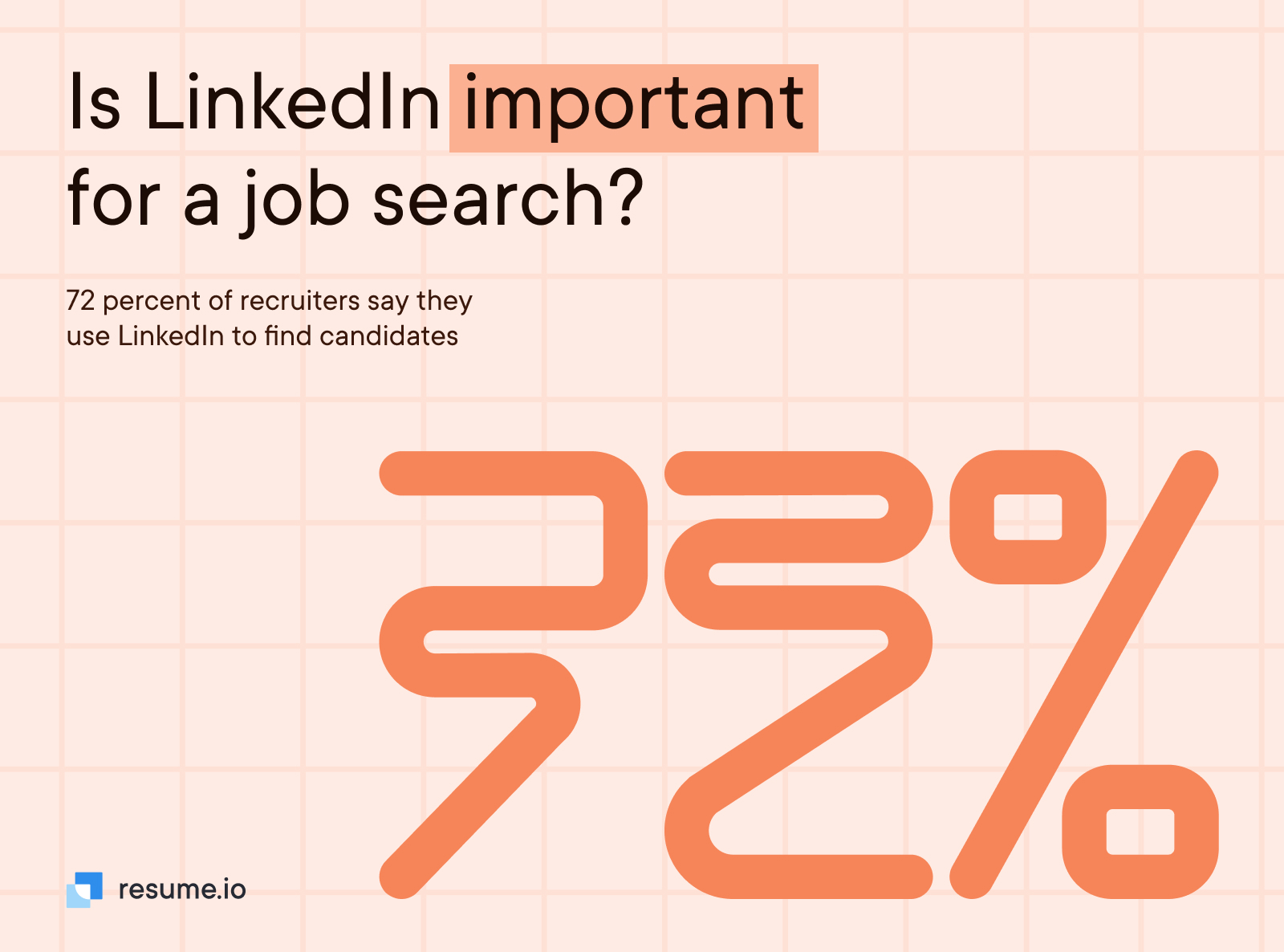 Expert tip
Top 5 (unusual) tips for optimizing a LinkedIn profile:
You will all have read the normal tips for optimizing a profile, so here are five ideas that may find themselves outside the normal lists:
Use your headline for the "future" you (talk about your next role, not the last one)
Write your "about me" in the first-person - be personal as well as professional.
Include one piece of multimedia per job - you must be able to find something.
Include as many previous recommendations as possible – they will be read.
Create a compelling featured section and link to your resume there.
Where to put LinkedIn on a resume? 
The link to your LinkedIn profile should ideally be included in the header section of your resume. Do not hide it somewhere towards the end as it may not be noticed.
It is important to personalize the URL and you can often include a hyperlink (without the www). Even if a hyperlink is not possible, the web address does not take long to type.
Adding a LinkedIn profile at the top of your resume is a subconscious hint that you have much more to say over and above what is in the resume document. If a hiring manager is interested in you, they will visit many times (and you may well see them in your "who's viewed my profile" section). You can then chat with them before the interview to work on that crucial rapport. LinkedIn is really that important.
You might choose to use the LinkedIn icon in your resume, but it is best to stick to a plain text link as an icon may not be recognized by certain types of ATS software.
Expert tip
How do I personalize my LinkedIn profile? I would highly advise personalizing your LinkedIn personal URL. Instead of www.linkedin.com/in/yourname-hw6rfn8bs1d it might read www.linkedin.com/in/yourname. The option to do so is located in the settings / privacy / public profile / edit public profile section. Many popular names will have been taken, but you can add numbers, middle names, or initials. Make sure that it sounds professional. Nicknames are not advised.
Who would benefit from putting LinkedIn on their resume?
An astounding 80 percent of professional job seekers would benefit from creating a compelling LinkedIn profile and including it on their summary. 
There are exceptions, as listed in the next chapter, but in a world where your LinkedIn profile is a tap or two away on an interviewer's phone screen, even including one extra piece of multimedia there could make the difference. 
So many jobs have been secured by saying "If you would like to see my portfolio (etc), it is on my LinkedIn profile." The interviewer then views there and then, during the interview.
It goes without saying that anyone in HR, sales, marketing, or management should be active on LinkedIn as part of their day job, but as recruiters from every industry source candidates on LinkedIn as their go-to database, everyone should be "in it to win it." 
If you are there, your profile should be impressive enough for a recruiter and if that is the case that it should also be impressive enough for an employer.
Expert tip
Does engagement matter? Unless you are going to be working in social media, marketing or sales, your employer won't care if there is not a ton of engagement on LinkedIn. It might seem like a popularity contest but unless this is a key metric of your role, don't worry about it. On the contrary, frantic attempts at farming "likes" might seem desperate and put off a potential employer. Your LinkedIn profile is a window onto your professional life for those who are interested – potential employers will visit, for sure. 
When should LinkedIn be removed from a resume?
There is certainly no blanket requirement for LinkedIn to be included on a resume. In certain scenarios it would be the exception rather than the rule.
Your profile is not ready / impressive
If you find yourself applying for a job out of the blue and your LinkedIn profile is not ready for a potential employer to view, do not include it. Ideally, this would be rare. 
Most job seekers will consider optimizing their profile as one of the earliest priorities in their job search as that is how employers can find them. Even so, if it is unimpressive, leave it off.
Certain professions would not be expected to be on LinkedIn
Being active on LinkedIn would not affect the career trajectory of a nurse, teacher, lorry driver, fireman or many administrative workers (just to give a few examples). 
They may wish to use the multimedia aspects of a LinkedIn profile to share certain videos or presentations to showcase aspects of their careers, but this would not be expected by an employer.
If it is lazy regurgitation of your resume
It reflects incredibly poorly on the job seeker if they have simply copy/pasted their resume employment history sections onto their LinkedIn profile. The character limits on LinkedIn are more generous, so take the time to tell more of an expansive story. 
As previously mentioned, the profile "About me" section is the key selling area. This is where you showcase your most impressive career stories. You obviously can't tailor it for each role, so it will have to be general, but don't copy your resume summary. Use every opportunity to sell yourself to the maximum extent. Other candidates will be.
Key takeaways
Any job search is hard work and creating a worthy LinkedIn profile is certainly not an easy task. Having said this, you get out of your job search what you put in. Creating an amazing LinkedIn profile and displaying it proudly on your resume could make all the difference.
Go beyond the basics to really impress potential future employers.
Personalize your profile and put it prominently in your resume header.
Don't worry too much about engagement if LinkedIn isn't your day job.
Understand the circumstances when LinkedIn may not be required.
Put simply, shout about your career stories in every possible way.
If LinkedIn can help you to do that, then you simply must put it on your resume.