With wardrobes and drawers full of clothes, how do you choose what to wear for an interview? Your answer may well be different for each interview that you attend, so make sure that you do your homework on your future employer. Let's explore a few ideas.
Honestly, I am no fashion guru. I am your normal kind of chinos and open-buttoned shirt guy with comfortable shoes and an air of carefree abandon. In my line of work, clothes don't matter much. My words (hopefully) represent me perfectly well. However, in a situation where first impressions count such as a job interview, what to wear to a job interview will matter a great deal more. 
The nature of the role is not important – you will be judged by what you wear and how you look before the first word even comes out of your mouth. Brutal, right? But it is human nature to initially judge a book by its cover.
With so many choices of outfit available, this takes considerable thought. In this blog, I will share with you my research, which has even made me rethink some of my sartorial choices. We cover the following:
Dress to impress or dress to fit in?
Business professional attire for women
Business professional attire for men
Business casual – tips and choices
Researching what to wear to a job interview
Things to avoid wearing in a job interview
How to wear your hair and makeup in an interview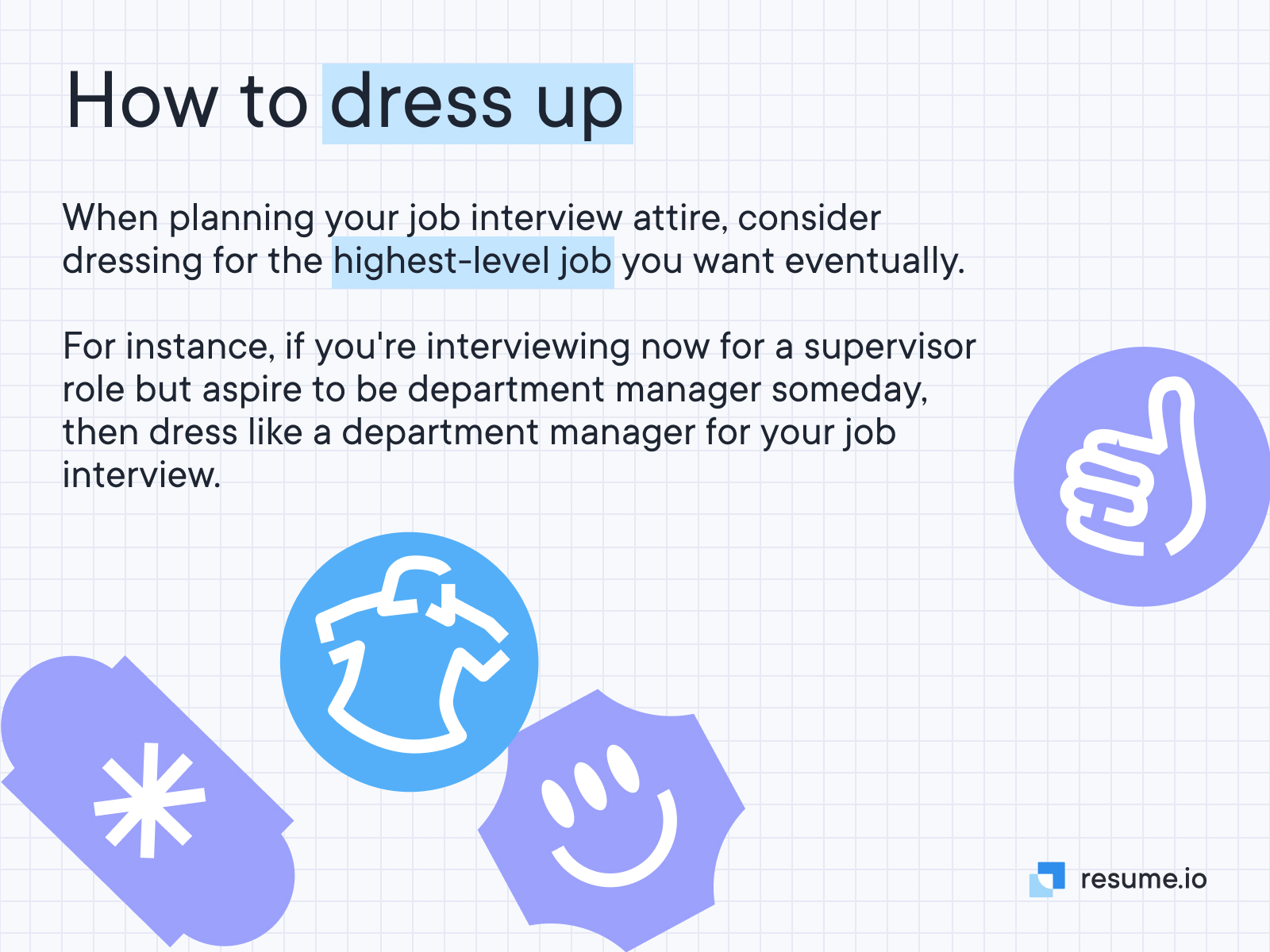 Feeling confident that you have made the right attire choices is important. Whether the interview is in person or over Zoom, the right clothes are a psychological suit of armor that can empower a candidate to be the best version of themselves. Look good, feel good.
Expert tip
Fashion reconnaissance mission. If it is not too far out of your way, strolling past your potential future office to check out the corporate dress code is not a bad idea. Check out what people are wearing and how they accessorize. Maybe hang out in the local coffee shops to pick up the vibe. Failing this, connecting with someone on LinkedIn and (after a while) asking them for advice about the dress code is a solid idea. Find out what your interviewers will be wearing and dress only a touch smarter. Fitting in matters – in every sense.
Dress to impress or dress to fit in?
You will not get the job based solely on your outfit choices. Even if you work in the fashion industry (where your sense of style obviously matters more), there is more to any job than the clothes that you wear and the accessories that you rock. However, what to wear to a job interview is still an important consideration.
Dressing to impress will almost certainly end up with a sense that you are trying a little too hard and overcompensating for what you might lack in other areas. Going hard with the big brand names will create the same impression. Your career achievements speak for themselves - you don't need to turn up in the latest designer gear.
Instead, aim to dress to blend in with the interviewers. Just as you should seek to mirror their behaviors, mirroring the corporate "look" is an interview must. 
If you don't bother dressing to fit in, you risk negative judgments that could be fatal when there are other candidates with similar experiences. Candidates get roles when they pay attention to the small margins. What to wear to a job interview is one of those moments.
Expert tip
Don't wear a brand-new outfit or shoes. Your choices of attire are important, but make sure you don't fluff your interview lines because your blisters are chafing. A brand-new outfit can also make an interviewer wonder whether this is really your normal look. Authenticity is critical, so give those clothes a few outings before your interview. Wearing them around town and thinking through your career stories whilst you are wearing them might give you an extra mental edge. Your interview outfit should simply feel "normal."
Business professional outfits for women
If your future office environment has a more professional vibe, it is worth considering the following choices of professional attire for women when deciding what to wear to a job interview:
Business suits are a safe bet for many careers. A blazer with trousers or a matching skirt, paired with a shirt or blouse with a flash of color is a great option. The contrast of a crisp white shirt always looks fantastic – whether cotton, silk or chiffon – go with what feels comfortable. Choose neutral colors such as black or grey for the suit and ensure a good fit – the sleeves should end at your wrist and any skirt should be knee-length. 
Button down shirts with a modest neckline. Button down shirts and blouses tucked into well-fitted dress pants, slacks or a pencil skirt will create a professional impression. You don't have to stick with plain colors – a simple pattern or detail such as a bow will add individuality. A waist belt can help to accentuate the top. Remember, you don't want to blend into the background entirely. Ensure that the neckline is interview appropriate.
Simple formal dress with sleeves. Most ladies have a formal dress or three that are saved for a special occasion, and an interview is one of those. It shouldn't be too tight, short or revealing – the fit should feel comfortable, and it should look like this is the sort of thing that you genuinely would wear without a moment's thought. Pairing a statement dress with a nice pair of shoes and a formal handbag will create the right look.
Closed-toe shoes that don't distract. You want the interviewer to be looking at your face, not your shoes. For business professionals, it is customary to wear heels no higher than 3 inches, although flats are fine with a splash of color. Typically, brown, black or navy shoes are the safest option. Leave the sandals and trainers next to the front door at home. Make sure that they complement the outfit, are clean and free of scuffs.
Formal skirt or tailored pants? Honestly, either. Much depends on your body shape and your preference. With both options, make sure that the shirt or blouse is tucked in to ensure that no midriff is visible. You need to be able to sit with no unsightly seams or visible bodily creases. Err on the loose side with the fit – leave the figure hugging garments for the gym.
Expert tip
Dress according to the weather. If it is cold, sort out your layers and take a coat. Equally, it would look strange if you came into an interview with wet clothes and hair because you had not taken an umbrella. Plan ahead and dress for the weather conditions like a normal person. Remember that many offices have air conditioning, so don't dress too warmly.
Business professional outfits for men
When it comes to business professional outfits for men, a well-fitted suit is the only option, no matter what the industry or profession. Suit and tie may not be exactly what is worn every day in the office, but for that extra professional vibe it is de-rigueur when considering what to wear to a job interview.
Choose a conservative suit. Conservative suits are generally on the darker side, with minimal extra elements such as pinstripes or other accentuated features. A two-piece navy blue or charcoal gray will be fine – you can choose slightly lighter tones in the summer. Make sure that the suit is not too heavy in terms of the material – especially if you are prone to sweating when the temperature is warm.
Why does shirt color matter? Just as a black suit is not recommended, overly colorful shirts are equally distracting. Solid white (nearly new) shirts or lighter pastel-blue shades will be fine for most professions. Pink, yellow or green might be fine in the more casual atmosphere of a business conference, but not for an interview. Avoid French cuffs with flashy cufflinks unless you are a high-flying executive board member.
Avoid making a statement with your tie or shoes. Black, brown or burgundy. Make sure that you go with a type of shoe that will fit the suite that you are wearing – brogues, loafers, oxfords – whatever you prefer. In terms of ties, going with one solid color is advisable. Your tie will be very visible during an interview, so you do not want it putting an interviewer off their flow. Go with duller colors and make sure that you can tie an acceptable knot.
Expert tip
Can I take my jacket off once I have sat down? Yes, you can take your jacket off, but only if the interviewers have done so.
Business casual – tips and choices
Now, there will be plenty of employers where business casual attire is the norm, but in an interview situation you have to be very careful where you draw the line if you wish to venture too far away from the professional dress that is listed above. If you have any doubts, err on the side of being overly formal.
We list a few attire options to avoid in the next chapter, but it is worth mentioning here that jeans should never be worn in an interview. Equally, polo shirts might be common in a more informal office, but always wear a formal shirt (maybe without the tie for less formality).
In terms of trousers, for men, chinos or khakis in muted colors are fine. Less formal trousers and a-line pleated or pencil skirts for women offer a wide variety of options and you can be free to show some personality. 
Shirts for both sexes should still ideally be plain and simple – your upper body will be visible over the top of the table (there is often an interview table) while your lower body will often largely be hidden.
Business casual looks are often finished off with a lightweight fine-gauge jumper for men or basic cardigan for women. These need to be just the right size – anything that is too baggy will give off too causal a vibe. You don't want the hiring manager to think you haven't thought at all about what to wear to a job interview.
Expert tip
Analyse your look – is anything detracting or distracting? Your interview attire choices should be based around the premise that you want to blend into the interview environment and let the focus be on your career story rather than what you are wearing. Looking attractive will help; but looking too attractive may be a distraction. Find that fine line and walk it carefully.
Researching what to wear to a job interview
When you're choosing what to wear to a job interview, you don't want to get caught out by not taking into account the company's culture. Different companies and industries have different expectations. So it's worth doing a bit of research to make sure you're making a great first impression.
To check out a company's dress code and industry norms, start with their website. Work your way over to their "About" page or mission statement to get a feel for what they're all about. The company culture and values will hopefully be listed somewhere on one of their digital channels. 
Expert tip
Take a peek online
Scour the internet to see if you can find any photos or videos of the company's employees to get a better sense of what people wear to work.
If you know someone who works at the company, like a recruiter or hiring manager, you can reach out to them and ask about the dress code and expectations for interview attire. They may be able to give you more specific advice based on what to wear while bearing in mind the role you're applying for.
When you're checking out dress codes and expectations, it's not just about the industry. Even within the same industry different sectors can have different dress codes, too. For instance, a vibrant or casual outfit might fly at a creative agency. However, they likely have very different expectations than a financial services firm. 
Things to avoid wearing in an interview
Sorry for starting the obvious, but brains can get frazzled when interview time comes near, so here is a reminder of what not to wear to an interview. These attire choices won't differentiate you from other candidates, they will simply leave the interviewers questioning your judgement. That is the last reaction that you should be seeking to elicit. Avoid:
Flip flops, sandals or trainers
Strong perfume or too much makeup
Polo shirt or branded t-shirts
Denim jeans (or anything else denim)
Shorts or short skirts
Attire that is transparent of any kind
Too many distracting accessories
It is also important to note the impact of color. Coordinate your colors carefully and avoid any bright combinations that may distract from what you have to say – especially in a virtual online interview situation. 
Expert tip
Wear your favorite socks (or something else). It is important that our interview attire and accessories make us feel confident as well as create the right impression. If you have some favorite socks, wear them. If your favorite bag fits the bill, take it. The same goes for hair clips and jewellery (so long as they fit the look). Many of us have little superstitions in life and if lucky socks are your thing, then lean into them.
How to wear your hair and makeup in an interview
Now, this is not from personal experience, but here are a few tips for interview makeup and how to wear your hair:
Here are a few simple ideas for interview makeup:
Ensure that your skin is looking healthy by moisturizing regularly.
Apply a light foundation and use a primer to minimize pores.
Choose a light eye liner, emphasize your brows and avoid fake lashes.
Avoid dark lips, but make sure that lipstick is a touch less bright than usual.
Don't attempt an unpracticed look and ensure durability with setting spray.
Make sure that you pack a small supply of touch up makeup (lip gloss, Q-tips).
Hair choices are no less complicated, so consider:
Selecting smooth and sleek styles – waves or natural curls also fine.
Short hair can be accentuated by asymmetrical styles or curly bob cuts.
Side partings, side buns or ponytails can give an individual look.
Double check that you won't be playing with your hair too much.
Make sure that you know that your styling product will do the job.
Expert tip
Stay away from too much jewelry and avoid logos of any kind. Just as your career story should be simple and easy to understand, you should steer clear of wearing too much jewelry and entirely avoid wearing any brands that are overtly visible. You are deserving of that job because of who you are rather than what you wear.
Key takeaways
Do your research, wear something that you feel comfortable in and try to aim your sartorial choices a touch higher than your interviewers.
Dressing for an interview well can give a candidate confidence, but only if they are sure that they have made the right choices before they walk into that interview room.
Select some suitable accessories and aim to look like "one of the team."
Wearing the right outfit won't get you the job; but wearing the wrong one will raise some unwanted questions.
Wear the right outfit even if it's a Skype or Zoom interview.