As an event planner, you are a creator, facilitator, motivator and finisher. How do you create an event planner resume that tells your whole story?
Resume.io's sample resumes and writing guides are the place to start for ideas, tips and inspiration. And our templates and resume builder are designed to help job seekers create a flawless, hassle-free resume in no time. 
This resume writing guide, along with the corresponding resume example, will walk you through the steps towards a job-winning event planner resume that's as well-organized as your success stories. We'll be covering these topics:
What does an event planner do?
How to write an event planner resume, including:

Role-specific language to pass through the ATS screening software
The best resume format to structure your event planner resume
Optimizing the impact of each resume section: header, summary, employment history, education and skills

Professional resume layout and design tips.
What does an event planner do?
Every event planner knows there is a lot more to organizing a seminar, conference or exhibition than meets the eye. If one aspect of the event fails, that is what will stick in the memory of attendees. Event planning can seem like a thankless task. The expectations are sky high, but with so much that can go wrong, it takes a very special person to keep all the plates spinning. When attention is lost, attendees reach for their mobile phones. Then we all know how hard it is to get people "back in the room" when that happens.
No matter what the industry, the best event planners share a multitude of common traits. Event planners might sit on the markting team. But their internal stakeholders are often individual departments in the organization, each having its own external customers. So event planners have to cultivate a broader understanding of different business objectives. 
No two events are the same. Event planners must start with a blank sheet of paper every time, keeping the different needs of each new attendee group constantly in mind. 
Every event plan starts with a deep understanding of what the event needs to achieve, who will be attending and what the core messages are. Creativity and vision are critical at this stage, but it's important that the other internal stakeholders also take ownership of proceedings. 
Providers and suppliers need to be sourced so that the event feels seamless; not everyone works in the same way. Sound judgement and a focus on delivery ensure that the right choices are made. 
Budgets should be tightly managed, and every detail meticulously organized in advance. There will be countless problems preceding and during the event, so a pragmatic and proactive mentality is crucial. 
While an event manager helps to facilitate the solutions, they often have to delegate the work to others on the wider event team. 
Event marketing should be slick and utilize the latest communication channels, in particular social media. 
Lastly, event planners should analyze the impact of their events and produce metrics to showcase the business benefits.
Expert tip
For inspiration and ideas to adapt in your event planner resume, check out these other resume examples in the marketing occupation categories: 
How to write an event planner resume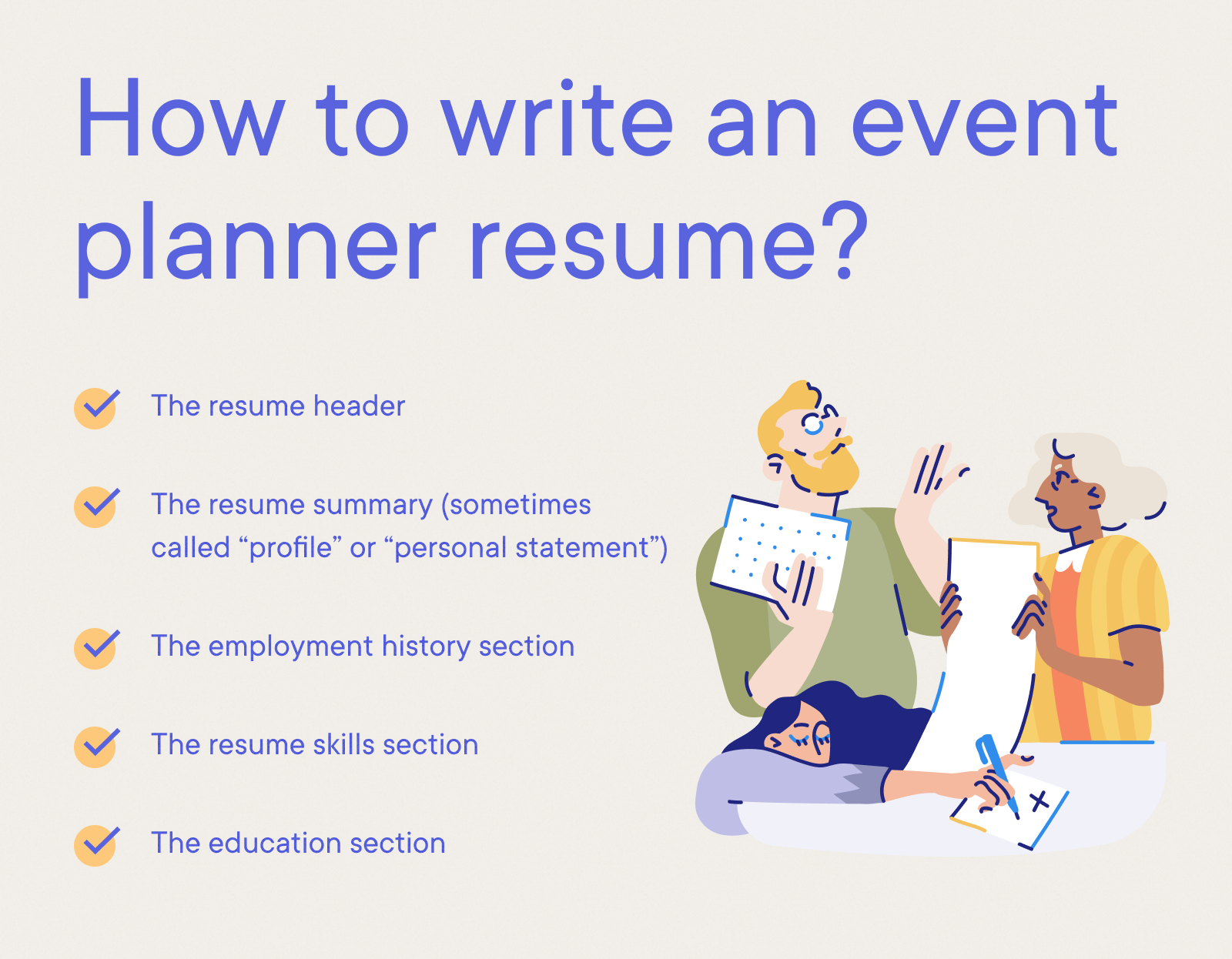 This writing guide offers advice for building an event planner resume that includes the following elements:
The resume header
The resume summary (sometimes called "profile" or "personal statement")
The employment history section
The resume skills section
The education section
Before focusing on each section one at a time, let's look at some overall considerations for an outstanding event planner resume.
Be selective
You wear many hats to make your events as successful as possible. Therefore, your event planner resume should selectively showcase your finest moments for each job function. While it's important to talk about the types of events you have planned, the possibilities are endless. So concentrate on how you go about your job, not just what you do. 
Holding an event is a unique chance to impress clients or customers, but you also run the risk of a catastrophic "off-brand" disaster. Employers of event planners need assurance that their visionary great ideas will be flawlessly organized, and the delivery world-class.
A sense of creativity and adaptability is also critical to convey on your event planner resume. While you might have planned successful events in the past, your future employer might have other expectations. Brand yourself as an event planner who is flexible and responsive — someone everyone can work with. 
The energy of an event should ebb and flow like the tides, inspiring people one minute and then giving them space to think the next. Effectively, the audience is reeled in, then given a chance to take some line. Your event planner resume should work much the same way. Make sure you carry through essential career highlights in the background, but every few lines, inject some "wow factor" detail. You want prospective employers to feel excited about the events you have organized. almost wishing they had been there. 
However effectively these stories are woven into your event planner resume, it will all be for naught if no human has a chance to read them. So above all, you must make sure your resume passes the ATS test.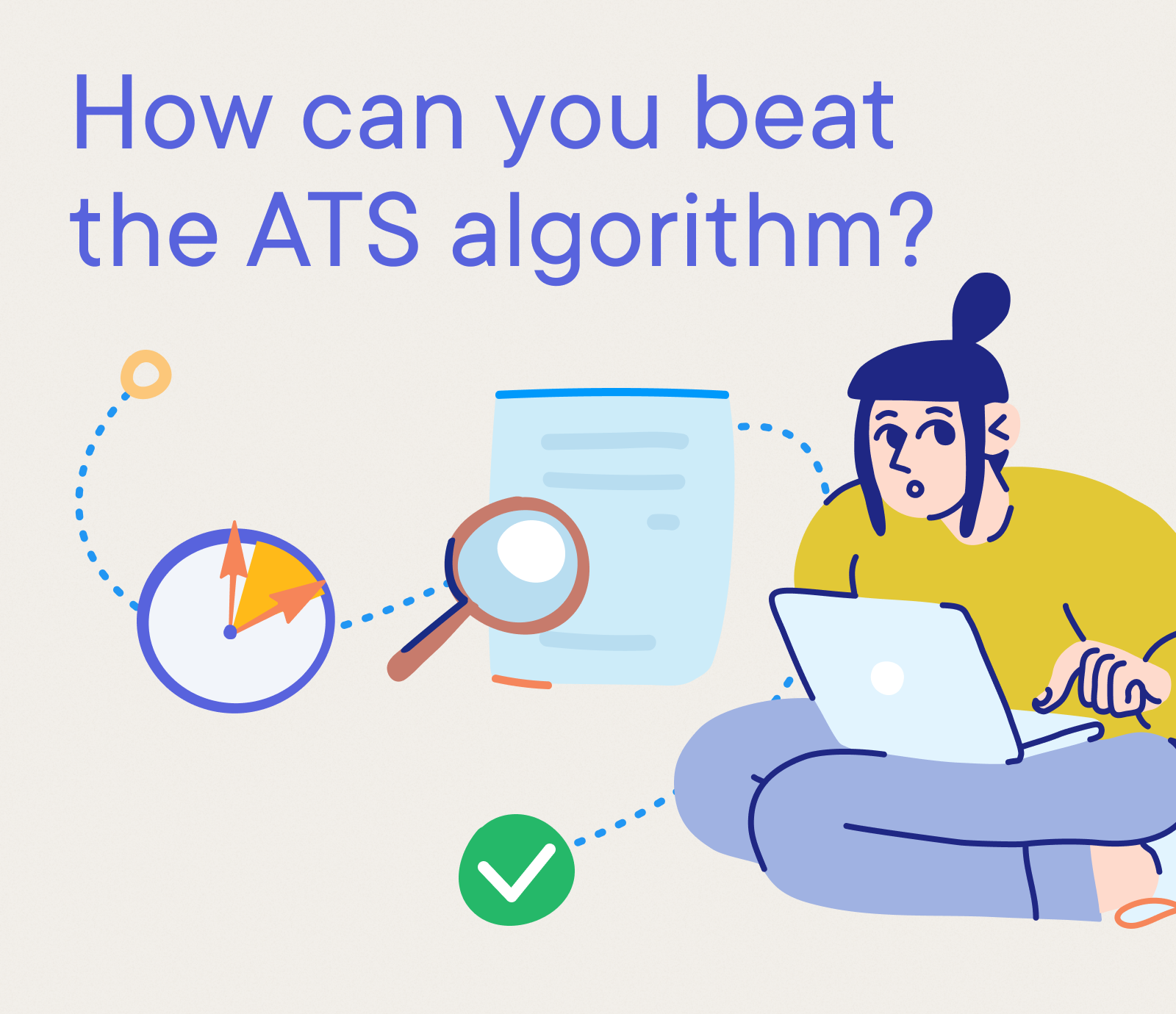 How can you beat the ATS algorithm?
ATS stands for applicant tracking systems, automated technology that most large organizations use to sift through huge volumes of job applications submitted online. Your resume's first stepping stone to success in the recruitment process is getting past the ATS filtering algorithm. The software is programmed to search for a given list of specific keywords, and if your event planner resume falls short, it won't ever make it to the hiring manager's desk. No job candidate can afford for that to happen! 
Writing an ATS-proof resume starts with a careful check of the posted event planner job description. There you'll find some good hints for keywords to use in your resume. Also look at the employer's website for clues about the type of events it might hold. These will vary from industry to industry. Try to customize your resume with examples of similar events and projects you have successfully managed in the past.
Choosing the best resume format for an event planner
The best resume format to highlight your value as an event planner is a structural decision. The most commonly used chronological resume format is ideal for most occupations, and likely suitable for your career highlights. It provides the most straightforward overview of a job applicant's work history, particularly if it follows a linear pattern of employee positions.
But if the event planner role you are pursuing is a radical departure, or your job background has been less straightforward, take a look at alternative resume formats. Having a consulting background of contract work might be a reason to consider a functional resume structure. Your most relevant qualifications can thus be organized according to projects, clients or transferable skills. For even more versatility, a hybrid resume format combines both chronological and functional elements. 
Expert tip
Headlining impact
Strike an instant impression of being a detail-focused event planner. Your resume header can accomplish that with confident-looking design elements to display your name, occupation and contact information prominently on the page. Recruiters can visually distinguish you from other candidates and readily know how to get in touch with you. Double the impact by making your resume and cover letter match, including their headers.
Resume summary example: scale and wow factor
Also known as a profile or personal statement, the summary of your event planner resume should lead with some of your most impressive events to reassure your future employer that you are a safe pair of hands. 
All event planners will say that they are good communicators, proficient at solving problems and possess a fine eye for detail. You should say that too, but not necessarily in this section. Focus your summary on what you have delivered rather than how you delivered it (that can come later in your employment history section). Lead with your big guns, leaving the window dressing for later.
A great event planner summary should incorporate name-dropping and numbers. Tell your prospective employers the brands that you worked with. Let them know where the events were, who was invited to speak and how many attendees there were. Make these events sound like ones that readers themselves might want to attend. 
Don't exaggerate your descriptions; just come across like it's all in a day's work. Your resume summary should give a sense of your job being visibly effortless on the surface, like a swan swimming serenely across the water, while hinting at the frantic activity beneath. You don't need flowery language; just be matter of fact.
Here's an example: Organized an annual two-day conference for 800 people with 50 speakers and 55 sponsors, achieving a 92% "extraordinary" rating. 
You want a prospective employer reading this resume summary to be thinking one thing: "Wow. I wonder if this event planner can do that for us?"
Paint yourself as an industry insider
While your industry experience is likely varied, focus on your event planning experience that come closest to the job you seek. There is nothing worse than a recruiter reading the first few lines of your resume and thinking you are not the right fit, regardless of your relevant experience. But if you delve deep into a couple of relevant areas in your resume summary, any employer will be intrigued and want to arrange a job interview to find out more.
Let the job description lead your summary
Imagine the marketing manager sitting down to draft the job description for this event planner position. If the company is worth joining, recruiters will have put significant thought into the future job you want to be yours. So make sure that your event planner resume summary mirrors what is written, to come across as the employer's sort of person.
You can find an event planner resume example summary below.
Adaptable summary example
Passionate event planner with more than 12 years of experience planning, coordinating and overseeing a wide variety of events. Fully proficient in all facets of event management, assisting clients from initial concept to fruition. Proven finesse in managing several projects at once, with meticulous attention to detail. Strong and fruitful relationships with clients and vendors are nurtured with a core emphasis on client satisfaction and event success. 
Employment history sample: just the facts
When you are an event planner, things rarely go perfectly according to plan. The measure of your ability is how you cope with unexpected hiccups. Don't avoid this in your event planner resume. Event planning is not a simple occupation; pretending otherwise would be disingenuous. 
A "perfect" resume that presents you as an omniscient sage of the events industry would surely be a lie on some level. Obstacles come your way on a regular basis, so your employment history resume section should mention a few relevant examples. Be honest with employers, and they will warm to you and want to find out more.
An event planner resume should read like a practical account of what it would be like to shadow you going about your planning. Take the reader on a journey of how you make your decisions, and how it feels working with you. Give them a sense of the magic that you create with your events. 
If your resume reads like a boring description of responsibilities, few people will feel enthused. If, on the other hand, you share some of your career ups and downs, recruiters will understand that you can handle the rough times and ride out the easier ones. 
Your resume's employment history should cover every job aspect, with your experience spread across past employers. If possible, pick out event planner roles that most closely relate to the job you are applying for. It is better to expand on relevant experience than include stuff that deters employers into thinking, "Oh, that is not for us." 
Your employment history should also show your early adoption of marketing methods. Social media has been a great promotional tool for years now, so convey that you've been on the cutting edge. It's also important to describe working with stakeholders. Many future event planning decisions will involve others, along with investments requiring other people to be on board.
You can find an event planner employment history resume sample below.
Adaptable employment history example
Event Planner, Jaycee's Events, New York
April 2013 - October 2021
Interviewed clients to assess their desires and needs for customized event strategies.
Created client files and maintained meticulous organization of event documents.
Directed all activities pertaining to event planning and execution.
Developed and maintained consistently solid, symbiotic relationships with several vendors during eight years of collaboration.
Carefully managed budgets and schedules.
High levels of client satisfaction are captured by 93% "extraordinary" ratings in planning service evaluations.
Wedding Planner, North Star Wedding Services, Boston
March 2009 - March 2013
Met with clients to provide an initial consultation regarding their wedding.
Developed and presented proposals reflecting clients' feedback on slideshows they viewed for inspiration.
Worked with clients tirelessly to ensure they felt fully supported and at ease during every stage of pre- wedding preparation.
Scheduled and oversaw vendor appointments, handled follow-ups, picked up items, and coordinated with other professionals to guarantee seamless events.
Event planner resume education example: apply your knowledge
A bachelor's degree in sales and marketing, or another business qualification, is typically preferred and held by most event planners, even if their resumes tend to focus on experience rather than education. 
If you do have copious amounts of on-the-job experience — even in a more junior event planning role — your education (or lack of it) need not get in the way of a fantastic position. 
Below you can see an education section from an event planner resume example.
Adaptable education example
Bachelor of Communications, Boston College, Boston
August 2005 - May 2009
High School Diploma, St. Catherine's Academy, Boston
September 2001 - May 2005
CV skills example: a delicate balance
It takes a lot of different skills to deliver amazing events. Falling short in certain areas will have a detrimental impact. Every event planning skill matters. The role of event planner is so skill-dependent that your future employer needs to see evidence of every skill that could contribute to managing great events. 

You will not have the resume space to highlight every skill for every  event planning role, so space them out in different sections, in order of importance to the job you are applying for and your most recent accomplishments. 
The longer-format sample skills below could be integrated in your event planner resume summary and employment history sections.
Organized and managed over 50 conferences with 400 to 2,800 attendees.
Created a visionary series of online mass participation seminars with business leaders.
Responsible for internal breakfast clubs, all-hands meetings and quarterly all-star trips.
Raised awareness of events on social media, increasing participation by 450%.
Communicated with stakeholders and suppliers via a bespoke app that I created.
Achieved an average 97% satisfaction rating for round table HR seminars.
Consistently ran events under budget, achieved estimated ROI uplift of 330%.
Managed a four-member marketing team and provided training in event management techniques.
People-motivator and problem-solver when the inevitable challenges arise.
Check out an event planner CV sample for the skills section below.
Adaptable skills example
Rigorous Workflow and Budget Management Skills
Visual Presentation Expertise
Articulate Communicator with Perceptive Listening Ability
Collaborative Team Leadership Skills
Resourceful, Pragmatic and Adaptable Problem Solver
Resume layout and design: first impressions matte
As an event planner, you know that visual presentation and first impressions are everything. If the appearance isn't attractive, no one will stay for the content. That's why layout, design and formatting choices have so much bearing on the impact you are striving for in a professionally stylish-looking resume. It should be visually clean and easy to read with enough white space for readers to pause and take in what has been written. 
The layout and design should showcase the events to your credit as being at the heart of every resume section. The key moments of your career will be lost if there is too much text. Balance the bullet-pointed examples with fully constructed sentences.
Make sure that all parts of your CV are legible for "reading" by machines and humans alike. Not all ATS systems will pick up on certain graphic elements, such as those found the header section, unless they are formatted properly. 
If you have graphic design experience, you might want to tackle these formatting and design details yourself. But if you need perfection on the fly, then it's probably best to opt for a resume template. Templates allow you to plug in your information into a pre-designed format and rest assured knowing your resume is properly spaced with the correct fonts and margins.
Resume.io offers expertly designed, field-tested CV templates in four categories: professional, modern, creative and simple. Take into account the branding and tone of your prospective employer and industry before choosing a template. 
Expert tip
As an event planner, personal branding is everything. You can take your application to the next level using matching templates for your cover letter and resume. It's easier than you might think. Just check out Resume.io's collection of free cover letter templates.
Key takeaways for an event planner resume
Include the most relevant skills and examples to create a rounded picture of your event planning accomplishments.
As an elevator pitch, your resume summary captures some of the biggest events you have managed.
Demonstrate awareness of the employer's industry niche by sharing your relevant experience
Don't be afraid to talk about event plans that haven't gone so well and how you solved the problems.
Ensure that your resume format is practical and easy to follow.
Share how and why you have made such a difference to your employer and events team members.
Don't hesitate to get formatting help or use a resume template to convey maximum professionalism
We hope this event planner resume sample and writing guide have helped move you a few steps closer to landing your dream event planning position.
The world is yours — go out there and win!