An effective general resume is the first step in highlighting your many strengths and showing an employer that you're a dynamic candidate with a strong work ethic. A general resume offers an overview of your most relevant experiences and conveys a wide variety of skills and traits that make you a great candidate.
While most resume writing advice states that you should tailor your resume for each individual job that you apply for, sometimes a general resume is the base that allows you to apply to many similar jobs quickly. A general resume can also serve as a starting point, allowing you to customize your experience quicker than if you were creating a new resume from scratch.
Resume.io is here to help. With 350+ resume examples and writing guides, we're an expert resource for job seekers in all fields and stages of their careers. In this writing guide, along with our adaptable general resume example, we'll show you how to create a solid general resume that can serve a variety of purposes. Here's what we'll cover:
What is a general resume?
How to write a general resume (tips and tricks)
The best format for a general resume
Advice on each section of your resume (summary, work history, education, skills)
Professional resume layout and design hints.
What is a general resume?
A general resume is the basic job search document that most employers will request to evaluate candidates' strengths and experiences. More specifically, a general resume is one that can be used for a wide variety of job openings or other purposes. Unlike a resume created specifically for one position, a general resume gives an overview of the candidate's employment history, skills, and educational background – even if these experiences span different positions, industries, or types of employment.
A general resume is often a good choice for students or entry-level job seekers who are looking to land their first work experience as it allows them to list a wide variety of extra-curricular activities, volunteer work, and hobbies. It also makes it easier to quickly apply to a wide variety of jobs. 
How to write a general resume
The very first step in writing your general resume is understanding what sections to include. Your CV should contain the following elements:
The resume header
The resume summary (aka profile or personal statement)
The employment history section
The resume skills section
The education section
Because your resume is not tailored to one specific position, it will need a clear organizational structure to keep the hiring manager interested and help them find the information they are looking for. Use common section headers like "Education" or "Skills" to make sure there is no confusion about the experience you're listing. 
Expert tip
Should I create a general resume?
Yes! Everyone should create a general resume as a starting point to capture their skills and experiences. However, not everyone should submit their general resume. For career professionals and those with specialized skills, it's important to tailor your resume to the specific job and employer you are applying to. In fact, a general resume can actually hurt your chances of landing the interview as an employer may take a general resume to mean a lack of experience or interest in their company.
Choosing the best resume format for a general resume
One advantage of a general resume is that it offers a lot of flexibility when it comes to choosing a resume format. The best option is the one that highlights your experiences and skills in the most flattering way. For candidates with at least a few previous jobs and an educational background to show, the reverse chronological resume format is often the best choice as it features an employment history section where you can list previous positions in the way employers expect to see them.
If you're a student or first-time job seeker, you may opt for the functional resume format which allows you to focus more on soft skills or personality traits like organization, work ethic, and time management. The hybrid resume format combines the two previous types and is ideal for freelancers or those in creative or independent fields.
Resume header
The resume header is the place to capture your name, contact details, and any relevant social media accounts to give the hiring manager a way to get in touch with and learn more about you. In some countries and fields, a professional headshot is also included in the header. We recommend checking the best practices in the country where you plan to work. In the U.S. and Canada, for example, headshots in resume headers are discouraged as they can lead to discrimination in hiring.
Resume summary example
The resume summary is an overview of your experiences and education to date. The purpose of the summary is to introduce the hiring manager to who you are and your objectives when applying to the position. While the summary is useful in many circumstances, it's particularly relevant for general resumes because it allows you to explain your background, motivation, and top skills. You can also share a bit of your (professional) personality. A charming and thoughtful summary is a great way to stand out, especially among other entry-level candidates. Check out the summary from our adaptable resume example below.
Adaptable resume summary example
Hardworking and enthusiastic Office Generalist seeking to utilize my exceptional administrative and office skills to benefit the next team I join. Adept in multitasking and effectively prioritizing tasks to streamline processes and achieve success.
Employment history sample
The employment history section makes up the bulk of your resume – and with good reason. This is usually the section that attracts the hiring manager's attention first. You'll want to list your work experiences starting with the most recent and working backward through the past ten years (or as much as you have). Make sure to include the job title, employer's name, location, and dates worked for each entry. Then add 3-5 bullet points that showcase your responsibilities, duties, skills, and accomplishments. See our adaptable employment history resume sample for more insight.
Adaptable resume employment history sample
Human Resources Assistant at Belltown Recruiters, New York
Oct 2019 - Present
Perform a variety of administrative tasks to assist daily operations in the Human Resources Department.
Assist with recruiting and on-boarding processes,
including the dissemination of letters/resources related to
company policies and procedures.
Assist with the maintenance of up-to-date HR file
maintenance and employee documentation.
Answer frequently asked questions from applicants and
employees relative to policies, benefits, etc.
Provide support with the planning and execution of special
events, such as organization-wide meetings, holiday parties, etc. 
 
Office Generalist at Lewis & Leopold, New York
Jul 2016 - Aug 2019
Welcomed visitors and directed them to the relevant office/personnel.
Worked to address any HR-related requests and questions.
Generated ad-hoc reports as requested.
Effectively coordinated and managed appointments,
meetings, and conference room schedules.
Assist with the maintenance of office facilities, spaces, and
equipment.
Utilized excellent organizational skills to benefit office
processes and staff productivity.
Expert tip
Be specific
It sounds like an oxymoron, but it's important to make sure your general resume is specific enough to convince the hiring manager of your abilities. Numbers, statistics, details, and other pieces of concrete information show the employer what you've accomplished in the past and what you can offer their company in the future. An employment history section with numbers and details is more likely to stand out in the hiring manager's mind.
CV skills example
The skills section of your CV may seem like a simple list, but it's important to spend some time carefully choosing the skills that you include here. For a general resume, you may want to show off a wide variety of hard and soft skills (meaning technical abilities like Excel or fluent Spanish versus personality traits like time management and a strong work ethic.) If you only have a short amount of time to customize your general resume, make sure to focus on this section by placing important abilities from the job description into your skills list. See how this is done in our general resume sample.
Adaptable CV skills section resume example
Ability to Work Under Pressure
Interpersonal Communication
Human Resources Management
Administrative Support
Office Organization Adaptability
Knowledge of MS Office
General resume education example
Job seekers creating general resumes come from a wide variety of educational backgrounds, so it's important to note that this section can be modified to your needs. The basic information for any education entry is considered to be the name of the degree or diploma, the school name, the dates attended, and the location. In the U.S., including a GPA (if it's 3.0 or higher) is common practice for high school and college students. You may also create bullet points under the entry to include any accolades like school awards or leadership positions. See our education resume example below.
Adaptable resume education example
Bachelor of Science in Communications, New York Hunter College
Jul 2012 - May 2016
Graduated with High Honors.
Resume layout and design
The layout and design of your resume play a very important role in how the hiring manager perceives you. If you are applying to many positions at once, a neutral color scheme is usually the best choice as it conveys professionalism and a serious tone. Make sure to stick with consistent font styles and sizes throughout your resume to keep your layout looking organized and sharp.
One of the easiest ways to create a winning design is by using a professional resume template. General resumes can be created quickly and easily using simple templates and builder tools that allow you to restructure your resume as your experience grows.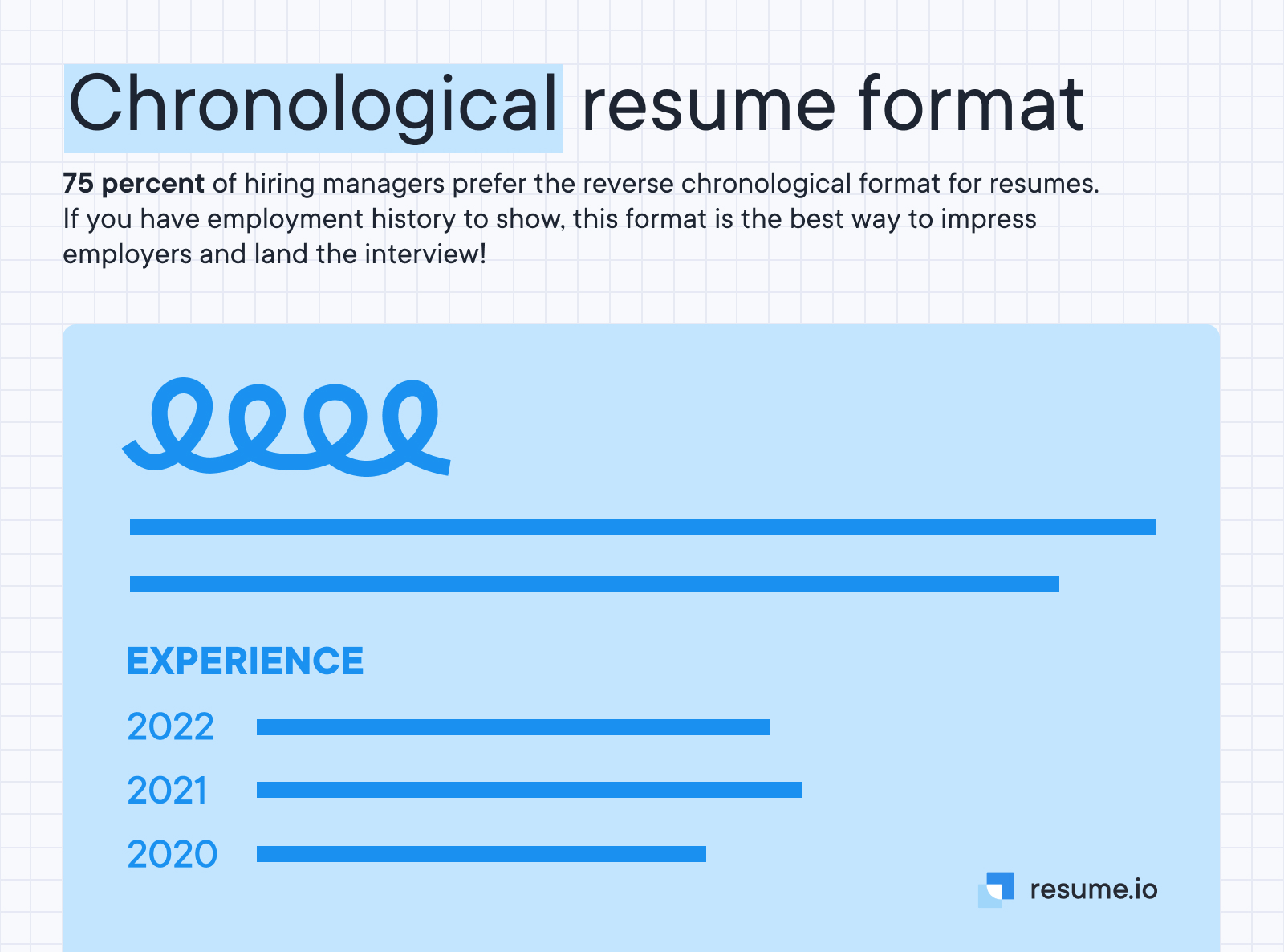 Key takeaways for a general resume
A general resume is a useful tool for students and first-time job seekers, as well as a great starting point for career professionals.
While a general resume can help streamline the application process, it's also important to know when to take some time to tailor your resume to the specific job you're applying to.
Choose the resume structure that best suits your needs and experiences.
Don't forget the power of a professionally-designed layout – see our resume sample to get started.