You're the head of the household — the cook, cleaner, manager, teacher, playmate, and coordinator. Yes, stay-at-home moms have their work cut out for them. When you decide to spend some time as a homemaker, you will quickly learn that it's no walk in the park. But how can you re-enter the working world after this period? If you want to land yourself a professional role, weaving a compelling stay-at-home mom resume is the way to go. 
You've got a load of ground to cover here. Not only do you want to share the juicy details of your pre-existing work life, but you also want to showcase what parenting has taught you. Combining these two elements of your experience will be the biggest challenge of all. But that's not to say that it's impossible. You simply need to know where to start.  
That's where we slide neatly into the picture. Here at Resume.io, we have everything you need to relaunch your career. We provide resume examples for 350+ professions plus expert-backed writing guides for each of them. If you're looking for a way to concisely showcase your skill set and experience to potential employers, you've come to the right place. In the following stay-at-home mom resume example and guide, we cover: 
What stay-at-home moms do (and why it matters!)
The current job outlook for stay-at-home parents
How to write your application with a resume sample for inspiration
Which layout and design will suit this type of application
Statistical insights and expert tips to support your search.
Whether you've taken a year or five to be a stay-at-home parent, the approach you should take is the same. Let us walk you through the steps to finding your next dream job now. 
What does a stay-at-home mom do?
As a stay-at-home mom, you are the head of the household. On a typical day, you will be switching hats from cook to cleaner to teacher. You might find yourself doing the laundry, planning and preparing meals, scheduling outings, and cleaning the home. 
It's a tall order — and so you want to make sure that your resume reflects this. When you're writing your application, you will dedicate a section to your most recent experience. That means highlighting the lessons you've learned and the challenges you've faced as a full-time parent. The duties of a stay-at-home mom may include the following: 
Managing the family finances
Scheduling outings, playdates, and vacations
Cleaning and keeping the home tidy
Planning nutritious meals and cooking them
Helping the children with their homework
Taxiing the children around from place to place
Looking after the family pets
Of course, your day-to-day life will differ depending on your personal family setup. When you are a homemaker, the tasks that you have to undertake should not be overlooked. You might have spent recent years at home but that doesn't mean you have had it easy. While employers may have preconceptions about this period, you can set them straight.
Expert tip
The emotional labor of managing a household
Being a stay-at-home parent is far from easy. It's not merely the physical act of making meals and cleaning the home that has an impact. There's a mental side to this job too. 

Research by Dr. Luthar suggests that being responsible for managing the household and the children can put "strains on mothers' personal well-being." For that reason, it's important that stay-at-home moms have a good support system and plenty of breaks.
Stay-at-home mom job outlook 
Before you start sprucing up your resume and applying for jobs, you need to know what the job outlook is like. That way, you can decide what tack to take when you're applying.
We won't beat around the bush —  stay-at-home moms may struggle to land a new position when they first get started. Research into this phenomenon has found that a lot of employers are biased toward parents who have stayed at home with their children. 
Now, that doesn't mean that you can't get a job at all. As unjust as it may sound, it simply means that you have to work harder to convince an employer that you are worth their time.
Expert tip
Remote work is the way forward!
The modern working world has changed. Due to the pandemic and countless technological advancements (thanks, Zoom!), remote work is now more popular than ever. Around 26% of all US professionals now work completely from home. 
Looking at remote roles may be the perfect way to get the work-life balance you need. This option means that you can relaunch your professional career while still being at home to look after your kids when you need to do so. Of course, you should keep in mind that trying to do it all can lead to burnout, especially if you don't have support.
In addition, many of these positions offer flexi-time. Should you have family constraints — such as having to pick the kids up from school — this is a major benefit. When you're initially looking for jobs, take the time to look at the full breakdown of each of the roles.   
Finding a job when you've taken a significant amount of time out can be difficult. However, the first step in this process is creating a resume that sells your skills to an employer. For general tips and advice, you can read our comprehensive resume writing guide here.
How to write a stay-at-home mom resume
When you've made the decision to re-enter the professional sector, the first thing you need to know is what to include on your resume. Luckily, there's a simple formula that you can use. Your stay-at-home mom application should include the following elements: 
The resume header
The resume summary (aka profile or personal statement)
The employment history section
The resume skills section
The education section
Be upfront about the time you have spent as a stay-at-home parent. Having mysterious gaps on your resume is unlikely to do you any favors. It is likely to leave the recruiter with big question marks in their mind when considering you. That is the last thing you need. Make everything crystal clear to them from the offset. Detailing your time as a stay-at-home mom means that they will be fully in the loop when it comes to your experience. 
Expert tip
Revamp your writing style!
Are you out of writing practice? If it's been a while since you had to do a formal application, you may have forgotten which tone to take. Using a casual approach — such as a resume packed with colloquial language — won't get you very far at all. 
Instead, you need to make sure that your stay-at-home mom resume reads as a professional document. Wherever possible, use formal and polite language. You may find that you need to write a few drafts or edits before you get this just right. 
When you have written your resume, have a trusted friend, ex-coworker, or family member check it for you. You might find that they are able to share ways that you can level up your application and make sure it meets recruiters' high standards. 
It's always important to tailor your resume to the company at hand. When you know which role you're applying for, you can make sure that your application ticks all of the boxes. 
To help you with this task, do some research on the business. You can quickly Google them, take a look at the company website, and read any news about them online. The deeper you understand the employer and their needs, the more you can align your resume with them. Keep your eyes peeled for any transferable skills you can showcase here. 
Finally, you need to help your resume get past the Applicant Tracking System (ATS). The software acts as a filter system for employers, helping them to automatically find the best candidates. Before a hiring manager even looks at your application, it has to get through this software. The system uses keywords and phrases to see whether you are a good match. Look for stand-out words on the original job advert. By using these in your stay-at-home mom resume, you give yourself a better chance of effortlessly passing the test. 
Choosing the best resume format for a stay-at-home mom
When you're writing your application, the best resume format will be the reverse chronological approach. That means that you start with your most recent experience and education at the top of the page and work your way back in time. This layout means that recruiters can quickly and easily see what you have been up to lately. Since they don't have to do any pesky guesswork, they can determine whether you are right for the role. 
Of course, before you became a stay-at-home parent, you may have had an array of jobs. If you don't have a clear career path, don't panic. You can always use the functional resume format instead. This approach dedicates less space to your work experience and shines the spotlight on your skills and talents. If you're looking to start a whole new chapter of your work life but don't have the right experience, this option may be for you. 
Take a look at our resume example to see how to lay out your resume. If you need some more advice on how to structure this document, you can also read our complete guide.
Resume header
Your resume header sits at the top of this document. While this information is relatively bland, you need to make sure that it's reader-friendly. It should include your name, phone number, and email address as standard. Use a clear font and don't try to be fancy here.
Resume summary example
Also known as a profile, the resume summary is the most freeform part of your application. It's a short blurb that introduces you to a potential employer and shows off what you have to offer. You don't have loads of words to play with here. Keep things short and sweet. 
When describing yourself professionally in this section, you may want to avoid the title "Stay-at-home Mom" and instead use the role you previously had. That way, this title is not the first thing that the employer sees. Instead, they see the position you are qualified for. 
Not sure where to start? Be sure to mention your unique talents, any previous roles you have held, and the quantifiable results you have achieved. Take a look at our resume example for some inspiration on how to perfectly write this part of the application. 
Adaptable summary resume sample
Energetic professional with a wealth of highly transferable skills. Demonstrated ability to navigate a wide range of challenges while ensuring the streamlined, timely execution of critical tasks. Strong project management, problem-solving, and administrative talents with a keen talent for maintaining a positive environment while managing multiple competing priorities and needs.
Employment history sample
As we've already mentioned, you should use the reverse chronological order when writing your resume. That means putting your most recent employment experience at the top of the document. For each role, you should include your job title, the company, and your dates of employment. Below that, you can bullet point what you achieved in the position. 
Expert tip
Your stay-at-home parenting is work experience! 
When you're writing the employment section of your resume, you can include your most recent experience, i.e. being a stay-at-home mom. Write this as you would any other employment type. You can start off with your title — "Stay-at-home Mom" or "Homemaker" — and then include the dates and your core duties below that header. 
You don't want to leave the reader with any doubts. This approach means employers can easily see what you have been doing in recent years. It is a simple way of explaining any gaps in your employment section as a result of this lifestyle choice. 
Adaptable employment history resume example
Stay-at-Home Mom at Self-Employed, Moscow, ID
Maart 2020 - Present
Manage household expenses, creating detailed, effective budgets.
Support multiple competing needs, schedules, and priorities, overseeing the needs and tasks of multiple individuals to maintain optimal outcomes.
Create and coordinate a detailed calendar of activities and events, including academic deadlines, travel, and appointments/meetings.
Build engaged relationships with health care professionals, academic administrators, and program leaders to ensure alignment with all needs.
Navigate complex interpersonal challenges, mediating issues to build vital communication and issue resolution skills.
Project Manager at Tessa Inc., Moscow, ID
October 2016 - March 2020
Led teams of up to 12 in the planning and execution of multiple projects.
Partnered with stakeholders and leadership to define project objectives, identify challenges, and proactively resolve potential roadblocks.
Shaped and managed project budgets, implementing cost-control measures.
Maintained a complex calendar of deadlines, managing project phases to ensure on-time delivery.
Administrator at Stetson Early Learning, Estes, ID
April 2016 - September 2018
Provided full administrative support for the early learning facility, ensuring streamlined operation of all business functions.
Engaged with staff to manage enrollment, documentation, and reporting.
Expertly managed fiscal budgets, overseeing expenditures and supply levels.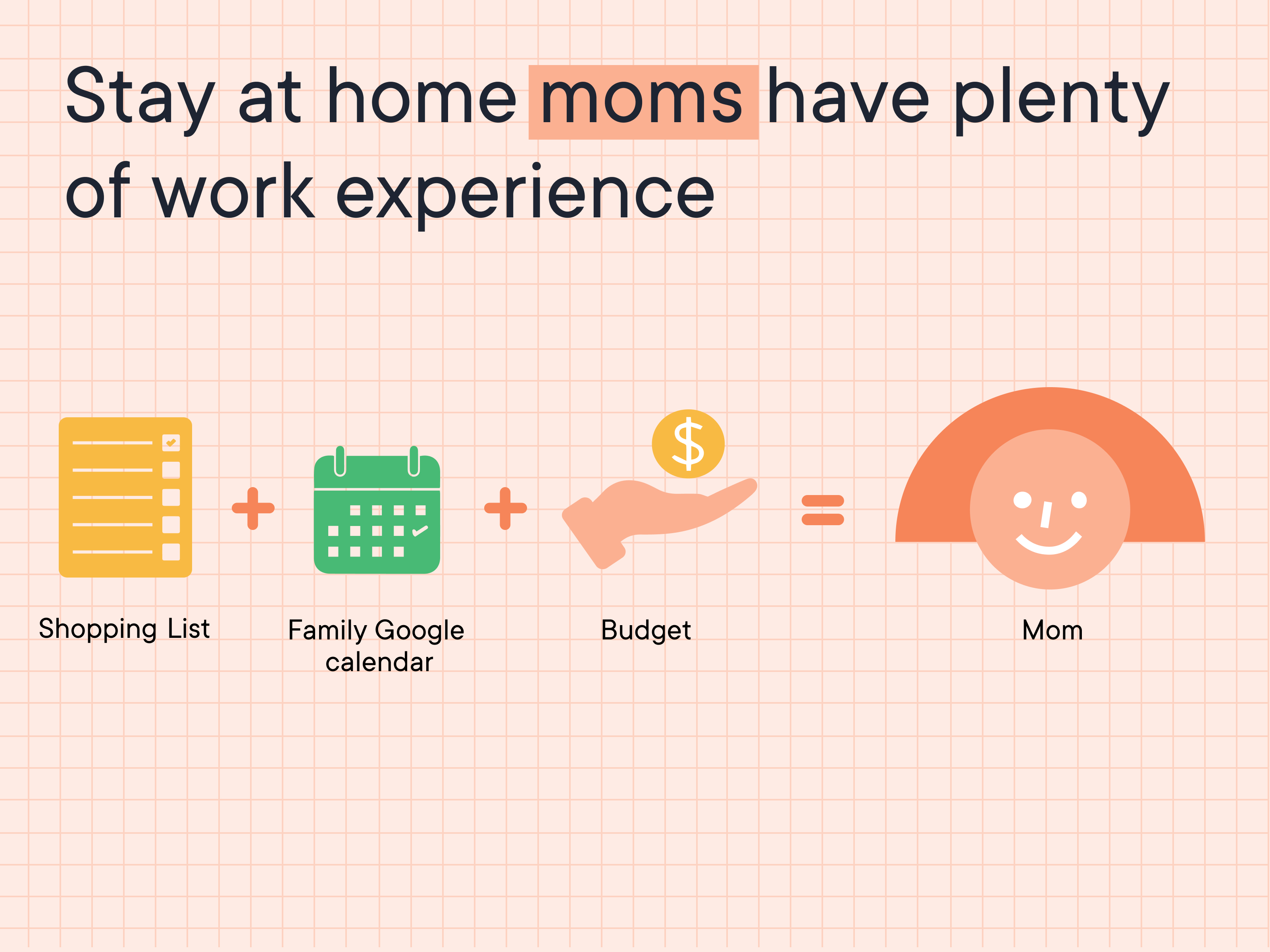 CV skills example
To successfully convince an employer you're the right person for the role, you need the right skill set on your CV. This is where your experience as a stay-at-home mom will set you apart from the crowd. Since you're used to managing all elements of the household, you will have gained a whole wealth of special skills you can use here. 
Your CV skills section needs to align well with the position for which you're applying. Consider how the transferable skills you've learned through parenting align with the job specification. You need this section to include a good mixture of both hard and soft skills. While there's no space to expand on the skills in your resume, you may choose to do so when you write your accompanying stay-at-home mom cover letter. 
Adaptable skills section resume example
Project Management
Cross-Functional Coordination
Relationship Building
Conflict & Issue Resolution
Budget Management
Time & Priority Management
Communication
Stay-at-home mom resume education example
The education requirements will depend on the position for which you're applying. You may simply need to list your high school diploma or equivalent GED, for example. However, if you did go to college, you can include this information in your education section. List the name of the school, the dates you studied/graduated, and your grades. 
It's most likely that you will need to use the reverse chronological order here. However, if you want to highlight a specific qualification — that is relevant to the role or company — you can switch things up. Figure out what works best for your application. 
Adaptable education resume example
Bachelor of Arts in English at University of Idaho, Moscow, ID
August 2012 — May 2016
Resume layout and design
Recruiters spend an average of seven seconds looking at each resume. You need to make the right first impression. Choose a plain style that allows your experience and skills to take center stage. As a rule, you should use no more than two different font styles on your professional resume. You also want to make the most of the white space on the page.
Need some design help? We've got you covered with our selection of field-tested resume templates. Use one of them to take all of the hassle out of making your next application.
Key takeaways for a stay-at-home mom resume
If you want to re-enter the working world after being a stay-at-home mom, you need to convince employers you're worth their time. Take a look at our resume example if you need some inspiration on writing your next application.
The right tone will get you a long way! When you're writing your resume, make sure that you use formal language that fits the profession to which you're applying.
Don't try to disguise the fact that you have had a career break. You need to be 100% honest about how you have spent this period of your life.
Make sure the layout is clear and straightforward. Employers don't have a long time to peruse your application — keep it simple!