If you're looking for a janitor job, a squeaky-clean resume will show employers you are an honest and hard-working candidate and they can entrust their building to you.
Working as a janitor (or custodian, as the job is often called in schools) is a great way for people without a college degree to find quick employment. It can also be good part-time work for young people and students. Janitors are responsible for cleaning floors, windows and restrooms, emptying trash, restocking supplies and occasionally performing building repairs. 
If this kind of opportunity finds you seeking help with a spotless janitor resume, you're in the right place. As a leading resource for job seekers, Resume.io has produced more than 300 occupation-specific resume guides and resume examples, backed by an easy-to-use resume builder. Let us help you confidently land a great janitor job in no time.
This resume writing guide, along with the corresponding janitor resume example will cover the following topics.
What does a janitor do?
How to write a janitor resume that will:

Highlight your worth ethic and the personality traits that make you stand out
Impress the right employer to secure a job in this rapidly growing industry
Show off your repair skills, achievements and certifications
Convey your trustworthiness and ability to work on a team

The best format for a janitor resume
Advice on each section of your resume: summary, work history, education and skills
Professional resume layout and design hints.
What does a janitor do?
There's a reason why in so many comedic heist movies the robbers try to break in by posing as janitors. Cleaning staff have access to every corner of a building and are responsible for its upkeep, cleanliness and attractiveness. 
The job gets a bad rap sometimes, and unfairly. Janitors are an essential part of all functioning institutions, from schools and stores to offices and hospitals.
While janitors are often portrayed as "flies on the wall" — hence the appeal to fictitious bank robbers! — being a janitor can actually be a social job. In large buildings, cleaning staff work as a team to make sure all areas are taken care of. Custodians in schools routinely interact with teachers, principals and even students, most of whom appreciate the janitors' hard work.
Statistical insight
An estimated 2.4 million Americans work as janitors making it one of the country's most significant areas of employment, according to U.S. News and World Report.
What's it really like to work as a janitor? Make sure you look at your resume from the perspective of what your future job requires. 
Janitorial work can be physically demanding. Janitors are asked to carry cleaning equipment, furniture, light fixtures and other supplies around buildings, campuses and up staircases. Thus, good physical condition is important if you intend to work as a janitor. 
It's also necessary to have good mental stamina. In businesses and offices, most cleaning staff work overnight when the building is empty in order to minimize the disruption to the daytime employees. Working the night shift can be physically and mentally demanding; it will require you to adapt your sleep schedule and other activities to fit around your job. You will be expected to remain alert and active during the night shift, which can be hard when it's dark outside. 
Luckily, if you don't think the night shift is for you, school custodians tend to work during the day, while hospital cleaning staff work in round-the-clock shifts that can include daytime hours. 
While some janitors report feeling under-appreciated by others in the building, many find that they are well-respected. They can take pride in doing an essential job that allows others to work more efficiently. Working many years in the same building gives janitors a sense of ownership and responsibility, as they become an integral part of the building staff. The job also offers flexibility, independence and a low stress level.
If you're having trouble finding ideas and inspiration for your janitor resume, take a look at some of our related resume examples in the maintenance & repair category, including:
Job prospects
If you're looking for a job as a janitor, you're in luck. The job market is expected to keep pace with the occupational average as more janitors are needed in new businesses, hospitals and educational institutions. The U.S. Bureau of Labor Statistics projects an employment growth rate of 6% between 2020 and 2030, reporting that many new janitors will also be needed to replace aging or departing workers.
Turnover rate
While the labor force turnover rate overall tends to be higher in industries requiring less education, the rate for janitors is particularly staggering. It's estimated to hover regularly around 200 percent, but can sometimes spike as high as 400 percent. That means a cleaning company with 100 employees will need to make 200 new hires each year! 
When employees hit the road, companies lose a significant amount of time and money they invested in hiring and training promising candidates. You might not want to promise a lifetime of work as a janitor, but make sure your janitor resume conveys to companies that your employment will be worth their investment.
Statistical insight
Janitors often have heavy workloads. According to a janitor's union, the average janitor often cleans 50,000 to 60,000 square feet in a single night.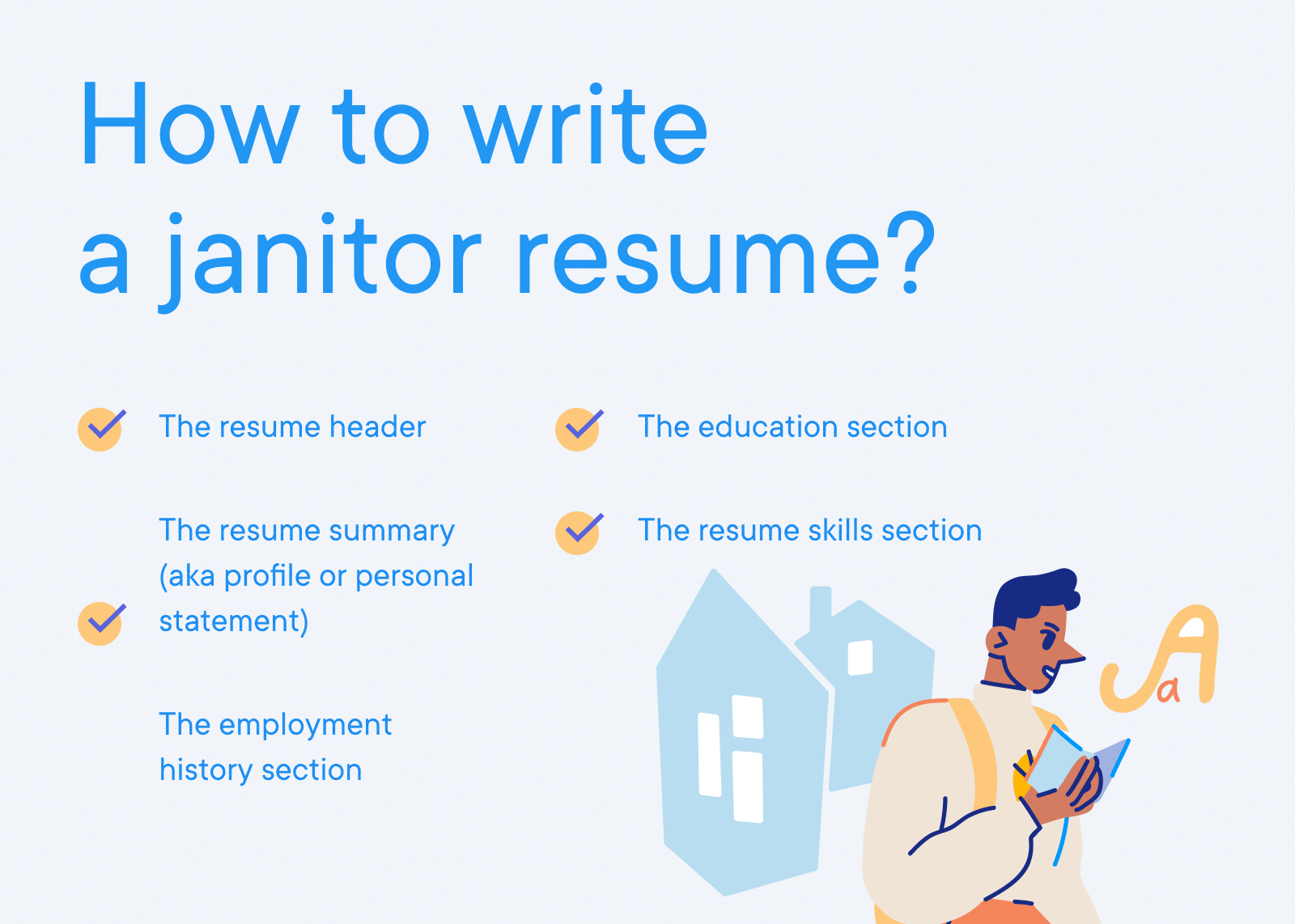 How to write a janitor resume
The goal of this writing guide, along with the janitor sample sentences, is to help you build a resume with the following elements:
The resume header
The resume summary (aka profile or personal statement)
The employment history section
The education section
The resume skills section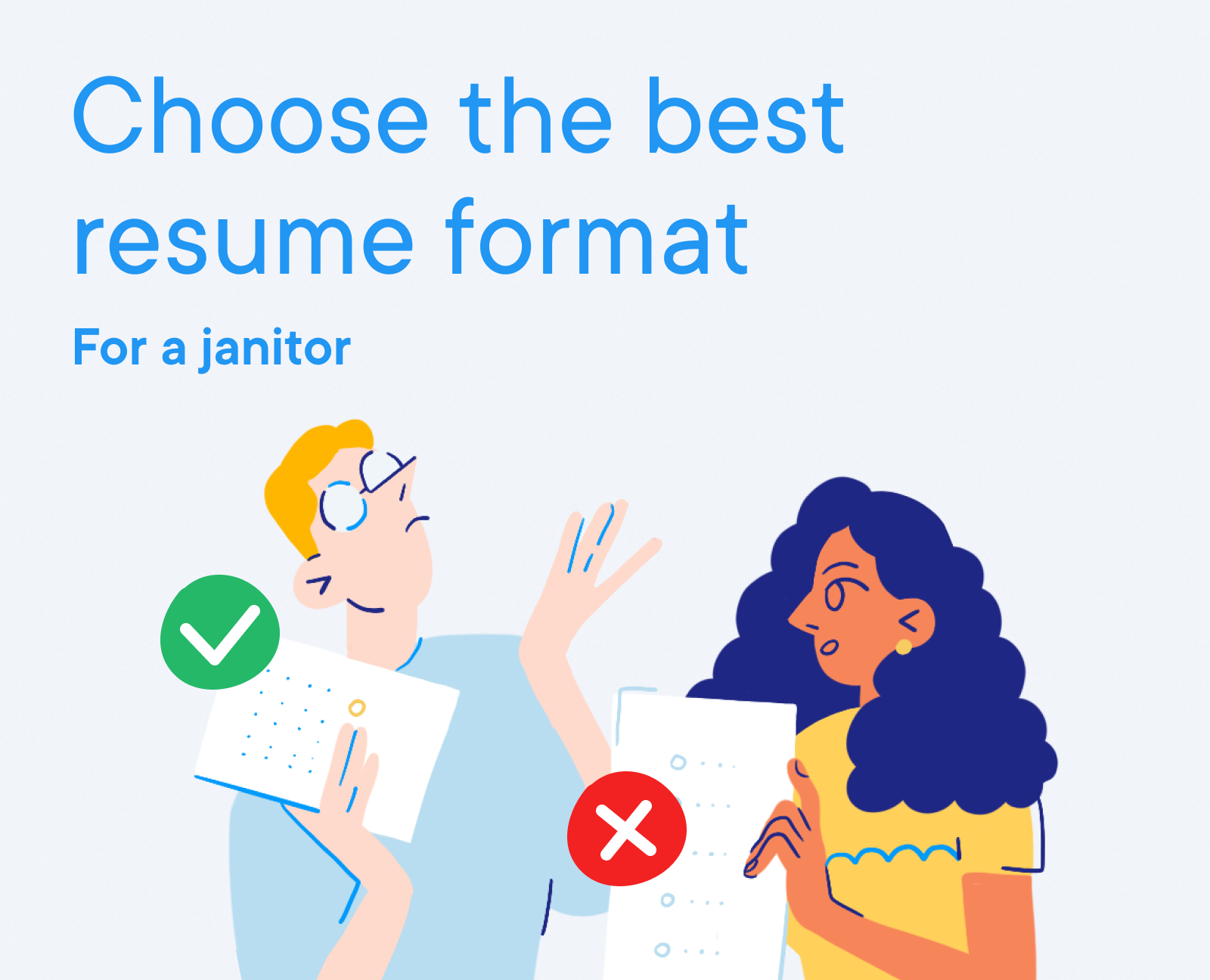 Choosing the best resume format for a janitor
The most commonly used chronological resume format is ideal for structuring most resumes. You'll likely find it's perfect for your janitor resume too, even if your background includes different occupations. The employment history section provides a straightforward overview of your work experience in reverse chronological order. This is especially easy to follow if you've worked mostly as an employee rather than being self-employed.
If you are new to the workforce, semi-retired, or your job background is quite varied, take a look at the alternative functional or hybrid (combination) resume structure. Having a history of self-employment or if you have specific transferable work skills that you acquired outside of being a janitor, then they may suit your purpose.
Expert tip
A polishing touch
An immaculate resume shines that much brighter with a header that attracts attention for all the right reasons. With your name, occupation and contact information displayed prominently, employers will have no doubts about who this document belongs to and how you can be reached right away. 
An eye-pleasing header design also implies you'll take every last detail of the job seriously when hired. For the ultimate first impression, make the header and other design elements match in your resume and cover letter.
Resume summary example: sweep away the competition
Your resume summary, or personal statement, is a great place to show employers that you're reliable, independent and a great fit for the job. Janitors are expected to work hard, but that doesn't mean they are cleaning robots. A warm smile and cheery disposition will help you to stand out from others who might take little or no pride in their work. 
The resume summary is a great place to show employers you are a well-rounded candidate with the right mix of grit and positive attitude to get the job done. Hard-working, motivated, efficient, focused, friendly, positive: think about the adjectives that best describe you. Can you work well both independently and in a team? 
Now take a look at your previous work experience. For example, how many years have you worked as a janitor in total? Are you capable of working both nightside and daytime shifts? Do you have extra experience in tasks like ordering supplies or making repairs? If you don't have any previous experience as a janitor, you can also create a resume personal statement, which introduces yourself and explains your interest in the position.
You can find a janitor resume summary example below.
Adaptable summary example
Dedicated and dependable janitor with over 10 years of experience in cleaning and sanitation roles. Highly motivated and conscientious in adhering to self-managed cleaning and maintenance schedules. Certified in HVAC repair and basic repairs using common tools. Committed to keeping my work environments clean, orderly and meticulously maintained. Friendly, courteous, helpful and responsive in all interactions with employees, students and visitors. Help instill a sense of pride in our community by promoting responsible waste management practices.
Employment history sample: experience and reliability 
Your resume employment history section proves to employers that their building will be safe and orderly in your hands. Make sure to use the reverse chronological format: start with your most recent work experience and work backwards until you have several examples of your competence. 
If you're just starting out, you may try listing volunteer activities that show your dependability and service to others. 
Below are some examples of specific action verbs that can help you more accurately describe your experience on your resume.
Instead of:
Cleaned floors
Took care of bathrooms
Picked up trash
Checked supply levels
Try:
Vacuumed and polished floors
Scrubbed and sanitized bathrooms
Collected and emptied trash
Ordered and restocked supplies
Also try to quantify your competences by adding some numbers into your work experience descriptions. Sample questions to ask yourself: How many buildings were you responsible for in your last position? How many square meters was the largest building you've worked in? How many coworkers were you responsible for overseeing? How many pounds did you routinely lift? Did you work any odd hours that prove your commitment to the job?
You can find a janitor employment history resume sample below.
Adaptable employment history example
Janitor, Joel Barlow High School, Redding
January 2014 - August 2021
Managed and oversaw the janitorial program at a 62,000 square educational facility.
Created and executed an exemplary cleaning schedule with a commitment to neatness and sanitation for all students and employees.
Maintained HVAC system including repairs, preventative maintenance and cleaning.
Facilitated the recycling program and sponsored the school Recycling Club.
Oversaw floor cleaning including sweeping, wet mopping, polishing, buffing, and shampooing the carpets.
Took part in an educational program to teach kids about sanitation and waste management.
Received Exemplary Citizen's Award for recycling program initiatives.
Completed tasks per management's request in a timely manner.
Janitorial Assistant, IBM, Katonah
June 2011 - November 2013
Removed waste from nine buildings on a broad corporate campus.
Coordinated sewage line repairs as part of a larger program to update the campus infrastructure.
Received HVAC repair certification and able to effectively manage an industrial system.
Cleaned offices including desks, windows, chairs and counters.
Set up and managed event programs including seating, tenting and waste.
Managed the weekend restroom clean up that replenished every facility on campus with cleaning resources.
Cashier, Walmart, Houston
July 2009 - February 2011
Excellent math skills in a fast-paced environment.
Friendly, customer service-oriented attitude.
Proficient in point of sales systems.
Maintained a welcoming check-out area for customers.
Experienced in identification of forged money.
Knowledgeable in products across all departments.
Adaptive to other roles as needed by management including shelf stocking and floral arrangement.
Statistical insight
One study conducted by the University of Berkeley, California, showed that on average 50% of janitors had worked in the industry for 15 years or more. That means that if you're looking for stable part-time income, employers are comfortable with keeping on employees for a long time.
Janitor resume education example: you've got the know-how
Even if you don't have a formal education, but want to advance to a slightly higher position or get better pay as a janitor, it's always a good idea to show your interest in continued learning on your resume. If you're looking for a job that requires a high school diploma or less, working as a janitor may be a good option for stable pay. If you've ever cleaned your bathroom at home or changed a light bulb, then you most likely already have some of the knowledge needed for the job. Additional tasks or how to use certain pieces of equipment can often be learned in your first week of on-the-job training. 
Because formal education is not the most important part of your resume for a janitor job, keep this resume section brief, unless you have additional certifications related to the field.
Below you can see an education section from a janitor resume example.
Adaptable education example
High School Diploma, St. Louis West High School, St. Louis
August 2005 - May 2009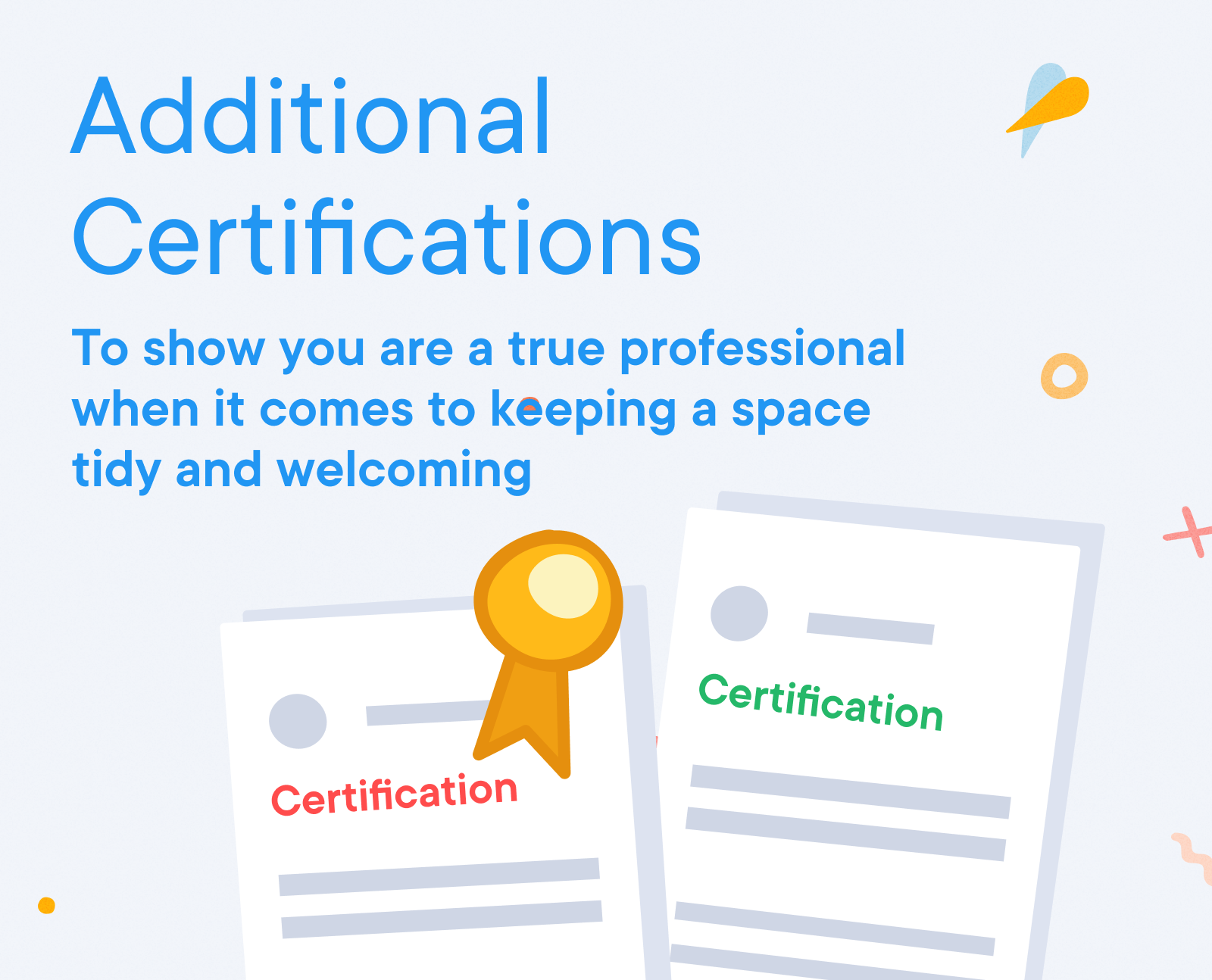 Additional Certifications
Believe it or not, there are actually several certifications that can show potential employers you're not just a warm body who can vacuum, but a true professional when it comes to keeping a space tidy and welcoming. In fact, a growing number of companies are looking for employees who have achieved qualifications like the ones listed below.
Registered Building Supply Professional
This credential offered by Building Service Contractors Association International is one of the industry-standard certificates for showing you care about delivering quality maintenance. The process includes study materials and an online exam. The course costs $375 but the investment is probably worth it: 2/3 of examinees pass on the first try.
Worldwide Cleaning Industry Association Membership
This association, which goes by the acronym ISSA, offers training, trade shows, learning resources and membership benefits to anyone working in the cleaning industry. If you've worked as a janitor for a few years, joining an organization like ISSA may help you advance to better paying positions or companies .
International Janitorial Cleaning Services Association (IJCSA) Certificate
The IJCSA offers a variety of courses, from the general IJCSA Master Certificate to more specific areas like carpet cleaning, environmentally-friendly cleaning and mold inspection and remediation. Be warned: the Master Certificate is not for the faint of heart. It requires over 20 hours of training, 250 written questions and even a verbal exam over the phone!
Adaptable certifications example
Certifications: 
2015 – IJCSA Master Certificate
Completed 20 hours of training and passed this industry-standard exam to be a certified school custodian skilled in a wide variety of cleaning tasks and repairs.
2018 – IJCSA Green Cleaning Certification
Studied and past a written examination on eco-friendly cleaning products and practices
Memberships:
2020 – Worldwide Cleaning Industry Association (ISSA)
Joined leading industry associated to network and advance my skills and knowledge
Expert tip
A growing number of business clients are interested in green cleaning techniques, natural products and energy efficiency. Showing off some knowledge in this area on your resume can win you some extra points with the hiring manager!
CV skills example section: the tools for the task
You're polished, polite and professional — what's an employer not to love? If you don't have previous experience as a janitor, the skills section will be the most important part of your CV for potential employers. Even if you're not new to the industry, highlighting examples of both your hard skills and personality traits sets your resume above the rest and shows employers you will adjust to a new job quickly.
Hard skills
As a janitor, you should have a number of hard skills. Think about the specific tasks you know how to do and the products and equipment you are familiar with. For example, if you often make repairs, what tools do you use? If you've been asked to work outside, chances are you have a whole other set of competences that will fall under hard skills.
Adaptable hard skills example
Cleaning toilets, bathrooms, floors and windows
Operating floor buffer machine and auto-scrubber
Knowledge of cleaning products and chemicals
Ordering and restocking supplies
Arranging furniture
Monitoring and adjusting heating and cooling systems
Performing basic electrical work and carpentry
Mowing lawns and trimming hedges
Indoor and outdoor painting
Patching and repairing drywall
Completing basic wiring for televisions and phones
Fixing leaky faucets and other basic plumbing tasks
Shoveling and removing snow from sidewalks and parking lots
Able to routinely lift 40 pounds of equipment and supplies
Soft skills
Samples of your soft skills can play a big role on your resume in landing you a job interview for a janitor position. No one wants to work with someone who is grumpy and bummed about their job. And if you work in a school or hospital, a warm smile and "How are you today?" can make a difference for the staff and students around you. Even your fellow janitors or other building maintenance staff will expect good communication skills from you since you'll be expected to report big repairs, tasks or emergencies up the chain of command.
Adaptable soft skills example
Excellent communication skills
Impressive work ethic
Motivated when working independently
Teamwork and team management
Time management
Attention to detail
Friendly
Positive
Dependable
Honest
Expert tip
Safety is key: Use your janitor resume to highlight your ability to follow safety protocols and use chemicals and cleaning products correctly.
Resume layout, design and formatting
For a janitor resume, keep the layout and formatting squeaky-clean. All of your skills and experience won't amount to much if an employer can't easily digest your resume. This is especially true for a janitor CV, where simplicity is key. 
You're trying to show off the hard facts: you have the physical and mental abilities to work as part of the cleaning staff. Don't let fancy fonts, images or colors get in the way of that. 
So how do you craft a resume that's attractive yet straightforward? A resume template is a great tool that allows you to plug your information into a pre-designed format. Resume.io's field-tested resume templates come in a variety of categories for just about every job title. For janitors, we recommend choosing a template from our straightforward simple design category. These templates feature clean lines and minimal colors so that your job experience is the focal point of your janitor resume.
Once you've picked your template, our easy-to-use resume builder tool lets you customize your resume and get it in the hands of a hiring manager in no time.
You might be uploading the CV or resume to an online job posting, or you may send it to a hiring manager directly by email. There's even a chance you'll hand it to a principal or supervisor at a local business. In all of these cases, a PDF is the best option to make sure your resume or CV format won't change from computer to computer and will look great online and printed. Our builder makes it easy to save it in the correct format — all in a flash!
Key takeaways for a janitor resume
Janitor remains one of the most popular jobs for people with no higher education, or even those who lack high school diplomas.
The industry employs more than 2 million Americans and is expected to grow significantly, meaning there's a lot of potential for employment.
Demonstrating reliability on your janitor resume is key since the industry's high turnover rate causes a big headache for a lot of employers.
More companies are starting to look for janitors with certifications from reputable organizations.
While hard skills are important on janitor resume, don't neglect showing off your personality and ability to work in a team
We hope this janitor resume example has helped you craft the perfect resume to land your next janitor position.