They say that everyone has experience painting. And yet, when you watch a professional cut a line next to a ceiling, roll-paint an interior wall or spray-paint an exterior, you know experience when you see it. To set yourself apart from the amateurs and land the job that's right for you, you'll need a painter resume that showcases your skills, your professionalism and your proven talent.
This writing guide and painter resume example will tell you everything you need to know to prepare this critical job-application document. Here's we'll cover:
What does a painter do?
How to write a painter resume
The five elements of a winning resume
Choosing the best painter resume format
Expert tip
Resume.io is a leading resource for job-search and resume-preparation advice for all occupations. Take some time to review our 300+ resume examples for more tips.
What does a painter do?
Not counting the types of artists who paint, say, the ceiling of the Sistine Chapel, painters are experts in using brushes, rollers and spray machines to paint the interiors and exteriors of homes, businesses and other structures. Their work often involves scraping off old paint, sanding, cleaning and prepping the surface, and filling holes and cracks in walls.
Painters often erect scaffolding and work on ladders, and they must maintain a work environment that's safe for themselves and others. They are experts in working with primers, latex and oil-based paints and varnishes. Ideally, they have a keen eye for attractive colors that work together well. They are rugged workers who produce a beautiful result.
Many painters are private contractors, moving from one job to the next. If you paint a house one year, you won't need to paint it the next (hopefully!) – so job acquisition is a key skill for a paint contractor. This involves identifying and approaching potential clients, estimating the material and labor costs of any job, and submitting a detailed bid for the client's consideration. If you've mastered the skills required of a professional painter, this can be a great field to start your own business.
A painter resume can be a great supplement to a bid you submit to a potential client. So while resumes are usually crafted in an effort to be hired by a company, they are also a great tool for landing individual contract jobs. 
Looking for more ideas and inspiration to pimp your resume? Check out our related resume examples from the maintenance & repair category, listed here below:
How to write a painter resume
A painter resume should be one page only, consisting of just five elements:
The resume header
The resume summary (aka profile or personal statement)
The employment history section
The resume skills section
The education section
The header at the top contains your crucial contact info. This includes your name, occupation, address, phone number and email. You may want to include a LinkedIn profile, or you may even have an online portfolio showcasing the work you've done in the past. 
Like the final result of every job you do, your header (and the rest of your resume) needs to have an attractive, professional look. If your resume is visually unappealing, why should anyone trust you to paint their house?
Choosing the best resume format for a painter
Resume formatting involves issues of structure, design and layout. Structure is the basic framework – the five elements listed above. Design and layout involve how you place these elements on the page and the approach you take to making them look attractive.
Proper resume formatting involves good font choice; an appropriate font size (10-12 points is best); adequate margins; sound use of white space; and an overall sense of balance to the page.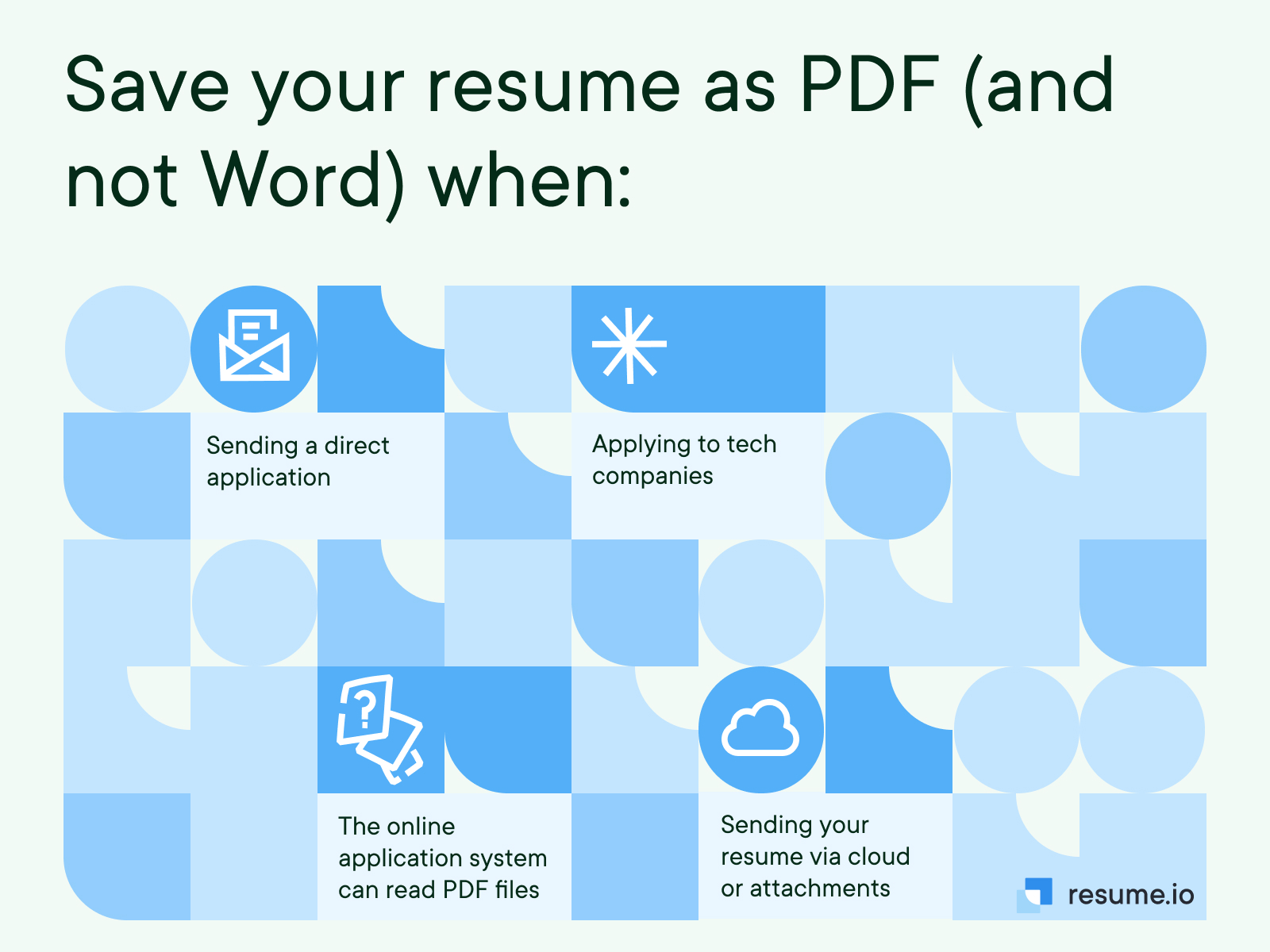 Another format consideration is whether to list your work history in the reverse chronological or functional format. The reverse chronological is by far the most popular, but is typically used by people with traditional careers in which they have moved from an entry-level job in their field to higher-ranking jobs, usually with full-time employers. 
For contractors or freelancers, the functional format may be a better choice, as it breaks down work experience by category rather than chronological order. For example, a painter resume could be divided into "Interiors," "Exteriors," "Residential" and "Commercial." 
Resume summary example: Your professional self-portrait
The resume summary, sometimes called a profile, personal statement or job objective, is a brief section under the header in which you describe in your own words what you do and how you excel. 
You have a lot of freedom here to tell your story your way, so make the most of it. Experience is key, so mention how many years you've worked as a painter, and offer an overview of the types of jobs you've done. Classroom education is not usually a big plus for a painter, but if you have any postsecondary education or other relevant training, that may be well worth mentioning. If you're insured or bonded, say so. 
Not all painters are created equal, so your special skills may be most relevant of all. If you're a master spray-painter or have experience working at dizzying heights, this is the place to mention that. 
Use fresh, original language to make your case, avoiding cliches and "fluff," which is language that sounds fancy but says nothing.
Check out the summary from our resume sample below.
Adaptable resume summary example
Experienced and reliable painter adept in completing commercial and residential painting projects in a timely and efficient manner. Detail-oriented and highly knowledgeable about various interior and exterior painting techniques and applications.
Employment history sample: Your experience
Your employment history is the most important section on your resume as a painter. Whatever experience you have, you must showcase it impressively. 
If you've held a series of jobs with painting companies, you can simply list those in reverse chronological order – last job first, first job last. Don't just mention where you worked or for how long, but specify what you did at each of these jobs, using specific and detailed bullet points. Use facts and figures wherever possible, like dollar figures, number of structures painted, etc.
Or you may have had a less traditional career path, not working 9-to-5 jobs for steady employers but doing contract work on your own. Your best bet may be to use the functional format for your painter resume, highlighting the different types of work you've done.
Expert tip
Be aware of Applicant Tracking Systems (ATS), which are software programs that employers use to filter resumes according to critical keywords. These are typically used by larger employers and may not apply to you, but if you're responding to an ad for a painter with a major hotel chain, you'd better become an expert at ATS fast.
The way these systems work is that employers first input the key qualifications they are looking for, which are usually described in the job listing. As resumes roll in, they are fed into the ATS program, which then ranks them according to searches for these keywords. Resumes that contain none of the keywords are likely to be automatically rejected without any human review. That's why it's crucial to review job listings carefully and make your resume match the desired qualifications as closely as possible.
Here is the employment history section from our sample resume:
Adaptable resume employment history example
Professional Painter, Samson Homes, Jersey City
Aug 2018 - Oct 2021
Collaborated with clients to ensure that their vision and requests were fully realized.
Completed vital steps including color mixing, taping, priming and finishing.
Achieved high client satisfaction ratings during yearly surveys.
Exercised precision and caution, resulting in expert work.
Worked well both independently and also in a team environment.

Painter's Assistant, David & Sons, Newark
Mar 2017 - Oct 2017
Completed 100+ interior painting and carpentry jobs.
Followed instructions and implemented superior's feedback.
Worked hard to achieve excellent results and build skill in the painting trade.
Maintained an organized and neat paint supply room.
Assisted with set-up and clean-up for all paint jobs.
Painter resume education example: Your schooling
You don't need a college degree in fine arts to be a house painter – but it will inspire confidence in potential employers if you can demonstrate a track record of successfully completing any kind of formal education. 
Name the high school you attended, and if you have any special training in vocational schools, or any certifications in your field, list them here. See the education section from our painter resume example below.
Adaptable resume education example
Paint and Coatings Technology Program, Williamson College of the Trades, Media, PA 
Dec 2017 - Aug 2018 

Williamson College of the Trades, Fort Lee High School, Fort Lee
Sep 2013 - May 2017 
CV skills example: What you're good at
Include a list of your skills on your painter CV (and by the way, "CV" is just another word for a resume, more commonly used outside North America). 
Special talents are typically broken down into hard skills (technical capabilities like mastery of spray-painting large structures) and soft skills (interpersonal skills like effective client interaction or the ability to manage a crew). The skills listed on the painter resume sample below may offer some guidance.
Adaptable resume skills section example
Advanced Painting Skills
Painting Industry Safety
Wallcovering
Construction Management
Faux Finishing
Structural Coatings Technology
Ability to Work Under Pressure
Effective Time Management
Resume layout and design
A sloppy-looking resume is not going to inspire confidence and someone who wants to hire you to paint their living room. In a field where visual impressions count, the layout and design of your resume speak volumes about your professionalism. 
Of course, an overly-embellished or colorful resume may also have a negative effect. A simple, clean design will do. Make sure each section title is bolded and your resume header makes it easy to find your name and contact information. A resume template can make this quick and easy.
Key takeaways for a painter resume
You need a one-page resume consisting of five properly organized components.
Your resume needs to look as good as it reads, so choose an eye-pleasing format and design.
Pass the ATS test by using keywords in your resume that match the skills employers are looking for.
Check out our painter resume sample for more ideas on creating an attractive and functional page layout, so you can start building your own resume.