Put down the makeup brush and pick up a pen: it's time to write your makeup artist resume. If you're a creative professional who knows their way around the cosmetics aisle, there are plenty of opportunities for you. But how do you prove you have what it takes?
Sure, you know which lipsticks complement different skin tones. You know your primer from your setting spray, and your BB cream from your moisturizer. However, that's only half of the job here. You also need to have the vision and technical knowledge to create jaw-dropping looks. As if that wasn't enough, you will need on-point people skills. 
Think that you have what it takes? Here at Resume.io, we have everything you need to help you climb the career ladder including a library of 350+ resume examples. In the following writing guide along with the makeup artist resume example, we will cover these topics: 
What makeup artists do and the industries in which they work
The job outlook for makeup artists in the coming years
Who the most famous makeup artists and beauty influencers are
What to include in each section of your resume (with a resume sample)
How to create the right look for your next application.
What does a makeup artist do?
Makeup artists are exactly that — artists. You use a variety of cosmetics and makeup to create different looks for your clients. Of course, there's a wide range of opportunities. You may find yourself dabbling in theatrical makeup, wedding makeup, or everyday looks. 
The day-to-day life of a professional makeup artist is highly varied. The work you will find yourself doing depends largely on the type of makeup artist you are. However, here are some common tasks that you may have to undertake: 
Promoting your makeup artist services to a wide range of clients
Communicating with clients and ascertaining what they need
Reading briefs or scripts to understand what a certain look demands of you
Creating brief sketches and designs to show clients before getting to work
Getting to know new cosmetics and products when they hit the market
Liaising with beauticians, hair stylists, and a wider creative team
Taking all of the proper precautions when it comes to beauty products
Showcasing an understanding of the photographic process and its needs
Using special effects makeup to create theatrical looks for your clients
Creating a budget and sourcing all of the products that you need
Working quickly in high-pressure environments, such as backstage
Collaborating with hairdressers to create looks or undertaking hairdressing
Understanding how long a specific project will take and scheduling well
Keeping tight accounts, paying invoices, and invoicing clients
Now, it's worth noting that there are many different types of makeup artists out there. However, the tasks we have outlined above may cross over into many of the job roles. Before you take the leap and launch your career, ensure you are well-versed in the duties.
Statistical insight
How much do makeup artists make?
Before you dedicate yourself to a career as a makeup artist, you need to know what kind of money you will make. This is a highly technical job and the salary reflects that! 
We have the answer. According to the U.S. Bureau of Labor Statistics, the mean wage for makeup artists, theatrical and performance workers is $93,850 per year. When we break that down into an hourly wage, you can expect around $45.12. 
Of course, how much you make will depend on a wide range of factors including the industry in which you work, your skill level, and your education. 
There's a wide range of salaries here. The top 10% of makeup artists take home around ​​$170,860 each year, while the bottom 10% can expect around $37,440. 
Think you have what it takes to go solo? If you're a professional makeup artist, you may decide to become self-employed. If you choose to become freelance, you can dictate your own time and rates. However, you will have to keep on top of your taxes too. Luckily, Keeper Tax has a complete guide to paying taxes for makeup artists that you can use. 
Makeup artist job market and outlook
Ready to dip your toes into the world of makeup artistry? To give you the inspiration that you need, you might want to take a look at the job outlook. The good news is that the future is relatively bright for budding young creatives who want to make their name here. 
While not a whole lot has changed in the last decade, there has been a slow boost in jobs. The number of makeup artist vacancies in the US has grown by over 162% in that period. The sector is expanding. There has also been an average growth of just over 10% per year. 
If you're thinking that now is the time to shoot your shot, you may well be right. New roles are rearing their ugly heads all of the time — ready for you to make up with the latest cosmetics. The report suggests that there will be roughly 2,420 new jobs filled by 2029. 
Statistical insight
What industry do makeup artists work in? 
If you are thinking of becoming a makeup artist, there are many career paths for you. The truth is that a variety of sectors have a demand for makeup artists. 
The U.S. Bureau of Labor Statistics reports that makeup artists, theatrical and performance workers mainly find permanent positions in the following sectors: 
Motion Picture and Video Industries
Amusement Parks and Arcades
Radio and Television Broadcasting Stations
Performing Arts Companies
Media Streaming Distribution Services, Social Networks, and Other Media Networks and Content Providers
Of course, it's worth noting that the above list of industries includes theatrical and performance workers. For that reason, they may be more wide-spanning than the sectors you plan to look for roles in. Still, it's worth keeping your eyes peeled!
Landing your next makeup artist job may well depend on the state in which you live. The states with the highest employment level among makeup artists, and theatrical and performance workers are California, Florida, New York, the District of Columbia, and Illinois. 
If you're struggling to find a job, it may be worth thinking outside of the box. Consider alternative industries in which you could work. For example, makeup artists can find work for magazines or publications, in beauty salons, at funeral parlors, and even online. The more potential avenues you delve into, the more likely you are to find a job that suits you. 
Statistical insight
Who are the most influential makeup artists? 
Being a makeup artist isn't just about knowing which mascara to use. If you play your cards right, you can become a famous influencer and have the bank balance to prove it. 
Looking for inspiration? Let's take a look at some success stories. According to the 2022 Beauty Influencer Rich List, here are the top three beauty influencers of last year: 
1. Safiya Nygaard
With a combined social earning of $196,877 and almost 10 million YouTube followers, Safiya Nygaard takes the number one spot. The social media star is known for covering beauty and lifestyle topics and also started the series LadyLike on Buzzfeed. 
2. Huda Kattan
Next up, Huda Kattan has built a beauty empire worth over a billion dollars. On top of that, her combined social earnings come to $177,216 and she has launched her own line of products called "Huda Beauty". 
3. James Charles
James Charles is a 20-something beauty influencer and makeup artist. The star has a combined social income of $145,271 and is well-known for his TikTok videos. Oh, and he also has a YouTube channel where he has more than 23 million subscribers. 
While you may not become famous overnight, the truth is that makeup artists have a wealth of opportunities at their fingertips. The more you practice your art and get your name out there, the more likely you are to get noticed by all of the right people. No matter where you are starting from, you can be sure that there are plenty of ways to make it big.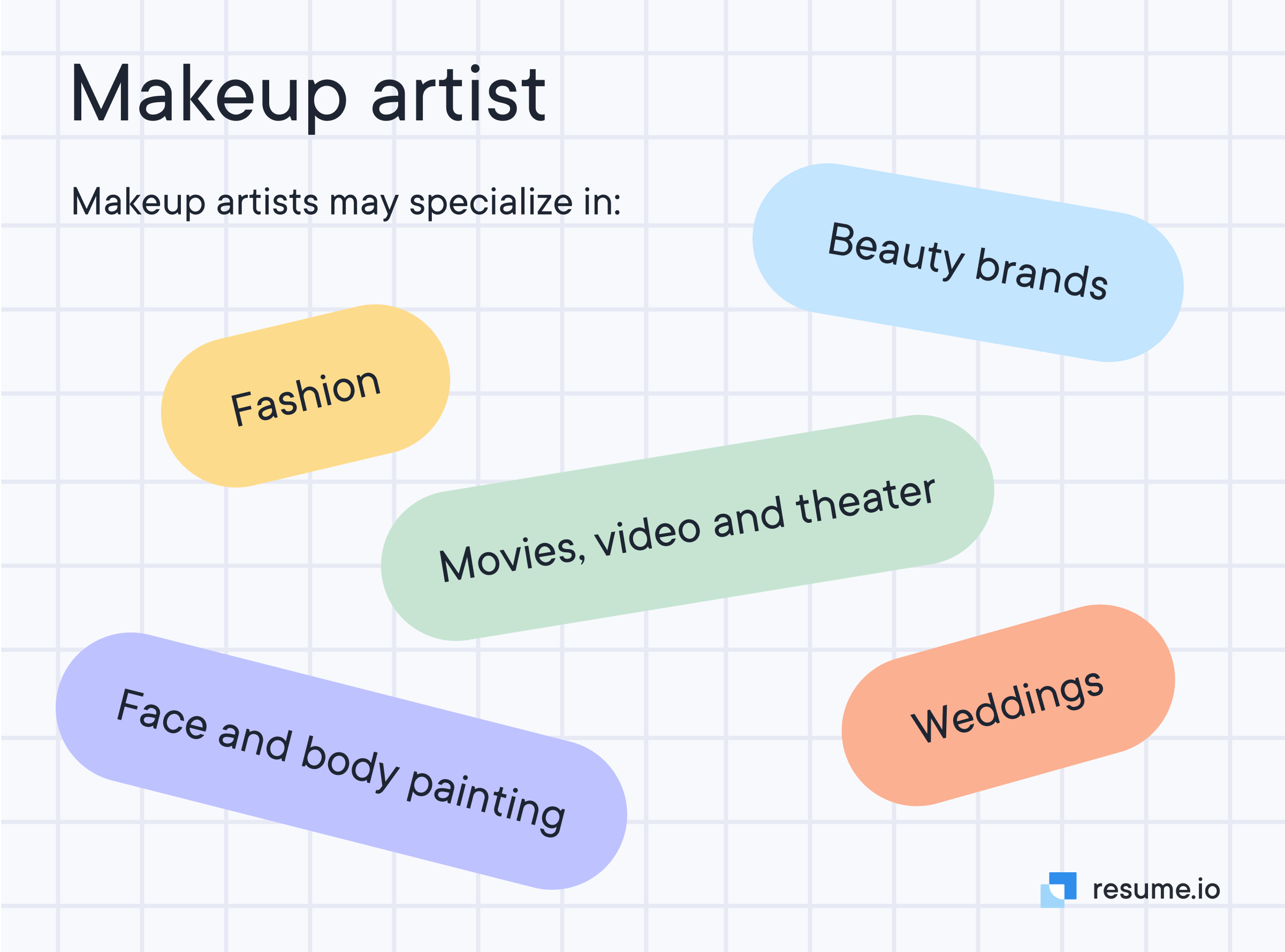 How to write a makeup artist resume
Before you start writing your makeup artist resume, you're going to need a plan. Rather than throwing everything onto a page and hoping for the best, it's important to follow a structure. With that in mind, your CV should contain the following elements:
The resume header
The resume summary (aka profile or personal statement)
The employment history section
The resume skills section
The education section
Using the above format means that your resume will tick all of the recruiter's boxes. It is the structure that they expect to see and you don't want to give them any nasty shocks. Later in this guide, we will cover the content you need to include in each of the sections. 
It should come as no surprise that there's an art to creating an engaging resume. While your portfolio will do a lot of the work here, you need to ensure that your resume supports it properly. If you're completely new to applying for jobs, don't panic. We've got you here covered with some of the most effective tips to use when writing your application. 
Get the tone just right 
The tone of your resume shouldn't be too formal or too personal. No, you need to take a leaf out of Goldilocks' book and get it just right. As a makeup artist, you need to be a people person since you work closely with clients. However, keep in mind that this is a professional role. When you're writing your resume, you will need to find a balance. 
Do your research first! 
If you're using a one-size-fits-all approach to applying for jobs, this is your sign to stop. You will increase your chances of success by tailoring each resume to the company at hand. Before you apply for a specific role, do some research. Learn as much as you can about the business or agency to which you're applying and make changes accordingly. 
Include keywords and phrases 
Want to beat the bots? Many recruiters now use Applicant Tracking Systems (ATS) to rank incoming resumes. The software determines how well your application fits the criteria of the position. Including the right keywords on your resume is a shortcut to success. Look at the job advert and pick out words and phrases. By ensuring your language matches that of the hiring manager, you boost your chance of landing that all-important interview. 
Choosing the best resume format for a makeup artist
For most makeup artist resumes, you can use the standard reverse chronological format. That means that your most recent qualifications, training, and education sit at the top of each section. As you work your way downward, you travel back in time. Recruiters are used to this structure as it allows them to quickly determine what experience you have. 
However, if you want to emphasize your artistic abilities rather than your experience, there is another way to go. A functional resume format highlights your skills over the work you have previously completed. So, should you be new to the sector, you can show off the talents you have. Read more about what structure to choose in our complete guide here.
Do you want some more inspiration on how to lay out your application? Check out some of our related resume examples here:
Resume header
The resume header is right at the top of the page. It is a chance to visually set yourself apart from the competition. This section includes your contact details so that a recruiter can get in touch. Make sure that your information is easy to read. You can afford to be creative with this part of your resume — add a splash of color or a cool design. 
Resume summary example
Next up, you need to write your resume summary. Also known as a personal statement, this is a 3-4 line bio about you as a professional. You don't need to write an entire memoir about why you became a makeup artist. Instead, include your top achievements. 
Struggling to know what to write? Here's an exercise you can try. Imagine that you're in an elevator with Jennifer Lopez' tour manager. It's your only chance to win him over and become the singer's new MUA. You have a matter of seconds to "wow" him and explain why you're a star-worthy professional. What would you say? Get that down on paper now.
Adaptable summary resume sample
Experienced makeup artist with keen eye for color and ability to select shades that complement customer skin tone. Utilize cutting-edge techniques and tools to create a sophisticated, airbrushed look. Personable and engaging, committed to listening to customers to understand desired looks and preferences.
Employment history sample
As a makeup artist, you may well be self-employed. Many professionals in this circle move from gig to gig… project to project. If that is the case, pick out your three-to-four most recent projects and lay them out as you would jobs. If, on the other hand, you are in full-time employment, you can use a standard structure for this part of your resume. 
You should use the reverse chronological order for this part of your resume. In each case, you need to include the company or client, the dates of employment, and the location. Beneath that information, you can add bullet points that emphasize your achievements. 
Adaptable employment history resume example
Makeup Artist at Marni's Salon
May 2021 - Present, Raymond, WA  
Communicate with customers to create a personalized makeup style for a range of special occasions and formal events.
Remain breast of current industry trends, incorporate new techniques, and select high-quality products.
Known for expertise in brow shaping, lash application/extension, and contouring
Makeup Artist at Dana's Bridal Shop
May 2020 - May 2021, Aberdeen, WA Assistant  
Created cohesive looks for bridal parties and other groups, including coordinating with stylists handling hair and nails.
Apprenticed with senior makeup artist to develop hands-on knowledge of best practices.
Skilled in using concealer and bronzer to brighten looks and minimize flaws.
CV skills example
Makeup artists need a varied selection of skills on their professional CVs. Sure, there are the technical skills — such as product knowledge, dexterity, and specific looks, like wedding makeup. However, since this is a people-facing role, you will also need a load of soft or interpersonal skills too. We're talking about communication and collaboration. When deciding what CV skills you want to include in this list, make sure you include both. 
Adaptable skills section resume example
Color Theory
Makeup Application
Skin Tone Matching
Airbrushing
Brow Shaping
Contouring
Bridal Parties
Proms & Dances
Makeup artist resume education example
Most of the time, you don't need a degree to become a makeup artist. However, if you have one in a related subject, you should include it on your resume. Feature any makeup artist-specific training you have had in this section. For example, if you trained under a professional or at an academy, you need to shout about it in this part of your resume.
Once again, you should use the reverse chronological order. Put the qualifications that you have gained the most recently at the top of the page and work your way backward. 
Adaptable education resume example
Aberdeen Technical College, Cosmetology Certificate
May 2020 - May 2021, Aberdeen, WA 
Resume layout and design: complete the look 
You already know the value of looking the part — your makeup artist resume needs to do the same job. Follow the below rules if you want to get it right from the offset: 
Do
Choose a good design that suits your "vibe" as a makeup artist.
Leave a decent amount of space between each resume section.
Check that the spacing is even between the margins and sections.
Don't
Pick a style that includes too many clashing colors or images.
Use more than a couple of typefaces on your resume.
Include "examples" of your work. Save it for your portfolio.
Key takeaways 
The outlook for makeup artists in the US is bright. For that reason, it's the perfect time to spruce up your resume and start applying.
Makeup artists can work in a wide variety of sectors. When you're looking for your next hot position, make sure that you think outside of the box.
Showcase a mixture of both hard and soft skills. Makeup artists work closely with their clients, and you need to have an array of interpersonal talents.
First impressions matter. Take all of the trouble out of designing your application by using one of our field-tested resume templates.