Personalized beauty is a trend that never seems to fade with the industry generating more than 100 billion dollars each year. If you're passionate about hair, makeup, or nails, now is a great time to make your mark in this rapidly expanding field.
While you may feel more comfortable showing off your skills than writing about them, a great cosmetologist resume is still the number one way to impress a salon manager or show a potential employer that you have the experience they are looking for. 
At Resume.io, we're an expert resource for job seekers no matter their field or experience level. This resume guide, along with the corresponding cosmetologist resume example will cover the following topics:
What does a cosmetologist do?
How to write a cosmetologist resume (tips and tricks)
The best format for a cosmetologist resume
Advice on each section of your resume (summary, work history, education, skills)
Professional resume layout and design hints
Expert tip
Applying to multiple jobs? 
Check out our 250+ occupation-specific resume examples for more inspiration.
What does a cosmetologist do? 
Cosmetologists are licensed beauty professionals who can specialize in a range of services including hair and makeup, skincare, nail care, and waxing and grooming of body hair. Cosmetologists may work in a variety of settings, such as salons, spas, or makeup studios, and may work alongside makeup artists, hairdressers, and nail technicians.
Some duties of a cosmetologist include:
Cut and style hair including performing haircuts, blowouts, curling, straightening, and other styling techniques to create the client's desired look.
Provide makeup services for special events or provide makeup lessons to teach clients how to apply makeup.
Manicures, pedicures, and other nail treatments.
Provide skin care treatments including facials, exfoliation treatments, and other skin care services.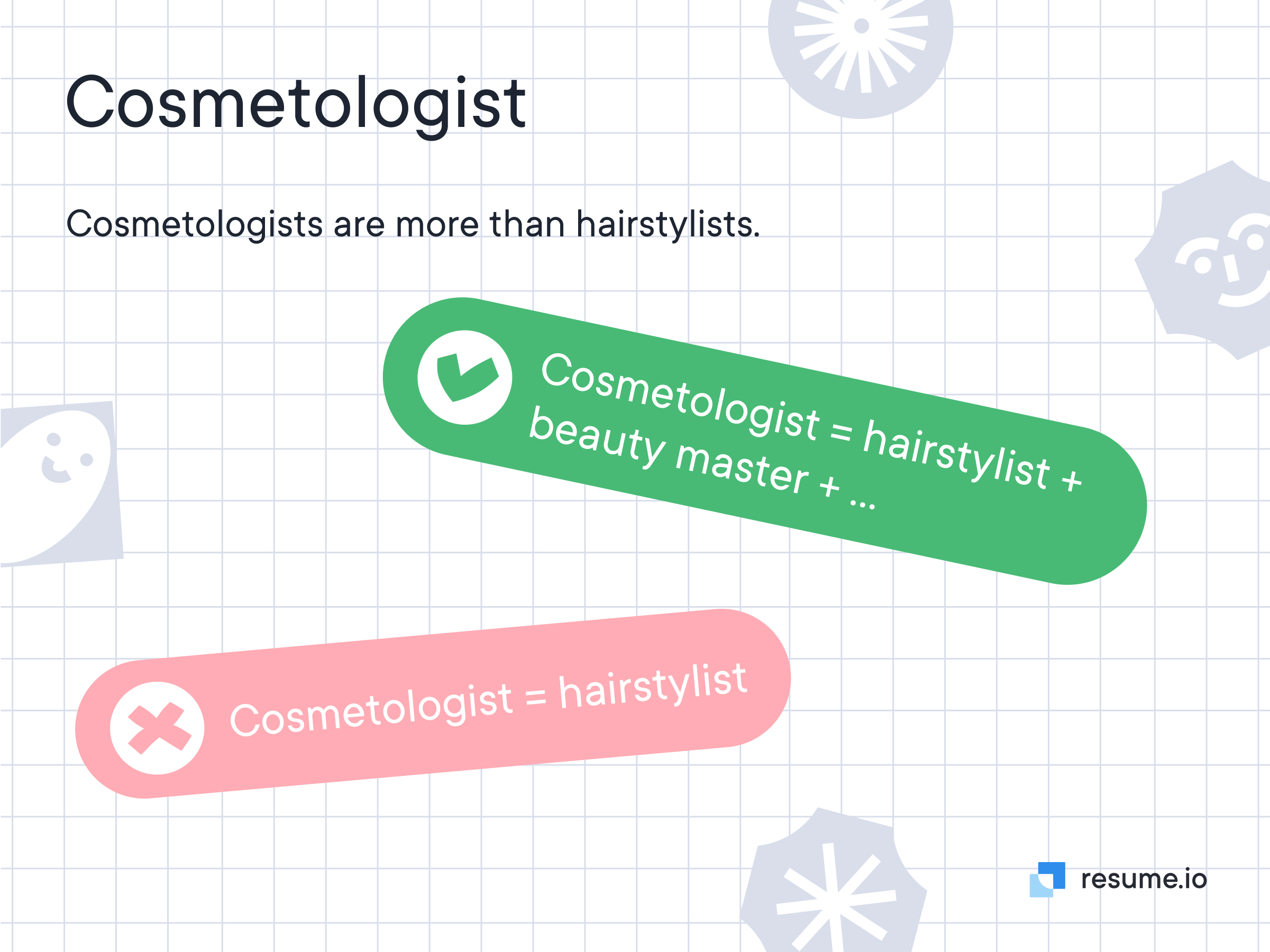 How to write a cosmetologist resume
The very first step in writing your cosmetologist resume is understanding what sections to include. Your CV should contain the following elements:
The resume header
The resume summary (aka profile or personal statement)
The employment history section
The resume skills section
The education section
While your portfolio, or even a professional social media account, will be one of the main elements a hiring manager will consider, your resume is also a valuable tool to help give more context to the pictures of your best haircuts and manicures.
A great resume is concise and tailored to the job you are applying to. Before writing your resume, make sure to consider the salon or spa where you hope to work. Check out the website or visit the physical location if you can. The goal is to gather the most information about the type of clientele and the services they're looking for. Make sure to focus on that information, and any details from the job description, as you write your cosmetologist resume. If you're applying to more than one position, it's important to take a moment to customize your resume for each employer.
Cosmetologists often refer to themselves by more specific roles, so you can find resume advice for any specialties you may have in our:
Choosing the best resume format for a cosmetologist
Cosmetologists have a few options when it comes to choosing the best resume format. For job seekers with plenty of traditional employment to show, the "standard" reverse chronological resume is oftentimes the best choice. This resume structure focuses on the employment history section where jobs are listed from most recent to oldest. The reverse chronological format is the type of resume most hiring managers are expecting to see, although cosmetologists should feel free to adapt the formatting to their own experience.
Additional options include the functional or hybrid models where skills play a predominant role on the resume and the employment history section comes further down. These formats are often the best choice for cosmetologists sharing their resumes with prospective clients or anyone who wants to highlight their special skills before their work experience. 
Resume header
The resume header is the space at the top of your resume that contains your name, contact information, and a pop of color to make your resume more noticeable. As a cosmetologist, it's also important to include a link to your portfolio or professional social media account so that an employer can easily evaluate your skills alongside the content of your resume. See our adaptable resume sample for more ideas on how to create your header.
Resume summary example
The resume summary is the first section under the header and is the most freeform part of the resume. These 3 to 5 sentences give you the chance to introduce yourself and your experience as a cosmetologist. Make sure to reference your specialty, if you have one, and any notable achievements that would encourage the reader to take a look at the rest of your resume. If you are required to be licensed in the area where you plan to work, it's important to add your license number in the resume summary. See our adaptable resume example below for more inspiration.
Adaptable summary CV sample
Customer-focused cosmetologist with a passion for helping clients of all ages to look and feel their best. Experienced in the full range of cosmetic practices, from skin, hair, and nail care to makeup, hair styling, and waxing. Exceptional ability to build authentic connections and provide confidence-boosting service and care.
Employment history sample
The employment history sample will likely take up the bulk of your resume and should be crafted with care to show your most impressive achievements as a cosmetologist. First, begin with the name of the salon or spa where you worked, your role, the dates worked, and the location. Beneath each subheading, make sure to add 4 to 5 bullet points that summarize your responsibilities and any noteworthy achievements in areas like salon revenue, awards, client satisfaction, or professional development. Don't forget to list your bullet points starting with the most recent and working backward through the past 10 years of experience (or as much as you have.) Check out our employment history resume sample below.
Adaptable employment history CV example
Cosmetologist, Blue Bird Salon, Malibu, CA 
February 2020 - March 2023 
Engaged with diverse clients to identify their beauty and lifestyle goals, event needs, and unique creative visions, offering expert beauty recommendations.
Provided the full scope of cosmetic services including makeup, hair styling, nail care, skin care, and waxing in a welcoming, non-judgmental environment.
Managed a large book of clients, building lasting relationships with repeat customers and welcoming in new guests to ensure positive experiences.
Cosmetologist, Sierra Spa and Salon, Malibu, CA 
October 2017 - January 2020 
Delivered end-to-end beauty services, offering skin and nail care, makeup services, hair care and styling, and more, bringing all aspects of client appearance into alignment with their goals and needs.
Recommended skincare, hair styling, and makeup advice to enable clients to maintain their appearance at their desired level of effort.
CV skills example
A well-crafted CV skills section is one of the best ways to communicate your top abilities and the services you can bring to your next salon or spa. Since this section often takes the form of a bullet point list, you'll have limited space to share your skills. Therefore, it's important to take a moment to reflect on your top qualities and align them with the needs of a potential employer. Choose the top 4 to 5 and include them in this section. While your cosmetology-specific skills should take center stage, it's a good idea to include 1 to 2 "soft skills" like attentiveness or time management. Check out our adaptable skills CV example below.
Adaptable skills section CV example
Customer Service
Nail & Haircare
Client Relations
Skincare
Makeup Artistry
Hair Styling
Cosmetologist resume education example
Your education as a cosmetologist is the base you rely on every day at work. That's why it's important to include an education section on your cosmetologist resume. Make sure to list any training or degrees in reverse chronological order as you did elsewhere on your resume. Include the program name, school, dates attended, and location. You may also want to add a bullet point or two to list any impressive accomplishments linked to your educational experience. 
For cosmetologists, learning is a lifelong goal, so make sure to add any continuing education courses, memberships, or new certifications to this section as well. Check out our education resume sample below.
Adaptable education CV example
Associate Degree in Cosmetology, Malibu Cosmetology School, Malibu, CA 
January 2015 - May 2017
Resume layout and design
As a cosmetologist, appearance is your business, so it's no surprise that the layout and design of your resume will be judged as a reflection of your skills. Make sure to choose a design that reflects the clientele and style of your potential workplace. A posh spa will likely call for a neutral color scheme, while a family-oriented salon may appreciate a pop of color. Here are a few more tips to keep your layout looking as sharp as your haircuts:
Do
Leave a balance of white space to text so that your resume is easy to read
Use consistent font styles and sizes throughout your resume
Consider using an expertly-designed resume template to make sure you get the look just right.
Don't
Change the margin size to cram in more text
Go overboard with colorful images or fancy font styles.
Forget to proofread before you submit!
Key takeaways for a cosmetologist resume
Cosmetology is a field that never seems to stop growing – now is a great time to craft your resume and land a great job!
Don't forget to customize the look and content of your resume for each employer and their clientele.
Your resume format can be adjusted to your experience and needs so make sure to play around with the formatting.
Our adaptable cosmetologist resume sample makes it easy to get started creating your professional-looking resume.