With the skin care job market growing exceptionally fast, your esthetician resume must be exceptional to outshine the ordinary. Like the beauty mark that distinguished Marilyn Monroe and Cindy Crawford from the other stunning women of their generation, you'll need a resume to make you stand out from the crowd.
You're in the right place for advice on illuminating your most impressive attributes in a nuanced light. Resume.io's globally respected job search resources include more than 350 occupation-specific writing guides and resume examples.
Here is what we'll discuss in this step-by-step guide, referring to an adaptable esthetician resume example:
What estheticians do, and the impact of unstoppable growth in the skin care industry
How to write an esthetician resume that's uniquely your own, but conforms to the universal structure
The best resume format for estheticians
Conveying in each resume section that you're the best hire: header, summary, employment history, skills, and education
Resume esthetics: layout and design hints for flawless eye appeal
Resume.io is continually expanding its library of writing guides and resume examples for professionals in the wellness and beauty fields. Estheticians are encouraged to take a look:
What does an esthetician do?
With beauty being only skin deep, as the cliché contends, why else are spas and salons attracting droves of clients seeking professional skin treatments? There's no question beauty is part of the esthetics equation, but the motivation to look and feel our best has a lot to do with overall health, inspired by the motto "Healthy skin is in."
Estheticians are helping unprecedented numbers of people improve and maintain the health of their skin. With the expertise to care for the body's largest organ, these licensed professionals provide the gamut of skin treatments, from facials, peels, masks, and scrubs, to Botox injections, laser procedures, and unwanted hair removal. Some also provide full-body treatments and head or neck massages. Estheticians — sometimes called "beauty magicians" —  also provide advice to clients on the best skin care products and regimens.
Statistical insight
How much estheticians earn
The U.S. Bureau of Labor Statistics (BLS), which classifies estheticians as skin care specialists, reported they were earning a median hourly wage of $17.93 in May 2021. The most recent Glassdoor information shows estheticians earning an average base pay of $47,143 annually. 
Esthetician job market and outlook
The job outlook for estheticians and other skin care specialists is radiant, with the BLS projecting 17% employment growth from 2021 through 2031, much faster than the average job growth of 5% for all occupations.

According to a Statistica report, the burgeoning global skin care industry is expected to be worth $189.3 billion by 2025, up from $99.6 billion in 2012. The uptrend is consistent with younger people becoming more preoccupied with skin care. 
Esthetician or aesthetician — what's the difference?
Although the two terms are sometimes used interchangeably, and both refer to skin care specialists with similar training, there are some general differences.
Estheticians typically work in beauty salons, spas, resorts, and fitness clubs; some are self-employed.
Aestheticians often work in clinical settings such as doctor's offices, hospitals, burn units, trauma centers, and reconstructive surgery centers.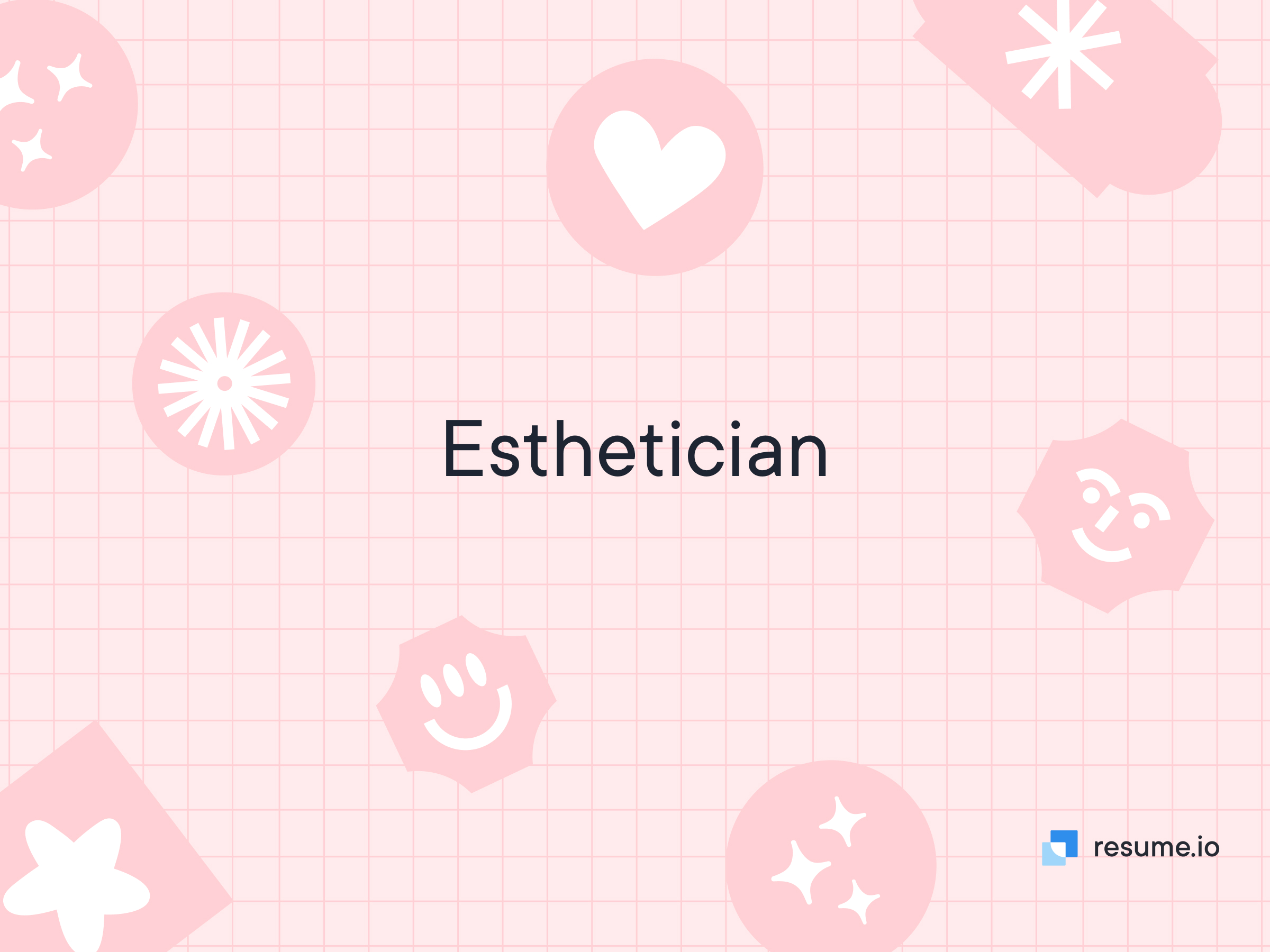 How to write an esthetician resume
You do this every day as a matter of routine — assemble everything you need to provide a specific skincare treatment. What all your clients have in common is the clean "canvas" entrusted to your capable hands, furnished with all the products and tools you'll need to work your magic, step by step.
Writing your esthetician resume can seem less daunting when approached the same way, this time with a blank screen waiting for you to start writing. Ideally, you've assembled plenty of raw material. Now, it's a matter of putting it in order, following the same structure that virtually all resumes have in common:
Header
Summary
Employment history
Education
Skills section
We'll take a closer look at each one of these resume components shortly. But first, some important general advice.
The case for customizing your resume
It's probably fair to say that what makes an esthetician's job interesting is the diversity of clients and the variety of services you provide. From a broader lens, consider that no two esthetician jobs you pursue will be exactly alike. You may be qualified for all of them, but chances are, so will your peers who are seeking the same position.
How can you set yourself apart? How can you ensure your esthetician resume gets more than just a glance? The answer lies in how effectively you customize it for each hiring situation. It comes down to staying laser-focused on what the employer needs and expects. It's about helping the recruiter to envision you delivering that better than any other esthetician can. From a business perspective, it's about convincing the salon or spa manager of your earning potential — worth more than the cost to hire you.
This is why each new job application calls for a refreshed version of your esthetician resume. Whether it takes only some touch-ups or a complete makeover depends on the match between your talents and the job requirements.
Optimize for more than one reason
Hand in hand with customization comes the crucial need to optimize your esthetician resume so it bypasses the applicant tracking systems (ATS) that many employers have programmed to scan for certain keywords in online job applications. Even if this is not the case when you apply for an esthetician position, including keywords in your resume is no less worthwhile as a custom-tailoring step that could give you an edge.
Scrutinize the career ad
How do you know how to customize and optimize your esthetician resume? It's a good question that many job seekers, unfortunately, fail to ask. The answer is simple: study the job requirements listed in the posted career ad. 
This is your best source to analyze precisely what the employer is looking for and how much emphasis is placed on each expectation. Also, pay attention to keywords that stand out — possibly repeated with slightly different wording. Replicating these words and phrases verbatim in your resume is your best safeguard against ATS rejection. It also shows the employer you've done your homework.
Additionally, unless you're familiar with the hiring salon or spa first-hand, do some research online. Look at reviews to determine improvements you could help bring about. Ask around, or even visit in person. Again, the extra effort shows you are taking this job application seriously.
Choosing the best resume format for an esthetician
Only if you are a self-employed esthetician, or lack relevant work experience, would we recommend the functional (skills-based) resume format or the more versatile hybrid format.
Otherwise, the most commonly used chronological resume format is the best choice for estheticians who have worked mostly as employees. Recruiters prefer the emphasis on work experience, organized in order from most recent to earliest jobs. It's also the most ATS-friendly resume format.
Resume header
The importance of an eye-catching header for your esthetician resume cannot be overstated. A well-proportioned header design contributes to a reader-friendly, "best face forward" first impression. 
Above all, the header ensures your identifying details are noticed first and easy to retrieve later when the employer wants to contact you. In addition to your name, occupation, phone number, and email, it's the right place for hyperlinks to your LinkedIn profile and/or online portfolio of images, if available.
Be sure to use the same header design for your esthetician cover letter.
Resume summary example
The summary of your esthetician resume is where the brightest spotlight shines on the promise of success your next employer is being offered. As a succinct synopsis of your most impressive qualifications, with overtones of personality, the summary (sometimes called a profile or personal statement) should be relevant and relatable to the person reading it.
Have you ever helped a beauty and wellness business turn a corner from surviving to thriving? Was it your high-quality standards or friendly demeanor that drew new clients and kept loyal ones coming back? Did you cater to any niche clientele such as fashion show participants or wedding parties? What about the impact on the self-esteem of at-risk women, the elderly, and those recovering from illness or injury?
Expert tip
By nature, job applications have a self-interest motive, but the "hire me" pitch in your resume summary is not all about you. Your goal is not to convince the salon owner or spa manager that you need or deserve this job. Rather, you're suggesting that the salon or spa could be more profitable with you on its team. Strengthen the impact by referring to the company by name in your summary.
Don't elaborate in any detail here. Just hit the high notes of who you are and what makes you an excellent esthetician, leaving the recruiter curious to read further. Below is an esthetician resume example summary you can customize.
Adaptable summary resume sample
Licensed esthetician dedicated to providing positive experiences and empowering clients to achieve their best selves. Customer-focused professional able to connect with diverse customers and recommend skincare treatments to manage key concerns. Demonstrated expertise in the full range of treatments, including skin analysis, facial massage, facials, chemical peels, and waxing.
Employment history sample
The employment history section of your esthetician resume holds a two-way mirror to your past performance and future potential.
Use descriptive language but don't merely rattle off a generic job description for each previous job. The hiring manager already knows what duties an esthetician performs. So instead of squandering bullet points on what you were responsible for, talk about what you actually did in each role. Your language automatically sounds more dynamic if you use action verbs in the active voice to describe accomplishments.
Try to quantify beneficial outcomes whenever possible. Revisit the questions we put forward above when discussing your resume summary. Dig just a bit deeper now to highlight your work experience in measurable terms — dollar amounts to show financial gains, or numbers and percentages to show efficiencies and clientele growth. If you're not in a position to pinpoint this data precisely, provide job scope or scale indicators such as salon size, hours worked and the number of daily appointments, or frequency of specific treatments.
Below is an esthetician employment history resume sample you can use to write your own.
Adaptable employment history resume example
Esthetician, CleanSkin Spa 
June 2017 - March 2023, Miami, FL 
Met with clients to conduct initial skin assessments, identifying key concerns and shaping customized treatment plans.
Selected a wide range of skincare items, including creams, moisturizers, and exfoliants, to create tailored, effective skin support for unique client needs.
Offered rejuvenating facial massage services, providing pampering and relaxation.
Esthetician, Med Aesthetics Miami 
October 2014 - November 2016, Miami, FL 
Performed a wide range of cosmetic treatments alongside medical aestheticians, offering non-medical, non-invasive services for a wide range of skincare needs.
Partnered with aestheticians to shape comprehensive treatment plans, aligning facial and skin care processes with skin health support services.
Managed client scheduling, maintaining a full appointment book across the salon.
Makeup Artist, Diva Artistry 
June 2013 - October 2014. Miami, FL 
Consulted with clients to identify their needs, shaping makeup strategies for client events from natural, no-makeup-makeup styles to full glam.
Provided product recommendations based on client skin issues, skill level, and beauty needs/goals.
CV skills example
There's a good chance you'll find it more challenging to trim down the skills list on your esthetician CV than to decide what to include. Some job-related abilities and techniques might seem like ones that hiring managers could take for granted. Still, whatever skills are stipulated as a posted job requirement definitely belong on your resume. They can either appear verbatim on the skills list or be implied in your summary or employment history highlights.
Otherwise, try to think of possible game-changing talents that could give you a winning edge. Strive for a mix of distinctive hard skills and soft skills. For instance, your practical, hands-on abilities might have administrative value, from computer applications to scheduling and inventory management. Soft skills — inherent personal qualities and beneficial work habits— are apparent in your interactions with others. Be specific when citing communication and interpersonal skills that are vital for an esthetician, from being a good listener to remaining calm under pressure to effectively counseling clients about at-home follow-up routines.
Evergreen Beauty College regards these five skills as essential for successful estheticians.
Being able to interact effectively with people can be even more important in this beauty-centric field. Many clients schedule spa or salon visits to relax and recuperate from stress, so the esthetician must provide that kind of experience.
Attention to Detail
Paying attention to every detail - including small skin imperfections that might escape the client's notice - is crucial.
Creativity
Creativity can be a distinguishing characteristic that sets you apart from your peers.
Business Know-How
Having a vested interest in the esthetics business includes knowing how to market your services, showcase your work in a portfolio, and sell products you believe in.
Persistence and Physical Strength
Even with no need to lift or lug around weighty items, the physical job challenges should not be underestimated. Estheticians are on their feet for long stretches, often in uncomfortable positions.
Check out our esthetician resume sample for the skills section below.
Adaptable skills section resume example
Skin Analysis
Chemical Facial Peels
Acne Treatments
Microdermabrasion
Anti-aging Procedures
Product & Treatment Recommendations
Waxing
Makeup Artistry
Facial Massage Techniques
Esthetician resume education example
Just because estheticians don't require a university degree doesn't make your qualifications count any less. 
Follow this reverse chronological listing order in your resume's education section, indicating each school name, location, and graduation year: degrees, diploma or certificate programs, internships, on-the-job training, and courses you've completed as an employee or on your own. Omit high school information if you have a degree.
Be sure to mention licenses (mandatory or not), certifications, and membership in beauty professional associations, along with any awards or special honors you've earned.
Below is the education section from an esthetician resume you can modify.
Adaptable education resume example
Evergreen Beauty, Esthetician License 
December 2011 - May 2013, Miami, FL 
University of Miami, Bachelor of Arts 
August 2005 — December 2009, Miami, FL
Resume layout and design
Appearance always counts, but the bar is set higher for an esthetician resume to be eye-pleasing on all counts. There's no visual aspect you can afford to get wrong when it comes to document layout, design, and formatting.
Expert tip
Spare no effort in harmonizing your resume design elements with the image and vibe of the place where you hope to work. From the building architecture and interior decor to the branding on signage, web pages, and printed materials, be mindful of the aesthetics. Neighborhood locale and client demographics are also relevant.
The overall look of your esthetician resume should be immaculate, streamlined, and buffed to unblemished perfection. An uncomplicated layout looks inviting to read at first glance, with one clearly labeled section flowing logically into the next. Allow ample white space on the page by sticking to the default one-inch margin widths and easing your line and paragraph spacing.
Even the most understated resume designs leave room for confident creativity. Follow your instincts all the way when it comes to font style, text formatting, and sparing touches of color. Or, take advantage of an easier and faster way by using one of Resume.io's field-tested resume templates. You'll have no trouble finding the right look for your esthetician resume by browsing these four style categories: Modern, Creative, Simple, and Professional.  
Key takeaways for an esthetician resume
In today's dynamic job market for skin care specialists, you can't afford to have a lackluster esthetician resume.
Understanding the employer's specific hiring needs is the key to customizing your resume for each job application.
Each resume section should reinforce why your talents are an excellent match to the job requirements and how the employer could benefit.
However useful your esthetic expertise may be for crafting a DIY document, using a ready-made resume template is a simpler path to visually professional results.