If teaching is an art, how much more resonant does this common wisdom become when art is the subject being taught? As a job seeker who is gifted on both counts, is there any room for creative expression in your art teacher resume?
Perhaps more than you might think, as Resume.io conveys in each of its 350+ occupation-specific resume examples and writing guides. In this guide, with a corresponding art teacher resume example, we'll explore ways to gain a winning edge when pursuing any art teacher position you desire. We'll discuss:
What art teachers do, their earnings, and job outlook
Sketching out your art teacher resume to fit the right structure and best format
Illustrating in each resume section why you're an exceptional job contender: header, summary, employment history, education, and skills
Layout and design tips for a picture-perfect resume document
What does an art teacher do?
The job title art teacher covers a wide spectrum of visual art forms, age groups, skill levels, and instructional settings. Depending on the needs and interests of their students, art teachers aim to build an understanding of creative concepts such as color, shape, and texture. They foster the development of visual communication skills and creative self-expression in techniques such as drawing, painting, sculpting, ceramics, photography, printmaking, and digital design.
Working in classrooms or studios, art teachers are commonly employed in public or private school positions spanning the early elementary grades, through middle and high school, to postsecondary levels. Others teach classes in community centers, museums, or private studios. Self-employed art teachers typically provide one-on-one or small group instruction, often specializing in a specific medium or art style.
Statistical insight
Most recent comparative salary data for art teachers:
Average Yearly Salary
Range
$48,318
$44,408 — $53,039
$47,866
$32,000 — $72,000
$55,000
$42,872  — $78,000
As of May 2022, the U.S. Bureau of Labor Statistics (BLS) reported that the median annual salary for postsecondary art, drama, and music teachers was $ 77,280, within a range of $40,960 to $ 167,610.
Otherwise, art teachers are not categorized separately from other teachers in the following BLS data from May 2021.
All teachers at each school level
Median 
annual salary
Projected job growth 
2021 to 2031
(occupational average 4%)
Kindergarten / elementary school
$61,350
4%
$61,320
4%
$61,820 
5%
Postsecondary
(colleges, universities, technical schools)
$79,640
12%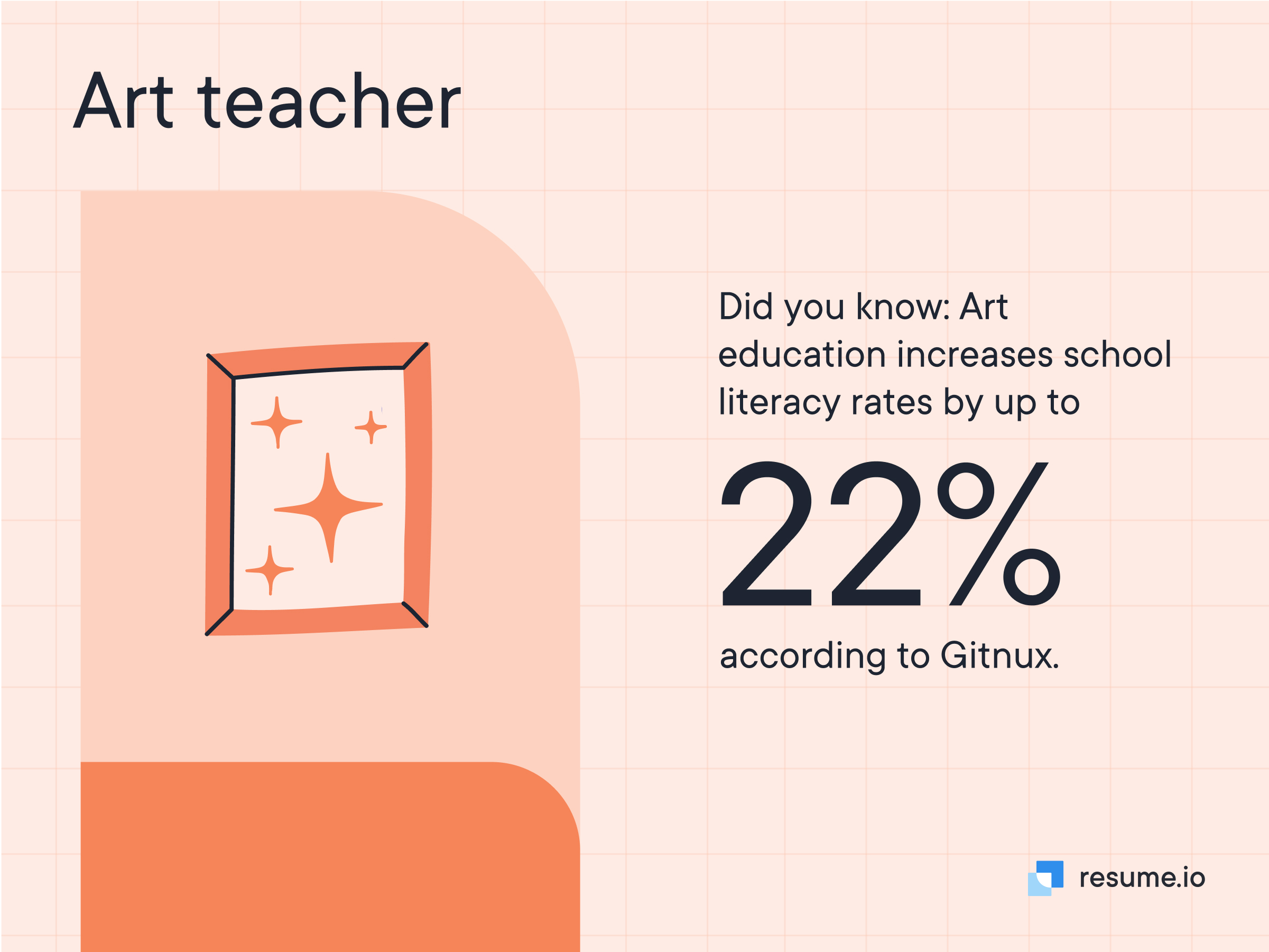 How to write an art teacher resume
Whether you're starting a new art project or preparing for next week's classes, a plan is vital. Resume creation is no different. Before writing a word, be clear about the orderly structure to follow, broken into these essential sections:
Header
Summary
Employment history
Education
Skills
Before taking a closer look at each part individually, let's look at some universally important resume planning principles. They improve the odds of your resume being looked at for longer than the 10 seconds — tops —  that busy recruiters spend on average skimming each one.
Shorter is better, and one page is best. This requires an economy of words to the nth degree and several rounds of scrupulous editing.
For every new job application, you need a new custom-targeted resume. The content should precisely match the specific job requirements, while the language and tone are geared to the employer. Scrutinize the posted job ad and do your own research to pinpoint the hiring needs.
The job ad is also a vital source of keywords that should be incorporated wherever possible — preferably verbatim — without sounding contrived. Thus optimizing your resume can help avoid rejection by the digital screening filters known as applicant tracking systems (ATS).
Expert tip
These are some other Resume.io writing guides and resume examples where art teachers  might find more inspiration and ideas:
Choosing the best resume format for art teachers
For art teachers with relevant employee experience, the chronological resume format is the best choice. It gives hiring managers a linear overview of your art teaching experience, organized in order from most recent to earliest jobs. 
If you are a self-employed art teacher or otherwise lack teaching experience in hired roles, the skills-focused functional resume format might work well. The hybrid (combination) format is another option for art teachers with varied backgrounds where skills and employers both matter. 
Resume header
Some creativity in the header of your art teacher resume can work in your favor, as long as it's not distracting or gimmicky. An eye-pleasing first impression visually sets your job application apart. The practical purpose is to draw the reader's attention to your identifying information and make it easy to find later when you are contacted for an interview. 
Include your name, occupation, phone number, and email. Also, add hyperlinks to your LinkedIn profile or online portfolio of work samples if available.
Art teacher resume summary example
The summary of your art teacher resume provides a compact synopsis of your key experience and qualifications. It should also give a sense of your personality, passion, and purpose as an art teacher. 
Ultimately, this section — sometimes called a profile or personal statement — should start drawing a picture of the employer, you, and your future students being part of the same success story. Naming the institution where you hope to teach can start piquing the hiring manager's imagination in that regard.
Below is an art teacher resume summary example you can modify.
Adaptable summary resume sample
Creative, passionate Art Teacher known for inspiring students to achieve excellence through engaging, supportive environment. Dedicated educator, empowering students to awaken the creativity within by exploring the world in innovative ways.
Employment history sample
Metaphorically, this art teacher resume section is where you paint a textured landscape depicting your most colorful career highlights with overtones of future professional growth.
Dynamic action verbs are the core language medium for outlining your work experience in descriptive bullet points. From the target employer's vantage point, selectively discuss the most relevant and relatable roles and accomplishments, focusing on beneficial outcomes. 
Think of ways to quantify with facts and figures. Have you optimized class teaching time so your students gained more hands-on experience? Are there any noteworthy performance appraisal ratings? If art was an optional subject, did your course's popularity boost enrollment? What about more cost-effective or eco-friendly purchasing and material usage? 
If hard data isn't available, scope and scale metrics can make a difference: school size, student numbers, and frequency of classes. Mention exhibits and competitions you organized.
Below is the employment history section from our art teacher resume sample.
Adaptable summary resume sample Adaptable employment history resume example
Art Teacher, Portland West High School, Portland, OR 
September 2017 - April 2023 
Cultivated engaging classroom environments that inspired creativity for grades 9-12.
Provided expert education, building skill sets in art basics to support lifelong exploration.
Offered advanced instruction to higher grade students, coaching individuals in cultivating their unique vision and style through experimentation.
Art Teacher, Portland Community College, Portland, OR 
January 2014 - August 2017 
Partnered with students of all ages and skill levels to build competency in the basics of life drawing, pastels, and acrylic/oil painting.
Provided judgment-free constructive criticism, empowering students to expand their skill set and creative vision through recommendations on technique and stylistic choices.
Art teacher resume education example
Except for some community or private instructors, the formal education requirements for art teachers are relatively clear-cut. Start by listing your degrees in reverse chronological order from highest to lowest level. Include information about your student teaching internship and any additional training programs you've completed as a job requirement or on your own. Also, list the applicable state certifications and licenses (this could be mentioned in the summary too) and professional memberships, along with any awards or special honors.
Below is the education section from an art teacher resume sample you can modify.
Adaptable education resume example
Master of Art in Education, Portland State University, Portland, OR 
September 2009 - December 2013 
Bachelor of Fine Art (BFA), Portland State University 
January 2006 - May 2009
CV skills example
Your abilities as an artist and as a teacher no doubt add up to an exceptionally diverse mix of hard skills and soft skills. That's what all hiring managers look for, regardless of the position or profession. But it far exceeds the space available on a resume page.
Here are some guidelines for determining which skills belong on your art teacher resume.
Those that count most to the employer take top priority. Revisit the ad post and make sure all the stipulated job requirements appear on your resume.
Listing skills verbatim, as keywords, reinforces your ATS-proofing efforts.
Think of valuable skills that could set you apart from other contenders — for example, an art history specialization or teaching kids with special needs.
Expert tip
Your resume's summary and employment history sections enable you to demonstrate specific skills in action. Sometimes this can be implied, if not stated explicitly, in your description of achieving a beneficial outcome. Then there's no need for repetition on your separate skills list.
Check out our art teacher resume example for the skills section below.
Adaptable skills section resume example
Classroom Management
Curriculum Design
Painting, Drawing, & Design Basics
Instruction & Education
Art Instruction
Creative Exploration
Resume layout and design
As an artist, you likely know more than most about design principles that are integral to eye appeal. Naturally, hiring managers will expect your art teacher resume to look as good as it sounds. The document must appear inviting to read while proving easy to read throughout. That means the visual aspects of layout, design, and formatting are interlinked considerations.
As noted earlier, there's room for creativity to the extent of drawing eyes to the content you want to stand out on the page. Graphic elements and color have their place as long as they don't detract from reader-friendliness.
An uncomplicated, well-ordered layout enables recruiters to spot what they're looking for in labeled sections. A balance between black text blocks and white space is essential, so adhere to the default one-inch margin settings. Open up the line and paragraph spacing. No more than two legible and compatible font styles are advisable — one for body text and another for headings — and neither should be fancy.
Even graphic design whizzes don't always have the time or inclination to deal with document design details when preoccupied with their job search. And nothing says they need to. Nor do you do as an art teacher. Resume.io's ready-made resume templates offer a faster and easier path to visually professional results. You're sure to find a design you like from our four style categories: Modern, Creative, Simple, and Professional.
Expert tip
Consider a resume design that complements your future workplace image and vibe. Check out the branding esthetics on web pages, signage, and printed materials. 
Key takeaways for an art teacher resume
As modest overall employment growth tightens job competition, a stand-out art teacher resume is essential.
Approach each job application from the standpoint of benefitting the employer and future students. A good grasp of the specific hiring needs will help you customize your resume, including keyword use as an ATS-proofing measure.
Each resume section should reinforce that your artistic talents and teaching abilities are an ideal job match.
Using a field-tested resume template saves time and effort that you can devote to crafting your resume content.