The ever-more serious dentist shortage in the UK finds recruiters under intense pressure to fill widespread vacancies. Still, when pursuing an appealing job opportunity, it's no less critical that your dentist CV is outstanding enough to put a smile on any hiring manager's face.
Resume.io is well-equipped to help with UK job search tools, including a growing number of occupation-specific writing guides, paired with CV examples.
Keep reading for CV writing advice geared specifically to dentists, alongside an adaptable dentist CV example. Topics covered:
The role and job outlook for UK dentists
How to structure your dentist CV — the root components and best format
Extracting one CV section at a time to portray its importance — header, profile, employment history, education and skills
CV layout, design and formatting tips for a professionally polished look.
What do dentists do?
For every smile that lights up a room, dentists typically deserve part of the credit. And that's only the visible part of their highly-skilled work as comprehensive oral healthcare professionals. Whether NHS or private, dentists have a selection of duties on a daily basis.
Conducting examinations, filling cavities and cleaning the teeth are merely the basics of what dentists do to help patients attain and maintain optimal oral hygiene and health. Prevention, diagnosis and treatment of dental diseases encompass the gamut of mouth and gum conditions. From x-rays, teeth cleaning, and extractions to root canals and crown, denture or bridge fittings, it's all in a day's work for dentists in general practice. Specialist training options include endodontics, oral surgery, pediatric dentistry, orthodontics. and oral and maxillofacial pathology. 
UK dentists are typically self-employed associates in a general dental practice, providing  patient care on a private basis or through the National Health Service (NHS). Many have a combination of private and NHS patients.
Statistical insight
According to the UK's National Career Service, dentist incomes range from £34,728 to 
£96,154 per year, depending on experience level. 
These basic annual salaries apply to NHS dentists, starting with trainees:
Mandatory year of foundation training — £36,288
One to three years of core training — £40,257 to £51,017
Dental specialty trainees — £51,017 to £58,398
Salaried dentists (mainly providing community dental services) —  £88,364 to £119,133
Hospital consultants in dental specialties — £88,364 to £119,133
According to uk.talent.com, the average private UK dentist salary is £50,000 per year, ranging from entry level incomes starting at £23,400 per year to £90,000 for those with experience.
Longstanding concerns about widespread dentist shortages and declining patient access to NHS services were validated by BBC News research data in 2022. After contacting nearly 7,000 NHS dental practices — almost the entire number offering general care to the public — the BBC revealed that 90% were not accepting new adult patients, while 80% were closed to new child patients. 
"We've had a perfect storm," Dr Nigel Carter, CEO of the Oral Health Foundation, told The Guardian. He attributed the crisis to multiple causes, including insufficient numbers of new dentist trainees, Brexit, pandemic-induced patient backlogs, and dentists' dissatisfaction with NHS contracts.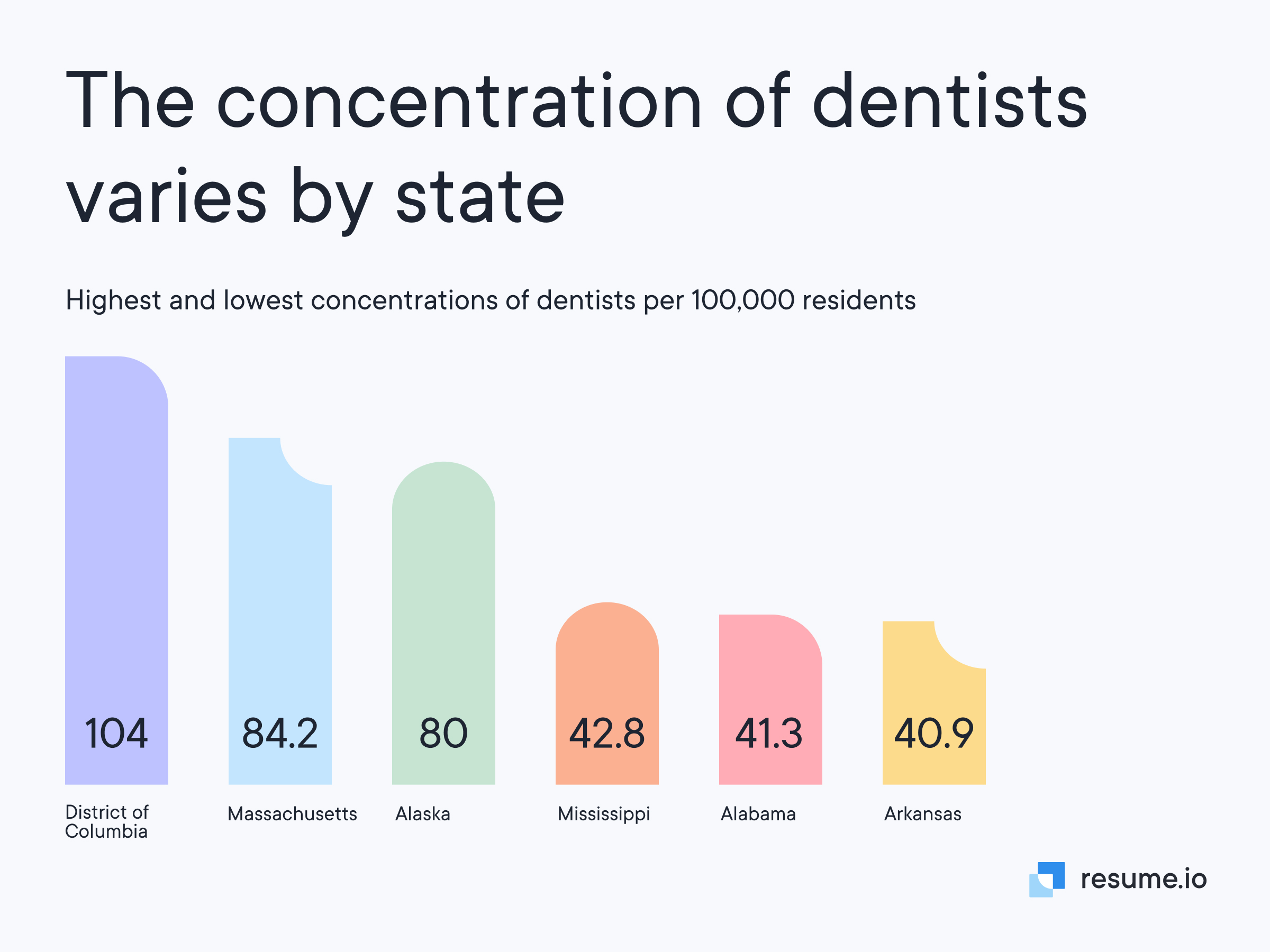 How to write a dentist CV
The abundance of job opportunities for UK dentists gives them exceptional freedom to choose. Since no two positions you apply for will be exactly alike, each version of your dentist CV must be distinctively different from any other. We'll emphasise that later on. But first, let's look at what all CVs have in common, regardless of occupation. That is, the "bone structure" of these essential CV elements:
Header
Summary
Employment history section
Education section
Skills section
Otherwise, as noted above, each unique CV you create should precisely match what the hiring dental practice needs and wants. The job ad specs should give you a clear and complete understanding of why you are a perfect fit for this specific employer. 
The posted job requirements provide clues about the language for your custom-tailored CV, not just the content. Look for keywords or phrases that stand out. Repeat them verbatim in your CV wherever appropriate — without sounding contrived, of course. This is the best safeguard against rejection by digital applicant tracking systems ( ATS), now commonplace for screening huge volumes of online job applications.
Choosing the best CV format for a dentist
With few exceptions, the chronological CV format is the best option for telling your dentistry success story. It gives hiring managers a smooth-surface overview of your work history and training, from the latest to earliest dates. That means your most recent and relevant professional experience is what they will see first and concentrate on.
Another advantage of the chronological CV format is that it's more compatible with online application systems, including the NHS website.
The functional CV format, where skills matter more than previous employers, might be suitable for dentists seeking a position in research, teaching or consulting. And the more versatile hybrid (combination) CV format places skills above the employment history section.
CV header
The header of your dentist CV header draws attention to the identifying information that you want recruiters to notice first and remember later — your name, professional title, phone number, email, and LinkedIn profile URL. Prominence on the page makes it easy for hiring managers to get in touch if your CV is shortlisted for an interview.

An attractive header design sets your job application apart from others, and offsets everything else on the page with white space so it looks inviting to read. Reinforce the impact by using the same header design for both your CV and cover letter.
Dentist CV profile example
This is the start of your "why hire me?" case, and it could also be the end if recruiters aren't persuaded to read more. The vital purpose of a CV profile — sometimes called the summary or personal statement — is to catch and hold the hiring manager's attention straightaway, so there's no doubt you belong on the interview shortlist.
As a zoom-lens snapshot of your most relevant abilities and personal attributes, the profile puts you and your next employer in the same picture of success. By appealing to what the target dental practice needs and values most, your awareness of how well you would fit in is self-evident. Single out two or three of your proudest, relatable accomplishments, in measurable terms if you can.
Below is a dentist CV sample profile you can adapt for your own situation.
Adaptable summary CV sample
Well-respected dentist, adept at diagnosing and treating causes of tooth and gum pain, including performing root canals, repairing cavities, and implanting crowns. Remain current on evidence-based practices to ensure high-quality care. Excellent interpersonal skills with experience treating adults and paediatric patients.
Employment history sample
Revisiting the advertised job requirements can help you determine which professional highlights to include or omit from this CV section. From a comprehensive log that you update frequently, drill down to the work experience that your target employer is most interested in. 
Craft concisely descriptive bullet points that tell a story of career growth and development. Showcase what you're capable of contributing and accomplishing in your next dentist role. Talk less about what you did and more about how well you did it.
Focusing on the value and impact of your previous work as a dentist, cite numbers to quantify the scope and scale, if not improvement outcomes you helped achieve. Give recruiters an idea of clinic size and the range of services and procedures offered, plus patient volumes and demographics. Mention improved patient referral and retention rates. Illustrate your effectiveness in putting jittery patients at ease.
Expert tip
NHS dentist job applicants in relatively early career stages should keep in mind the overlap between their dental training and work history. Don't overlook the work experience you gained during foundation training, core training, and specialty training.
Below is a dental employment history CV sample you can modify
Adaptable employment history CV example
Dentist, JS Dentistry London 
July 2015 - Present 
Diagnose and treat tooth decay and periodontal diseases, including filling cavities, performing root canals, and implanting crowns.
Educate patients on oral health and proper dental hygiene, including routine brushing and flossing, to protect existing teeth and gums.
Prescribe oral antibiotics and pain relievers to resolve abscesses, prevent infections following treatments, and mitigate discomfort.
Associate Dental Practitioner, Burke General Dentistry London, UK 
July 2013 - June 2015 
Provided general dental care to adults and children to diagnose and treat periodontal diseases.
Implanted crowns, filled cavities, repaired cracked teeth, and applied protective sealant.
Completed difficult extractions and minor oral surgery under general intravenous anaesthesia.
Dentist CV education example
In reverse chronological order by date, from highest to lowest level, list: 
The postgraduate training you've completed
Your BDS degree (or equivalent if received outside the UK)
Any earlier degrees in a relevant subject such as biomedical sciences
Relatively recent graduates might want to mention academic awards and honours. Always include professional development and continued learning activities — courses, workshops, conferences, certifications, and association memberships.High school information can be omitted.

Below is the education section from a dentist CV to help you write your own.
Adaptable education CV example
Doctor of Dental Surgery (DDS), The London Hospital Dental School, University of London London, UK 
September 2011 - June 2013 
Bachelor of Science (Honours) in Maths, Bedford College, University of London London, UK 
September 2007 - June 2011
CV skills example
Especially in later dentist career stages, you'll never have enough CV space to list all the key skills you've devoted countless hours to learning and practising. To more easily trim that "master list" of CV skills when targeting your application to a different job:
Be sure to include every skill stipulated in the advertised job description.
Avoid repeating skills already specified or implied in your CV profile or work experience descriptions.
Expert tip
Regardless of the profession, all CVs should contain a mix of hard skills and soft skills, with the latter often transferable across different occupations. A dentist CV is no exception, as this prospects.ac.uk list of top skills illustrates:
Manual dexterity and technical dental skills
Ability to maintain intense concentration for prolonged periods
Ability to build relationships with patients and colleagues
High-level communication and interpersonal skills
Interest in the welfare of others and a sympathetic manner
Good administrative and managerial abilities to run a dental practice
Information technology skills, due to the increasing use of electronic records and digital diagnostic imaging
Check out our dentist CV sample for the skills section below.
Adaptable skills section CV example
General Dentistry
Patient Care
Diagnosis and Treatment
Preventative Care
Root Canals
Crowns Extractions
Teeth Straightening
Strong Communication Skills
CV layout and design
An orderly, streamlined page layout is the foundation for a reader-friendly dentist CV. Harried recruiters will thank you for making it easy to spot the essential information they are looking for in clearly labelled sections that are bridged logically from one to the next.
Flawless is the overall look to strive for. Clean, crisp, and clutter-free need not be synonymous with starkly sterile. Sparing graphic touches, even using colour, are okay.
Allow enough white space to counteract the blackness of "text walls." Retain the one-inch default margin setting and ease your line and paragraph spacing. 
Avoid fancy fonts, and don't use more than two font styles: one for body text, and another harmonising style for header text and section titles.
Expert tip
Don't be daunted by the need for your dentist CV document to look professionally polished at first glance. Leave the visual details up to Resume.io by using one of our field-tested, good-to-go CV templates. Download your selection and our online builder tool will make it easy to personalise with your own replacement text.
Key takeaways for a dentist CV
The UK's critical dentist shortage does not mean your dream job is automatically attainable without an outstanding CV to impress hiring managers.
Whether you apply through the NHS or to a private dental practice, each version of your CV should make a customised case for being the best candidate.
Take direction from the posted job ad to optimise each CV section, including the use of ATS-proof keywords.
Your employment history details and skills list should reinforce the "hire me" value proposition put forward in your CV profile.
Resume.io's collection of expert-designed CV templates is your one-stop solution for a smile-worthy visual impact.