Retaining customers and ensuring their loyalty is often an uphill struggle. With a pack of competitors nipping at your heels, a customer success manager is there to keep clients happy. They are deeply invested in enabling the ongoing success of their customers – providing training, product support, strategic advice, and whatever else is required. While you might be able to share a long list of successful customers, how did you help them get there?
A customer success resume needs to delve deep into the supplier/customer psyche. In many B2B environments (especially in the technology sector), successful client relationships are built around far more than the product offering. Customer success managers can help their clients to stay ahead of the competition by making sure that their competitive advantage is unique to them.
How you go about writing a customer success resume is no simple matter. Happily, Resume.io has all the information that you need to impress any hiring manager. Our extensive collection of resume examples with insightful writing guides is at your disposal.
When it comes to a customer success resume, the scale of your achievements should shine through as it is not difficult to share the metrics of your success, but you should not just fill the resume with numbers. There is more to impressing a hiring manager than meets the eye. With this resume guide and accompanying resume example, we will cover:
The core daily activities of a customer success manager
How to write a customer success resume and what to include
Why the right structure can help to sell your career story
Tips for each resume section (summary, work history, education, skills)
Writing a customer-focused resume that will secure you an interview
What does a customer success professional do?
Customer success managers work with clients in a B2B environment, checking that they are making the most of the products and services on offer, while at the same time offering an expert opinion on broader business questions. Sometimes you need an external voice to offer a different perspective.
They are not pure sales professionals, nor are they pure marketing professionals. Customer success is about optimizing the fit using a few sales skills along with some marketing persuasion. If you had the opportunity to get a client to double their spend with you, how would you do it? No customer relationship should stand still – with stagnation comes an urge to look elsewhere. That will never end well for a service provider.
The daily tasks of a customer success manager may include:
Ensuring a healthy and productive customer relationship
Evaluating and assessing customer needs at every stage
Enhancing knowledge by conducting regular training sessions
Building close relationships as a customer ambassador
Onboarding new clients to ensure a smooth start
Encouraging customers to broaden their uptake of services
Promoting loyalty by focusing on financial prosperity
Customer success managers have a unique opportunity to influence their own company to make decisions that are beneficial for their clients. While they are still employees, the fact that they have a foot in the world of their customers means that they offer unique insights. When business times get tough, customer success managers step up to find solutions.
Statistical insight
Customer success managers are worth their weight in gold, right?
Well, compensation will certainly vary depending on your industry and the size of the accounts that you are managing, but with a salary of $61,034 according to the U.S. Bureau of Labor Statistics, customer success managers are certainly up there in terms of comp. More experienced CS managers may average $93,820, which is a true reflection of their value. Those that have an extra focus on business development may earn more via commission, while others that have a more admin focus may earn less.
When writing a customer success resume, it is important to remember the importance of communication skills. Presenting your career story in a compelling way is much the same as setting out a business growth proposition to a client. You need to know what a prospective employer is looking for and make sure that you tick all of their boxes.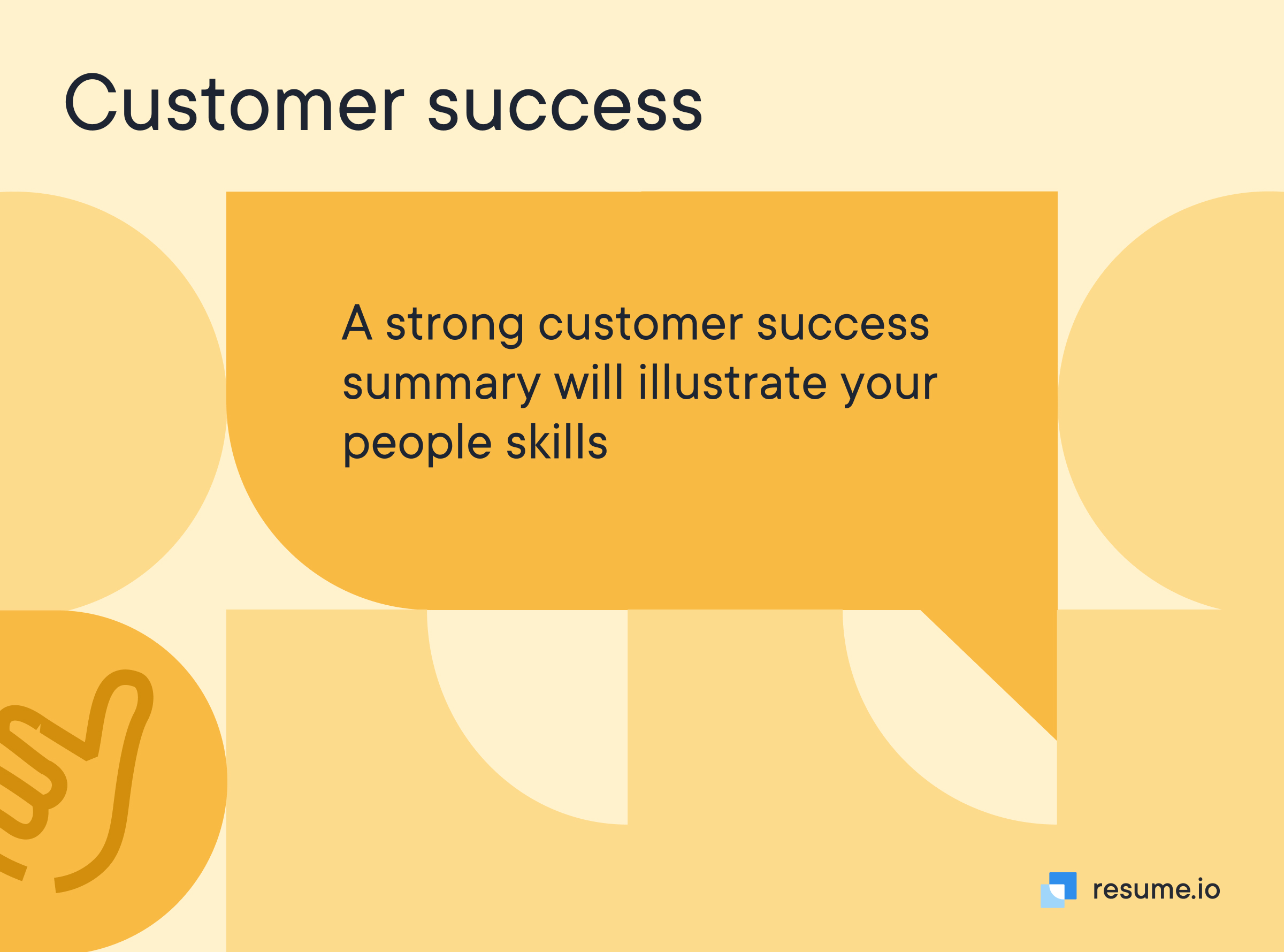 How to write a customer success resume
While you might be used to selling your company's product or service, it is time to consider your unique value proposition. What does your future employer require from you and how can you prove that you have what it takes? Here is how you might structure your argument:
The resume header
The resume summary (aka profile or personal statement)
The employment history section
The education section
The resume skills section
While you might be used to being super confident about what your product or service can achieve, take care to adopt a humbler tone in your resume. Every customer success role is different, and you don't know what awaits until you discuss things in detail during an interview, so don't present yourself as some sort of miracle worker. Share the context and depth of your achievements and let the employer make up their own minds.
Also, be mindful of the need to satisfy the needs of the ATS software. Some employers will use this as a first stage to select the right resumes to consider, so make sure that you use enough keywords from the job description and make the resume as close a fit as possible. The first page of the resume will be the most important to get right.
Looking for some more writing inspiration? While you might not be in sales, your role shares many of the same demands. Check out related resume examples below: 
Choosing the best resume format for customer success
Chronological format is the right choice for a customer success resume. You are only as good as your last job in this field – it is no good relying on distant glories to tell the story of your potential. Customer success is a stressful job. You need to demonstrate that you are riding the wave of success – you are simply ready to jump onto a new board.
There is more to resume formatting than meets the eye. While starting with your most recent experiences is a no-brainer, how you handle the summary, education, and skills section will say much about your priorities as a candidate. Even the smallest format decision could impact your application (what font would you choose, for example), so our resume format guide should provide some answers.
Resume header
The header of a customer success resume should contain your name, contact email, and mobile number. Do not leave out either contact option. Some people may prefer to email and others will drop you an email. 
Don't include your full home address in this section; city/town and state will be fine. This is for data protection reasons and there may also be potential discrimination issues. You can share your address at the offer stage.
Resume summary example
How do you sum up your customer success journey in a mere 5 to 6 lines? Take a good hard look at the requirements of the role that you wish to secure and think about which parts of your experience would best shine a light on your potential. 
Pepper the summary with genuinely impressive numbers that your competition cannot match and maybe throw in a couple of names of clients that you have worked with. You need to establish that your judgment can be trusted, so include some hard evidence.
The summary of a resume is also a good place to share some personality. Let the employer know how you go about your work as well as what you have done. Cultural fit is vital when it comes to customer success, so make sure that you hit the right notes. Write your summary to make you sound like you are one of the team.
Adaptable summary resume sample
Driven Customer Success professional with a passion for empowering exceptional client outcomes, partnering with clients through end-to-end engagement processes to maximize satisfaction, secure customer loyalty, and elevate profitability-per-customer. Demonstrated talent for liaising with diverse client accounts to shape customized recommendations, guide purchasing and implementation processes, and provide follow-up support.
Employment history example
While your list of previous employers should feature prominently in your employment history section, it is also important to highlight the clients that you have worked with. Working with a big company but looking after small accounts requires less responsibility than working for a mid-sized company but looking after a big client that is 60% of their turnover. Such details matter - they say much about your customer success credentials.
Bullet points are a useful device in a section where you will have lots of different examples to share. Remember that these are mere conversation starters for a future interview, so don't go into too much detail. Only include figures when they are genuinely impressive – a resume that does not stand out from the crowd will not secure an interview.
Make sure that you include details of how you coped during economic or industry downturns. Life is not always rosy when you work in customer success. Share how you dealt with obstacles and how you managed difficult clients.
Adaptable employment history resume example
Customer Success Representative, Bayou Bounds, Inc, Baton Rouge, LA 
February 2020 - January 2023 
Cultivated strong client relationships across an account portfolio of 150+ customers, leading all engagement phases from first-touch and sales presentations through continuing outreach and support.
Collaborated with cross-functional teams to shape innovative approaches, enabling optimal utilization of new infrastructure and services.
Earned recognition as the Bayou Bounds Top Salesperson 2021, propelling sales and business growth through exceptional customer success management.
Technical Client Success Agent, Cox Cable & Internet, Baton Rouge, LA 
November 2019 - February 2020 
Consulted with clients to identify key needs and challenges, shaping tailored technical strategies to deliver on performance and profitability targets.
Recommended technical solutions to clients, delivering compelling value presentations to win support at the client executive level.
Delivered ongoing support for product/service challenges, educating users on effective utilization and management to ensure optimal client results.
Account Manager, SunShield, Baton Rouge, LA 
February 2018 - June 2019 
Managed a large book of business, conducting outreach, client prospecting, account management, and ongoing support activities.
Fostered trusted client relationships, earning buy-in for brand products through engaging value presentations and stellar service.
Customer success resume education example
Education is not a key consideration for a customer success role as your achievements should speak for themselves, but any university or college education should be included as a matter of course.
If you have undertaken any significant industry-related training or postgraduate education, then this should definitely be included. There is a lot more to customer success work than rocking up and doing whatever your clients ask you, so a hunger to learn about the theoretical aspects of the role can help you to make those vital marginal gains.
Adaptable education resume example
Bachelor of Science in Business, Louisiana State University, Baton Rouge, LA
January 2013 — November 2017 
Graduated Summa Cum Laude
Phi Kappa Epsilon
Dean's List
Resume skills example
The skills needed for a customer success professional are much the same as any kind of account manager. You should be a great communicator, on the ball with the commercial details, and able to influence at any level – both internally and externally.
While many of the soft skills in your armory may be evident in your work experience accomplishments, there may be a few more technical hard skills that you wish to highlight. Technology is increasingly important for a customer success professional – how do you use the latest tech to make the most of your customer relationships? Don't share a skill that you won't be able to back up with a compelling example during an interview.
Adaptable skills section resume example
Account Management
Customer Relationships
Solutions Design
Proposal Development
Communication
Customer Service
Salesforce
Microsoft Office
Resume layout and design
Hiring managers are busy professionals and spend a matter of seconds looking at each CV. Hit them hard with an application that hooks their interest and looks the part. If you're new to the realms of design, we have some expert layout tips to get things moving: 
Do
Make sure that the spacing between the lines and resume sections is standardized. The eye can see if there is even a slight difference.
Select a simple font. Your resume should be very easy to read but keep the font professional. No drama is required here.
Take the formal approach. You won't be hired because of your resume design. Just make sure that it works in a Word document and on PDF.
Don't
Choose a design style that distracts the hiring manager. Nothing should detract from your message.
Opt for a bigger or smaller font to fit everything in. A two-page resume is fine if you have more than 4-5 years of experience.
Include too many colors. If you are going for a colorful resume, don't mix and match colors.
Designing a resume can be a tricky business. Using one of our field-tested resume templates will allow you to focus on the content.
Key takeaways for a customer success resume
A customer success resume should include compelling stories about your previous employers and their clients (where confidentiality permits, of course).
Share accomplishments with strong action verbs and impressive numbers.
Analyze the job description and write the resume for the job that you wish to get rather than the jobs that you have done in the past.
Stay straightforward with the design. Your story should come first.