Grace under pressure is the key to your career. In looking for your next position, you need to convey that calm within your customer success manager resume while also highlighting your problem-solving and communication skills. If you're looking for guidance, you're in the right place.
You understand that a great customer success manager resume is the first step toward leveling up your career. Taking the time to gather information on what exactly makes a great resume will pay off in the long run with more interviews – and better opportunities. How exactly do you convey in your resume that you intuitively grasp customer needs and when you don't, you know just the right questions to ask? Which skills should you emphasize? 
Never fear, because we will help you answer these questions. Usually, you're providing a service to customers, but this time, you're the customer and we want you to be a success. The customer success manager writing guide and the accompanying resume sample along with alternate resume examples and our online resume builder will help you take the first steps toward your next job. 
Below, you will learn:
What does a customer success manager do and how much does one earn?
All the tips and hints you'll need to write a customer success manager resume
The best format for a customer success manager resume
Advice on making the most of each section of your resume (summary, work history, education, skills)
Professional resume layout and design hints to ensure your resume stands out for all the right reasons
What does a customer success manager do?
Customer success managers must be experts in their company's customer base. That's because they are charged with ensuring that customers have an excellent experience with the company's products and services and engendering loyalty in the process.
Effective customer success managers understand the needs and wants of their customers and  know how to solve any problems that arise. They stay in close communication to head off any issues before they lead to dissatisfaction. Customer success management requires the development of trusted relationships with customers to promote retention and brand loyalty. Managers may also advise clients on purchases, upselling when possible, and without losing the trust of customers. 
In some cases, customer success managers coordinate training and customer onboarding. They may develop app-based education and help programs for customers, and seek and collect feedback, ensuring that this information is passed along to the appropriate stakeholders and taking under advisement any wrinkles in the process. As the name implies, customer success managers also supervise support staff. 
Customer success managers may work closely with sales staff to gain a better understanding of what customers need and where friction points may be.
Expert tip
Same job, different title
Customer success manager is a relatively new position – and title. Not every company that advertises for this position uses the same title. That means that when you begin your job search, you should also search for the following:
Customer success engineer
Customer success specialist
Customer consultant
Client relationship specialist
Client success manager
Customer experience manager
Account executive
Customer success and satisfaction
Get creative as you search to find the broadest range of potential jobs.
Customer success manager job market and outlook
Companies are increasingly recognizing the value of excellent customer relationships and, therefore, the value of customer success managers. In fact, in 2020, LinkedIn listed customer success specialist as one of its top 15 emerging jobs with a 34 percent growth rate for managers.
Industries most likely to hire customer success managers are computer software, information technology and services, marketing and advertising, and financial services. Your expert skills in customer service should be augmented by knowledge of the industry in which you wish to work. One path to this role is through a more technical position in which you gain the experience you need to guide customers toward products and services that will suit them best.
The typical range for a customer success manager is $74,000-$121,000, with a median of $94,317, Glassdoor reports.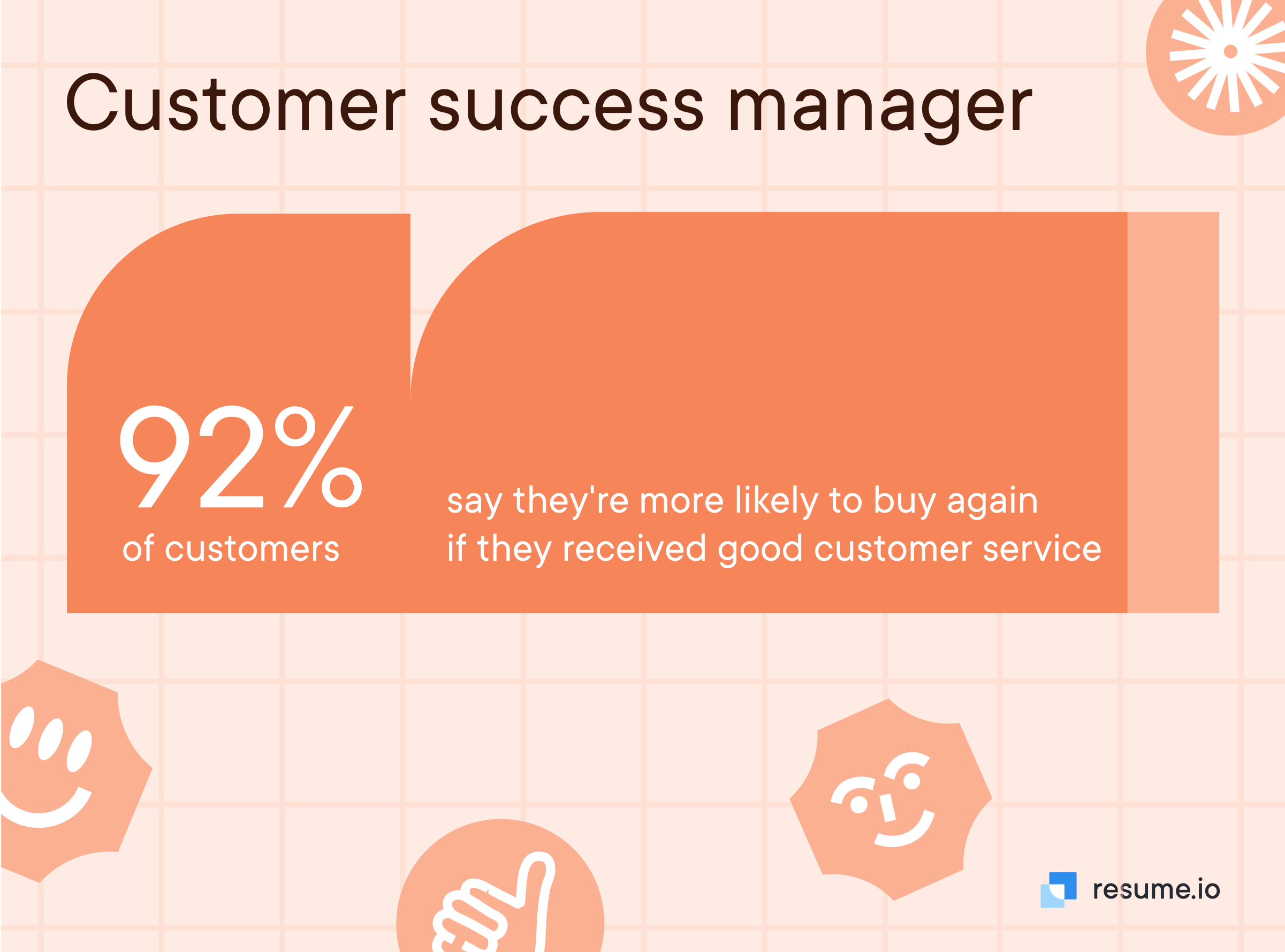 How to write a customer success manager resume
Before you begin to get into the details of your application document, you need to understand the framework in which you will create it. Your customer success manager resume should contain the following elements:
The resume header
The resume summary (aka profile or personal statement)
The employment history section
The resume skills section
The education section
You should also be aware that you are first writing to get past the Applicant Tracking System which will scan and rank your customer success manager resume against the other resumes it receives. To rank higher, incorporate keywords and phrases that your prospective employer has listed in the job ad. 
Expert tip
The personal touch
The ATS is not the only reason to adjust your resume for each different position. As a customer success manager, it is your bread and butter to understand each client and their needs. You offer personalized attention and advice.
If you do not personalize your resume to target the needs of your prospective employer, you are giving up the opportunity to highlight this very important skill and you are unlikely to move forward in the hiring process. Recruiters and hiring managers read hundreds of resumes and know the difference between a targeted resume and one that has been sent to dozens of employers. 
Remember that personalizing also may require a change in tone to match the culture of the company and the industry. This will mostly affect your summary.
Choosing the best resume format for a customer success manager
Most resumes use reverse chronological order for a reason: it makes life easy for recruiters and HR personnel, so unless you have a compelling reason, your customer success manager resume should use this format.
What are some compelling reasons? A career change, a long and storied career that won't fit in a page or two, a gap in employment, or a long list of technical abilities. A hybrid style will allow you to expand your skills section to show off more IT specifics. Barring these circumstances, we highly recommend reverse-chronological order so that when recruiters skim quickly, they know right away what you have done lately.
This format mostly affects your employment history section, which you will organize starting from your most recent position backward, going back no more than about 10 years.
Resume summary example 
Presentation and communication skills are the backbones of your job. It is within the summary of your customer success manager resume that you can show off these abilities. The best summaries, or profiles, offer insight into what the writer will bring to their targeted company.
Consider this section of 100 or so words as your opportunity to add personality to what is otherwise a dry recitation of your career. Since personality plays a huge role in relationships with customers, show off your style here in addition to describing your greatest career achievement and linking it to what your prospective employer wants in a customer success manager.
Although you may take a very casual approach to your work with clients, you should err on the side of a professional tone unless you know the company's culture very well. Remember that the HR person has a problem and if you can demonstrate how you'll solve it, you're much more likely to be invited to an interview.
Consider answering at least two of the following questions in your summary:
What industry do you have the most experience in?
What quality makes you a great customer success manager?
How do you ensure customer satisfaction?
Why do you want to work at X company?
How will hiring you enhance customer satisfaction?
What is your greatest customer success?
Adaptable summary resume sample
Goal-driven professional with passion for optimizing customer success and ensuring delivery of a world-class experience. Adept at guiding cross-functional teams in effective tactics for nurturing customer relationships. Excel at building trust and credibility with customers and stakeholders while ensuring focus on business objectives.
If you're having trouble finding inspiration for your summary, you can find additional writing material in our related resume samples:
Employment history sample
Your customer service experience is vital to your current job. You also need knowledge of the industry in which you are applying. The employment history section of your customer success manager resume is the place to detail your qualifications for the position.
But more than a simple listing of your current and previous job responsibilities, your employment history section should give prospective employers a sense of your career progress; whether it be from a customer support person on up or from a technical position into a more customer-facing role. Highlight higher-level skills instead of your entry-level abilities. There's no need to say you answered phones in a customer support role if you have been working as a customer success specialist for the past few years.
Start each bulleted item with a strong action word that shows you don't sit back and wait for the customer to approach you. Offer data and details that prove your ability to retain clients and steer them toward purchases that increase the bottom line while keeping them satisfied. Mention a particularly thorny problem you were able to solve to everyone's satisfaction.
Make sure your examples are relevant to the job you want. Your marketing prowess is impressive, but if the new position does not require marketing, tone down that aspect of your experience and play up your ability to convince customers that an upgrade is just what they need.
Adaptable employment history resume example
Director of Customer Success at Goya Foods, Secaucus, NJ 
May 2018 - Present 
Steer all facets of customer service operations for this producer of authentic Latino cuisine.
Oversee workflow distribution and monitor key performance indicators.
Direct management teams in effectively guiding direct reports to deliver top-notch support in responding to product inquiries and resolving issues.
Customer Success Manager at Bed Bath & Beyond, Clifton, NJ 
February 2013 — May 2018 
Oversee all aspects of customer service operations.
Guide and coach teams in delivering top-notch support to customers in responding to product inquiries and resolving issues.
Prepare detailed reports for management on customer service metrics and staff performance.
Conduct performance evaluations and provide feedback on recommendations for improving productivity.
Store Manager at Target, Jersey City, NJ 
July 2011 - February 2013 
Held full P&L accountability for sales revenue in excess of $14M.
Oversaw hiring, training and supervision of sales and customer service associates.
Formulated and executed business and sales strategies for driving profit gain.
Signed off on store-wide staffing schedules and other aspects of operational planning.
Expert tip
Try the STAR method for writing your bulleted items
Begin with the customer situation
Explain what your task was
Describe the action you took
Highlight your results
CV skills example
While the skills section of your customer success manager resume has the smallest word count, it may have the biggest impact. If the hiring manager scans it and doesn't find key attributes, they may move on without reading on and this is often the first place they look.
Your first clue is within the job description. What skills does your prospective employer seek? If you have them, list them. We don't want to harp too much on personalization and the ATS but don't forget about personalizing and the ATS. This is an easy section in which to swap in targeted skills. 
One way to ensure you are choosing from your full array of talents is to brainstorm a list of every skill you have. Keep adding to this list. Sort it into categories of technical, customer service, industry knowledge, or any other groupings that make sense to you. 
The customer success software company Totango recommends employers look for the following skills when hiring for your position:
Empathy
Interpersonal skills
Relationship management
Coaching and training
Persuasion skills
Problem-solving
Critical thinking
Decision-making skills
Initiative
Time management
Teamwork
Management ability
Technical skills
You should limit your list to 4-7 attributes. You don't have to choose from this list, but you can bet that many employers are looking for a blend of thinking, technical, and interpersonal skills.
Adaptable skills section CV example
Customer Relationship Management
Customer Success Strategies
Customer Success Team Leadership
Customer Experience Optimization
Executive & Stakeholder Relations
Strategic Planning & Execution
Management Training Programs
Budgeting & Forecasting
Training & Customer Onboarding
Customer success manager resume education example
There are no formal requirements for your career, but a bachelor's degree in a business or IT field is a great help. The education section of your customer success manager resume is a listing of your degrees, certificates, and any related training or courses you have completed.
If you have an advanced degree, you may skip your high school experience. To highlight your certifications and if you have enough space in this one- two-page document, consider a separate Certifications section.
Adaptable education CV example
Bachelor of Business Administration (BBA), New Jersey City University, Jersey City, NJ 
September 2007 - May 2011 
Expert tip
Top courses for customer success managers
Looking to bolster your skills?
UserPilot curated this list of courses that will improve your chances of getting the job of your dreams:
Customer success strategy workshop, by CSM Practice
Customer success manager fundamentals, by Udemy
Managing difficult customers, by ICMI
Customer success manager specialist, by Cisco
Customer success certification, by the Success League
Graduate certificate in customer success management, by RMIT
Free certification program in customer success, by Monday.com
Resume layout and design
What are you trying to convey when you interact with a customer for the first time? Professional, friendly, efficient? All of these and more? This is the image you should aim for when you create the design of your customer success manager resume. 
Unless you are in marketing or advertising, we advise steering clear of overly artistic layouts. Yes, you want to make a memorable visual impression, but your main concern should be easy reading. Make sure your document is perfect – that means no formatting errors, typos, or grammatical mistakes. The recruiter may be tolerant of one small error, but why take the chance? Given the option of a flawless resume vs. one that contains even one error and the necessity of choosing only a handful of candidates out of dozens to call in for an interview, which would you call for a personal meeting?
To save yourself the hassle of formatting and designing your CV, try one of our expertly-designed resume templates. They can be adjusted to suit your needs and have coordinated cover letter templates to go with them.
Key takeaways for a customer success manager resume
More and more companies are recognizing the value of consistent relationships with customers and are hiring customer success managers to ensure retention.
Most customer success manager positions fall within IT, finance, and marketing.
Technical knowledge is important, but customer service is founded on the ability to understand people, communicate with them, and solve problems in a way that makes everyone happy.
Your job search starts with a customer success manager resume that garners you interviews.