If you're ready to apply for a PhD, chances are you'll be asked to submit a resume so that the admissions committee can easily review your qualifications and interests. While a PhD resume will have many similarities with resumes created for job opportunities, there are a few key differences you'll want to keep in mind while writing.
Luckily, Resume.io is here to help. With 350+ resume examples and writing guides, we're an expert resource for job seekers (and students!) in all professions and stages of their careers. This PhD resume example and writing guide is designed to help you highlight your best qualities and get accepted into the program of your dreams. Here's what we'll cover:
What is a resume for a PhD program?
How to write a PhD resume (tips and tricks)
The best format for a PhD resume
Advice on each section of your resume (summary, work history, education, skills)
Professional resume layout and design hints.
What is a resume for a PhD program?
In order to pursue a doctorate degree, you'll need to apply to a PhD program, which generally lasts about 4-6 years. In order to evaluate your readiness to take on this challenging educational pursuit, most institutions will ask you to compile a resume (sometimes called a curriculum vitae in academia) showcasing your previous education, relevant work experience, academic interests, awards, and publications. You can think of a resume for a PhD program as a snapshot of who you are and the work or degrees you are most proud of.
PhD stands for "Doctor of Philosophy" and is the highest postgraduate degree available. To obtain a PhD, you not only need to be an expert in your field, but you must also present original and compelling research on a related topic, most often in the form of a dissertation, which is a written work that compiles your research and presents your insights into the chosen subject matter. A dissertation is then defended in front of a committee that decides whether or not you've met the standards to obtain your PhD.
How to write a PhD resume
The very first step in writing your PhD resume is understanding what sections to include. Your CV should contain the following elements:
The resume header
The resume summary (aka profile or personal statement)
The employment history section for work or teaching experience
The resume skills section which may include research interests
The education section or academic history
A publications or awards section
A referees section if requested

While many of these sections can be found in some form on a standard resume for employment, there are key changes that academic committees will expect to see for candidates pursuing PhDs. 
Once you've identified the PhD program you'd like to apply to, it's important to research the application process and any particular focus areas of the program. This will allow you to tailor your resume to contain the information most important to the selection committee. Be sure to include only the most relevant examples of work experience, while leaving out any odd jobs that are not related to the area you plan to study. For example, if applying to a PhD program in education, include your role as a graduate assistant for a university undergraduate course while leaving off a summer spent waiting tables at a local restaurant.
Choosing the best resume format for a PhD resume
PhD resumes are unique documents that will often deviate from other standard resume formats. Although the best format most closely resembles the reverse chronological structure of professional resumes, you'll still need to make adjustments to best highlight your educational experience and research interests.
Make sure to order your resume with the most relevant sections first. While experienced job seekers may opt to place their education section at the bottom of their resume, PhD applicants should keep their education higher up on the page, usually after the summary section. PhD resumes should also contain an awards or publication section that are often rolled into the education section on other types of resumes. See our PhD resume example for more ideas on creating the perfect format.
Resume header
The resume header is the attractive bar at the top or on the side of the page that contains your name, contact information, and any relevant social media profiles like LinkedIn. Your resume header serves a vital purpose in helping the reviewer to identify your document and making it easy to contact you about the next steps in the application process. The header also gives an attractive touch to your resume, but be sure to use a neutral color scheme and a professional font style as academic roles often call for a formal tone.
Resume summary example
The resume summary is the first section at the top of your resume that captures your interests, intentions, and key qualifications. For PhD applicants, make sure to include the name of the program and the university you are applying to (and don't forget to update this for each different program – addressing your application to the wrong university is a serious mistake!) 
The summary should be about 3-5 sentences in length and should have a formal tone. Since PhD applicants often need to describe their research interests, the summary gives you the opportunity to do so without needing to use precious resume space to create a separate section for this information. Don't forget to mention any relevant work or educational experience here as well as the goal of the summary is to encourage the reader to continue examining your resume. See our adaptable summary resume example below for more inspiration.
Expert tip
Get even more insight into the summary by checking out our related education resume examples:
Adaptable summary resume sample
Strong background in psychology- and therapy-based academic research environments requiring high levels of focus and attention to detail. Strong analytical and critical thinking qualities.
Employment history sample
The employment history section for a PhD will look slightly different than for those applying to traditional jobs as it will likely contain details of your research experience along with any educational work experiences you've completed. Make sure to organize the information in a logical manner, starting with the most recent position and working backward through all relevant roles.
Don't forget to include the job title or name of the research role, the employer or institution name, the dates completed, and the location. Just as you would for a job, create 4-5 bullet points that explain your most relevant accomplishments and duties completed. See our adaptable employment history resume sample below.
Adaptable employment history resume example
Student Researcher, University of Washington, Seattle
November 2021 - Present
Gather, analyze and report data for academic research projects.
Maintain donor databases and publications records.
Assess research efficiency and identify areas for improvement.
Assistant Teacher, St. Clare School for Children with Special Needs , Singapore
July 2018 - June 2020
Aided special education teacher in collaborating with students with varying levels of physical and mental disability.
Assisted teacher in preparing daily activities, lesson plans, and individual education plan (IEP) for each student.
CV skills example
While skills are seemingly more relevant for employment than for an academic position, the CV skills section can still be adjusted to meet the needs of a PhD applicant. The best part about the CV skills section is that it takes the form of a bullet point list meaning the reader is likely to take notice of this section early on while evaluating your resume. Use the skills section to highlight research areas, academic areas of interest, specialized skills from relevant roles, and any teaching skills you may have to put to use during the PhD program. Make sure to check the program requirements to see if there are any specific qualifications that can be easily added to this section. See our adaptable resume example below.
Adaptable skills section resume example
Data Analysis
Academic Writing
Psychological / Behavioral Sciences
Research & Analysis
Therapeutic Crisis Intervention
Mental Health Assessments
Clinical Care
Research-based Treatment
Behavioral Health
Marriage Family Therapy
PhD resume education section
The education section of your PhD is one of the most important areas that the selection committee will take into account. Make sure to place it high up on your resume, usually after the summary. The education section is the place to list all previous degrees, the awarding institution, dates attended, and location. Since you are applying for another degree program, it's worth creating bullet points under your previous educational experiences to offer insight into your most relevant achievements like grades, awards, or leadership roles. See our adaptable education resume sample below.
Adaptable education resume example
Master of Science in Marriage & Family Therapy, University of Washington, Seattle
September 2018 - May 2020
Bachelor of Science in Psychology, Western Washington University, Bellingham
September 2014 - May 2018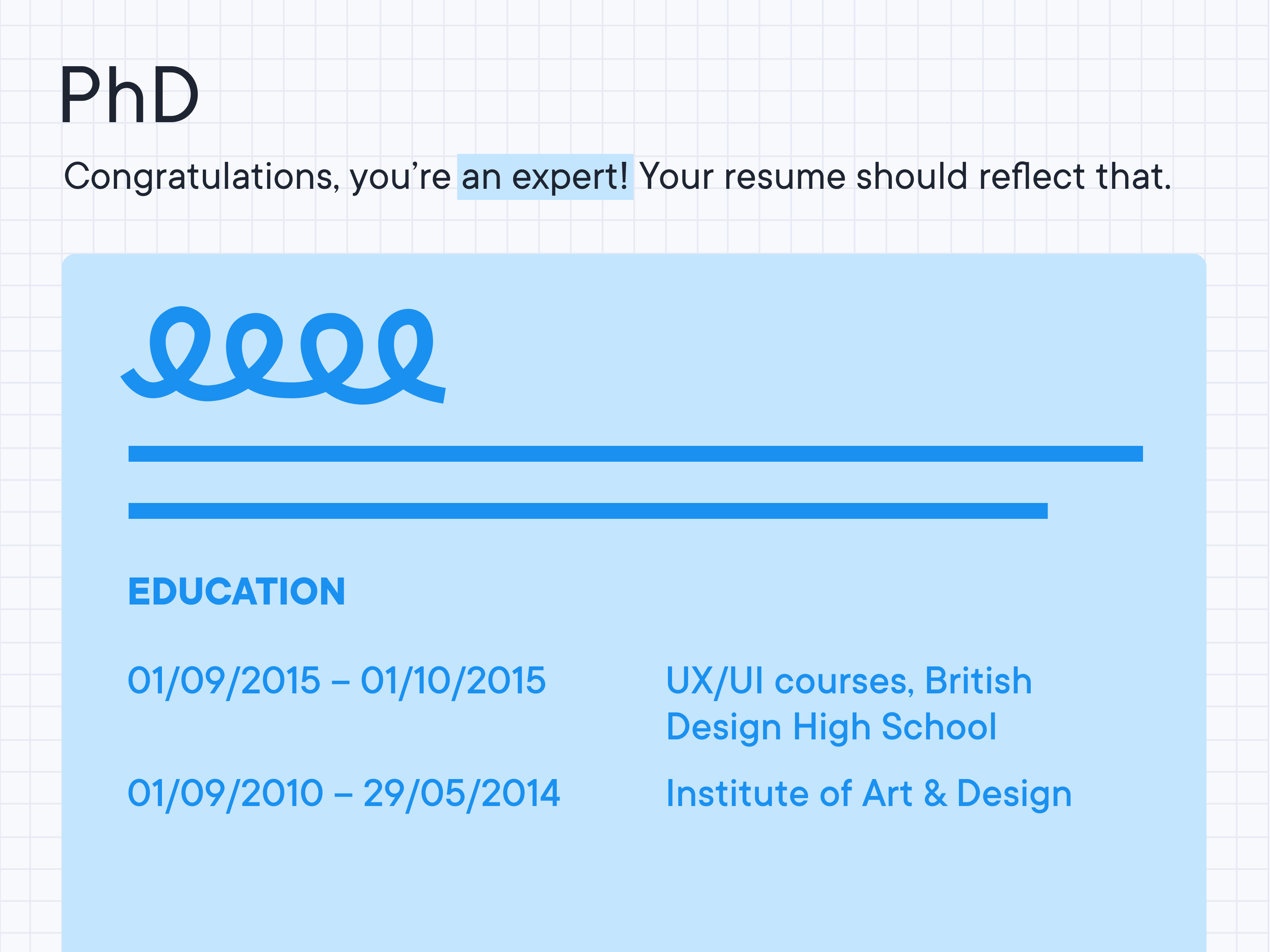 Awards, publications, or referees on your PhD resume
If you have many publications, awards, memberships, or other honors to show, you may consider creating a separate section to call the reader's attention to the achievements on your PhD resume. Here you can list the award or publication name, the publisher or granting institution, and the date completed. You may also create one or two bullet points to expand on each entry. If you don't have many of these types of achievements to show, or if space is limited on your resume, you may consider including these accolades throughout the other sections of your resume. However, be sure that they are clearly highlighted so that the reader doesn't miss your key attributes.
Another additional section you may need to include is academic references (called referees in the case of a PhD resume.) Don't forget to double-check whether or not referees are actually required/requested on your resume. Otherwise, you'll be wasting valuable space on a section that is less important to the section committee.
Resume layout and design
The right look and feel for your PhD resume is crucial to keeping the reader's attention and proving that you are a serious applicant. Therefore, it's important to make sure your layout and design are professional and tailored to the program you are applying for. 
An expertly-designed resume template can make it easy to create a great design with minimal headache. Look for a layout that clearly highlights your name and contact information and gives you enough space to include any additional sections like awards or referees. Stick with standard 1-inch margins and make sure to use the same font styles and sizes throughout your resume.
Key takeaways for a PhD resume
A resume is an essential application document when applying for PhD programs but it will likely look different from resumes created for employment opportunities.
Pay attention to the requirements of the PhD program and tailor your resume to match. The skills and summary section are great places to do this.
Don't forget to include PhD-specific information like your areas of interest, publications, awards, or referees.
Keep your design professional and formal. Check out our adaptable resume sample to get started on creating a great layout.