You get one shot. Legendary Vietnam War photographer David Hume Kennerly said in a recent interview that his approach was not "to take hundreds and hundreds of pictures hoping to get a good one, but rather just wait until the moment happens." He added: "How many pictures does it take to get a good image? One." And that's the same number of chances a photographer will get to wow a prospective employer with a standout photographer resume. 
There's little room for error in composing a striking portrait or capturing a breaking news photo. And the same is true of creating a one-page description in print of a photographer's talents. It's a snapshot that will get a quick glance, and it has to be great. 
This writing guide, together with the resume examples, layout templates and builder tool from resume.io, will give you step-by-step instructions on how to build a winning resume in this challenging field. We'll also explore the state of the industry and let you know how to avoid the pitfalls of automated software that can reject your resume before it even gets a look. 
Let's talk about:
Where the photography industry is headed and why
How to showcase your visual skills in a format that relies primarily on text
How to write and design a resume that will stand out from the crowd and avoid common mistakes
How to control your own narrative and put your best foot forward
What does a photographer do?
Photographers, obviously, take photos — but don't even think of underestimating the skills required or the work involved in capturing, editing and publishing outstanding images. Photographers may travel to war zones, go scuba diving with sharks or jump out of airplanes to get the images they need.
Here is a partial list of what photographers do on a regular basis:
Meet with clients or photo editors to discuss photo assignments and discuss strategies for capturing the right images.
Arrange access to the event, area or subject that needs to be photographed, which may be a wedding, a war or Wimbledon, and make travel arrangements to get there.
Stay up to date on modern photo equipment and new photo technologies.
Get the picture! There's an amazingly close, eye-to-eye photo of an active shooter taken by a Dallas Morning News photographer during a courthouse shooting in 2019, demonstrating the photographer's bravery and dedication to "getting the shot" at the risk of getting shot himself.
Process, cull and edit photos, cropping and adjusting light and color levels using photo-editing software for optimal display.
Write captions providing dates, locations and names of photo subjects.
Create slideshows or galleries to display a series of photos from a given event.
Photographers sometimes double as videographers, capturing, editing and uploading live video.
Self-employed and freelance photographers must manage their businesses, advertise their services, bill their clients and keep records.
What are photographers' job prospects?
Employment prospects for photographers are shrinking, so you need an outstanding pitch. If they had told us 40 years ago that telephones would someday be cameras, we might have wondered how we would take pictures while tethered to that curly cord. We would have been even more confused if they had told us that we could instantly share our photos with anyone in the world. But the global explosion of smartphones that can take both photos and video has made everyone a photographer, if not a filmmaker. And the digital revolution has given them all innumerable platforms where they can screen their efforts. 
For professional photographers, especially the grizzled veterans who trained on a Leica and learned how to develop film in a darkroom, it's been a "perfect storm." Compounding the aforementioned woes, our increasingly digitized world has led to a crash in print newspapers and magazines, which once relied on staff photographers for images they couldn't get any other way. And newspapers in particular have consolidated under big chains, leading to mass layoffs of photographers and photo editors (not to mention reporters and editors). In addition, companies like Shutterstock and Getty Images that offer digital images for a fee have proliferated, putting millions of photographs at the disposal of anyone. On top of that, copyright law be damned, it's simplicity itself to simply steal online images — and it's kind of hard to prosecute when everyone is doing it.
For all these reasons, photographer jobs are expected to decline 4% from 2019 through 2029 in the U.S. — whereas jobs in all occupations are expected to increase by 4% over the same period. Out of 133,500 photographer jobs in the U.S. in 2019, 4,800 are expected to be eliminated by 2029, leaving 128,700. What this means to you as a professional photographer is that you will face more competition for fewer jobs. And it means you will have to stand out from the pack because of your specialized skills, extraordinary experience or artistic vision. And by the way, it also means you will need a superb resume. So let's get to that.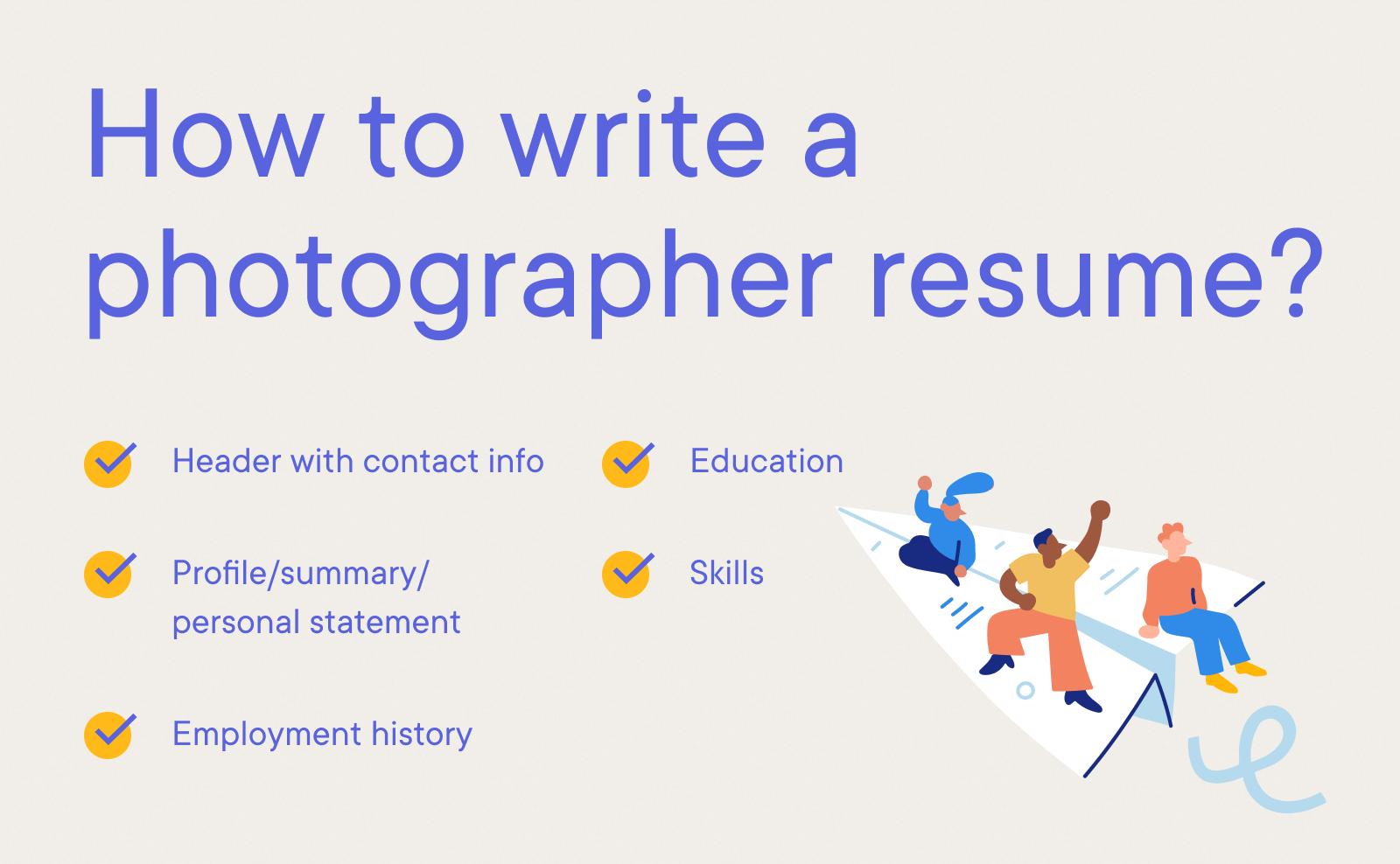 How to write a photographer resume
A resume should be one page only, and it should consist of the following five elements:
Header with contact info
Profile/summary/personal statement
Employment history
Education
Skills
The header is especially important because it fulfills two crucial functions. It tells employers how to reach you, and it serves as an eye-pleasing design element at the top of the page. 
When it comes to designing your header, don't "wing it." Use a professional resume template where the header has already been designed for you, and devote your effort instead to fine-tuning your text. Review the hundreds of resume examples at Resume.io, find one you like, and make it your own. 
That leaves just four other things to do.
Photographer profile resume example: The perfect image 
Compose a flattering self-portrait in a few short sentences. The resume profile, also known as a summary or a personal statement, is where you describe yourself in your own words to prospective employers. It goes at the top of your resume, creating your first impression on a hiring manager. And we all know how many chances we get at a first impression. This is your chance to speak directly to your target about your qualifications, interests, passions and vision, and to showcase your personality and creative flair. 
Moreover, while the rest of the resume mostly relies on bullet-point lists, this the section where you have a bit more freedom and can do some creative writing. The ideal profile should address both your professional aptitude for the job and the personal qualities that make you the right candidate. Take some time to brainstorm a list of all the reasons you would be a great hire, including intangibles like your eye for color, light and detail.
Do you have a keen sense of urgency and yet a huge reservoir of patience? Can you shoot both a planned wedding and a spontaneous street event? Do you have technical skills to compose photos with either a microscope or a telescope? Can you charm children and pose celebrities? Are you a skilled video editor? Do you dream in Photoshop? Make a long and crazy list — you can hone it down later. Your most marketable skills may be such an integral part of your artistic DNA that you wouldn't normally think to mention them, but think again.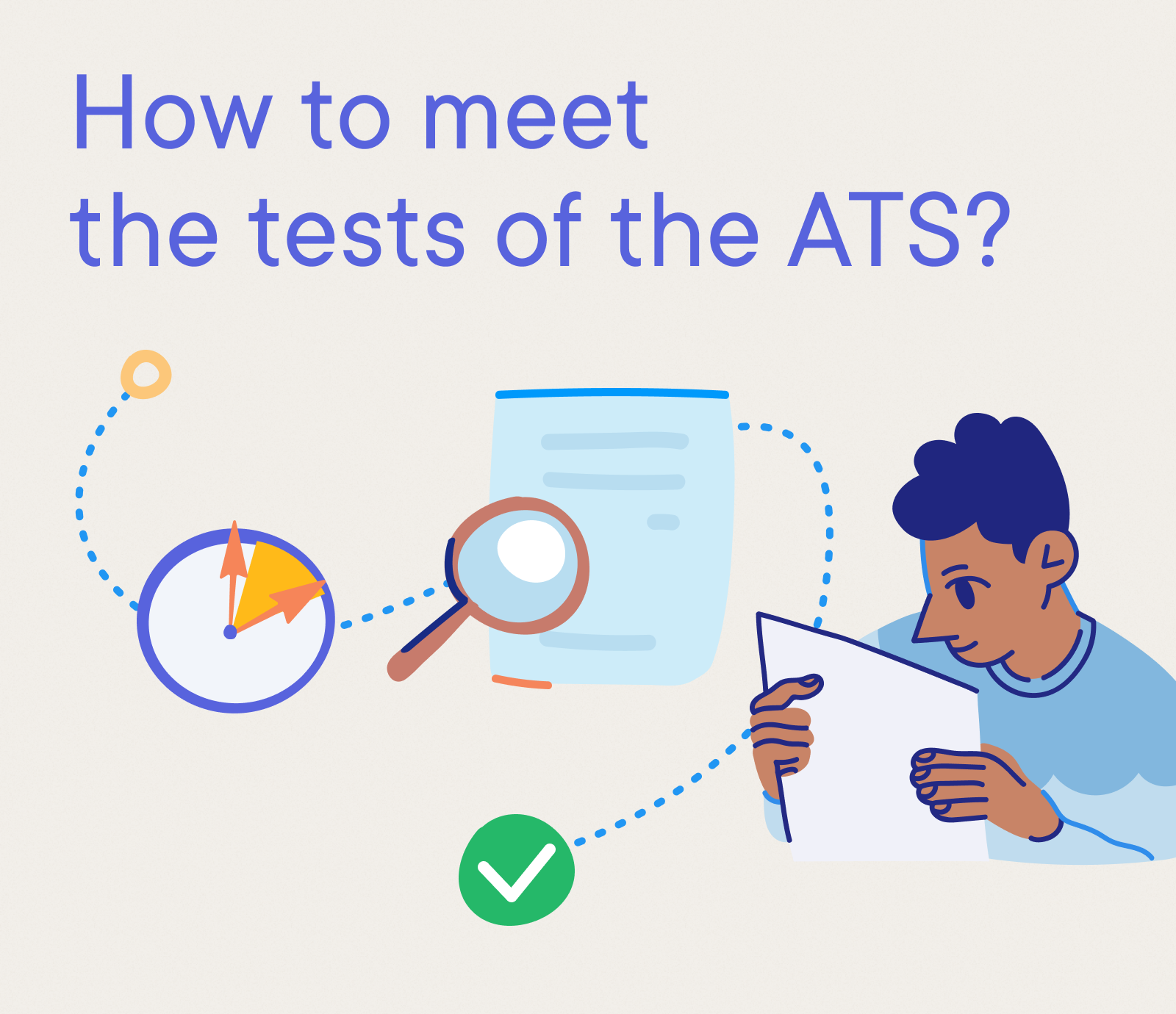 How do you write a photographer resume to meet the tests of the ATS?
Big caveat here: Applicant tracking systems (ATS) are automated software programs that analyze and filter resumes based on keywords for job qualifications that employers are seeking. They are used by a great many larger employers to streamline the hiring process. Unless you're applying via personal channels to a small business, you need to be aware of what the ATS does. The bad news: If you fail the ATS test, a recruiter may never even look at your resume. The good news: If you know the rules of the game, your resume will be greenlighted for review.
So how are you supposed to know what keywords to include? Very simple: You study the job listing, or any other information available about what your target is seeking (its website, social media etc.), to see which words, areas of activity, ideas and values are emphasized there. Integrate those same words organically into your resume, and you'll have an automatic leg up.
Speaking of which, it's important to understand that a resume should be a dynamic document that's tailored to each job application. A resume is not something you "finish," stick in a drawer, and pull out whenever you need it. One of the most common and most fatal mistakes in resume-writing is sending out the same version of the document to each and every company, with no adaptations or small adjustments. In the first place, your job history and skill set will change over time. But in addition, a resume should be customized for each potential employer, based on what they are looking for.
Resume example of a profile for a photographer
Experienced and innovative Photographer with a true passion for capturing life's moments through a lens. Committed to the ultimate satisfaction of a client, and adept in using the most up-to-date photographic hardware and software. Bringing forth over five years of experience working as a Freelance Photographer on over 200 projects. Leveraging a background in Commercial Photography and Fine Art Photography, and a dedication to world-class customer service.
Job history CV sample: Highlight your successes
Photographers often follow an unconventional path. Tell us where yours has led. Most photographers are self-employed — freelancing (or moonlighting) for print or online publications, offering wedding or portrait photography, or perhaps partnering with writers to publish sumptuously photographed books. And that's not likely to change, with salaried jobs becoming scarce as employers increasingly hire freelancers rather than pay salaries and benefits to full-time photographers. So while nobody would hire a self-taught, self-employed physician, the same is not true of photographers.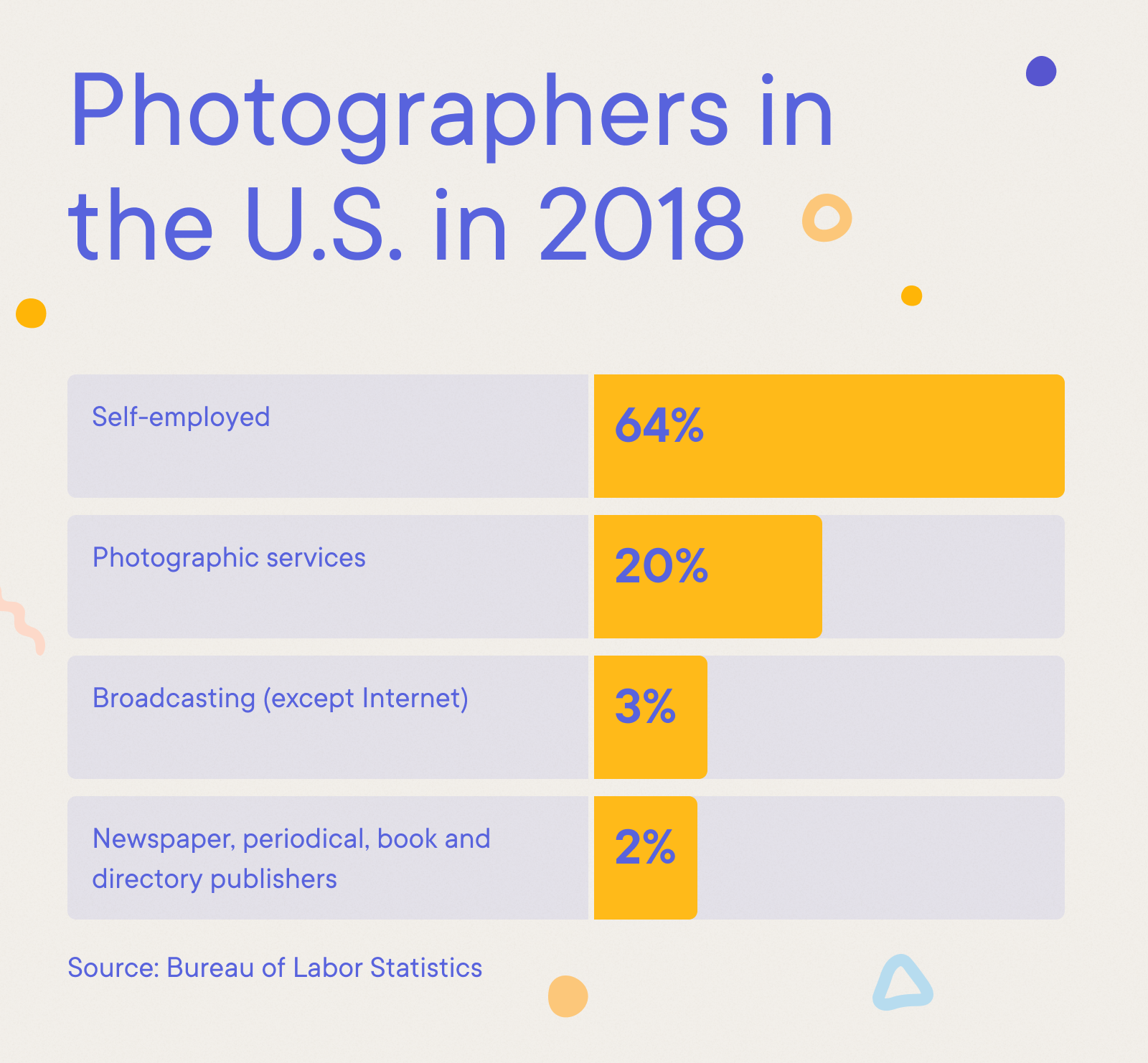 Statistical insight
A great majority of photographers are self-employed, carving a career out of clients who rely on freelancers. Employers of photographers in the U.S. in 2018, according to the Bureau of Labor Statistics:
Self-employed: 64%
Photographic services: 20%
Broadcasting (except Internet): 3%
Newspaper, periodical, book and directory publishers: 2%
If you do have years of experience as a salaried photographer, then by all means list your past employers here, in reverse chronological order, with bullet points using strong action verbs to emphasize your top accomplishments. But if your job history is more unconventional, like a mix of unrelated "day jobs" and occasional photo shoots, fear not. Lead with your strengths in your field — for example, "Freelance Photography" or "Self-Employed Photographer," followed by lists of your greatest achievements.
Expert tip
A great way to structure your Employment History (and make it impressive) for almost any freelancer is to name it "Experience" instead and give it a project-based spin. Use this approach if you have scarcely any non-freelance jobs under your belt. The trick here is to present large projects (project categories or freelance activities) with the most impressive details, facts and figures, as well as providing digital hyperlinks to their results (websites, videos, articles, etc.).
Still, use the structure of a standard Employment History as a baseline "skeleton" framework.
If you worked one or more jobs unrelated to photography for a significant amount of time, these may bear mentioning as well, especially if they helped you to develop skills in dealing with people, or if they demonstrate that you were valued by employers for your dedication and reliability.
What about your portfolio?
Among your most critical assets in a photography job search is your portfolio — the collection you've compiled of your greatest hits. A portfolio of your best photos is an excellent way to supplement your resume because it offers proof at a glance that you're as good as you say you are. 
Expert tip
Consider these options for how to display and transmit your best work:
Create an online portfolio on your own website or a platform like Behance, perhaps with brief descriptions of what the photos show and/or how you captured them. Linking to this site on your resume allows employers to see your best work in one click, with a minimum of clutter or multiple links.
Send employers a separate PDF containing your best portfolio work if applying for a job by email, or if allowed to do by job application software.
If your employment history contains bullet lists of key projects, include a hyperlink to each (using Bitly or a similar URL shortener).
Resume example: How to highlight your experience as a photographer
Freelance Photographer 
2008-2021
Shot dozens of weddings, bar mitzvahs and other events, achieving excellent client satisfaction and multiple referrals
Staged and photographed boudoir portraits for a New Jersey photo studio
Photographed home exteriors and interiors for a New York real estate company
Published a cover photo and photo spread in Nature magazine on the sex lives of hummingbirds
Worked five years as a freelance news photographer for the Star-Ledger newspaper
Managed all aspects of customer acquisition, retention, billing and accounting for a one-person photography company
Photographer skills resume sample: Where do you excel?
You'll need 21st-century technical skills to succeed in today's photography industry, but old-fashioned artistic and people skills are still a must. The skills section of your resume, not unlike your profile, is the place to "humbly boast" about what you're good at. This should include a mix of technical skills with a camera and computer and "soft skills" that enable you to deal well with people. Are you a natural-born shooter with an intuitive understanding of cameras, lenses, lighting and timing? Are you a wiz at photo editing, video editing and color correction? Are you a master drone operator? Can you name a slew of photography-related software applications that you can operate with one hand tied behind your back? Do you have supplementary skills in writing or web design that might interest your target? Any or all of this bears mentioning.
Statistical insight
These are among the most important qualities in a successful photographer, according to the BLS: 
Artistic ability
Business skills
Computer skills
Customer-service skills
Detail oriented
Interpersonal skills
Don't overlook your soft skills in communication, customer service or project management. And don't forget your ineffable eye for the artistic, your talent for sensing the right moment in the right light, for capturing a rainbow in a dewdrop. 
Resume example: Skills you might list on a photographer's resume
Digital Imaging
Editing Software
High Resolution Imaging
Creativity
Visual Design Skills
Customer Service Oriented
Project Management Skills
Education resume example: The learning behind your lens
Rank your schooling according to its relevance to your field. There are some fields where years of classroom study are beneficial if not essential, but photography is not generally considered one of them. While bachelor's degrees in photography are offered by some schools, it's more common for colleges to offer a handful of photography classes or programs that lead to certificates or associate's degrees. However, there are in-depth photography programs at select schools, such as the prestigious Tisch School of the Arts at New York University in Manhattan. The four-year Photography and Imaging program there instructs students in all aspects of analog and digital photography, multimedia, visual thinking and aesthetic history, with a directed senior project leading to a BFA degree. 
If you graduated from this kind of top-level program, you're golden. But even if your major was in an unrelated field, use the education portion of your resume to highlight any training in photography or the arts in general. If you've supplemented your education with photography seminars or workshops, say so. However, education beyond high school is not required for most photographers. Exceptions include careers in photojournalism or scientific/technical photography, where a bachelor's degree may be needed.
Resume sample: How to present your educational credentials
New York University, Bachelor of Photography and Imaging, New York
2004 - 2008

Riverdale High School, High School Diploma, New York
2000 - 2004
Photographer resume design: Sharp and focused
You're an expert in a visual field, and your resume must reflect your eye for clean, uncluttered design. Compelling resume design is important in all fields, but it's especially critical in a visual field like photography. You're submitting one page that represents the sum of your talents, skills and artistry, and it needs to look great. Look through the resume templates at resume.io and you'll find multiple options designed by experts and tested with actual employers.  
One crucial reason for using these frameworks is to avoid buggy designs that will be rejected by ATS software. Non-PDF formats and common text editors can have style issues and "break" the formatting from time to time. Formatting errors may be detrimental both for the passing the ATS and for aesthetics perceived by humans (imagine if your beautiful resume ends up as a confusing mess on another person's monitor). Take no chances and stick to professional resume builder tools and field-tested structures.
Key takeaways
You get one shot at the job you want most, and the starting point is a bulletproof resume.
Photography jobs are expected to decline 4% in the U.S. over 10 years, meaning more competition for fewer jobs, so you have to stand out from the pack.
Your resume profile must make a compelling case for your candidacy in your own words.
Photographers often follow an unconventional path as self-employed freelancers, if not moonlighters with an unrelated day job. You may need to take an unconventional approach to your employment history, highlighting the experience relevant to your field.
To compete in today's market you'll need to highlight your skills in the latest photo, video and computer technologies, as well as your soft skills in dealing effectively with people.
The relevance of your education to your photography skills should determine its prominence in your resume.
One size doesn't fit all, so make your resume a dynamic document and tailor it to each prospective employer.
At all costs, avoid the pitfalls of ATS software that can filter your resume out because of poor keyword choice or buggy design.
Use the proven builder tool and resume samples at resume.io, and you'll be well on your way to landing the job that's right for you.