As a product owner, you're a big-picture thinker capable of conceptualizing a product and bringing it to market. Doing the same for your resume, however, might feel a bit more challenging. You'll need to highlight your most impressive results and prove that you're the right person to make a product successful.
Luckily, Resume.io is here to help. With 350+ writing guides and adaptable resume examples, we know how to create a resume that lands the interview. Here's what we'll cover in this guide and our product owner resume example:
What does a product owner do?
How to write a product owner resume (tips and tricks)
The best format for a product owner resume
Advice on each section of your resume (summary, work history, education, skills)
Professional resume layout and design hints
Statistical insight
This is a great time to look for a job as a product owner! A survey conducted by the Scrum Alliance found that the product owner role was the most in-demand Scrum role in 2020, with 67 percent of respondents reporting that their organization had at least one product owner role.
What does a product owner do?
A product owner is responsible for guiding the development of a product or product line from conception to release. This role typically involves working closely with stakeholders, customers, and development teams to ensure that the product meets user needs and business goals.
Some specific responsibilities of a product owner may include:
Defining and prioritizing product features and requirements based on customer feedback, market research, and business goals
Developing and maintaining a product roadmap to communicate the product vision and plan to stakeholders and development teams
Working closely with development teams to ensure that features are delivered on time and meet quality standards
Conducting user testing and gathering feedback to continually improve the product
Ensuring that the product meets regulatory and legal requirements
Overall, a product owner is responsible for ensuring that the product is successful in the market and meets the needs of both customers and the business.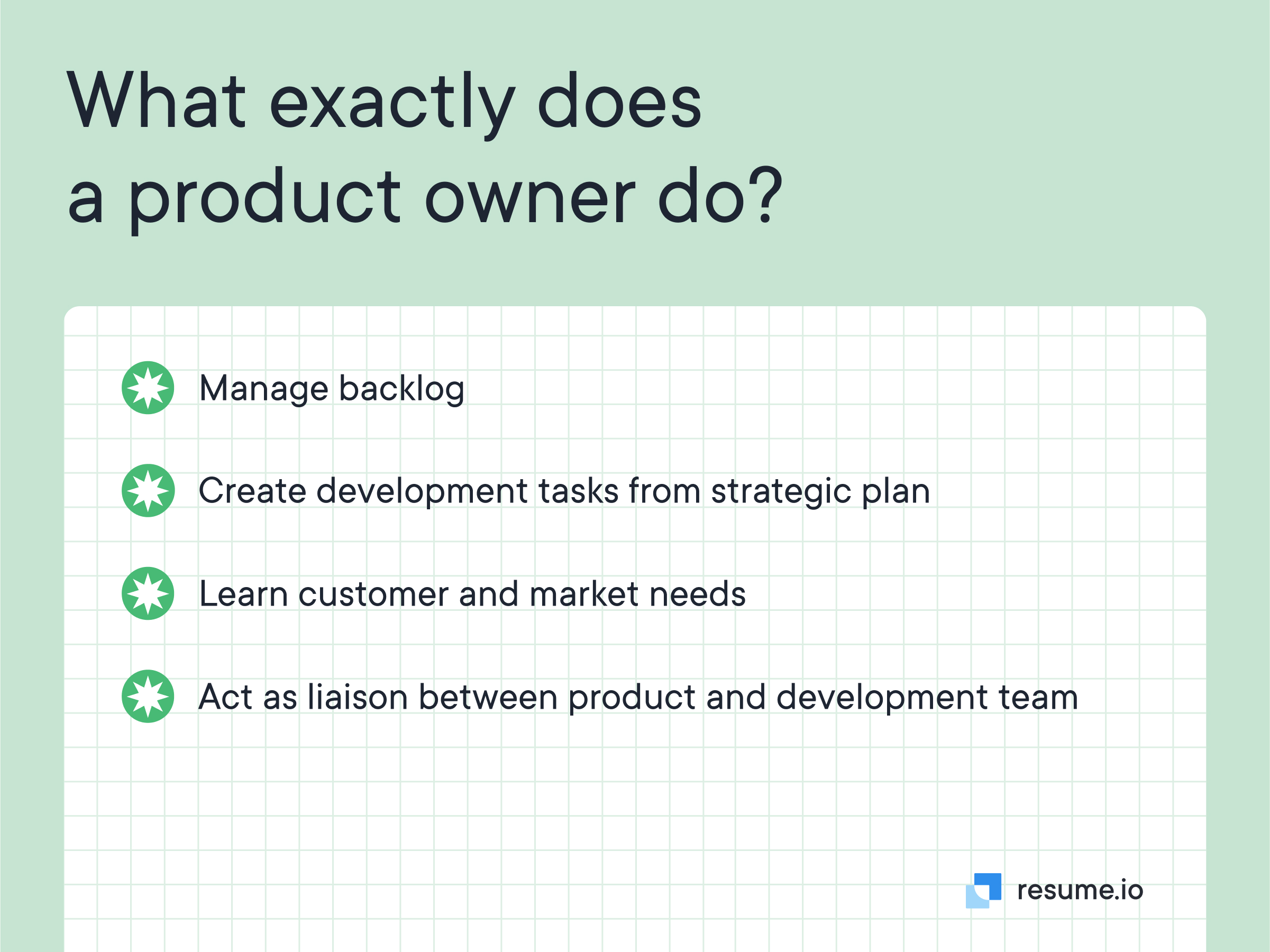 How to write a product owner resume
The very first step in writing your product owner resume is understanding what sections to include. Your CV should contain the following elements:
The resume header
The resume summary (aka profile or personal statement)
The employment history section
The resume skills section
The education section
When crafting a product owner resume, it's important to highlight your skills and achievements in a way that demonstrates your ability to drive product success. Start with a strong summary statement that highlights your experience, skills, and key accomplishments. Use bullet points to clearly outline your responsibilities in previous roles, emphasizing how you contributed to the success of the product or products you managed.
In addition to outlining your experience, make sure to highlight any technical skills or certifications that are relevant to the role. Product managers should be familiar with agile development methodologies, user-centered design principles, and project management tools. If you have experience with any of these, make sure to include them on your resume. 
Expert tip
Beat the ATS
An ATS (Applicant Tracking System) is software used by companies to scan resumes and quickly identify the most qualified candidates for a job. Studies have shown that ATS can filter out up to 75 percent of candidates before their resumes are ever reviewed by a human. To beat the ATS and increase your chances of getting an interview, here are some tips:
Use keywords: Study the job description and identify the keywords used to describe the qualifications and requirements for the position. Make sure to incorporate these keywords into your resume, particularly in the skills and experience sections.
Use bullet points: Use bullet points to highlight your skills and accomplishments. This helps the ATS identify and categorize relevant information.
Customize your resume: Tailor your resume to the specific job you're applying for. This shows that you've read the job description carefully and have the skills and experience required for the position.
Choosing the best resume format for a product owner
A product owner with at least two previous roles to show should aim to create a reverse chronological resume. This format is the best choice because it's the structure most employers expect to see when reviewing applications. This format focuses on the employment history section where previous jobs are listed starting from newest to oldest (reverse chronological order.) This format makes it easiest for the ATS to find the information they are programmed to look for. 
Other resume formats like the functional or hybrid models are best suited for recent graduates or those in certain technical roles. Product owners should generally avoid these formats as they could cause a candidate to come across as inexperienced in their field.
Resume header
The header of your resume is the section located at the top of the page and the first thing that hiring managers will see, so it's important to make a good impression. When creating a resume header for a product owner, include your name, phone number, email address, and any relevant social media like your LinkedIn profile or personal portfolio.
In addition to including your contact information, you can also add a title or tagline that summarizes your experience and expertise as a product owner. Make sure to choose a color scheme that reflects the company you're applying to or the type of products you oversee. Check out our adaptable product owner resume sample for more ideas on how to get started.
Resume summary example
The 3 to 5 sentences of your resume summary are your chance to introduce yourself to the employer and encourage them to keep reading your resume. To capture the reader's attention, make sure to mention key skills and areas of expertise, such as product strategy, development lifecycles, and team management. You can save the details for further down your resume, so focus on statements that emphasize your value as a product owner, such as your ability to drive product success and lead teams to achieve business goals. See our adaptable summary resume example below for more inspiration.
Adaptable summary CV sample
Innovative, creative Product Owner with a proven capacity for driving the end-to-end product process, from initial research and conception through product roadmap and launch. Keen talent for leveraging voice of the customer insights to deliver on unique needs and emerging market trends.
The summary is the most freeform section of your resume, so you may want to check out some of our related resume samples for inspiration like:
Employment history sample
A clear and concise employment history section is the best way to demonstrate your experience as a product owner and how it has prepared you for your next role. When writing the employment history section of your product owner resume, start with your most recent role and work backward. For each position, provide a brief summary of the company and your job title, followed by 3 to 5 bullet points that capture your key responsibilities and accomplishments. 
Product owners are in a results-driven role, so make sure to include statistics and data that prove your contribution. Specific information about how you were able to increase revenue, improve user experience, or deliver products on time and within budget can help you stand out from other candidates. Make sure to check out our adaptable employment history sample below. 
Adaptable employment history CV example
Product Owner at Elan, Inc., Flagstaff, AZ 
February 2017 - March 2023 
Spearheaded product function, shaping and defining product development and launch strategies to drive consistency.
Partnered with stakeholders and development function to identify key product vision, goals, and requirements.
Conducted user/market research initiatives to uncover product opportunities.
Oversaw end-to-end product quality, testing, and iteration, driving continuing evolution to meet customer needs.
Product Manager at CustomEyes, Flagstaff, AZ 
September 2012 - February 2017 
Delivered exceptional value at the head of high-impact product initiatives, steering data-driven product innovation and iteration.
Consulted with leadership to define brand and business roadmap, identifying key market segments for product launch.
Codified product development, iteration, and market launch, building a culture of consistency to maximize customer satisfaction and business value.
Product Marketing Manager at Insight, Inc, Flagstaff, AZ 
December 2010 - June 2012 
Partnered with development and marketing teams to shape high-impact go-to-market (GTM) strategy.
Leveraged customer insights and analytics to shape product marketing.
CV skills example
The CV skills section is often formatted as a bullet point list which means you'll need to reflect on your top qualifications and highlight those in just a few words. Before you decide what to include here, double-check the job description for the technical skills the employer is looking for. Make sure to include them using the employer's exact language to increase your chances of passing the ATS. While product owners should focus on hard skills, it's important to offer several soft skills, or personal qualities, that are important for the role. Team leadership, organization, and time management are all possible skills to consider. Check out our adaptable skills resume sample below.
Adaptable skills section CV example
Agile and Scrum
Product Management
Market Analysis
Business Intelligence
Competitive Analysis
Product Roadmap
Project Leadership
Go-to-Market Strategy
Product owner resume education example
When writing the education section of your product owner resume, start with your most recent degree or certification. Include the name of the institution, the degree or certification you received, and the date of graduation or completion. If you have multiple degrees, list them in reverse chronological order. You may also want to include relevant coursework or projects that demonstrate your knowledge and skills as a product owner, such as classes in product management, software development, or user experience design. 
The education section is also a great place to include any certifications that are relevant to the role, such as Certified Scrum Product Owner (CSPO) or Pragmatic Marketing Certified (PMC). If you are a recent graduate or have limited work experience, you may want to include more detail about your coursework or relevant extracurricular activities to demonstrate your potential as a product owner. Below you'll find our adaptable resume education example.
Adaptable education CV example
MBA in Product Marketing at Northern Arizona University, Flagstaff, AZ 
September 2007 - May 2010 
BA in Marketing at Franklin University, Flagstaff, AZ 
January 2004 - May 2007
Resume layout and design
When creating a resume layout and design for a product owner, it's important to prioritize readability and organization. Use clear and legible fonts, and make sure to use consistent formatting throughout the document. Keep a balance of white space to separate sections and make the document easy to scan.
When choosing a layout, most product owners will benefit from a modern and professional design that reflects their personal brand and showcases their creativity. An expertly-designed resume template can allow you to create an eye-catching layout with minimal fuss.
Key takeaways for a product owner resume
Your resume should clearly highlight your experience developing and managing products by including key skills and statistics that prove your impact.
A great header should make your name and contact information stand out and include any relevant links or social media.
The reverse chronological resume format is the best choice for established professionals with some work experience to show.
Our adaptable product owner resume sample can help you get started building a great resume.