Opening doors that you didn't know existed, a business development manager is like a corporate magician. One minute there is no contact, and the next there is a new client on the horizon. Few job candidates are as enjoyable for hiring managers to recruit, which is why a business development resume should convey the addictive and charming personality that is about to walk through the interview door. 
As the first vital step to that crucial introduction, a job-winning resume conveys your understanding that incremental growth is the lifeblood of every thriving business, and your confidence as the driving force. How do you write such a resume? 
Resume.io is a great source of ideas and inspiration. We've developed more than 300 occupation-specific resume guides and resume examples to make the right career moves easier to attain for job seekers everywhere.
This resume writing guide, along with the corresponding business development manager resume example, will help persuade your dream employer to invite you for an interview. We'll cover these topics:
What does a business development manager do?
How to write a resume that makes recruiters look twice, while ensuring you use role-specific language to pass through the ATS filter
The best format for structuring a business development manager resume
Advice on each specific section of your resume: summary, work history, education, skills
Professional resume layout and design hints.
What does a business development manager do?
No matter what the type of service or industry, the best business development managers share a multitude of common traits. Their role sits at the intersection of operations, product, marketing and finance, with close collaboration required to ensure that the business development offering is optimized. 
Great business development managers know how to convert potential into profit — with customer-focused conversations at the core of their role. Whether the lead comes from inbound marketing, a cold call or a conference meeting, business development professionals know exactly how to pitch their product message. They have done their research, they are adept at reading the interpersonal signs and they view every conversation through their potential customers' eyes. Business development is not a sprint to a signed contract; it is making sure you are saying and doing the right things at the right time to get customers to purchase when they are ready.
Business development managers spend much of their time persuading and influencing potential buyers, judging their needs and researching the positioning of their product or service within the market. They create sales pitches, network at conferences and do lots of cold calling. They need to analyze the effectiveness of their activity, adapting to changes in their market and evaluating the various channels used to reach their customers. 
When it comes down to the purchasing process, they need a high tolerance for stress and copious amounts of patience in the negotiation stages. When the inevitable obstacles present themselves, an adaptable attitude and innovative approach go a long way to solving problems. Polished communication skills are critical at every stage of the process, whether it is delivering presentations or ironing out a legal document's fine details. 
Last, but not least, it is their service-first attitude that will secure new customers and keep old ones coming back. If the customer experience is at the front of their mind, their pipeline will be full and new customers will come back to buy from them when the time is right.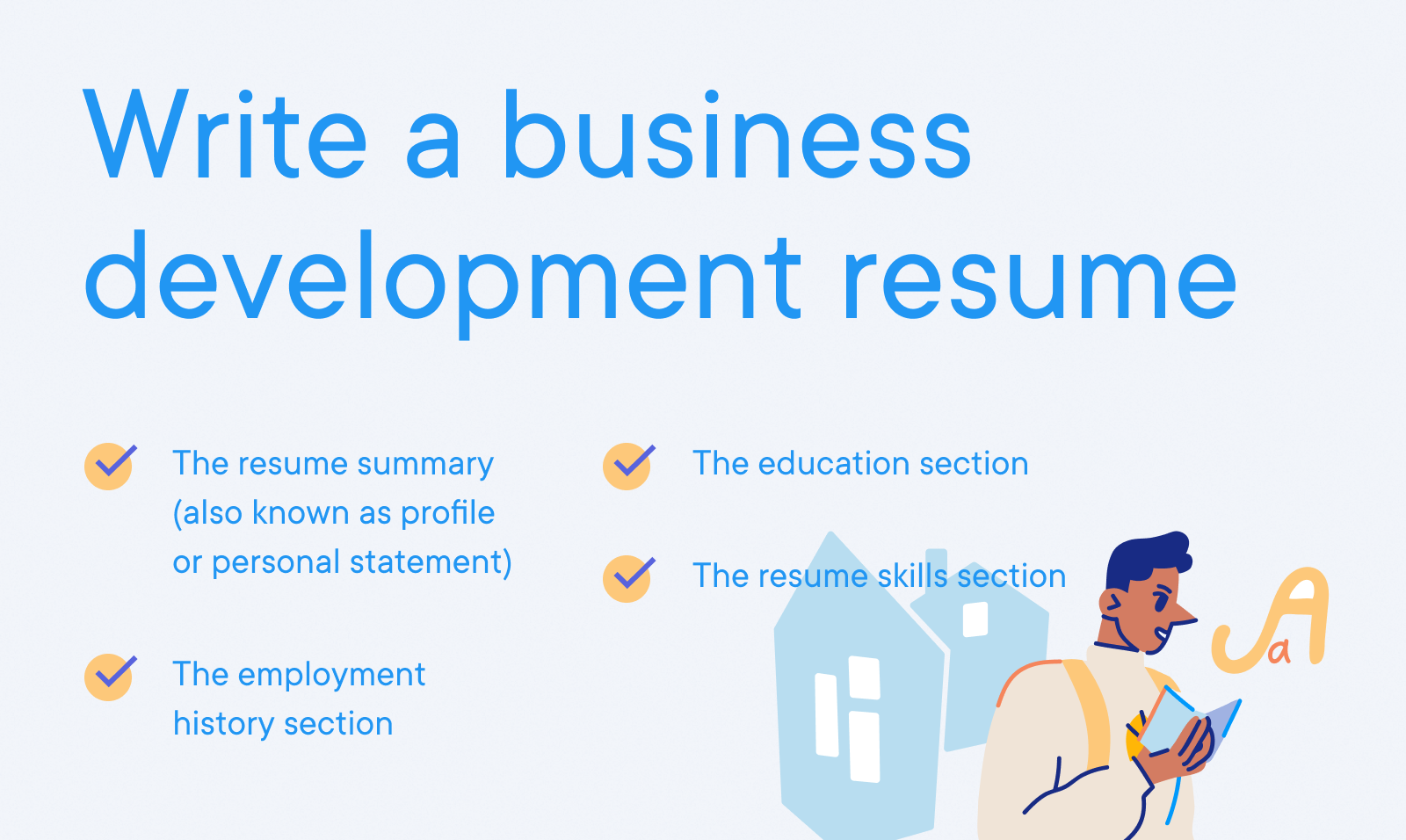 How to write a business development resume
The very first step in writing your business development resume is understanding what sections to include. Your CV should contain the following elements:
The resume summary (also known as profile or personal statement)
The employment history section
The education section
The resume skills section
Content considerations are as follows.
Developing business
The business development resume has to demonstrate the subtlety of persuasion. Your language should be measured, but with a hint of emotion. People don't buy if they don't feel anything. There are three basic considerations for a business development resume:
Highlighting how you turn a potential customer into a valued client.
Getting past the Applicant Tracking System, where specific keywords are important to your specific role.
Ensuring a focus on communication, delivery and results. It's all about the pipeline.
A thread of teamwork should run through your resume, with frequent references to how you achieved success with others, constantly working to improve relationships and adapt to different situations.
Business development managers are often big personalities who are intensively driven and target-oriented, so it is important to carry a sense of determination and momentum through your resume. Write it in such a way that your career seems to be on an upward, profitable trajectory, and that you are progressing as your skills increase. A mundane resume hopping from job to job every year will not suffice. Make your recent achievements seem that little bit more sensational. When employers read a business development resume, they need not only feel that you could sell ice to Eskimos, but that you would feel particularly passionate about selling whatever service or product they provide. Try to make sure that your main achievements are relatable to whatever you will be selling for them.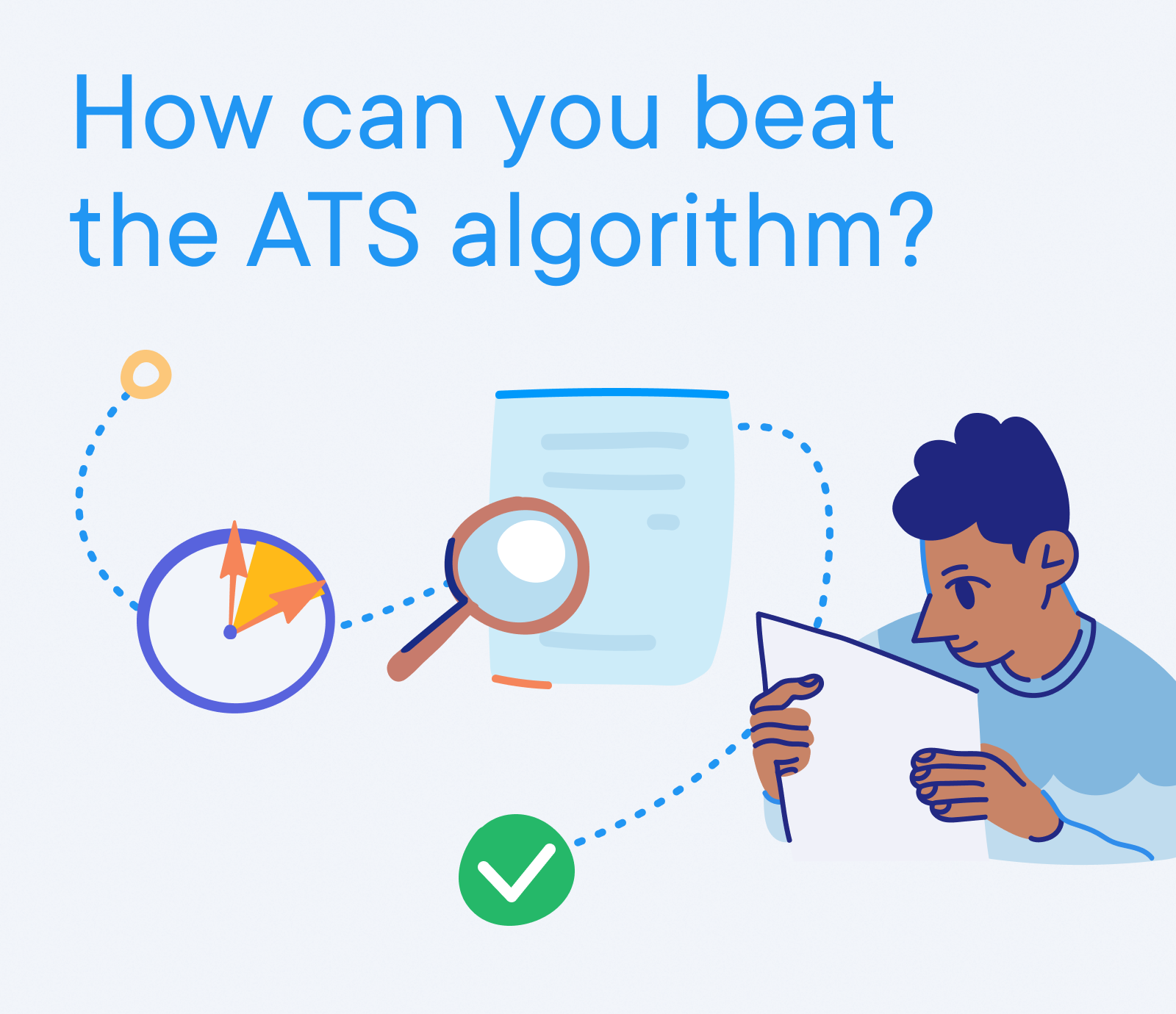 How can you beat the ATS algorithm?
For a human to read any of your resume's carefully crafted persuasive content, first it must pass the Applicant Tracking Systems (ATS) test. Job applicants who understand how an employer's ATS works have an actual chance of delivering their resume to the human eyes of recruiters for review and evaluation. 
Each section of your resume has a certain number of terms relevant to the employer, the hiring manager and the job application. Those are the keywords that the employer's ATS software analyzes as an electronic filter for all the resumes that are submitted online. 
The keywords for a business development manager will vary drastically from one employer and job application to the next, depending on what is being sold. Selling a product is very different from selling a service, and some products are far more technical than others. 
While it's important for a resume to showcase your range of business development experience, the ATS system may only be looking for certain keywords. So sprinkling your resume with product or service keywords and terms that are specified in the advertised job description is crucial to passing the ATS stage of the selection process.
Expert tip
The trick to writing a great resume is being able to insert enough necessary keywords while the writing still flows naturally without seeming artificial. 
Many resume.io guides suggest researching the employer's website to better understand the context for any job application. For the business development manager, this is vitally important to understand what you will be selling. Analyze the product or service to learn everything you can. Not only will this tell you what skills the recruiters are looking for, but also questions you may be asked during your interview.
Choosing the best resume format for business development
The best format for structuring a business development resume depends on your career path. The nature of your past experience is one consideration, but so is your vision of the job you are seeking next and beyond. 
The most commonly used chronological resume format works well for job seekers in almost any occupation, particularly those who have worked mostly as an employee rather than in independent consulting roles. Progressive job experience and accomplishments in the work history section are organized by employer / workplace in reverse order from most recent to earliest dates.

Alternative resume formats are sometimes better suited to job candidates who are new to the workforce or changing careers, or those with a more varied occupational background. Self-employed professionals working on a freelance or consulting contract basis might opt for a project-based functional resume format. Other functional resumes emphasize special skills or niche abilities, rather than work history. A hybrid resume format that combines chronological and functional elements is another option.
Resume summary example: Activity leads to results
The first few lines of a business development resume should give future employers a sense of momentum, determination and achievement. This summary section — sometimes called the profile or personal statement — has to convey the job candidate's driven nature. The writing should convey a sense of measured urgency, pointing out that you are not someone to watch an opportunity pass by, whether it be a conversation, a message to reach out or a social media engagement. 
The summary is where you can convey your personality and how you go about your daily work.
You want the recruiter reading your resume summary to be thinking one thing: "I want someone with that attitude batting for my team." Hit the reader hard with numbers and percentages quantifying growth, profit and success. There is nothing more impressive for a business development manager to include as highest-priority content in the resume summary section. 
Highlight your depth-of-industry expertise. While your product or service experience is likely to be varied, focus on what comes closest to the position you are applying for. There is nothing worse than a sales director reading the first few lines of a resume and mistakenly perceiving the candidate's experience isn't the right fit. 
Again, take your lead from the advertised job description. This is your starting point when it comes to keywords. If there is a good correlation between the job description and the summary, the more likely you will be to pass the ATS test. Online word cloud tools are useful to pick out hidden patterns and subtleties from the same text. Also research the kind of language used in the company's sales materials and on its website, and seek to mirror that.
Below is a business development manager resume example summary you can customize.
Here's an adaptable business development resume example summary:
Experienced and effective Business Development Manager bringing forth valuable industry experience and a passion for management. Results oriented with a proven track record of improving the market position of a company and maximizing opportunities for financial growth. Adept in analytical thinking, strategic planning, leadership, and building strong relationships with business partners. 
Employment history sample: Fueling growth
The employment history section of your resume should cover every aspect of the business development cycle, with your experience spread across past employers. If possible, pick out aspects of each role that could relate to the job you are applying for. It is better to expand on relevant experience than include stuff where they think, "Oh, that is not for us." 
Whenever a business development manager has a successful sales call, who knows what sort of rocket fuel they might provide for the company? The employment story of a business development manager should be one of initiating opportunities. You target the right clients with the right needs and develop lasting relationships with them. Your new business partnerships might have been achieved in different ways — online, at a conference or via direct marketing — so it is important to include varied accomplishments in your resume.
Business development managers must have an affinity for their product or service, so the more your resume is geared towards that, the better. Illustrate your examples with measurable results, where possible in a before-and-after context. Show evidence of enhancing profitability. If your resume is devoid of numbers or percentages, alarm bells will start ringing. 
It is also important to cover how you worked with stakeholders, influencing their decisions and encouraging them to your way of thinking. No sales manager works in a vacuum, and it is vital that a collaborative thread runs through your work history. 
Consider the STAR method, as a logical and straightforward way to highlight projects. Simply describe the: Situation you were in, Task(s), Actions and Results.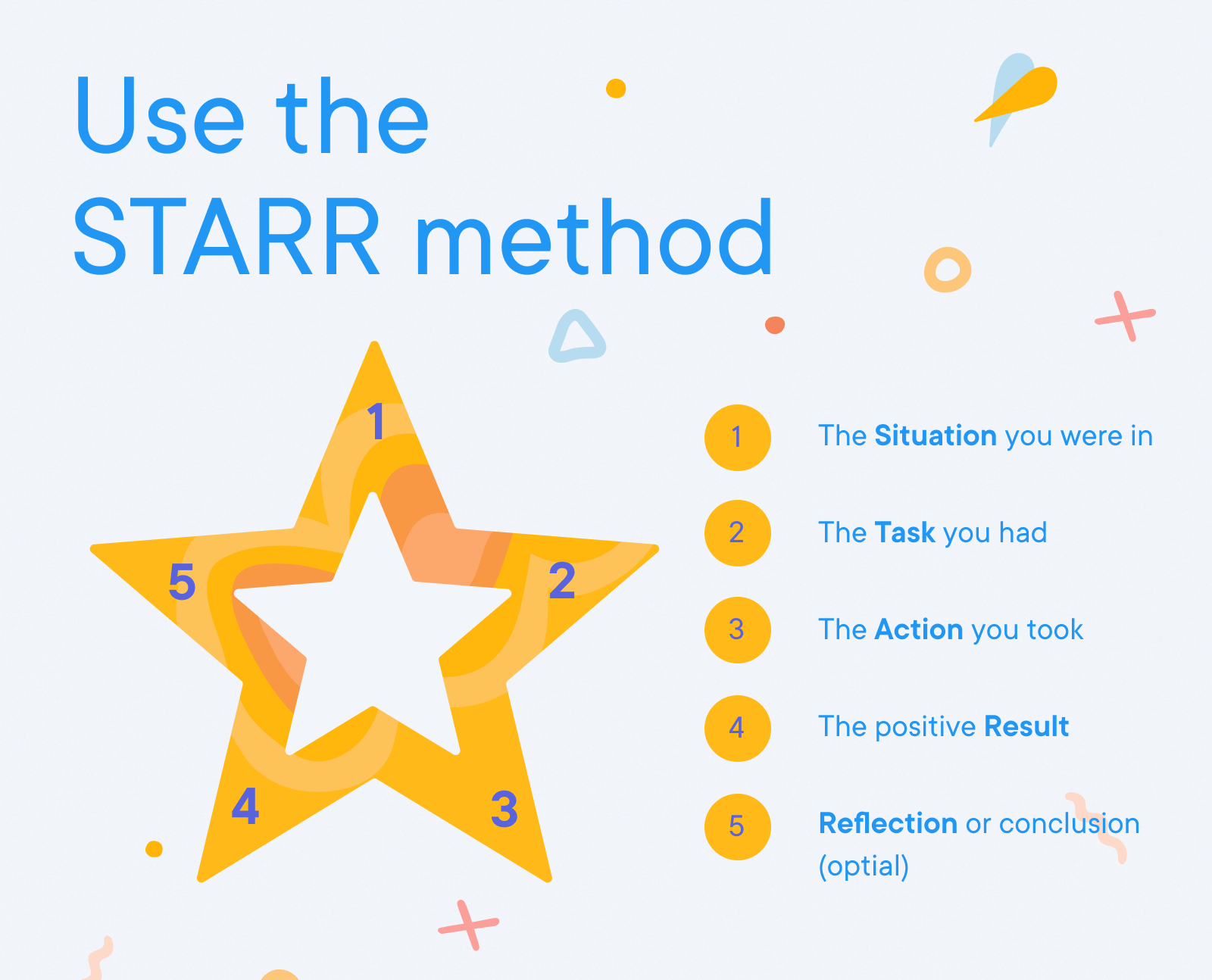 Below is a business development employment history resume sample you can use while writing your own
Adaptable resume employment history example
Business Development Manager at Amazon.com, Inc. , Seattle 
May 2013 - September 2019 
Developed and implemented strategic business plans and marketing strategies.
Served as a passionate member of the Business Development team, helping to drive overall market and technical strategy.
Identified specific prospects to reach out to, with an effective plan for communicating the specific value proposition for their business.
Prepared and delivered business reviews to the senior management team regarding progress.
Managed complex contract negotiations and communication with legal professionals.
Business Development Associate at Nike, Inc. , Seattle 
May 2011 - April 2013 
Worked to identify and develop breakthrough technologies that create innovative products for our athletes.
Worked with consumer expectations in mind at all times.
Adept in working collaboratively with team members to design and execute innovative models that enhance manufacturing initiatives.
Created and fostered long-lasting partnerships business partnerships that played a key role in company success.
Successfully identified emerging trends and leading innovation, leading to successful business developments on our end.
Business development resume education example
Most business development managers possess a bachelor's degree in sales and marketing, which may be required or preferred by some employers. Many have higher qualifications in relevant specialty areas, and most have been fully trained in a wide range of selling techniques. The education section of your resume is where this information belongs, in reverse chronological order of highest level and relevance to the position you are seeking.
Some candidates may have an abundance of relevant sales experience but lack formal qualifications. In that case, on-the-job education is important to emphasize on a business development resume. Professionalism is reflected in your desire for constant learning, so the courses listed on your resume should be recent, as well as relevant, to make a good impression. 
Below is the education section from a business development resume example.
Adaptable resume education example
Bachelor of Business Administration, Seattle College, Seattle 
August 2008 - May 2011 
Associate of Communications, Bellevue College, Seattle 
May 2004 - May 2008
CV skills example: Jack of all trades
Your business development skills are required in countless situations: conferences, meetings, presentations, email correspondence and social media. Do you make the most out of your opportunities? 
Your CV should contain a good mix of hard and soft skills. It is easy to reel off a list of skills and behaviors, but giving relevant real-life examples demonstrating your impact can set you apart from other equally skilled candidates. 
There isn't enough space to highlight each skill more than once in your resume summary and employment history, so spread them out among the roles and accomplishments highlighted in order of importance and relevance to the target job. 
Here are some skills typically expected from business development managers.
Advanced Communication Skills
Project Management Skills
Business Development Strategies
Marketing Strategies
Research Skills
Campaign Management Skills
Otherwise, abbreviated skill descriptions — one or two words each — belong as a bullet-point list in your resume's skills section. Here are a few of the shorter skill phrases / words that you might could include there.
Account Management, Lead Generation, Networking, Social Selling, Relationship Building, Customer Experience, Budgeting, Creative Sales, Strategy, Negotiations, Cold Calling, Market Research, Promotions Planning, Proposal Writing, Forecasting, Public Speaking, Problem Solving, Influencing, Contracts.
Otherwise, abbreviated skill descriptions — one or two words each — belong as a bullet-point list in your resume's skills section. Below are a few of the shorter skill phrases / words that you might could include there.
Business development manager CV skills section:
Account Management, Lead Generation, Networking, Social Selling, Relationship Building, Customer Experience, Budgeting, Creative Sales, Strategy, Negotiations, Cold Calling, Market Research, Promotions Planning, Proposal Writing, Forecasting, Public Speaking, Problem Solving, Influencing, Contracts.
Resume layout and formatting: Shout about success
Looks matter when it comes to a business development resume that does justice to your qualifications. There are no specific rules about layout and design but we can suggest some guiding principles. 
Firstly, ensure your resume is visually clean, easy to read and symmetrical. You have a lot to say about your achievements, but the starring moments will be lost on a cluttered page. 
Secondly, don't make the text too technically dense. A recruiter without a deep understanding might skip over to more readable parts. Yes, those technical keywords are good for the ATS, but make sure they are integrated into your career story. 
Especially if your resume is heavy on terminology and industry buzzwords, it's important to make it easy to read and avoid long blocks of text. Bulleted lists grab and hold attention more readily. Avoid talking about too many different projects for any one employer. Make sure your statistics and measurable successes stand out through liberal use of bold type. 
For the sake of ATS and humans, make sure all of your resume can be "read" by both. Decipher the most important abbreviations and acronyms, which not all ATS algorithms can recognize. Also keep in mind that not all ATS systems will pick up on what's in a header section, which is why contact information is often lost in processing. 
Our template collection has a wide range of attractive layouts. Simply choose one and make it your own by using our professionally designed resume builder tool.
Key takeaways for a business development resume
You will be the public face of your product, so leave a lasting impression on your resume.
Summarize your elevator pitch with emotive language and impactful examples.
Demonstrate awareness of the employer's product by sharing your relevant experience.
Communicate your mix of hard and soft skills with specific achievements in context.
Ensure that the layout of your resume is a blend of practicality and creativity.
Share what, how, where, when, and why certain actions have led to the desired result.
If your resume isn't inspiring, how will you inspire your client to buy from you?