You won't need to write a resume to apply to become a stay-at-home dad - your partner will be in charge of assessing your suitability for that one. However, if you have been at home for a while and are looking to enter the workforce again, you will require a resume that will do the period that you spent at home justice. Every parent knows just how tough it is, so how can you turn this to your job search advantage?
Whether you have had six months at home or six years, combine your time at home with your previous career to show just how much you still have to offer. 
Resume.io has over 300+ resume examples and writing guides that are a fit for whatever profession you are looking to get back into. In this guide, we look at how to tackle the question of your time at home and turn a job search obstacle into an opportunity. Set the record straight with your future employer – show them how much this period has contributed to your development. We consider the following:
What does a stay-at-home dad do?
How to incorporate your homemaking experiences into your resume
Ideas on how to structure your resume to the best effect
Advice on each section with expert tips about the content
Resume layout and design hints.
What does a stay-at-home dad do?
Stay-at-home dads do everything from cooking, cleaning, teaching, and taxi driving to managing social lives and being there for everyone emotionally when times get tough. Being a stay-at-home parent takes a mental, physical and spiritual toll that is comparable to any job. In fact, it may be tougher than most jobs as you know that you cannot quit your family. Your efforts will carry a lasting impact.
Stay-at-home dads often need to prepare for the eventual return to the workplace. In an era of remote work, they are rarely entirely without gainful employment and undertake all sorts of part-time work to keep the money coming in. This is one of the first questions for any employer looking to hire someone who has been at home looking after the kids – "what else did you do alongside the childcare to keep your career on track?" This may be a rather unfair question, but it is uncommon that stay-at-home parents to have zero sources of income.
Manage the employer's pre-conceived ideas and create a story for this section of your employment history that offers a convincing stepping-stone to getting back into the full-time employment market.
Statistical insight
According to the Pew Research Center, 2.1 million fathers were stay-at-home dads in 2021. This is up 8% since 1989, which is surprisingly low. Maybe this number is not higher because many have part-time positions that allow them to do much of the home parenting in addition. Fathers are becoming more active parents and women are now getting more bachelor's degrees than men. Stay-at-home dad trends are backed by solid demograp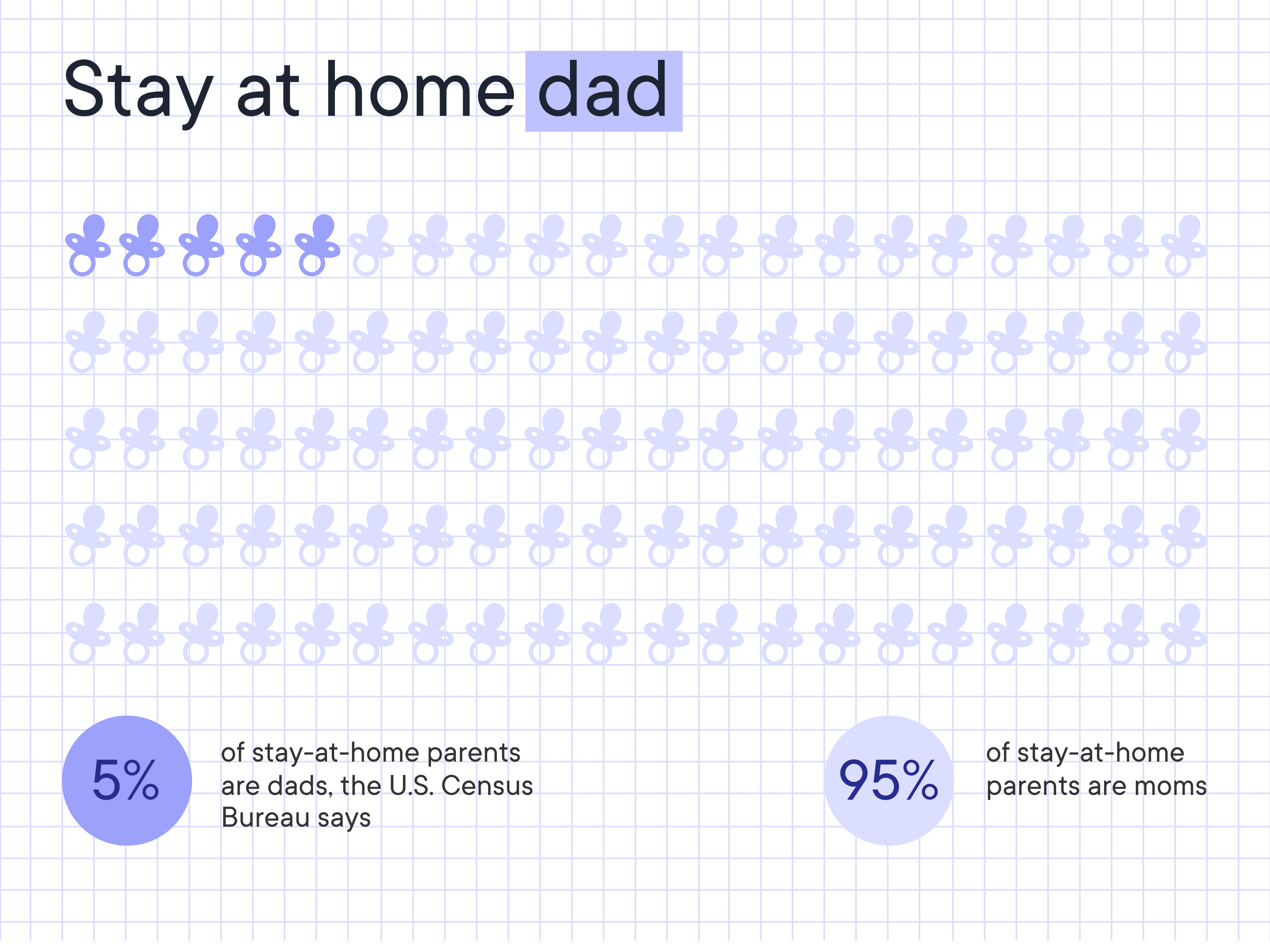 How to write a stay-at-home dad resume
A stay-at-home dad resume will not differ from a normal resume, especially as the home parenting part will only take up the most recent section of employment history. The resume should be structured as normally as possible – you shouldn't draw attention to the parenting activity too much, so make the resume look as "normal" as possible. Follow the structure:
Resume header
Resume summary (aka profile or personal statement)
Employment history section
Resume skills section
Education section
Importantly, do not ignore your home parenting time. A gap in a resume is far worse and will make your future employer think all sorts of unhelpful things. Be loud and proud about your time with the kids and share a few lines to outline how it benefited you.
Choosing the best resume format for a stay-at-home dad jobs
Your levels of creativity may be spiking due to all the games that you have played with your kids, but you don't need to break the mold with your resume format. 
Share a summary at the top of the page, then go with a reverse chronological list of your work experiences. Put some of the work experience before your home parenting on the front page to show that you also have some experience in the workplace. You should still include a skill section and would be perfectly justified in including any skills picked up from courses that you studied during your time at home. List your formal educational qualifications like any other resume.
Resume summary example
The resume summary should ideally not focus on your stay-at-home dad experience. It would be more useful to write a resume objective about what you are looking for in your next role and why you think that you would be a good fit. Such a forward-looking summary shows that you have thought through your move back into the workplace and are set on success.
You might think that it is clever to turn all of your stay-at-home parenting experience into a positive for your next employer, but they will see through this trick pretty quickly. They likely know how hard being a parent is and will understand that you benefited from it, but they don't need to hear cute stories or exaggerated explanations. Keep your resume simple and stick to one page, if possible.
Adaptable summary resume sample
Dedicated professional with a strong skill set in program and project coordination, team leadership, and administrative management. Demonstrated ability to manage the needs of a diverse group, balancing multiple competing objectives and timelines to deliver positive results. Strong talent for building environments that empower success and well-being while challenging individuals to achieve stellar results.
Employment history sample
While your employment history section should begin with your stay-at-home dad experience since it is your most recent, the rest of your work experiences should be detailed as normal. If possible, fit one or two of your actual "work" experiences onto the first page of the resume.
Depending on your industry sector, you might opt for a functional resume that will avoid the need to list your parenting experience in such a prominent way. You could then lead with all the reasons to hire you, gathered from the entirety of your career. This tactic will be pretty transparent, however, and can make any subsequent interview conversations more complicated. Our advice would be to be loud and proud about your parenting experiences – outlining just how keen you are to get back into the workplace.
Adaptable employment history resume example
Stay-at-Home Dad, Self-Employed, Houma, LA
June 2017 - Present
Maintain streamlined function of all critical processes, navigating care needs, household priorities, and a detailed calendar of activities.
Consult with partner to shape schedules, including academic deadlines, travel, and appointments.
Establish general and special household budgets, ensuring adequate leeway for unexpected challenges.
Communicate with school representatives to monitor progress and navigate emerging issues.
Ensure a positive, cohesive environment, mediating household conflicts to maintain unity.
Office Manager, Sue Lee's Automotive, Alexandria, LA
November 2011 - May 2017
Ensured optimal performance of all business functions, providing administrative and clerical support. • Maintained office calendar, coordinating leadership schedules and meetings to ensure alignment.
Addressed customer inquiries, connecting clients with appropriate departments and staff.
CV skills example
Make sure that your diversionary campaign continues with your CV skills. Pick the most relevant skills that you can for your future role. Don't make up skills that don't exist, but certainly don't use your time at home as the sole basis for your CV skills either. That simply isn't credible, so where possible take skills that have previously been developed in the workplace. Hopefully, you may have undertaken some certifications or done some training during your time at home. Show how you have used the time productively.
Adaptable skills section resume example
Program & Project Management
Team Leadership
Coordination
Administrative Management
Budgeting
Culture Building & Mentorship
Stay-at-home dad resume education example
List your education as normal with your stay-at-home resume. It may be worth another line or two to highlight your academic qualifications. Also, where appropriate list any additional training or industry qualifications that you have. There are some weighty MOOC courses that make be worth taking before your step back into the workforce. You have to show that you are ready to invest in your career again.
Adaptable education resume example
Bachelor of Science in Information Technology, Louisiana State University, Baton Rouge, LA
August 2012 - December 2016
Resume layout and design
The layout for the resume should not deviate from a normal resume layout. Don't attempt to mask any perceived inadequacies from your time at home by making fonts larger or somehow making the resume more visually attractive. A professionally designed resume template will be all you need to make a good impression.
Key takeaways for a stay-at-home dad resume
Make sure that the resume reads like a normal job search document.
Don't be apologetic about your time at home – it is entirely normal for people to make this life decision. How has it benefited your career?
Ensure that your other work experiences are more prominent.
Stress just how much you are looking forward to getting back to work – and your objectives for your future career.