Whether you're a fan of Amazon's rapid delivery service or just looking for some extra income, there are always openings at the online retail giant with offices and distribution centers around the world.
To land a job at Amazon, you'll need a no-fuss resume that quickly communicates your skills, previous experience, and the value you'd bring to Amazon's team environment. Luckily, Resume.io is here to help. With 350+ resume examples and guides for job seekers in all fields, we're an expert resource for landing your next position.
This resume guide, along with the corresponding Amazon resume example will cover the following topics:
What does an Amazon employee do?
How to write a resume for Amazon (tips and tricks)
The best format for an Amazon resume
Advice on each section of your resume (summary, work history, education, skills)
Professional resume layout and design hints.
Statistical insight
Ready to work at Amazon? You're in good company. This year, Amazon surpassed 1 million employees in the U.S. In fact, 1 out of every 153 American workers is an Amazon employee, according to Business Insider.
What does an Amazon employee do?
Amazon employees work in a wide variety of sectors from supply chain and logistics to marketing, communication, web development, and more. While you'll need an expertly crafted resume for any of these roles, this guide will focus on some of the most common entry-level jobs with Amazon like picker and sorter.
Inside Amazon's warehouses and distribution centers, hundreds of workers collaborate with each other and use advanced technology to choose the right product, place it in the right box, and make sure it arrives at the correct location on time. These jobs require lots of physical and mental stamina as efficiency and accuracy are the company's top priorities for employees in warehouse positions.
How to write a resume for Amazon
A resume for Amazon will need to follow the typical structure of effective resumes. Your CV should contain the following elements:
The resume header
The resume summary (aka profile or personal statement)
The employment history section
The resume skills section
The education section
It's important to keep your resume concise and meaningful so that the recruiter can quickly find the information they are looking for. As a general rule, your resume should fit onto one page with standard 1-inch margins. That means you'll need to make every word count.
For manual positions, your previous experience will be essential in showing that you have the right skills and work ethic. Don't worry if you've never worked in a warehouse before. Other entry-level jobs can help demonstrate the necessary traits for a position with Amazon. Just make sure to use the bullet points of your employment history section to highlight transferable skills – duties that you performed in your previous job that can carry over to the new position with Amazon.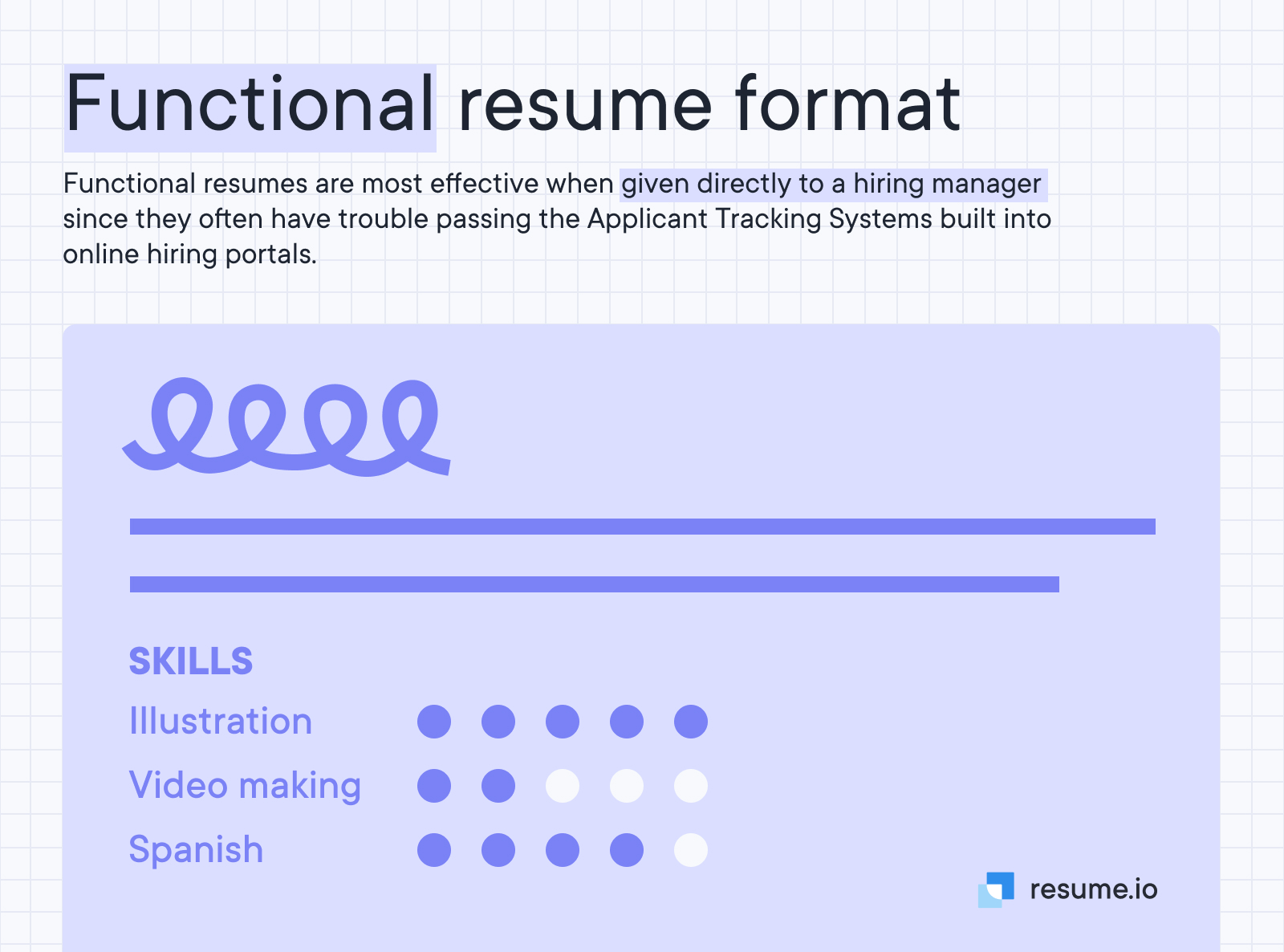 Choosing the best resume format for Amazon
The best resume format for Amazon depends mostly on your previous experience. If you've worked other jobs before, even in different sectors, then the traditional reverse chronological resume format is your best choice. This structure focuses on the employment history section where you can list your previous jobs going back up to ten years. It's also the format hiring managers expect to see, and alternatives may signal to them that you lack experience or have gaps in your employment history.
If you are a student or looking for your first job, you may consider a functional resume format that focuses mainly on your skills and includes an "Experience" section where you can group volunteer activities, extracurricular activities, and leadership positions.
Expert tip
Consider the ATS
Another reason to choose the reverse chronological resume format is that it's the one most likely to pass Applicant Tracking Systems or ATS. These algorithms scan resumes for keywords programmed from the job description and filter out candidates who don't stack up. You can increase your chances of making the cut by reading the job description closely and placing important duties or qualifications in the relevant resume sections.
Resume header
The resume header is the section at the top of your resume that allows the hiring manager to identify the document and get in touch if they wish to schedule an interview. The essential information for your header includes your full name, professional email address, and telephone number. You can check out our adaptable Amazon resume example for more ideas on creating a great header.
Resume summary example
The resume summary is the first section of your resume that introduces the hiring manager to your experiences and background. For a job with Amazon, it's important to keep the summary short and to the point. Make note of any previous related jobs and relevant education. The hiring manager can read the details further down. Check out our adaptable summary resume example before writing your own.
Adaptable resume summary example
Enthusiastic and reliable Customer Service Professional seeking to utilize my excellent communication and product service skills for the betterment of the Amazon team. Adept in communicating timely and effective solutions at a fast-pace.
Expert tip
Avoid confusion and help the hiring manager identify your application by placing the name of the role and location you are applying to in the summary of your resume. You can even include the reference number from the job description if space allows.
Employment history sample
No matter how much attention you give to the other sections of your resume, it's likely that the employment history section will draw the hiring manager's attention first. That's because previous positions are a good indicator of how well you will perform in the Amazon role. Make sure to organize the section in a clear and consistent way by creating subheadings with the job title, employer name, dates worked, and location. Then add 4-5 bullet points that describe your responsibilities, skills, and accomplishments. Offer numbers and concrete information to back up your bullet points wherever possible. See our adaptable resume sample below for more guidance.
Adaptable resume employment history sample
Customer Service Associate at Amazon, New York
October 2019 - Present
Work to resolve complex customer issues, while educating customers on problem-solving techniques and platform resources.
Assist customers with the prompt placement of orders, refunds, or exchanges.
Work hard to implement exceptional customer experiences with each personal interaction.
Consistently implement exceptional customer experiences with each personal interaction.
Effectively assist upwards of 150 customers per week to expedite orders and correct sales problems.
Accurately answer product and service questions, and suggest information about other appropriate products and services.
Strive to adhere to Amazon's mission of providing the most exceptional customer experience possible by listening to customers and offering pertinent solutions and guidance.
 
Customer Service Representative at Macy's, Inc., New York
November 2016 - June 2019
Provided timely replies to customer emails and calls regarding issues with purchases or user experiences.
Continually worked to drive sales by focusing on the Macy's customer experience.
Led initiatives and efforts to increase customer loyalty, while always working to deliver on Macy's superior standards for customer service.
Utilized internal applications and shipping websites to help customers track their orders.
Used advanced critical thinking skills to appropriately resolve customer pricing discrepancies.
Continually worked to maintain and increase knowledge of Macy's products and services, resulting in improved customer assistance and better outcomes.
CV skills example
The CV skills section may seem like a simple list at first glance, but it's worth paying a bit of extra attention to this section as it is one of the ATS' favorite places to look for keywords on your CV. One technique is to create a master list of all your skills. Make sure to include hard skills (technical ones like assembly line work or a clean driving record) along with soft skills like time management and a strong work ethic. Then choose the top 4-5 that relate to the position. Use the employer's exact language from the job description wherever possible. See our adaptable resume sample below.
Adaptable skills section resume example
Customer Relations
Time Management
Ability to Work Under Pressure
Communication Skills
Product Knowledge
Knowledgable in User Interface/ User Experience
Complex Problem Solving
Resume layout and design
A simple, well-organized layout and design is the best choice for most entry-level roles with Amazon. The goal is to make sure the employer can find all the information they are looking for at a glance. Clear section titles, consistent font styles and sizes, and an attractive header all contribute to a professional appearance. 
Unless applying to a creative role with Amazon, it's best to avoid bright or flashy colors. A neutral color scheme sends the message that you are serious about the position and can also be used across job openings.
Expert tip
A professionally designed resume template is one of the best ways to ensure your application sends the right message and stands out in the hiring manager's mind.
Key takeaways for an Amazon resume
Amazon hires for thousands of positions globally so this is a great time to prepare an effective resume.
Keep your resume concise and focused on the specific job you're applying to. Use the summary to call the hiring manager's attention to the highlights of your experience.
Give concrete details and numbers in your employment history section to cement your application in the hiring manager's mind.
A great header can set the tone for a professional resume. Check out our adaptable Amazon resume sample to get started.