As far as job titles go, "IT specialist" is ironically vague about the special expertise needed in the vast realm of information technology. Learning every possible detail about the employer's expectations is your first step in creating an IT specialist resume that hits every targeted mark.
Resume.io can help you from there. Our resources include more than 300 occupation-specific writing guides and resume examples, packed with interview-winning advice. This writing guide, along with resume examples geared to IT specialists, will cover the following topics:
What an IT specialist does
How to write an IT specialist resume, starting with the best format and general writing rules
Advice for each specific resume section: header, summary, work history, education and skills
Resume layout and design hints to create a strong visual impression.
What does an IT specialist do?
As noted earlier, "IT specialist" can mean vastly different things to different employers, making it tricky to either pinpoint any given set of job requirements or to describe their scope in broad enough terms.
In some way, shape or form, IT specialists play a vital role in ensuring that all of today's automated methods of human communication work properly: from computer hardware and software components to networks and servers. The range of organizations, departments, industries and end users that rely on IT specialist support could not be more eclectic. On the other hand, many IT specialists do focus on certain specific forms of support — perhaps information security or server maintenance.
Statistical insight
The U.S. Bureau of Labor Statistics (BLS) projects employment growth for computer support specialists to grow by 9% from 2020 to 2030, consistent with the average for all occupations. 
How to write an IT specialist resume
Stick to this structure for building your IT specialist resume, and you're sure to get it right:
Header
Summary
Employment history
Education
Skills
We're about to show you how, step by step. But first, one more reminder about the need to customize and optimize every version of this vital job search document to match each specific position you apply for. 
It means every section is geared to what this employer or client requires and expects. Be clear about that by scrutinizing the posted job description and doing extra research to learn more. At the same time, your resume can be better equipped with the right keywords to help ensure it passes through the applicant tracking systems (ATS) that many hiring organizations use to screen online submissions. 
Choosing the best resume format for an IT specialist
The most commonly used chronological format is generally failsafe for organizing your resume information. Recruiters tend to expect and prefer it as the most straightforward way to peruse your employment history, as listed in reverse order from most recent to earliest dates.
However, if you are a self-employed IT specialist and pursuing independent consulting work, you may want to consider a functional resume format. This allows you to highlight your most relevant qualifications according to projects, clients or transferable skills. Hybrid (combination) resume formats are another versatile option, incorporating both chronological and functional elements. Read more about these alternative options in our guide to resume formats.
Expert tip
Immediate headway
Strike an instant impression of being conscientious to the hilt in any IT specialist role. Your resume header can accomplish that with conservatively confident-looking design elements to display your name, occupation and contact information prominently on the page. Recruiters can visually distinguish you from other candidates — especially those who show less regard for such small details — and readily know how to get in touch with you. Reinforce the impact on both counts by making your resume and cover letter match, starting with the header.
Resume summary example
Your resume summary is the place to convey that you are an IT specialist who stays focused on end results while getting straight down to business. This tightly written synopsis of why you're an exceptional fit for this job is sometimes called the profile or personal statement.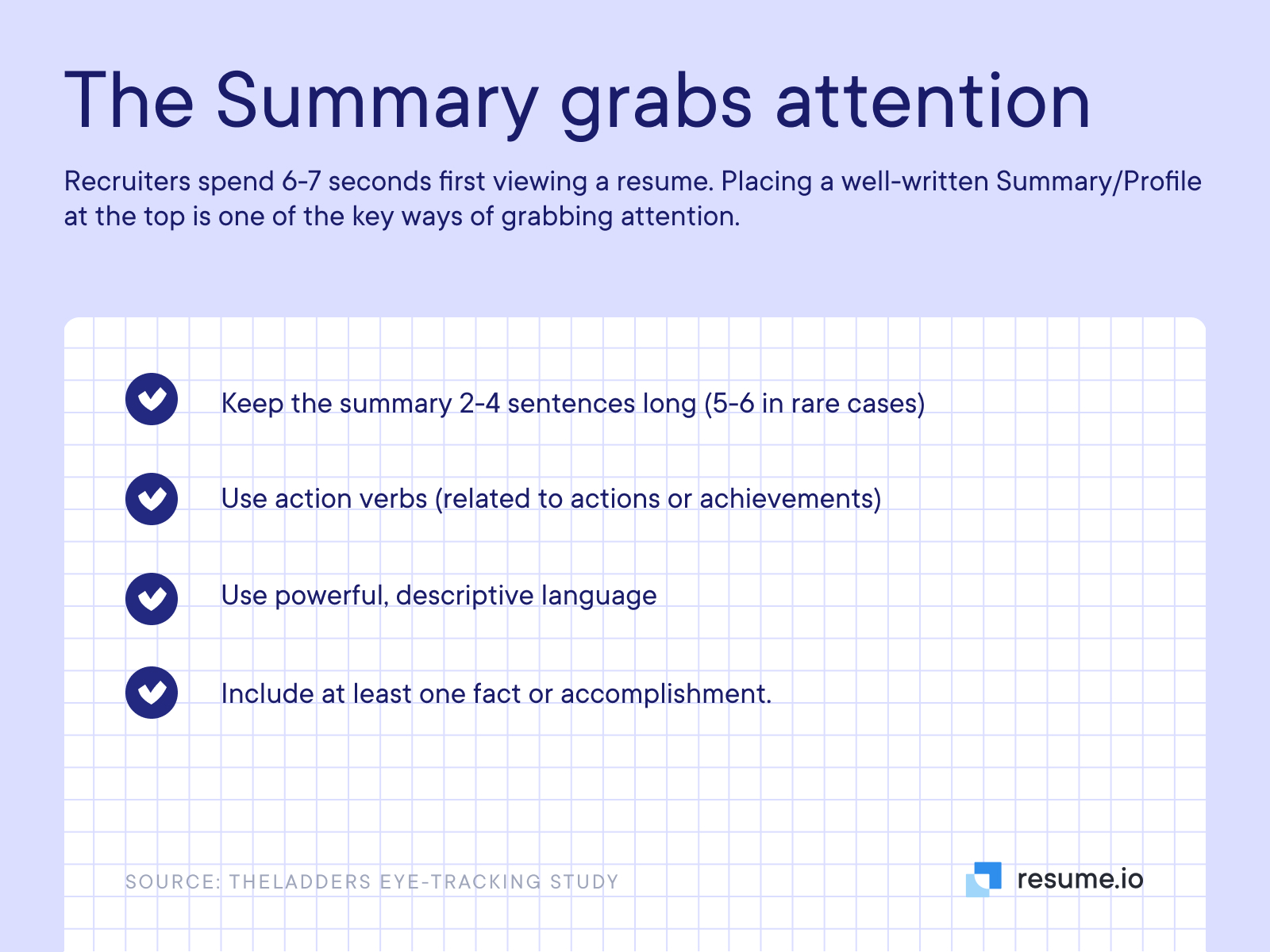 Using precisely descriptive language —including strong action verbs and other ATS-beating keywords — it makes a concisely compelling connection between your key qualifications and what the employer or client needs. 
Here is a resume sample that IT specialists can adapt for their own summaries.
Adaptable resume summary example
Quality-focused IT specialist with 6+ years of experience working with end-users and infrastructure support teams to deliver systems and application support. Committed to providing premiere technical support to executive-level customers, clients and vendors. CRISC certified.
Employment history sample
Again, we can't overstate the importance of gearing everything in your resume to the IT role you are vying for. Nowhere is this more critical than in the employment history section. And the more extensive and diverse your work experience, the more careful you need to be in selecting and describing only the most relevant and desirable highlights. 
Be sure that everything you do choose to highlight here is framed as an outcome-focused achievement, rather than a job duty. Help employers or clients start to picture what their future would look like with you in it. Quantify any measurable results you helped bring about  — savings, profits or productivity gains, for instance — with impressive facts and figures.
Below is an IT employment history resume sample you can customize.
Adaptable resume employment history example
IT Specialist, Callubra Seattle 
Jul 2016 - Jan 2022 
Provided on-site technical support for IT and AV infrastructure at various client locations.
Delivered all aspects of technical support including implementation of audio/visual and IT infrastructure at the facility.
Worked to troubleshoot technical issues for customers and internal clients.
Created, updated and adhered to procedural documents.
Provided technical support for servers and back-end network systems.
Worked cross functionally with other team members to deliver exceptional work and meet goals on projects in excess of 2 million dollars.

IT Support Specialist, Seattle Central College Seattle 
Oct 2013 - Jun 2016 
Researched and recommend hardware and software purchases to support the college's IT goals.
Worked under the general direction of the Associate Dean and collaborated with other team members to provide exceptional IT support.
Maintained an accurate inventory of computers assigned to staff and faculty.
Worked independently to provide IT support for 10+ college software systems.
IT specialist resume education example
The education section of your IT specialist resume is the place to list any computer-related degrees you hold, in reverse chronological order, from highest to lowest level. Only include information about your high school if that's your highest level of graduation.
But do mention on-the-job training or IT skills development programs you've pursued on your own. Certifications and professional association memberships have an important place here also — any learning activities that show your serious regard for career growth by staying up to date. 
Below is the education section from an IT specialist resume example you can modify.
Adaptable resume education example
Bachelor of Computer Science, Seattle University Seattle 
Sep 2009 - May 2013
Certifications

CRISC - Certified in Risk and Information Systems Control Certification, Seattle 
2017 

Cisco Certified Network Associate (CCNA), Seattle 
2018
CV skills example
This is no place to state the obvious — like hard skills that are too mainstream to impress IT specialist recruiters. Be ruthlessly selective in pinpointing technical abilities that could outshine those of job applicants paying less attention to what's needed most. 
Be sure to add unique context to tip the scale in your favor. The right adjective or adverb can make all the difference.
And don't forget to include some soft skills in the mix. What are your work habits like? How well do you get along with others? Take advantage of the possibility that your competitors might overlook the importance of people skills and fail to mention in their resume. 
Check out an IT specialist CV sample for the skills section below.
Adaptable resume skills section example
Computer Networking
IT-technology Angular
IT-language JavaScript
Software Installation
IT Troubleshooting and Problem Solving
Customer Support
Resume layout and design
Simple and spotless need not be well-kept secrets for a user-friendly IT specialist resume that does justice to your attributes. Keeping the layout, design and formatting elements streamlined and efficient will ensure effective results in a page that looks as good as it reads. 

It should go without saying that your resume is character-perfect and bug-free in every sense — from font choices and margin widths to saving the final version as a PDF so it looks the same on every digital screen. Subject your CV document to beta test runs and reboots involving third-party proofreaders. 
Expert tip
Reading ease and eye appeal are not mutually exclusive considerations for a job-winning IT specialist resume. Sacrifice none of the sleekness for a look that's neither plain nor boring, by using one of Resume.io's field-tested resume templates. Download in your preferred file type or save different versions for different openings.
Key takeaways for an IT specialist resume
With employment growth for IT specialists keeping pace with the overall occupational average, an exceptional resume is the key to competing for the best jobs.
Because the nature and scope of IT specialist roles vary significantly, each version of your resume must be customized to suit the hiring organization's needs. Take direction from the posted job description details and conduct your own additional research.
Mentioning soft skills in your resume could give you an edge over candidates who over-emphasize their technical expertise.