DevOps engineers are the backbone of the IT department's software production. As such, they must understand all aspects of the company's needs and create tools and solutions to automate software development and integrate it into IT operations.
DevOps requires a blend of technical knowledge and problem-solving skills. The ability to display these traits in a DevOps engineer resume can make all the difference in getting that next great gig. Recruiters rely on the one page of information you provide to determine whether or not to offer you an interview. It's in your best interest to put in the work upfront to create an enticing application package.
Just as you create tools to make the path to software development smoother, Resume.io creates tools to make the path to your next job smoother. We offer expert resources for job seekers including resume guides and resume examples for 300+ professions and an easy-to-use resume builder to get you on your way.
With this resume writing guide and corresponding DevOps engineer resume example, we'll explore the following topics:
What does a DevOps engineer do?
Advice for writing a DevOps engineer resume
The best format for a DevOps engineer resume
How to make the most of each section of your resume (summary, work history, education, skills)
Professional resume layout and design hints.
What does a DevOps engineer do?
First, let's define DevOps. Short for development operations, DevOps is a method for combining software development and operations to speed the lifecycle and improve security. DevOps engineers create automation tools that help integrate the work of development and operations teams and act as liaisons between those teams.
DevOps engineers are responsible for the entire software development lifecycle, therefore, they must be IT generalists with knowledge of coding, infrastructure management, system administration, and DevOps toolchains.
In addition to their engineering skills, DevOps engineers are the bridge between development and operations teams so they must have advanced communication and project management skills.
The exact role of DevOps engineers varies by organization. They may write documentation as well as building, evaluating, deploying, and updating tools and platforms. 
Expert tip
Here are some industries that have specialized DevOps needs:
Information security (DevSecOps)
Artificial intelligence (AIOps)
Cloud computing (CloudOps)
Infrastructure automation (GitOps)
Chatbot systems: ChatOps
DevOps engineer job market and outlook
An evolution in the philosophy of software development toward more collaboration between development and operations is driving skyrocketing demand for DevOps. In addition, stakeholders are increasingly requiring more frequent software releases. These factors have combined to create the belief that companies need to create DevOps teams that will improve the speed and efficiency of their software lifecycles. 
From 2015-2019, the demand grew a whopping 443 percent, according to Bain & Company. If you're on the job hunt, you're in luck: 35 percent of IT recruiters are searching for IT personnel skilled in DevOps, Statistica reports.
Statistical insight
What do DevOps engineers earn?
DevOps engineers are well compensated for their broad range of skills with salaries in the six figures. The average base salary for a DevOps engineer is $133,133. Add in bonuses and other cash compensation, and that rises to $149,993. The low end of the scale earns about $73,000, while senior and management DevOps engineers can command salaries of more than $300,000.
ZipRecruiter reports lower salaries overall and cites Tennessee as having the highest average at $129,300 and Georgia at the low end at $82,884.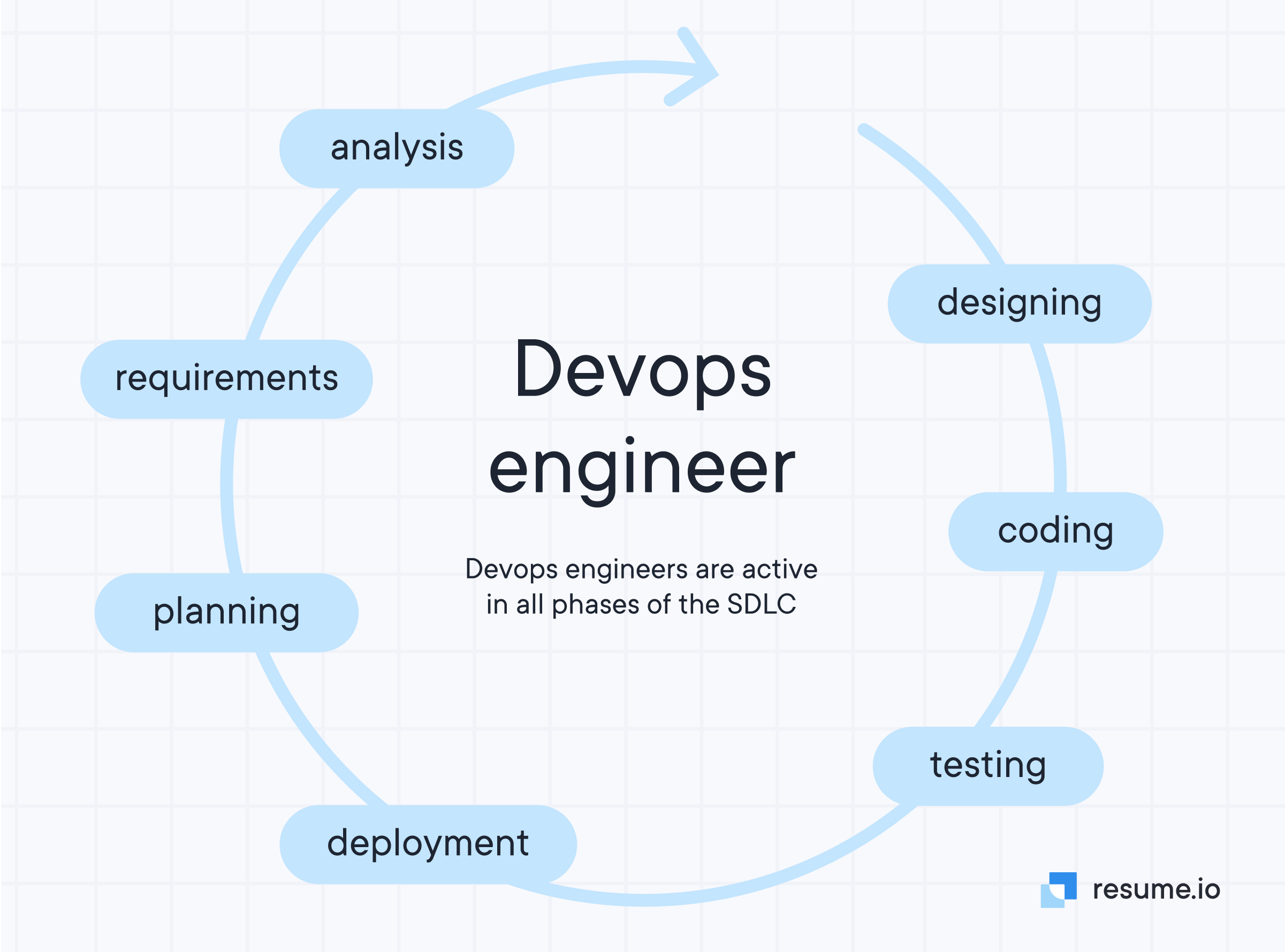 How to write a DevOps engineer resume
Your career is all about process and efficiency, so you'll understand our step-by-step approach to developing your DevOps engineer resume. Before you leap in, you need to know how busy recruiters view applications. They want efficiency and one way you provide it is with clear, recognizable resume sections.
To that end, your CV should contain the following elements:
The resume header
The resume summary (aka profile or personal statement)
The employment history section
The resume skills section
The education section
Not only should you use this framework, but you should also carefully consider the format you choose.
Choosing the best resume format for a DevOps engineer
Recruiters, especially those who are searching for elusive and high-demand skill sets, seek the most efficient route to promising candidates. Since your goal is to get your foot in the door with an interview, you need to choose a DevOps engineer resume format that makes the recruiter's job easier.
Form trumps creativity here. That means, although you may be tempted to stand out with a unique format, you shouldn't. While we typically recommend the reverse-chronological order to position your most recent job and top five skills where they are easily scanned, your broad range of IT knowledge may make you an exception.
A hybrid format will allow you the flexibility to beef up your skills section, but if you have a long and specialized list of DevOps skills, you may opt for a functional resume format, which is typically used for deep scientific knowledge but may also serve to highlight your technical abilities.
If you feel you can highlight your skills with the reverse-chronological format, we recommend that you do so since this is easiest for recruiters. 
Resume header
To schedule that interview, you have to be quickly and easily reachable. Once again, focus on function here. Your DevOps engineer resume header conveys your contact information to recruiters so that there are no obstacles to the next step in the process.
The resume header functions as a design element as well as a repository for key information. As you put together your application package, make sure that you choose a cover letter design that complements the one you have chosen for your resume header. This creates an integrated look (especially important to you since integration is part of your job!) and ensures that your resume and cover letter will be viewed as a unit. It also helps HR personnel who may see these elements separately put together a complete picture of you as a candidate. And on the off chance that printed versions get separated, a coordinated design will help reunite them.
While you want to make a memorable first impression, you also want to keep it simple so that your details pop. Your header should include:
Your full name
Title
Professional email
Phone number
City and state (your street address is not necessary, but you may include it if you wish)
Expert tip
Include a link to your portfolio of software work from your resume header. If you have a LinkedIn profile, website, or any other social media URLs that show off your professional accomplishments, list those as well.
Now we'll get to the written details of your career.
Resume summary example 
The summary is more than a brief recitation of your career; it is your chance to make your case for employment. This section sits at the top of your DevOps engineer resume and it can be the deciding factor.
If the recruiter has made it this far, they want more than just a listing of your skills, they want to know what you will really bring to the team – philosophically and temperamentally. When a recruiter is tasked with filling a position, they know that the team and manager have a problem at hand and it needs a quick and effective solution. While many candidates may have the minimum skills to do the job, the recruiter is also looking for the right fit and the candidate who can add an element to the existing group.
That's why you should start off with a description of your career and greatest achievement, but follow it up with a sentence or two on your DevOps philosophy and how you approach problems. Your goal is to tell the recruiter what you will bring to the team that will not only solve its problems but add a new dimension to the team while fitting in with the current dynamics.
Adaptable summary resume sample
Results-driven senior-level DevOps engineering professional with strong technical acumen and proven capacity for leading world-class engineering teams from multiple technology disciplines. Excel at planning and executing large-scale cloud migration programs. Talent for developing forward-thinking systems strategies and deploying new code across fast-paced physical and virtual release cycles. 
Writing the summary is the tallest order within your resume creation. For more ideas and summaries, check out these related resume examples:
Employment history sample
The employment history section of your DevOps engineer resume will consume the most real estate on your page unless you have chosen a functional format. That does not mean that you should elongate your job descriptions with everything you have done at every job.
Think in terms of career growth and achievements. If you list the same responsibilities at two or three jobs, recruiters will wonder why you are job-hopping. Tell the story of your increased understanding of different aspects of IT and your ability to master more complex tasks and problems.
The way you relate to this story changes the way recruiters see you as well. Thread the fine line between pride in your achievements and braggadocio. Make sure you give credit where it is due. You didn't develop the entire software environment by yourself. Explain your role and show how you collaborated to create the best possible outcome. Data and details will help flesh out what you did and tell recruiters that you can bring those results to bear at your new job.
While this is a bulleted list, there is skill and formula attached to making each item stand out.
Begin with an action word such as solved, collaborated, communicated, executed, created, or designed
Explain the problem you were solving or the task at hand
Describe the results and how you achieved them.
Be as specific as possible. Use the exact names of tools, apps, and programs. Describe how many people use the software, which businesses it was designed for, how long it took - anything that serves to paint a picture of your achievement as it relates to the job you want.
Adaptable employment history resume example
Senior DevOps Engineer at Insight Global, Atlanta, GA 
June 2017 - Present 
Oversee global DevOps team in all facets of cloud release management and DevOps.
Implement and ensure compliance with cloud release management processes and standards.
Work with development team leads in developing and managing international code release pipeline.
Facilitate vendor negotiations in acquiring and upgrading tools.
AWS DevOps Engineer at Elevance Health 
September 2013 - February 2017 
Coordinated design, development and upkeep of cost-effective, highly efficient AWS, GCP and Azure cloud solutions.
Architected standardized CI/CD pipeline for all DevOps, including tool selection and vendor negotiations.
Collaborated with team of DevOps engineers in maintaining, upgrading and troubleshooting AWS apps.
Partnered with security teams to plan and execute in-depth AWS security assessments.
DevOps Intern at Capital One, Atlanta, GA 
May 2013 - August 2013 
Acquired hands-on, real world DevOps engineering skills in a highly secure banking environment.
Wrote automation script in PowerShell and Bash.
Contributed to deployment of multi-tier secure banking web application in AWS Cloud.
Expert tip
We don't have to explain algorithms to you. You are probably also aware of Applicant Tracking Systems (ATS). These HR programs make personalizing your DevOps resume very important. Back in the days of snail mail and heading to the shop to get quality paper and a print job of 50 identical resumes, your cover letter was the only way to achieve differentiation. Now it is imperative that you target each and every employer with a resume that speaks directly to their needs.
Review the responsibilities of the job and tailor your employment history and skills section to best show that you can handle them all. To enhance your chances of getting your resume past the ATS, use the exact names of programs as they are listed. When in doubt, spell it out and put acronyms in parentheses. You won't get the interview if the ATS ranks your resume below the threshold for promising candidates.
CV skills example 
No matter the format you have chosen, the skills section of your DevOps resume should be carefully curated for your prospective employers' needs. Recruiters love this section because it tells them at a glance whether you have what they seek, so make sure you show them you do.
You may have some very impressive skills but if they are not listed as "must haves" or "nice to haves" in the job ad, swap them out for skills that are. 
Create a balance between your technical abilities and your soft skills. Consider mentorship, communication, problem-solving, and customer focus, once again choosing those that your prospective employer directly mentions.
Companies are on the lookout for candidates with the following technical skills:
Linux and scripting
Knowledge of tools such as version control, continuous integration servers, configuration management, deployment automation, containers, infrastructure orchestration, monitoring and analytics, testing and cloud quality, and network protocols
Security
Automation
Coding and scripting: Python, Java, Javascript, Ruby, PHP, Node.js, Shell, and Bash
Cloud
Testing
Configuration and version management
Proactive monitoring
Adaptable skills section resume example
Amazon AWS
Jenkins
Cloud Computing
Systems Virtualization
Leadership & Team Building
Scripting & Debugging
Enterprise Systems Migration
Vendor Negotiations
Infrastructure as Code (IaC)
Multi-cloud Environments
DevOps engineer resume education example
The education section of your DevOps engineer resume is a listing of your academic achievements. The entry-level requirement in this field is a bachelor's degree in computer science, computer engineering, software development, or a related topic.
Many engineers pursue a master's degree in computer science as well. If you have an advanced degree, you may remove your high school education from your resume.
Many IT professionals continue their training through certifications and coursework. You may list those certificates here or create a separate certifications section to highlight the work you have done since you graduated.
If you are a recent graduate, you may list individual university courses or completed projects that show that you have the skills recruiters are looking for.
Adaptable education resume example
Master of Science in Telecommunications , Georgia State University, Atlanta, GA 
September 2018 - May 2020 
Bachelor of Arts in Computer Science, Georgia State University, Atlanta, GA 
September 2009 - May 2013
Expert tip
Stay up on trends
Keeping your skills fresh will help you move forward in your career. Knowledge Hut lists these trends in DevOps to enhance:
Microservice architecture
Cloud-native tech
Automation and CI/CD
AI/ML in DevOps framework
Integrating Kubernetes
Low-code application.
Resume layout and design
You may not be a UX designer, but you understand the importance of the user experience. Apply this understanding to the layout and design of your DevOps engineer resume. Strike a balance between a memorable design and one that allows for ease of access to your information.
The best resumes use design principles to guide the eye to key details: your skills, most recent position, and contact information. 
In brief, those principles are:
Emphasis. Use bold or larger fonts for section heads and your name
Balance and alignment. Avoid placing all color and emphasis in one area of the page
Contrast. Use black type and either a white or contrasting background for highlighted text
Repetition. Repeat two fonts, adding contrast by using bold or italics
Proportion. Size your display type and text type well and make sure any design elements (such as your header or skills section) stand out without overwhelming your document
Movement. Remember that the eye scans in one of four patterns (F-pattern, spotted pattern, layer-cake pattern, and commitment pattern)
White space. Balance blocks of text with open space by varying line lengths and consciously designing section headings.
Your main goal is legibility, but you also want to create a professional first impression of an organized yet creative engineer.
If you're looking for a quick start, try one of our customizable and expertly-designed resume templates.
Key takeaways for a DevOps engineer resume
The field of DevOps is fairly new and growing rapidly. Now is a great time to take advantage of that by jumping into the candidate pool.
DevOps engineers must be IT generalists as well as excellent communicators because they act as the bridge between development and operations.
Stick with the classic reverse chronological order if you can, but consider using a functional resume if you have many expert technical skills.
Break out your professional training and certifications into a separate section if you have more than a couple to highlight.