As a systems engineer, you provide solutions for a multitude of processes. So why does it feel so hard pitching yourself as the solution that your prospective work team is missing? You need a systems engineer resume that serves you as well as you serve your team.
Luckily for you, all you need is some methodical thinking and creative ideas and a top-performing systems engineer resume can be yours. At Resume.io we provide resume guides and resume examples for 350+ professions to millions of job seekers. Paired with our resume builder, you could find that you've typed your way onto the hiring manager's shortlist in a matter of minutes.
So, let us help you be the next career success story and write a systems engineer resume that lands interviews. This resume guide, along with the corresponding systems engineer resume example will cover the following topics:
What does a systems engineer do?
How to write a systems engineer resume (tips and tricks)
The best format for a systems engineer resume
Advice on each section of your resume (summary, work history, education, skills)
Professional resume layout and design hints.
What does a systems engineer do?
Systems engineering demands an understanding of many tools and disciplines. As a systems engineer, a computer system or product is more than just your brainchild. Job requirements range from design and integration to managing complex systems. This includes maintaining them across their lifecycle.
Depending on the type of organization where you work, the scope of your job could be specific or more generalized. For instance, you might be troubleshooting or automating tasks on existing systems. Alternatively, a systems engineer role could have a broader outlook. It could involve assessing the resources for your organization's needs, or engineering system upgrades. After all, they don't call you a systems engineer for nothing!
Statistical insight
How much do systems engineers earn?
According to Glassdoor, the median annual salary for a systems engineer in the US is $83,435.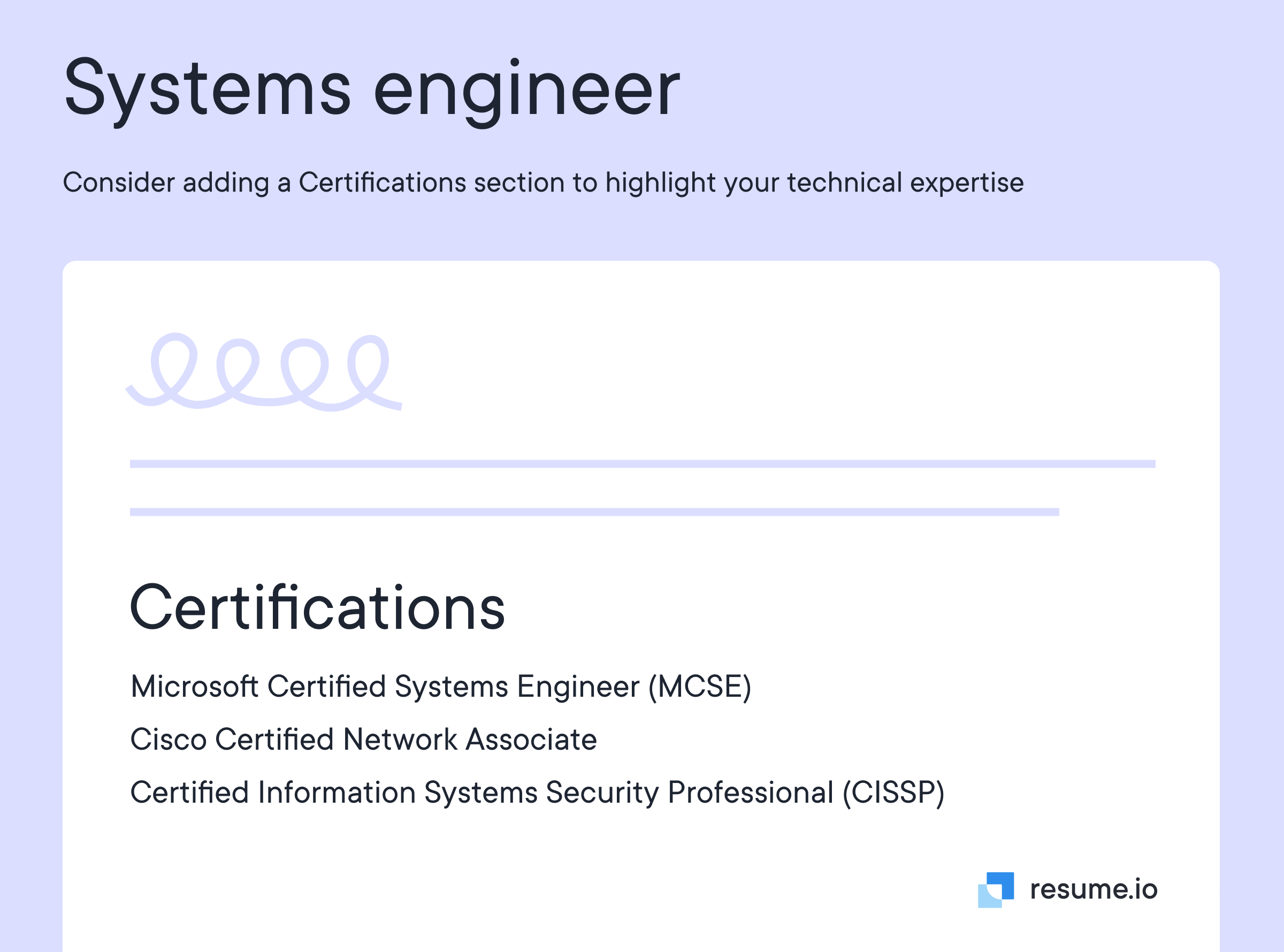 How to write a systems engineer resume
Planning and analyzing complex systems is your forte. Breaking down the creation of a top resume for your systems engineering profile is not so different. Let's start with which sections to include. Your CV should contain the following elements:
The resume header
The resume summary (aka profile or personal statement)
The employment history section
The resume skills section
The education section
Just like any other resume, the style and tone of a systems engineer resume should match that of the employer you are aiming to work for. So take time to carefully read the job ad and the most prominent materials that the organization has made available about their work. 
Seeing how an organization describes itself gives you an overview of the prevailing language and ideas they like to use. You can now choose the register of your word choice, the examples you draw upon, and make other decisions you'll face during the writing process feeling better informed.
When optimizing your writing for your prospective employer, don't forget the Applicant Tracking System (ATS). This is an algorithm that most organizations use to filter job applications. The ATS ranks the top-performing candidates based on the presence of keywords in their applications. Only these resumes will make it in front of the hiring manager. 
Expert tip
Beating the ATS
You're no stranger to tricky systems. The secret to satisfying this one is identifying those all-important keywords. Look at the language used in the job ad. The terms used to describe the most important responsibilities, or language that is repeated, are likely to be the keywords you need to include.
Choosing the best resume format for a systems engineer
You have likely completed several years of studies if you're considering a systems engineer role. For that reason, the reverse chronological format is likely to work best for you. This format prioritizes past experience - displayed in reverse chronological order - to characterize your resume.
The functional resume format is your second choice and focuses on your skillset. For a resume example that truly stands out, the trick is to consider the best way to show off your unique suitability for the role. In most cases, this will be done by using the reverse chronological format.
Even if your professional experience as a systems engineer is limited, you can make the reverse chronological format work for you. For example, you can draw attention to how you have used your skills in practice by listing important projects and internships in the previous employment section.
Resume header
No resume is complete without a resume header. This is the section that shows your name, contact details, and job role. All of these details should be clearly legible at the very top of your systems engineer resume.
Don't forget that a slick design goes a long way. After all, what is a master-crafted product without some great UX design? For more tips on visual presentation, read on to this guide's layout and design section.
Resume summary example
When proposing any solution to a problem, it needs to be instantly clear how it responds to the brief. That's exactly what the resume summary does. These 3 to 4 sentences are the first systems engineer-specific content on the document. Use them carefully to propose why your skills answer the needs of this job vacancy.
These statements should be short and to the point. You can omit the use of "I" and write in the past tense. However, that's not to say that you can't inject personality. While keeping a professional tone, consider the use of active verbs to express yourself more clearly and engage the reader while you're at it.
Besides, a stale summary will be unlikely to hook a busy hiring manager. Don't forget to use some of those all-important keywords as a shorthand way of reminding the reader (or the ATS) that your application is 100% relevant. 
Adaptable summary CV sample
Solution-oriented Systems Engineer dedicated to ensuring optimal technology function within complex, high-needs environments. Strong communications skills, able to partner with non-technical leaders to define core business needs, shape technical recommendations, and design/implement innovative systems tailored to unique business needs.
Expert tip
The 60-second test
According to Forbes, most studies agree that hiring managers will spend less than 60 seconds looking at any given resume. For yours to pass the test, make sure you grab their interest immediately. 
There can be a lot of pressure to write a creative summary. Check out the resume example content below for some ideas. Don't forget that you can check out a range of other resume sample content to get your imagination going. These are good places to continue your system audit:
Employment history sample
Assuming you're using the reverse chronological format, your employment history is the most important part of your resume. Make it clear to the hiring manager what your previous roles - as a systems engineer or under another job title - were with clear subheadings for each one.
For every subheading include the title of your position, the name of the organization, its location, and the dates of employment. Underneath this heading include several bullet points that highlight your most relevant work during your time there. Examples you choose to mention could include project highlights or key responsibilities. Don't forget to include enough information to make it clear why your chosen points are relevant to the role you're applying to. Those active verbs will help you to be expressive and precise in your writing.
Adaptable employment history CV example
Systems Engineer I at Symantec, Joplin, MO 
July 2019 - January 2023 
Analyzed existing equipment to develop needs-aligned systems and tools, leading the full development lifecycle from initial concepting through rollout.
Partnered with leadership to uncover key business needs, creating stratgic systems and technology plans to support the achievement of future-state targets.
Lead engineering technicians in the development of dynamic, scalable business technologies with lasting positive impacts.
Continuously monitored new systems for issues, leading rapid remediation to reduce business down-time.
Systems Administrator at Apex Ltd, Joplin, MO 
September 2019 - March 2019
Installed, configured, and maintained complex business technology systems, monitoring systems for efficiency and gaps to drive continuous improvement efforts.
Oversaw inventory of key IT assets, tracking asset usage.
Conducted equipment and systems testing, uncovering issues for immediate remediation.
Shaped and led planned/unplanned maintenance activities.
Administered all internal accounts and access privileges, maintaining
Expert tip
Keeping your bullet points short while highlighting the impressive nature of your accomplishments can be tricky. Examples with easily quantifiable results are your best friend. Consider some of the following when crafting your bullet points:
Can you measure the results in terms of time or money? That's a language every hiring manager speaks!
Did you gain official recognition for your work?
Can you link your role to other positive consequences it had for the organization?
Systems engineer resume education example
Most systems engineers have spent several years in higher education. If you have a university degree or higher, you don't need to include your high school diploma. For each qualification included, list the institution's name, its location, the title of the qualification, and the dates attended.
Adaptable education CV example
Bachelor of Science in IT Systems, Missouri Southern State University, Joplin, MO 
January 2012 - May 2016
CV skills example
Systems engineering is an interdisciplinary field. You're not short on skills to mention on your CV. However, the skills section is not about listing every skill you've acquired. Reserve this space for the most role-relevant skills, with the most important keywords at the top.
Don't forget that this is a great opportunity to mention any keywords you didn't have space for in your other CV sections. Additionally, consider the balance of hard and soft skills you've mentioned. Hard skills refer to the technical capabilities you have. Soft skills are harder to teach and just as important. They refer to the way that you carry out your tasks and how you interact with your colleagues. Both are vital for a top systems engineer.
The resume example content below should get you started on implementing these tips. 
Adaptable skills section CV example
Systems Engineering
Data Management
IT Design & Development
Root Cause Analysis
Testing Suites
Quality Management
Team Leadership
Stakeholder Consultation
Technical Concept Communication
Resume layout and design: a top user experience
Even the best work can be received badly when it's presented poorly. If you want to truly engage the hiring manager, consider the visual design. Take the time to make sure that the layout of your resume is up to scratch.
A top-performing resume example for a systems engineer should be straightforward and clear. Try not to use too many fonts and choose a simple color scheme. Just like your writing, the visual presentation should be prepared with your prospective employer in mind.
Perfecting the design of your resume can be time-consuming. It's OK to outsource that part and consider using one of our field-tested resume templates. Our team of professionals has cracked the code on a range of designs that work.
Key takeaways for a systems engineer resume
Your writing style and tone are key for a resume example that speaks directly to your potential employer.
Your resume summary should efficiently pitch the next great solution for what their team is missing: you!
Software engineers need soft skills, too. Don't forget them in your skills section.
Function is important, but so is UX. Don't let your profile down with a poor resume design.