If it's time to move up to the senior level, you'll need to up your resume and use it to show off your advanced software engineering experience. It's time for a senior software engineer resume that does your achievements justice at this pivotal career stage.
Resume.io is a great place to start. Our resources include 300+ occupation-specific resume examples and writing guides to illustrate how to showcase your most impressive assets.
This writing guide, along with the corresponding resume examples geared to senior software engineers, will cover the following topics:
What software engineers do and what equips them for senior positions
How to write a senior software engineer resume, starting with the best format and general writing rules
Specific advice for each resume section: header, summary, work history, education and skills
Professional resume layout and design hints.
What does a senior software engineer do?
For all of the systems that make computers operate properly in our everyday lives, at home and at work, we have software engineers to thank. Highly specialized IT design expertise equips them for engineering everything from operating systems and computer games to business applications and network control systems. Those qualified for a senior software engineer position would demonstrate superior analytical and practical abilities in client-directed, solution-focused project management roles.
Lucrative positions are available in all manner of corporate, government and non-profit organizations spanning an infinite number of industries beyond the more obvious technology sectors. From healthcare, automotive manufacturing and green energy, to aeronautics and finance, software engineers are courted relentlessly by recruiters. They can pursue job opportunities as employees or independent contractors.
Statistical insight
Although the U.S. Bureau of Labor Statistics does not have a distinct occupational category for software engineers, their job prospects appear exceptionally bright as part of the IT group classified as software developers, quality assurance analysts and testers. Employment demand is projected to grow by 22% between 2020 and 2030, much faster than the national average for all occupations. And with a 13% growth forecast in the computer and information technology workforce during the same decade, software engineers will have abundant job options.
How to write a senior software engineer resume
The two basic ground rules for getting started with your senior software engineer resume are as follows.
Keep it to a single page.
Incorporate these components:
Header
Summary
Employment history section
Education section
Skills section
Next, bear in mind these two important reasons for customizing a different version of your senior software engineering resume for each specific job application:
Speaking directly to the employer's or client's needs conveys that you're an ideal fit for the position. Scrutinize the posted job requirements and do additional research to determine the right targeted approach.
Including enough keywords will optimize your resume for passing through the applicant tracking systems (ATS) that many hiring organizations use to screen online document submissions. Your own software expertise should be an advantage in understanding the importance of counteracting this electronic obstacle.
Choosing the best resume format for a senior software engineer
Depending on what your software engineering career path looks like so far, there are a few options for choosing the best resume format. If you've worked primarily in employee positions, the most commonly used chronological format may be best suited to structure your CV information. It's also what recruiters generally prefer as a straightforward way to view your accomplishments under employer headings, in order from most recent to earliest dates.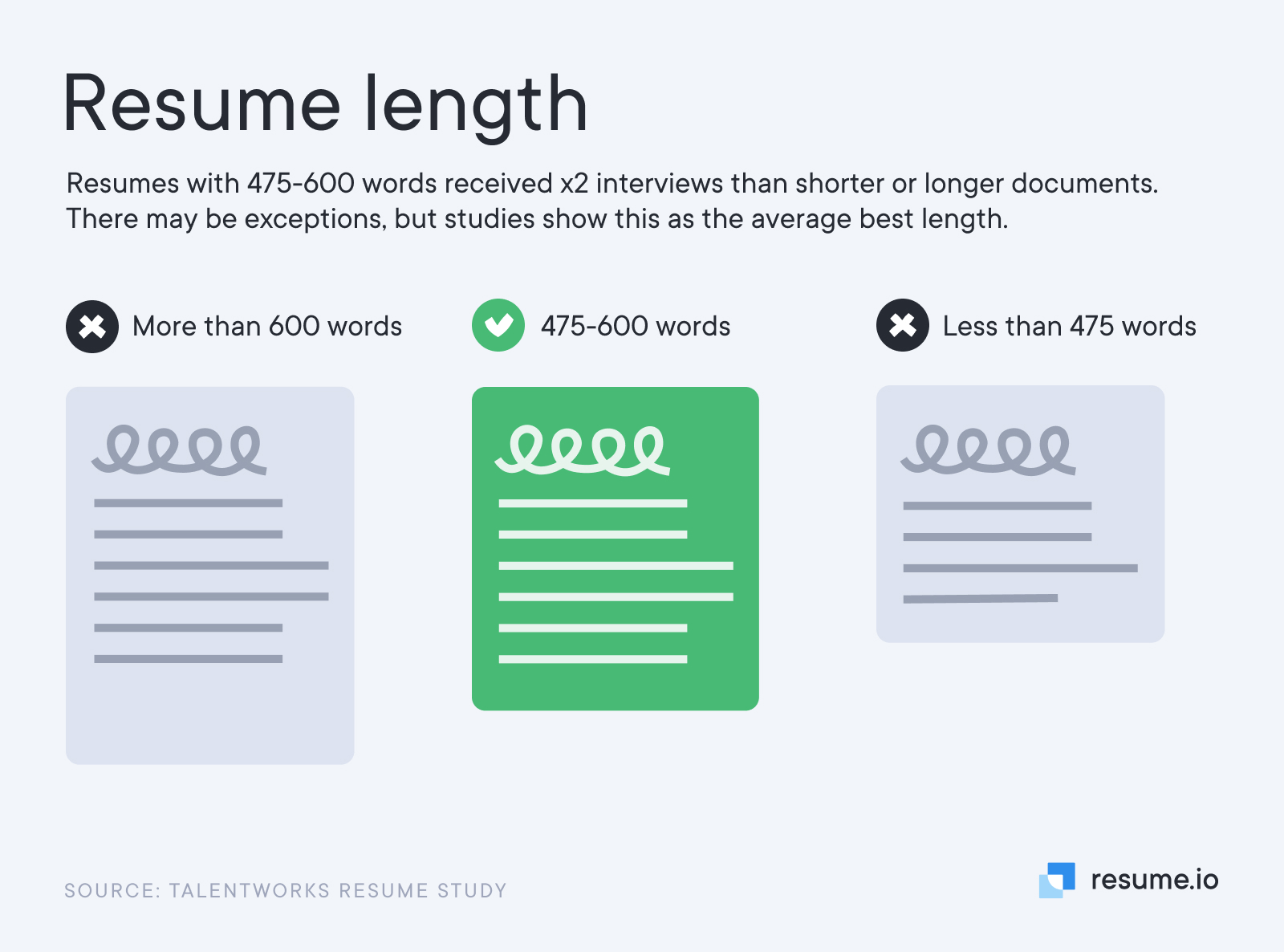 Software engineers who have worked independently in consulting roles might consider a functional resume format, organizing their work experience by project, client or even specific transferable skills. Hybrid (combination) resume formats are another versatile option, incorporating both chronological and functional elements. 
Resume header
A striking resume header sends a message off the top that you are an experienced professional who can be relied on to get every job detail right. It demonstrates your regard for ensuring each app user interface looks as simple and efficient as it actually is, in every streamlined sense. A resume header that gets noticed for the right reasons will set you apart from other applicants who make less of an effort and enable recruiters to easily contact you for an interview.
Expert tip
Show further attention to detail by aligning the visual styles of your resume and cover letter so that they look like a matching pair of documents. This will be readily apparent in the header.
Resume summary example
An outstanding resume summary — some call it a profile or personal statement — would instantly worry your peers who are vying for the same senior software engineer job. Seize this opportunity to gain an edge over those who are just as savvy when it comes to loading their ATS-busting resumes with similar keywords. Review the job description language one more time along with any additional research notes you made about specific project requirements. Even one word or abbreviation related to a desired skill could mean the difference between landing an interview or not. 
Limited page space dictates conciseness and preciseness without selling yourself short. "What's in it for you if I'm hired" must come across in just a few neatly engineered statements targeting this employer. Say just enough to catch the reader's attention about who you are and what you've accomplished. And be sure to let hints of your personality and purpose shine through in this synopsis of why you're perfect for this job. 
Here is the summary from our senior software engineer resume sample that can be adapted to your own needs.
Adaptable resume summary example
Senior software engineer with 10+ years of experience in the full software development cycle. Highly adept in leading engineer teams to achieve software development upgrades and increase business efficiency while delivering world-class solutions to clients.
Employment history sample
The employment history section is the place to discuss the experiences that have made you increasingly qualified as a senior software engineer. And the more work experience you have, the more selective you need to be in choosing highlights that speak directly to the hiring organization's needs and wants. This is your secret weapon against other candidates who articulate their strengths more generically.
Stay mindful of the fact that recruiters are far less interested in your past job titles and duties than in what you achieved in those roles.  Results that could be replicated for the hiring organization will grab and hold their attention. 
Expert tip
There's a knack for distilling each bullet point description of your accomplishments into a three-part synopsis: action verb, specific task completed and tangible benefit. Those verbs should be in the active tense (avoid "ing" endings): equipped, executed, excelled, built  — and, of course — engineered. Add modifiers only for added punch: proficient, robust, rapid, striking, nimble, agile, solution-focused, innovative and cutting-edge.
Software engineers have an advantage when it comes to quantifiable goal results. Beneficial outcomes need not only be expressed in dollar amounts or coding terms. What about client uptake and satisfaction ratings? Improved project team efficiencies, communication and morale? Anything that demonstrates leadership and strategic abilities will help recruiters envision you in a senior role.
Below is the employment history section from our senior software engineer resume sample that you can adapt.
Adaptable resume employment history example
Senior Software Engineer, Apex Technologies, Philadelphia 
Aug 2016 - Sep 2021 
Designed, modified and implemented technology solutions for clients.
Worked to meet the specific needs of clients through groundbreaking software solutions.
Effectively carried products and processes from concept to completion.
Capitalized on software engineering expertise to troubleshoot complex issues for various projects.
Built cutting edge tools and applications to meet strategic business goals.

Senior Software Engineer, S&S Technologies Philadelphia 
Jun 2013 - Jul 2016 
Carefully designed, tested and built new products and features that resolved issues and advanced software.
Worked closely with software and hardware teams to improve the user experience and ensure reliable and secure data protection for our customers.
Performed testing of high-value, mission-critical deliverable systems.
Developed and maintained documentation related to software processes and systems, including requirements and design documentation.

Software Engineer, Open Solutions Philadelphia 
Jun 2011 - Jun 2013 
Worked with partners and clients to figure out the best protocols and designs to solve business problems.
Handled complex data modeling and performance testing processes.
Created and implemented user interfaces using best practices and tools.
Trained 8 new team members on company policy and workflow.
Senior software engineer resume education example
Again, consider ways to leverage the education section of your senior software engineer resume to the best advantage. 
Off the top, college degrees should be listed in reverse chronological order, from highest to lowest level. In addition, the right combination of on-the-job training, certifications and skills development programs you've pursued on your own can elevate your stature as someone who values continuous learning. Professional association memberships also send the right message about taking career growth seriously. 
Below is the education section from our senior software engineer resume you can modify.
Adaptable resume education example
Bachelor of Science in Computer Science, Temple University Philadelphia 
Sep 2007 - May 2011
CV skills example
The elegance and simplicity of this CV section make your key strengths impossible for any recruiter to ignore. Zero in on your areas of expertise that align with the employer's needs.
But don't be too offhanded about this golden opportunity to emphasize your above-average attributes as a senior software engineer. On each custom-targeted version of your resume, reserve this prime resume space for the shiniest nuggets.
Pay special attention to the soft skills that other candidates might not emphasize or even mention. Ironically, it's the hard skills you have in common — which, in this occupation, are software-specific — that might fail to set you apart. That's because employers will take those for granted when reviewing senior-level applications. 
At least try to put your own twist on whatever technical skills and people skills you do choose to include. Be precise  and provide context that will help recruiters picture you in the role. 
Check out our senior software engineer resume sample for the skills section below.
Adaptable resume skills example
Strong Critical Thinking Skills
C++
Python
Advanced Software System Knowledge
Complex Problem Solving
Engineering Best Practices
Resume layout and design
As a seasoned software engineer, you should appreciate that hiring managers will expect nothing less than a user-friendly resume document that looks flawless at arm's length. Do justice to the caliber of your software achievements with layout and design elements that are eye-catching, but not flashy or gimmicky.
From font styles to margin widths, your formatting choices should aim for an overall result that's sleek, streamlined and uncomplicated. The page will be inviting at first glance and disappointing no one reading further. 
Naturally, it goes without saying your resume must be character-perfect and bug-free in every other sense. Subject it to beta test runs under careful scrutiny of other proofreaders. Tweak it further and reboot.
Expert tip
A great page layout can quickly set you apart from other candidates with the same experience but less attention to their professional presentation. A resume template can make this task quick and easy.
Key takeaways for a senior software engineer resume
Few employment growth rates come close to outpacing the explosive demand for software engineers. Senior-level opportunities for those with more experience are a given.
A job-winning resume for senior software engineers will tailor your strongest suits to what the hiring organization needs and values.
Highlight your most directly relevant qualifications in terms that resonate with the employer or client. Add impressive facts and figures to substantiate the measurable outcomes of your accomplishments.
Don't overlook the importance of soft skills in a senior software manager role, since your technical expertise alone may not be enough to set you apart.
Check out our adaptable resume sample for more ideas on creating a functional and eye-catching page layout.