Of all the unsung heroes we have to thank for keeping our digital world spinning around as it should, quality assurance (QA) testers may get the least recognition for what they do behind the scenes. But a job search is no time to stay invisible. Up front and center is where you deserve to stand in the eyes of prospective employers, calling for a stand-out QA tester resume.
Resume.io has helped thousands of professionals get noticed by showcasing their worthiest talents and accomplishments. Our job search resources include more than 350+ occupation-specific resume samples and writing guides full of interview-winning tips.
Keep reading for advice designed to help you land a great QA tester position. Here's what we'll cover in this writing guide, with reference to adaptable wording from a QA tester resume example:
What QA testers do and the job outlook
How to write a highly functional QA tester resume, starting with the failsafe framework and most suitable format
Optimize the reader's experience, section by section: header, summary, work history, education, and skills
Avoiding layout and design flaws to ensure a visually bug-free end product
What do QA testers do?
The more flawlessly our computers and mobile devices work when we click, swipe, scroll, press, drag, view, and hear on command, the more oblivious we are to the QA testers who help make it possible. And that's really how it's supposed to be. Successful QA testing ensures that users of software, apps, and websites will be none the wiser as to what could have gone wrong if a new product were released without such testing and troubleshooting.
Providing support throughout the entire software development life cycle, QA team members develop and execute plans and test cases to correct any defects or malfunctions that could thwart a new product's success if launched prematurely. As technology detectives seeking to protect consumers, they identify errors, bugs, and glitches that software developers can then correct. This ensures every product meets quality standards and will function properly before market release. 
Expert tip
Depending on the employer or client, a QA tester's role might overlap or intersect with any of the following related occupations:
Statistical insight
Annual salary ranges for QA testers in the U.S. are tied to experience levels, skills, education, certifications, and geographic location. According to the U.S. Bureau of Labor Statistics (BLS), the median annual salary in 2021 for quality assurance analysts and testers (grouped together) was $98,220, ranging from $48,960 to $153,250.
Slightly lower average annual salaries for software QA testers specifically were reported by other online income sources: salary.com — $72,870 ($65,167 to $80,085 range), and comparably.com — $80,747 ($44,907 to $129,700 range).
Job prospects abound for QA testers, which the BLS categorizes together with quality assurance analysts. The demand for their services is projected to rise by 21% between 2021 and 2023. When software developers are added to the mix, the collective employment growth rate jumps to 25% — five times faster than the occupational average. With the computer workforce overall set to expand by 15%, QA testers will have abundant job options. Increased adoption of artificial intelligence and machine learning is another growth factor.
Statistical insight
The costly consequences of software failure and poor quality are staggering. According to a Tricentis report, the business asset losses globally in 2017 were $1.7 trillion, affecting 3.7 million people worldwide. In the U.S., business losses in 2018 added up to $2.84 trillion.
How to write a QA tester resume 
No complex coding knowledge is needed to build a resume for any occupation. The well-tested and trusted resume framework consists of these essential components:
Header
Summary
Employment history
Education
Skills
Before taking a closer look at the step-by-step process for developing this vital job application document, let's touch on the need to customize and optimize it for each specific position you seek.
Persuading the employer or client that you are the best job match is about consistently targeting what's needed and expected. Be clear about that by scrutinizing the advertised job requirements and doing extra research to learn more. 
The job ad is also your best source of language — particularly keywords — to incorporate verbatim wherever possible in your resume. This is your best safeguard against rejection by the applicant tracking systems (ATS) that most hiring organizations use to screen online submissions. 
Choosing the best resume format for a QA tester
The chronological resume format is recommended for QA testers with experience under their belt in employee positions. As the most popular and universally suitable format, it's also preferred by recruiters as a snapshot of your work history.  Highlights are organized under dated employer headings in reverse chronological order. 
Other resume formats might work well for QA testers wanting to emphasize specialized or transferable skills rather than employers. A functional resume, or the more versatile hybrid (combination) format, might suit those seeking freelance or temporary gigs, including opportunities to work remotely, 
Resume header
Focused on functionality and fixated on getting every detail right is the first impression you want recruiters to have of your QA tester resume. A distinctive document header design sends that message visually off the top: you are a technically competent professional who also communicates clearly and confidently. Striving for reader-friendliness here aligns with your efforts to ensure every software user interface is efficiently simple.
Getting noticed for this reason will help you stand out from other applicants, especially if your resume and cover letter look identical in displaying this key identifying information: your name, occupation or job title, email, and phone number. This not only attracts the recruiter's attention initially but also makes it easy to retrieve your contact information at later hiring stages.

QA tester resume summary example
Given the importance of communication and teamwork in any QA tester role, an exceptional resume summary demonstrates you have a way with words, along with keen bug-catching instincts. 
From a "why hire me?" perspective, this high-level synopsis — sometimes called a profile or personal statement — is your opening value proposition. Make a relatable connection between your past successes and future potential on the target employer's QA team. As noted earlier, the posted job ad should help you pinpoint the most relevant and relatable highlights.
Economy of words is crucial here to optimize the compact page space and maximize the dynamic impact. "Less is more" when it comes to catching the reader's attention with an incentive to dig deeper for details.
Below is a QA tester summary sample you can modify to write your own.
Adaptable summary resume sample
Highly analytical Software Testing/Quality Engineer with proven expertise conducting testing and physical verification of sophisticated software and hardware. Dynamic leadership and communication skills, with experience training/mentoring team members and collaborating with R&D teams in accurate, timely resolution of product issues.
Employment history sample
Few career paths are as transformational as the one you've embarked on with gusto. Strive to tell your parallel story of growth and change in your work experience highlights. Again, the job ad will keep you focused on the employer's hiring needs.
This targeted approach can be your secret weapon against other job candidates. Recruiters will be unimpressed by generic lists of past and present duties that all sound pretty much the same. What really excites them is not what you've done, but how well you've done these things. Think of your proudest and most relevant accomplishments and contributions — especially those you could replicate if hired as a QA tester. 
Describe specific problems you helped solve or actions taken to achieve positive outcomes. Quantify wherever possible to put their significance in context (approximations are fine for imprecise numbers). How many test plans and test cases? How many user interfaces did you review for functionality? How many software engineers did you collaborate with? Did you contribute to team efficiency improvements? What was your track record for meeting or beating deadlines?
Below is a QA tester employment history example to illustrate.
Adaptable employment history resume example
QA Engineer, Cadence Logic Systems, Midland, TX
March 2017 - Present
Conduct in-depth analysis and troubleshooting of software applications across multiple platforms.
Design and run tests to identify software errors.
Generate failure reports and submit to R&D team for resolution of issues prior to product release.
Supervise, train and mentor junior QA engineers.
Report to team leaders and project managers to review functional specifications for enabling development of accurate, thorough test plans.
Participate in team meetings and build interdepartmental relationships to streamline efforts for ensuring timely release of bug-free software.

Product Design Engineer, Sony Corporation, San Mateo, CA
July 2013 - January 2017
Performed design, development, and maintenance/troubleshooting of digital camera modules for mobile phones.
Contributed extensively to all product development stages, from design to prototyping to mass production.
Conducted testing of cameras across multiple photographic subjects, comparing results with those of competing products to aid in product improvement.
Interfaced with vendors in coordinating procurement of components for use in product manufacturing.
Liaised daily with product developers and management in planning and executing product development initiatives.
Delivered cross-departmental training presentations on the use of newly developed tools and prototypes.
QA tester resume education example
Most QA testers have at least a bachelor's degree in computer science, software engineering, information technology, or a related field. Yours should lead off the education section, where all relevant credentials appear in reverse chronological order, from highest to lowest level. 
This is also the place to convey your commitment to continuous learning. Any combination of on-the-job training, certifications, and skills development programs you've pursued on your own belong here. The same applies to professional association memberships that further your knowledge.
Below is the education section from a QA tester resume you can adapt.
Adaptable education resume example
Bachelor of Science in Computer Science, UC San Francisco, San Francisco, CA
September 2009 - May 2013
Graduated with honors.
GPA: 4.0/4.0.
CV skills example
For any job seeker with abundant hard skills — especially technical skills or computer skills — this CV section might seem like a cinch to complete. But beware of taking your skills list too lightly. 
Once you get started brainstorming a master list of skills that can be changed out for each job application — a recommended first step — you'll soon realize how hard it is to cherry-pick only enough to fit on your resume page. Here are some trimming guidelines:
Include all of the skills stipulated in the QA tester job ad, some of which might be ATS-proofing keywords.
Next, give priority to those that could set you apart from other contenders.
Reserve this resume section for skills that don't already come across in your summary and work history.
Don't overlook the soft skills that are integral to a QA testing role, notably analytical thinking, written and oral communication, time management, and being detail-oriented.
Check out a QA tester CV skills sample below.
Adaptable skills section resume example
Functional Testing
Manual Testing
Quality Engineering
Technical Documentation
QA Testing
Leadership and Teamwork
Technical Presentations
Performance Measurement
Ad-hoc Testing
Software/Hardware Validation
Troubleshooting & Problem Resolution
Process Automation
A/B Testing
Resume layout and design
Unlike the complex QA testing tasks you are used to, keeping it simple is your best resume strategy for a visually user-friendly end product. Clean, clutter-free, and orderly is the professional look you're after. From font styles and sizes to line spacing and margin widths, readability should guide all of your layout, design, and formatting choices. A graphic element or touch of color is OK if minimal and understated.
Expert tip
If you're not up for fussing with such design details, there's a much easier route to "done." Browse Resume.io's collection of field-tested resume templates in four style categories — perhaps narrowing your choices to a simple or professional design. Then download your favorite and use our builder tool to drop in your own text.
It should go without saying that the final version of your QA tester resume is letter-perfect, as the bar is set high for IT professionals. Enlist one or two extra pairs of eyes to proofread each draft carefully. Tweak and reboot as many times as "flawless" takes. Besides typos and misspellings, watch for inconsistent capitalization, date formats, and periods ending bullet points.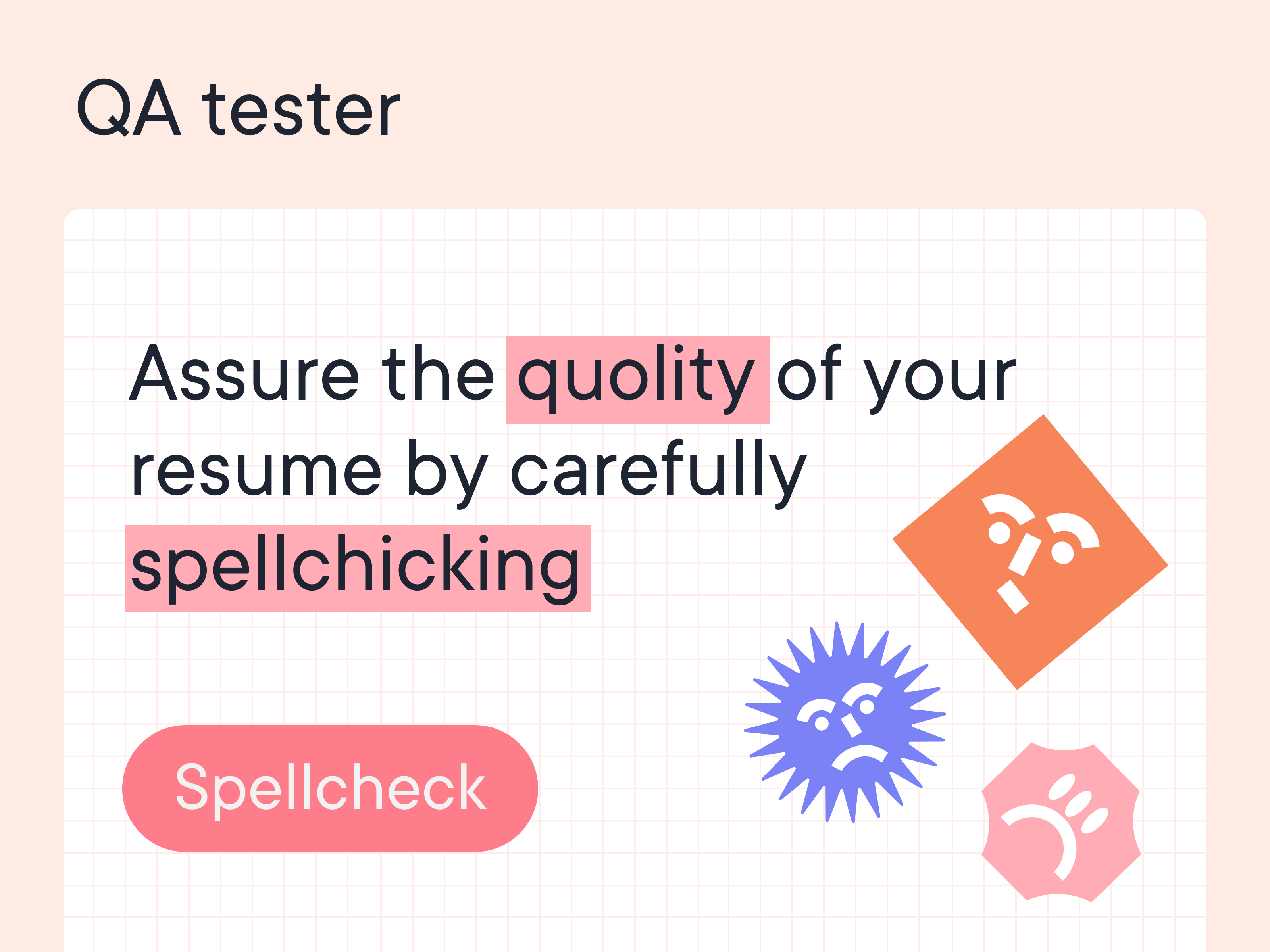 Key takeaways for a QA tester resume
Robust employment growth for QA testers will continue in the foreseeable future.
Customizing your resume to fit each job application is the best strategy to beat the ATS and meet the test for interview shortlisting.
Being thoroughly familiar with the advertised job requirements will guide your priorities for relevant CV content and closely matched wording.
Using an expert-designed resume template is the quickest path to a document that looks polished and put together.