As a DevOps professional you may have mastered the sweet spot between software development and IT operations. However, you're more than the ultimate mediator and overseer. You're a master of innovation, maintenance, and making sure the associated workflows will run according to plan. So, what about when it comes to penning down these skills and writing your own resume?
When it comes to celebrating your own accomplishments, it's easy to fall short. We get it. In this resume guide, we want to help you to express your value as a DevOps professional with confidence. However, if you still need that extra push, then you can always check out Resume.io's other free resources and resume examples covering 250+ professions. You're sure to find the inspiration needed to write a DevOps resume example that will turn heads! 
The resume guide, along with the corresponding resume example will cover the following topics:
What does a DevOps professional do?
How to write a DevOps resume (tips and tricks)
The best format for a DevOps resume
Advice on each section of your resume (summary, work history, education, skills)
Professional resume layout and design hints.
What does a DevOps professional do?
A DevOps engineer is the component that unites IT operations with the business they belong to. Usually, this will involve overseeing the life cycle of a software, as well as streamlining the software and the operations teams' efforts. You are required to be equal parts innovator and pragmatist. 
It's not easy to successfully straddle the border between what are usually two very different skill sets. You possess the creativity to push the introduction of new features in a software while having the accumen to prioritize stability and program maintenance. It can be a tricky balance to respect, however every great DevOps professional will have skills at both ends of the spectrum.
Statistical insight
Prospects for DevOps professionals
It's a good time to work in DevOps. According to the U.S. Bureau of Labor Statistics (BLS), computer and information technology employment is projected to rise by 13% this decade. The data suggest that this equates to 667,000 new jobs.
The good news doesn't stop there! If you're wondering what your salary prospects could be, while the education requirements often call for a minimum of a college diploma, there is a great pay-off. Computer and IT occupations tend to average much higher annual salaries ($97,430) than the current national median ($45,760).
How to write a DevOps resume
When it comes to writing a compelling DevOps resume, you first want to make sure you cover the basics. Your resume should contain the following elements:
The resume header
The resume summary (aka profile or personal statement)
The employment history section
The resume skills section
The education section
Now that you understand the sections needed, it's time to consider how you will complete them. Start by reading carefully through the job ad. What word choice does it use to talk about the sector and role? What skills and responsibilities does it highlight? These are all keywords that you can use to make sure you and the hiring manager are speaking the same language.
This will also help you to consider the tone you use. If you are applying for a DevOps role in a corporate tech company, you're unlikely to use the same language as if you were applying for a DevOps role in a creative media company. What is most likely to engage the hiring manager at the place you're applying to?  A resume that's sober and to the point? One that's light and creative? Or one that's somewhere in-between?
Expert tip
Write for the ATS
The ATS - Applicant Tracking System - is an algorithm used by most large organizations to scan through large quantities of job applications. Each resume is scanned for the necessary criteria and ranked accordingly. The lowest ranked resumes will be filtered out before the hiring manager even gets a chance to see them.
Don't despair! You can get your resume in that coveted top-ranking selection. You just need to write for the algorithm. The criteria that that pesky algorithm is looking for tends to be selected keywords. 
To figure out which keywords are most important, look once again to the job ad for clues. Check out the main skills and experience being asked for, and match the language on your resume accordingly! Just make sure it reads naturally so that humans will be just as impressed by your writing as the algorithm is.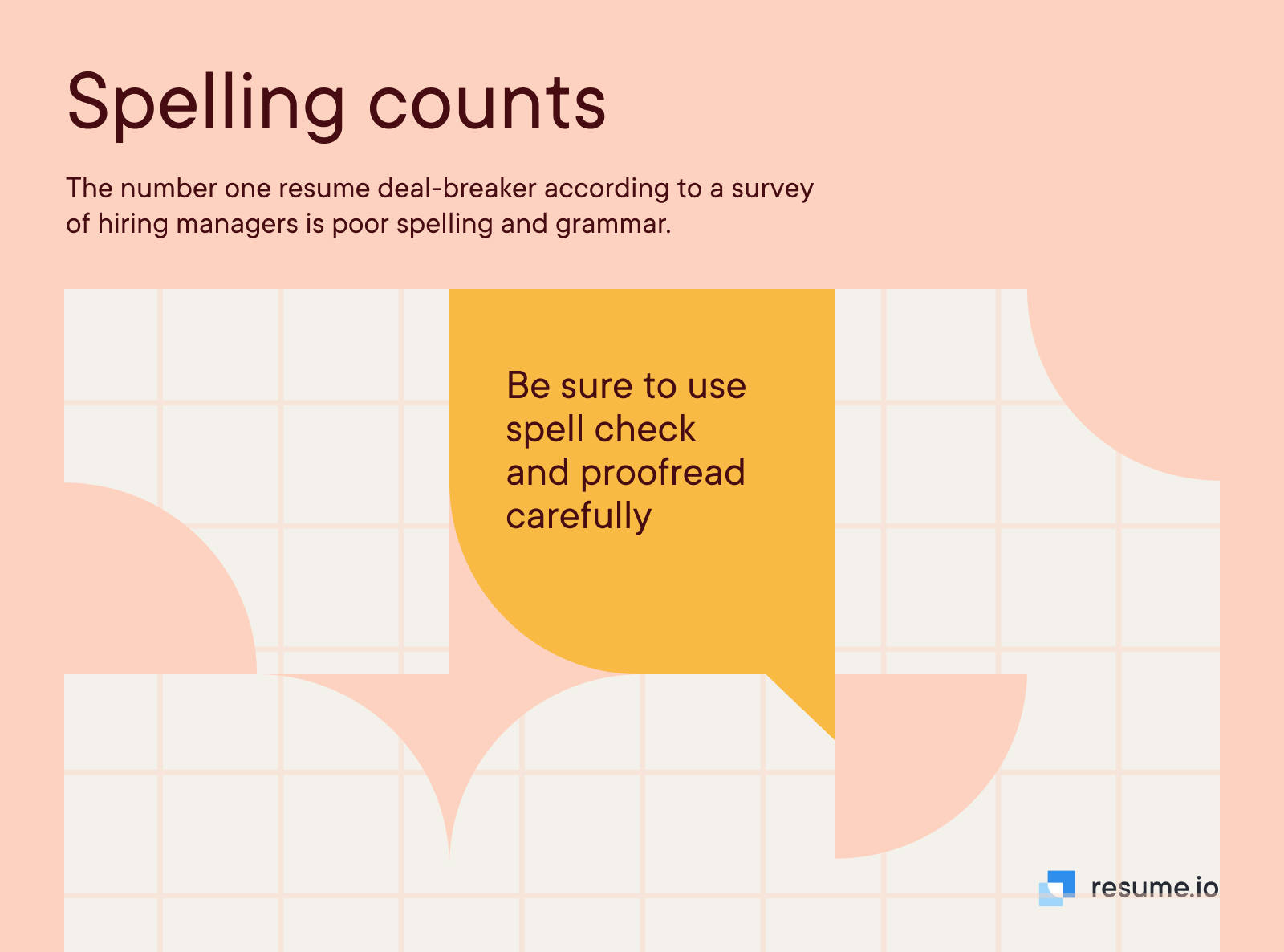 Choosing the best resume format for a DevOps professional 
The reverse chronological format is preferred for a DevOps resume. That means that the main focus of your resume will be your employment history, which - as the name suggests - will be listed in reverse chronological order.
There are other options, such as the functional resume format. This can be selected if you're near the start of your career and don't have much professional experience yet. If that sounds like you, then check out our student resume example. 
There are lots of ways to show off the skills you've acquired. However, your priority should be to make sure that the only surprise the hiring manager gets is what a great fit you would be for the job. That also means meeting their expectations when it comes to resume format, so stick to reverse chronological where possible.
Resume summary example
The resume summary is a rare opportunity to write something about yourself in a freeform way. DevOps professionals might thrive on technical details, but this is an art as much as it is a science. So put some thought into the things you want to highlight for the hiring manager. 
The summary sits at the top of the page underneath your name. The best-written resume summaries - also known as profiles - will feel like they're well placed within the story that the rest of your resume builds. However, they shouldn't feel repetitive. You've got just two or three sentences, so make the most of every word! Look at our resume sample content below for inspiration.
Adaptable resume summary example
Experienced DevOps Engineer with a proven track record of performing effectively in demanding environments. Adept in designing, monitoring, and continuously improving infrastructures that deliver the highest quality products. 
Employment history sample
Now you're ready to deploy the main focus of your DevOps resume. In a nutshell, the employment history section needs to list your previous employment and some highlights from your time there. This may sound simple, but much like coding, sometimes it's the simplest content that is the hardest to get right.
Remember to include the name of your previous employer, as well as the location and the dates worked there. This vital information will serve as a subheading. Underneath, create a bullet point list of your top accomplishments and contributions there. Aim to use active verbs to build these descriptions.  Saying that you "built and maintained infrastructures" paints a clearer picture for the hiring manager than simply "made infrastructures".
Expert tip
Quantify your efforts
Just how invaluable are you to the hiring manager? To avoid any doubt in their mind, dress up your carefully curated bullet points with statistics and figures. These will assign a numerical value to your accomplishments.
Did you save the company money? Tell them by how much, or what percentage that was of your team's annual budget. These details make your examples sound more professional, and help to contextualize the merit of your successes for the hiring manager!
Nine times out of ten, this section will be the main focus of your DevOps resume. Since you're probably using the reverse chronological first, your oldest example of employment should sit at the bottom with the most recent at the top. For some resume example content you can take inspiration from, check out our software developer resume sample, IT manager resume sample, or cyber security resume sample.
Adaptable resume employment history example
DevOps Engineer, Select Designs New York 
May 2019 - Present 
Build and maintain infrastructures used to automate the deployment and upgrade processes for workloads.
Review and contribute to ongoing improvements in the implementation of standards and procedures for DevOps best practices.
Drive troubleshooting efforts around incidents and outages related to DevOps platforms.
Engineer the DevOps CI CD tooling and platform road map AWS Cloud 2.0.
Work closely with software development and IT operations groups to ensure that teams are successful and software is deployed efficiently.
Design automated pipelines to continuously deliver value to clients.
Work to provide guidance and recommendations to business stakeholders.
Recently worked on the updating of security breaches, which helped to cut security risks by 40%.
DevOps Engineer, LTD Staffing New York 
Jul 2016 - Apr 2019 
Supported clients' implementation of AWS products through design and architecture guidance and adherence to best practices.
Provided clients with guidance on how to design their cloud applications for optimal scaling and performance.
Helped streamline processes and reduce company monthly spending by $8K.
Worked tirelessly to resolve complex AWS Infrastructure and DevOps challenges.
Developed reporting and monitoring tools for teams.
Raised code quality standards through manual and automated processes.
CV skills example
Your concoction of skills is what makes you indispensable as a DevOps professional. So, what's the best way to communicate this through your CV? First of all, get clear on the difference between hard and soft skills. Hard skills are learned behaviors or expertise, such as how to use a specific platform, tool, or software. On the other hand, soft skills are more about attitude and how you carry out a task.
As a DevOps professional, a lot of your value is placed on your hard skills. You should make sure you highlight any tools or coding languages you are familiar with, especially if they are highlighted in the job ad. 
However, a big part of your value comes from how you can bring those teams together that specializing in each stage of the project's life cycle. The leadership and communication skills necessary for that are key soft skills employers are looking for. Therefore, it's important to highlight your soft skills in your CV, too. Our resume sample content below will help you to get the balance right!
Adaptable resume skills section example
AWS
Azure
Terraform
CICD Implementation
Continuous Integration/ Delivery pipelines
Docker
SQL
Complex Problem Solving
DevOps resume education example
Assuming that your DevOps resume is adopting the reverse chronological format, this section will be straightforward. You should list your most recent education at the top of the section, and work backward. If you have a master's degree or higher, you may choose to leave off your high school information.
Each education example should include the institution name, the dates attended, and the location. If you have any specific certifications or courses that make you stand out, you can list them here or even create a separate section.
Adaptable resume education example
Master of Science in Computer Science, NYU New York 
Sep 2013 - May 2016
Resume layout and design
Your DevOps resume needs to have a clear visual presentation if you want the hiring manager to take its content seriously. You have one page to impress and get invited for that interview, so don't overlook the visuals of your resume.
You want to communicate that you can be trusted with expensive projects, so a clean and simple resume design is preferred. If visual design is not your forte, you can always browse our range of professionally-designed resume templates. 
Key takeaways for a DevOps resume
Now that you have mastered the style and content of a top-performing DevOps resume, there's nothing holding you back. As you head out into your job hunt, don't forget some of the key takeaways from this resume guide:
Your professional summary should set the tone for your professional profile and language that'll best engage your hiring manager.
Use active verb choices to paint a vivid picture of your top accomplishments in the employment history section and beyond.
You sit at the sweet spot that balances innovation and pragmatics - make sure this is reflected in your choice of hard and soft skills.
Create a professional story through your resume which the written content builds and the visual style supports.