Great CFOs aren't just numbers people, they are strategic thinkers who can help companies manage their finances to reach their goals. A great CFO resume shows off your vision as well as your bottom-line skill.
At your level, an executive recruiter will likely be the first person who evaluates your candidacy. Taking the time to create a chief financial officer resume package that incorporates all your skills into a cohesive package will pay off with heightened interest from recruiters. 
Let the experts at resume.io get you there with our insightful resources for job seekers, including resume guides for many finance careers and resume examples for 300+ professions. When you're ready, use our intuitive resume builder to polish your document and you'll be ready to apply for those great CFO jobs. 
This guide is designed to get you there with clear, CFO-specific advice. It includes information on
What a CFO does
How to write a CFO  resume (tips and tricks)
Choosing the best format for a CFO resume
Advice on each section of your resume (summary, work history, education, skills)
Professional resume layout and design hints.
What does a CFO do?
Broadly speaking, CFOs are responsible for improving the financial performance of a company. They act as the strategic financial advisor within the C-suite and with a company's senior management. CFOs present current financial data and forecast a company's future finances based on different business strategies.
The role of the chief financial officer falls into three categories: reporting, liquidity, and return on investment, the Corporate Finance Institute lists. These umbrella categories include financial analysis, forecasting, and budgeting. In smaller companies, CFOs may supervise the day-to-day accounting operations of a business or have accounting managers who report to them. They also manage cash flow planning, investments, and asset management.
CFO job market and outlook
As companies face financial uncertainty in a volatile market, they look to their CFO. That gives current CFOs and those looking to move into the role more leverage. CFO turnover in S&P 500 companies rose to 18 percent in 2021, up from 15 percent, the Wall Street Journal reported. The average tenure for an S&P 500 CFO is five years.
Median pay for S&P 500 company CFOs in 2020 was $13.7 million. The chart below from CFO Search shows the average salary ranges for CFOs at smaller companies. 
Statistical insight
| | | |
| --- | --- | --- |
| Company size in revenue | Private company | Public company |
| $10-$40 million | $153,400-$236,600 | $157,200-$257,300 |
| $41-$100 million | $166,500-$262,500 | $173,500-$277,100 |
| $101-$300 million | $194,000-$294,600 | $209,300-$314,400 |
| $301-$500 million | $223,400-$352,200 | $237,900-$366,500 |
| $501-$999 million | $244,900-$443,100 | $259,000-$461,500 |
How to write a CFO resume
Before you start compiling your CFO resume, you need to know the sections to include. Your CV should contain the following elements:
The resume header
The resume summary (aka profile or personal statement)
The employment history section
The resume skills section
The education section
Choosing the best resume format for a CFO
You want to stand out from among all the standout candidates for CFO positions, but the best way to do it is not to get fancy with your chief financial officer resume format. Instead, use your content to do that.
Stick with the reverse chronological order resume format to make it quick and easy for recruiters to scan for relevant information. At the C-suite level, companies may have hired a search firm to provide initial scanning, but your resume still needs to be Applicant Tracking System (ATS) optimized. Reverse chronological order also makes it simple to adjust your resume once it has been scanned into an ATS.
Resume header
CFOs need to project integrity and vision. The header is the key spot in your CFO resume to give that impression visually. Your main goal here is to present your contact information and your current title (if you so choose), but you should also aim for a resume template that leans conservative and business-like.
Resume summary example: bank on your talents
What type of CFO are you? What is your financial philosophy? What path did you take up the ranks? In your CFO summary, you should answer at least one of these questions. At the CFO level, companies want a strategic officer whose style and outlook mesh with theirs. 
It's important that within these 100 or so words, you give the C-suite officers an idea of who you are and what you have already achieved. Describe your management and communication styles as well. You are seeking a position as a thought leader who commands respect, so be bold without getting boastful. Tell the CEO why you are a great candidate and what you will bring to the team.
Expert tip
You don't need to label yourself, but it may help you to consider five different types of CFOs so you can better describe where you fall and target companies looking for your skills:
Startup or capital raising: You're the person an entrepreneur comes to in order to get their business vision off the ground and set it on the right course.
Growth: You specialize in startups or established companies ready to move into expansion.
Public company: You have detailed knowledge of public sector regulations, financial guidelines, and reporting.
Mergers and acquisitions: You're called in when it's time to get the best deal possible to sell or merge with another firm.
Turnaround: You love the challenge of a struggling business and know just how to get it back to profitability.
If you're having trouble finding inspiration for your summary (since it's the most free-form writing section on your resume), you can find additional profile examples in our related accounting & finance and business & management resume categories. These resume samples include a financial analyst resume example, an executive resume sample, a business analyst resume example, a finance director resume sample, and a CEO resume example.
Adaptable resume summary example
Chief Financial Officer with 14+ years of industry experience working collaboratively with executive leadership teams. Adept in leading the efforts of various programs to ensure fiscal responsibilities are met, and community and professional relationships are strengthened. 
Employment history sample: leverage your experience
The employment history section of your CFO resume details what you've accomplished in the past 5-10 years of your career. You probably have a long work history since you've risen to this high level, so list the responsibilities best suited to your targeted job.
Take stock of all you've achieved. You're a numbers person, so you have the data to back up your claims. Use it! Start your bullet points with strong action words followed by examples of your financial prowess.
Expert tip
Get keywords working for you 
That means optimizing for the ATS. Many recruiting firms use ATS software to help them both input applicant data and sort through the many resumes they receive. Then, algorithms rank resumes based partly on keywords and phrases pegged to the job.
While there's no magic formula for beating the ATS, personalizing your CFO resume will help. Analyze the job posting and compare it to your document. Do you have all the pertinent skills and experience listed? If not, add any words and phrases you can without interrupting the flow of your document. That will help boost your resume ranking and give you a better chance to be seen by a person.
Adaptable resume employment history example
CFO, NWES Institute, Seattle 
January 2012 - August 2022
Became a key player in the tremendous growth and success of NWES over a period of 10 years.
Oversaw the administrative, financial, and risk management operations.
Led the management and strategic vision for all financial departments.
Spearheaded new acquisitions totaling $40M, creating rapid revenue growth.
Collaborated with divisions to ensure the company's overall fiscal success.
Served as a subject matter expert and educated the financial teams.
Assisted the department managers with budget development and recommended appropriate budget modifications.
Enabled widespread audits, reporting, and compliance improvements.
Developed and utilized financial management and control systems in accordance with sound financial management procedures.
CFO, Dun & Dun, Seattle 
March 2008 - December 2011
Oversaw the company's fiscal activity, incl. budgeting, reporting, and auditing.
Provided leadership and management of the finance and accounting team.
Worked closely with the CMO, CEO, and COO to develop effective strategies.
Supervised the financial reporting and budgeting team.
Assured all legal and regulatory documents were filed and monitored compliance with laws and regulations.
Reviewed all formal finance, HR- and IT-related procedures.
CV skills example: highlight your assets
The core of CFOs' skills is fiscal responsibility and know-how, but there's a lot more to shepherding a company's finances at the top level. The skills section of your CFO CV needs to acknowledge your foundation but focus heavily on the qualities that elevate you to C-suite leadership.
Look to the job listing to weigh your decision, keeping in mind the ATS. Use the exact language from the listing when possible. Start by brainstorming all your skills and qualities and then balance the list between your financial wizardry and the soft skills it takes to lead with confidence.
Consider some or all of the following: vision, financial and big data analytics, risk management, tech-savvy, management, business knowledge, communication, and presentation.
Adaptable resume skills section example
Team Leadership
Strategic Planning
Budgeting & Forecasting
Financial Analysis
Business Partnering
Management Accounting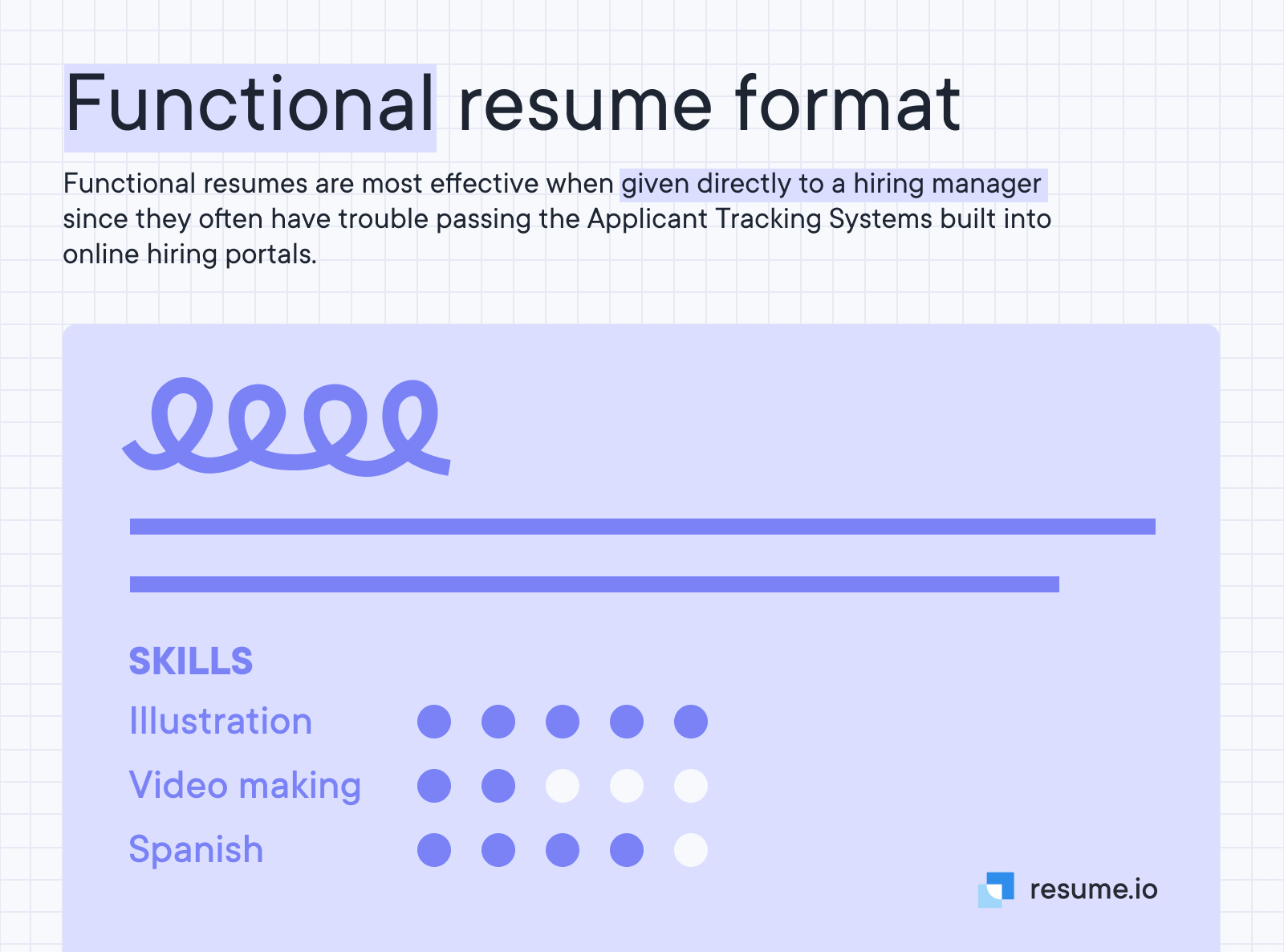 CFO resume education example
In the education section of your CFO resume, you simply list the academic achievements that help make you CFO material. Chief financial officers most often have earned a bachelor's degree in finance, business, accounting, or a related subject. 
Some CFOs also have become certified public accountants (CPAs). Many CFOs have gone on to obtain MBAs or other advanced degrees.
If you have earned any industry accolades or certifications, you may list them here or create a separate section to highlight them. The online resume builder tool allows you to do so with just a couple of clicks.
Adaptable resume education example
Bachelor of Science in Economics, Seattle Pacific University, Seattle 
September 2001 - May 2005
Resume layout and design: command attention
You carefully choose your interview clothes to make a great first impression. You need to do the same with your CFO resume layout. What do you want recruiters and the rest of the C-suite to think about you before you even meet? That's the job of document design.
Since clear financial presentations are an important aspect of your job, make sure you show off that ability with a clear, organized resume design. Pay special attention to the header style. Are you a powerful, commanding presence? Use a bold accent color to convey that image. More of a collaborative worker? You can soften the color a bit to accommodate that.
Choose easy-to-read fonts and section headings that stand out. Keep the overall look crisp and draw the eye to key information such as your skills and contact information.
Your time is valuable, so avoid wasting it on the minutiae of formatting and designing. Instead, choose from one of our expertly-tested resume templates. 
Key takeaways for a CFO resume
The role of the chief financial officer has grown to encompass a lot more than accounting and bottom line finance.
CFOs are in great demand, with a lot of movement in the field. The title also comes with a hefty salary.
Be bold in your summary – if you want to lead a company's financial future you must exude confidence.
The online resume builder makes it easy to develop a document that will grab the attention of recruiters.