As a chemist, you're an expert when it comes to formulating theories, testing them, and publishing your findings. But what about when it comes to sharing your career results on your chemist resume?
The job market for chemists is promising, so if it's time to make your next move, Resume.io is here to help. With 300+ occupation-specific resume examples and writing guides, we're an expert resource for your job search. 
This resume guide, along with the corresponding chemist resume example will cover the following topics:
What does a chemist do?
How to write a chemist resume (tips and tricks)
The best format for a chemist resume
Advice on each section of your resume (summary, work history, skills, education)
Professional resume layout and design hints
What does a chemist do?
Chemists are scientists who work in the field of chemical substances. While the requirements of the job will vary per position or company, common duties of chemists include:
Communicate with stakeholders to determine the requirements for a product or substance
Develop an action plan for creating, testing, and bringing the substance to market
Form hypothesis about unfamiliar substances and create plans to test them
Carry out experiments and research to determine the interaction of chemicals and compounds
Write papers to summarize findings and provide recommendations to stakeholders
Keep up on the latest chemistry research and how it affects work
Make sure all tests and laboratories meet safety standards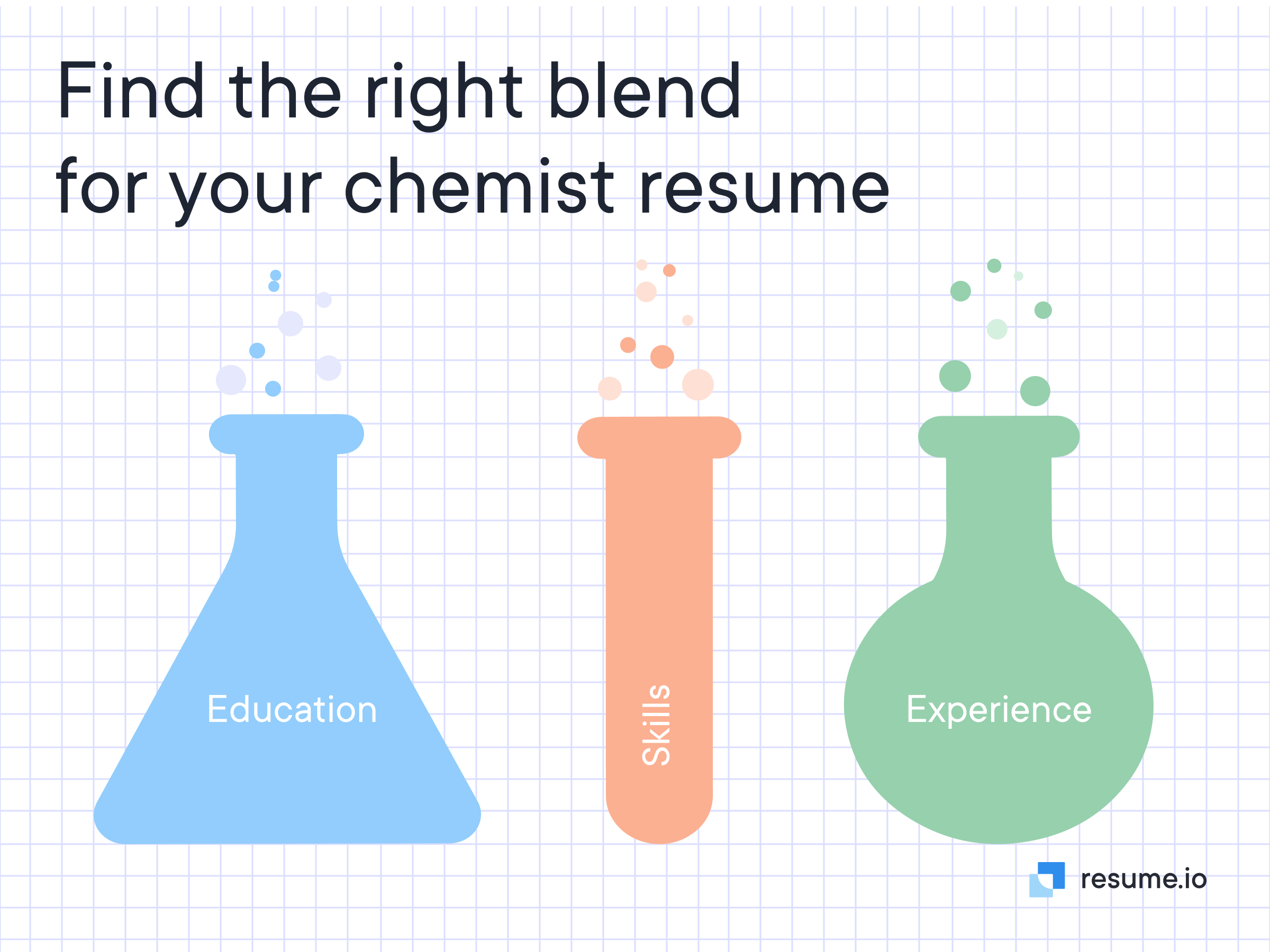 How to write a chemist resume?
A chemist resume will need many of the sections found on a traditional CV. Here's what you should plan to include:
The resume header
The resume summary (aka profile or personal statement)
The employment history section
The education section
The resume skills section
The very first step when writing your chemist resume is to evaluate the job description to which you are applying. Each resume you write should be tailored to the exact position and company, so make sure to take note of the employer's requirements and the qualities they are looking for in the ideal candidate.
If you are polishing your existing resume, choose only the examples of previous experience that are most relevant to the prospective job. For more entry-level to mid-level professionals, a one-page resume is sufficient, so make sure to keep every section concise. 
Another aspect to consider when writing your chemist resume is the fact that the initial hiring manager may lack a background in chemistry or technical knowledge of the field. Therefore, it is important to both include key accomplishments and skills related to chemistry, while making your resume accessible and understood by HR professionals.
Choosing the best resume format for a chemist
As for most scientists, chemists primarily have two options when it comes to choosing the right resume format. The first format is the reverse-chronological structure, which is viewed as the standard for resumes in most fields. This format gets its name from the prominence of the Employment History section where previous jobs are listed from most recent to oldest. This resume structure is perfect for chemists who want to highlight positions with prestigious companies or accomplishments linked to certain employers. This is the structure you will see in our adaptable chemist resume example.
The second option for chemists is the skills-based resume, sometimes called a functional or hybrid resume. This resume format starts with a skills section where a chemist can list their most relevant technical skills, focusing on the ones requested by the potential employer. This type of resume is best for those who think their technical knowledge is a stronger selling point than their previous positions.
Expert tip
Consider the ATS
Applicant Tracking Systems (known as ATS) are now the norm for any job application submitted online. These resume scanners look for keywords programmed from the job description and rank your resume against the other applicants. Only those resumes that score at the top move on to be reviewed by the hiring manager. Avoid being filtered out by making sure your resume has simple formatting that can easily be read by the bots. Complicated layouts with charts or images are likely to be filtered out.
Resume header
The resume header is the section found at the top or side of the page that contains the applicant's name, contact information, and professional social media like LinkedIn. The header is important for giving the hiring manager identifying information, but also serves a role in creating attractive formatting for the application. Since science is a formal field, chemists should opt for standard font styles with a neutral color scheme or a single, professional accent color.
Resume summary example
The summary of your resume is the place to introduce yourself to the employer and highlight your most impressive accomplishments or previous positions. These 3-5 sentences are considered to be the most free-form part of your resume where you can add a touch of personality or context to your research and work. While you should steer clear of humor, it's worth using the summary to connect with the employer and explain why you're the right fit for the job. Don't forget to mention the name of the role and the company you're applying to somewhere in this section.
Adaptable summary CV sample
Experienced chemist, passionate about empowering lasting change through innovation, shaping cutting-edge solutions to business and industry challenges for positively impacting consumers. Proven capacity for partnering cross-functionally to shape development, testing, and quality control plans, empowering the delivery of advanced materials that meet evolving industry and consumer needs.
Employment history sample
If you've chosen a reverse chronological resume, then the employment history section will be where the core of the most relevant experience is concentrated. First, create subheadings starting with your most recent or current position and going back through the past 10 years of your experience. Include the job title, employer name, dates worked, and location. 
Underneath each subheading, you'll want to add 3-5 bullet points that offer more insight into your responsibilities, skills, and accomplishments. As a chemist, it's essential to use data, statistics, and concrete information to highlight your achievements and show the prospective employer what you could do for them if you were hired. To give even more weight to your experience, start each bullet point with an action verb like "piloted," "developed," or "coordinated." 
Adaptable employment history CV example
Chemist I, Madison Chemical, Madison, WI
May 2021 - February 2023
Conducted intensive product testing and analysis, evaluating materials against defined customer requirements and specifications.
Defined manufacturing processes in line with quality standards.
Collaborated with client and teams to shape expert project plans, identifying material requirements for optimal results.
Analytical Chemist, Frieda Inc, Madison, WI
September 2019 — April 2021 
Managed laboratory analytical instruments, ensuring functionality and compliance with performance standards for optimal operations.
Led preparation and analysis of material samples, conducting testing in line with EPA and laboratory standards.
Prepared analysis documentation, generating robust datasets.
QC Associate, Egotech, Inc, Madison, WI
August 2016 — August 2019
Conducted QC testing and analysis of drug samples, ensuring adherence to quality standards and regulatory requirements.
Partnered with team to execute large-scale studies and testing.
Maintained alignment with internal and industry reporting standards, preparing detailed documentation of all testing activities.
CV skills example
If you've chosen to start your chemist CV with the skills section, then you'll want to keep this section towards the top of the page. Otherwise, it will follow the same structure as if it were to be found further down on the resume. Highlight your most relevant technical skills in an easy-to-read format (often this is done as bullet points or in the margin.) Make sure to refer to the job description before completing the skills section as this is one of the most important places to include the exact terms the employer is looking for. While you'll want to focus mainly on technical and chemistry knowledge, you may also include one or two soft skills that are relevant to the position such as team leadership or cross-department collaboration. See our adaptable resume sample below for more insight.
Adaptable skills section CV example
Chemical analysis
Laboratory standards
EPA Methodology
Quality Assurance
Chemist resume education example
All chemists are required to complete higher education, so this section of your resume shouldn't be overlooked. Make sure to list your degrees in reverse-chronological order just like your employment history. The minimum information for a degree is the program name, school, dates attended, and location. You may also include one or two bullet points under each degree to mention grades, leadership positions, awards, or relevant coursework. However, these sorts of details are most appropriate for recent graduates and should be removed once you've completed one or two professional experiences.
If you have numerous awards, publications, or memberships to include, you can create separate sections for these achievements. Otherwise, they can be added to the bottom of the education section or even under the respective employment entry.
Adaptable education CV example
University of Wisconsin - Madison, Master of Science in Chemistry 
January 2012 - May 2016 
Bachelor of Science in Chemical Engineering, Madison, WI 
August 2006 — December 2011
Resume layout and design
The layout and design of your chemist resume should be simple and professional. As science is a formal field, you'll want to remain conservative when it comes to colors or other layout style choices. Simple dividing lines and bolded subheadings can help your information stand out. Depending on the workplace, a single accent color may also be appropriate. Keep your font size around 12-point for the body of your resume, although you may use a larger font in the header to allow your name and contact information to stand out. Here are a few more do's and don'ts for chemist resumes.
Do
Leave a balance of white space to text to keep the page easy to read
Use a consistent header across all application materials
Test out a professionally designed resume template to make formatting simple
Don't
Change the margin size to squeeze in more text
Add a professional headshot to your header unless appropriate in your country
Forget to proofread before you submit!
Key takeaways for a chemist resume
A chemist resume differs slightly from other professional resumes so make sure to choose which format you want to use before you begin to write.
Consider whether your resume will first be read by a chemist or a hiring manager with no science background and adapt your language accordingly.
Make sure to include numbers and statistics in the employment history section. See how this is done in our adaptable resume sample.
Keep your layout clean and professional free of unnecessary colors or other design elements.