Patients and doctors rely on your testing and analysis to identify and help determine the treatment of many diseases. Medical technologists are a key part of any diagnostic medical system. When it's time to look for your next position, a medical technologist resume that focuses on showing that you have the knowledge and skills to help save lives.
The right job can make all the difference in your life, and that starts with a great application. Start with this resume guide and the corresponding medical technologist resume example to learn about the following topics:
What does a medical technologist do?
Organizing and structuring a medical technologist resume (tips and tricks)
The best format for a medical technologist resume
Making the most of each section of your resume (summary, work history, education, skills)
Professional resume layout and design hints.
If you want more guidance, Resume.io's resources include resume guides and resume examples for 300+ professions, plus an intuitive resume builder.
Let's get started by exploring your role.
What does a medical technologist do?
Medical technologists, also called medical laboratory technologists or clinical laboratory technicians, are healthcare professionals who have expertise in testing and analyzing blood, tissue, and cells using microscopes, cell counters, and other lab equipment that requires a high degree of precision. They must adhere to strict quality assurance practices.
Medical technologists report their findings in a timely manner to physicians, who use the results they receive from medical technologists to help determine courses of treatment for their patients. This role differs from medical laboratory scientists, who have more training and can complete more complicated testing and analysis.
Common work environments are hospitals, clinics, public health facilities, research institutes, pharmaceutical and biotechnology companies, and veterinary clinics.
Statistical insight
Many professionals have heard the statistic that about 70 percent of medical decisions depend on laboratory results, yet the debate about the accuracy of this number abounds. Nevertheless, medical testing plays a large role in decisions made by doctors and other healthcare staff. 
Medical technologist job market and outlook
This behind-the-scenes job may not be glamorous, but it does have an unemployment rate of only 3 percent, and the market for medical technologists is expected to grow nearly 7 percent by 2031, the U.S. Bureau of Labor Statistics predicts. That's an increase of 21,800 positions.
The national median salary for a medical technologist is $57,800 a year, or $27.79 an hour, but location matters. If you are looking to earn a median of more than $70,000, head to the Northeast, where Connecticut, New Hampshire, New York, and Rhode Island lead the pack in the highest salaries.
If you're just starting out, you may earn about $30,000 a year, but the top 10 percent of medical technologists earn upwards of $80,000 and in those high-income states, that's closer to $100,000.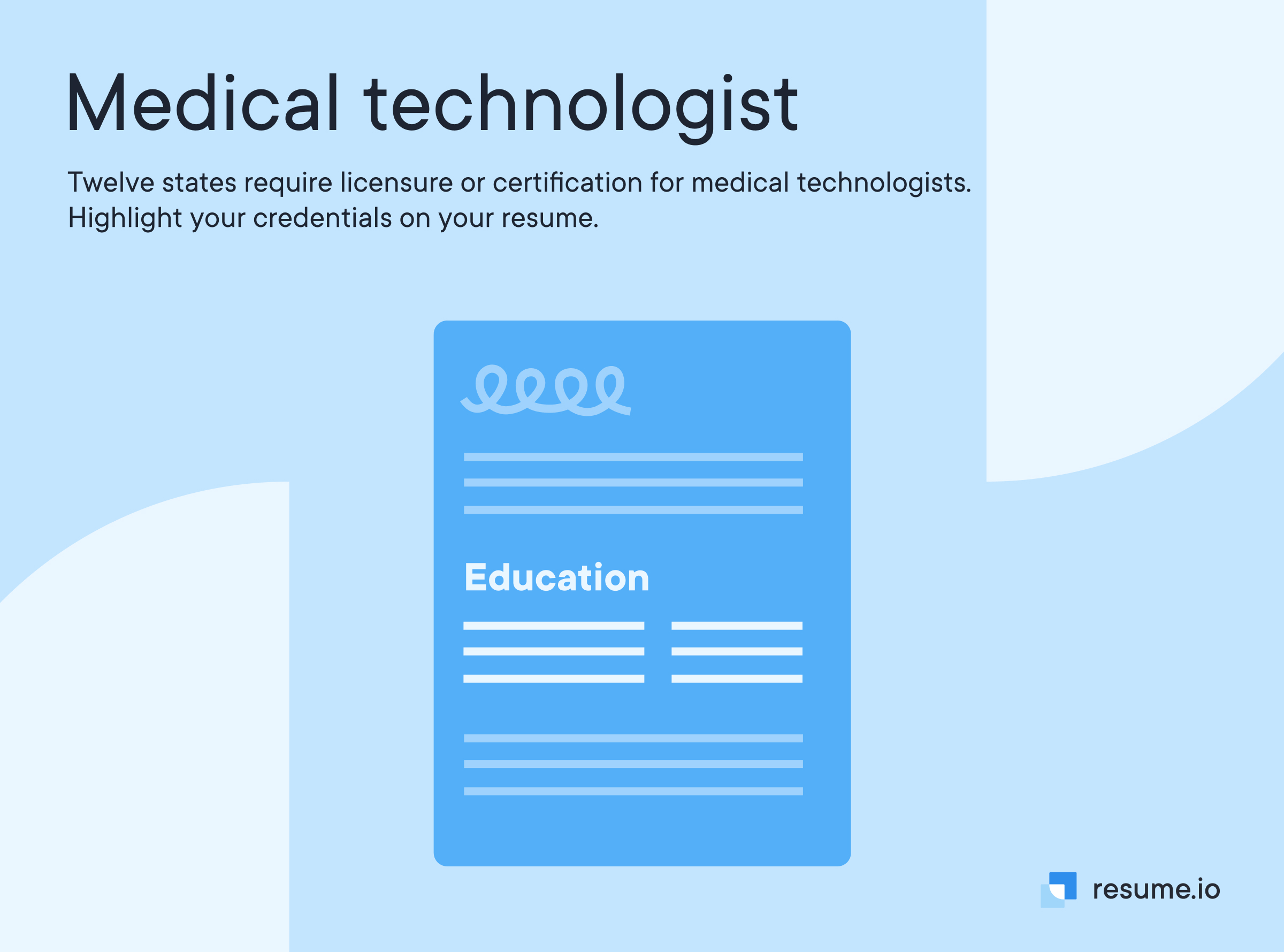 How to write a medical technologist resume
Precision is a key component of your job. You need to display your organizational skills in your  medical technologist resume from the start. That means using standard sections and standard titles for those sections.
Your CV should contain the following elements:
The resume header
The resume summary (aka profile or personal statement)
The employment history section
The education section
The resume skills section
Do
Use clear, bold headings to make your sections easy to find
Don't
Get creative with their names: Recruiters aren't going to guess what "Under a Microscope" means. Call it "Employment History"
Choosing the best resume format for a medical technologist
Our advice is to stick with the reverse chronological format for your medical technologist resume unless you have a compelling reason not to. This organization affects mostly your work history and education sections, which will have your most recent experience at the top and work backward from there.
A few situations in which a hybrid resume format may be a better choice are if you:
Are new to the job market and don't have a long employment history
Have changed careers and your previous experience is not relevant
Want to highlight a host of technological skills
Have decades of experience
Barring these situations, stick with reverse chronological order since your goal is to get an interview and making it easy for recruiters to scan your medical technologist resume is the first step.
Resume summary example
Just as there's more to patients than an up-close look at their cells, there's more to your career than a detailed listing of your skills and responsibilities. Your medical technologist resume summary takes a broad view of not just what you do, but how you do it.
Of course, you want to highlight your proudest career moment, but you also want to describe to your prospective employer how you will improve the lab's efficiency and environment with your professional demeanor. Remember that an employer's main concern is what you can do for them. Focus on how your expertise meshes with their needs in these 3 to 4 lines of freeform writing. 
Adaptable summary resume sample
Experienced medical technologist with a proven background in troubleshooting, repair, and maintenance of a diverse array of medical and surgical equipment. Adept with a range of tools and techniques for inspecting, testing, and resolving issues with equipment utilized in a variety of medical and surgical procedures.
Because this section can be the most daunting to compile, you may want to check out other resume examples from our medical offerings including:
Employment history sample
The employment history section of your medical technologist resume puts the microscope on your career. This is where you go into detail about each position you have held. Especially since your job is one based on error-free work and attention, you should use examples that prove you have those qualities. 
Gather any data you have that shows how many tests you have processed accurately and quickly. If you have streamlined any procedures or established a more efficient quality assurance program, highlight those achievements. Focus on your accuracy. Imagine getting incorrect medical results!
Adaptable employment history resume example
Operating Room Technician, Genesis Medical Center, Davenport, IA 
June 2017 - present
Install, calibrate, and perform repair / preventive maintenance on operating room medical and surgical equipment.
Utilize various tools and diagnostic equipment to resolve performance issues.
Install and configure computer software and hardware for clinical instrumentation interfaces.
Generate service reports and maintain records of repairs performed.
Interact with manufacturers and third-party equipment vendors to gather warranty information and request quotes for servicing.
Biomedical Engineering Technician, Select Hospital, Davenport, IA 
March 2014 - May 2017 
Performed repair and maintenance of medical and laboratory equipment.
Conducted shop repairs.
Installed, calibrated, and inspected facility equipment.
Coordinated warranty repairs and calibrations with equipment manufacturers.
Maintained detailed records of equipment condition and repair status.
Ensured a fully stocked inventory of parts regularly requiring replacement.
Biomedical Engineering Intern, MercyOne Medical Center, Clinton, IA 
June 2013 - January 2014
Gained hands-on experience in repair, service and testing of medical electronic equipment in a busy healthcare facility.
Worked with a senior technician in troubleshooting instrumentation problems, performing preventive maintenance and conducting safety inspections.
Utilized testing tools to conduct testing of new equipment.
Maintained inventory records of materials used.
Interfaced with medical staff in explaining technical functionality of equipment and providing support in equipment usage.
Reported regularly to supervisor on status of daily job assignments and discussed any equipment issues requiring further investigation.
Expert tip
Address each position differently
Not all jobs are alike. That means you need to tailor your medical technologist resume to the position for which you are applying. You may have many similarities, but make sure to emphasize the skills and experience listed in the specific job listing.
Not only does this serve to show your prospective employer that you understand the requirements they seek, but it will help you bypass the Applicant Tracking System screening that looks for keywords and phrases the human resources department has pegged to the position.
Medical technologist resume education example
The vast majority of medical technologists have earned a bachelor's degree in medical technology or a related field such as chemistry or biology. Medical technicians may opt for an associate's degree. List all your degrees in the education section of your medical technologist resume.
Some professionals also earn certification through the American Medical Technologists association. If you are among them, you may list this qualification in your education section, or create a separate certification section if you have space. 
If you have taken any relevant courses, are working toward a higher degree, or have earned any other certifications, list those here as well. If you are working toward a degree, include your projected date of graduation.
Adaptable education resume example
Associate's Degree in Medical Assisting Technology, Orion Technical College, Davenport, IA 
September 2011 - May 2013
Graduated with honors
Expert tip
License required
If you want to work in California, Florida, Georgia, Hawaii, Louisiana, Montana, Nevada, New York, North Dakota, Rhode Island, Tennessee, or West Virginia require licensure. Puerto Rico also requires licensure.
Requirements for obtaining a license vary by state, so make sure you check the state where you want to work.
CV skills example
The skills section of your medical technologist resume may seem like a cinch to develop, but it's not. This section can make or break your candidacy since it is likely the first a recruiter will scan. If you don't highlight the qualities they need, they won't look further.
Your first task here is to analyze (a skill you should be great at!) the job listing, taking note of all skills, knowledge, and attributes your prospective employer desires. You may be tempted to heavily skew your section toward hard skills because you're in a scientific field, but did you know that employers highly value soft, or people, skills?
Consider including attributes such as problem solving, active listening, grace under pressure, and leadership in your roster of abilities to present a well-rounded picture of your professional personality. Choose 5-7 skills that match those listed in the job description. 
Adaptable skills section resume example
Medical Devices
Field Service
Equipment Repair & Maintenance
Hardware Troubleshooting
Computer Troubleshooting
Experience with Multi-meters & Analyzers
Technical Manuals
Inspections & Testing
Technical Training & Communication
Resume layout and design
The layout of your medical technologist resume serves as the first visual impression of you. Consider what you want to convey as your professional personality. Then, recognize that you don't need an overly fussy design, especially in your field. Instead, aim for straightforward, neat, and legible. 
Any mistake in your field can be disastrous, and any mistake in your resume could be disastrous for your job search. That means spellcheck, grammar check, and maybe even a second set of eyes on your application before you send it.
The main job of your layout is to make it easy for recruiters to find what they seek. Here are some tips to help you achieve that goal:
Leave margins of at least ¾-inch all the way around.
Choose easy-to-read fonts at 11-12 points.
Some color offers an accent; too much color is distracting
Keep the lines clean by using flush left for your type.
Include white space by varying your line lengths – big blocks of text are off-putting.
Choose from among our expertly-designed and HR-tested templates to avoid the hassle of designing and formatting on your own.
Key takeaways for a medical technologist resume
Yours is a field that requires precision, timeliness, and accuracy so highlight those skills. Incorrect medical results can be a disaster
If you're looking to maximize your income, head to the Northeast, where you could earn close to $100,000
Use your summary to explain to your prospective employer exactly what you can do for them and how your professional personality is a good fit for the team
Project a great first impression with a medical technologist layout that is organized, neat, and legible
Use a resume builder with spellcheck such as ours to avoid typos and proofread before you hit send.