Scientists conduct experiments to test hypotheses and gather empirical data to determine whether those hypotheses hold. Their research methods are carefully designed to ensure accuracy. While job searches may be more art than science, the development of your scientist resume does follow a process.
All excellent resumes have the common qualities of a convincing presentation for employment and a user-friendly format. While you may be inclined toward a straightforward recitation of the facts of your career, a little eye appeal will help. You need to find a scientific approach that also garners the attention of recruiters. That's where expert tools and advice help. After all, the goal is to get that interview. Resume.io's wealth of resources for job hunters, including our resume examples, can help give you that boost.
Within this resume guide and the corresponding scientist resume example, you will find information on the following topics:
What does a scientist do?
The framework for writing a scientist resume plus tips and tricks
The best format for a scientist resume
Advice on the summary, employment history, education, and skills sections
Ideas for creating a professional layout and additional design hints.
What does a scientist do?
Scientists work in any field where experimentation may lead to added information about the world around us. Their main goal is to add to the body of scientific knowledge. These additions may lead to groundbreaking developments in their field or to incremental changes that improve existing products and processes.
There are dozens of different types of scientists, but they all fall under three branches of science:
Earth: which includes astronomy, meteorology, geology, atmospheric sciences, glaciology, climatology, and structural geology
Physical: which includes physics, mechanics, chemistry, electromagnetics, thermodynamics, and kinetics
Life: which includes all types of biology, zoology, paleontology, genetics, botany, and ecology.
Through the careful writing of a hypothesis, the design of an experiment, and the analysis of results, scientists add to their fields. They may be conducting research for the sake of research without a clear end goal in mind or they may be working for a company, university or research institution, or government agency that is aiming to solve a specific problem through scientific advancement.
Scientist job market and outlook
"Scientist" is a broad category and job prospects depend heavily on the type of scientist that you are. 
The field of geoscience, the study of the physical Earth, is expected to grow only 5% in the next decade. These scientists conduct fieldwork as well as lab work. They often work in the development of natural resources either for governmental organizations such as the Environmental Protection Agency or for oil and gas companies.
Statistical insight
Life science careers in the highest demand*
Biochemists and biophysicists
Biological technicians
Chemical technicians
Chemists and materials scientists
Epidemiologists
Medical scientists
Microbiologists
*Source: Biophase
Overall, the outlook for life and physical scientists is a bit higher than for Earth scientists, with expected growth of 7 % in the next decade, however, that average is skewed by the wide range of predicted demand. For example, the U.S. Bureau of Labor Statistics predicts no growth in the need for geographists, but a 17 % growth in the need for medical scientists.
How much do scientists earn?
Once again, this depends in large part on the field of science in which you work. Here are the top five highest-paying science careers and their median annual salary, according to Business Insider:
Physicist: $152,430
Natural science manager: $137,900
Astronomer: $128,160
Physical scientist (excluding physicist): $104,100
Biochemist and biophysicist: $102,270
How to write a scientist resume
The words you choose in your scientist resume carry weight – especially because they are limited. But before you focus on what to say, you need to know the framework in which to say them.
Your scientist CV should contain the following standard elements:
The resume header
The resume summary (aka profile or personal statement)
The employment history section
The resume skills section
The education section
While the structure of your scientist resume is standard, your content should not be. In fact, you should reevaluate your application each time you apply with a different organization or for a different position. Target each prospective employer by tailoring the examples and skills you list to emphasize the requirements of the specific job.
Using this method serves two purposes:
It signals to the recruiter that you understand the employer's needs and can meet them
It helps you overcome the Applicant Tracking System (ATS) algorithm. To further assist in this goal, use the exact words and phrases within the job listing.
Choosing the best resume format for a scientist
Typically, resumes are written in reverse-chronological order format, meaning that your most recent experience is listed first followed by earlier jobs, from most recent on back. But a scientist resume may need to include highly detailed skills that would be better served by the functional format.
Only you know whether you want to give up some space in your work history section and expand your skills section to include your scientific knowledge. Analyze the job listing and ask yourself whether the position you seek is highly technical or requires a balance of scientific skills and management, presentation, or other attributes that would be better served through bulleted descriptions of your career successes. If that is the case, reverse-chronological order is the way to go.
You may also consider a hybrid resume format, in which your employment history and skills sections are better balanced. 
Expert tip
Formula for success
If a freeform section is a bit daunting, try this sentence-by-sentence suggestion:
Begin with a one-sentence overview of your career.
Follow it up with a description of your greatest achievement.
Next, explain your scientific philosophy and why it fits with your prospective employer.
If you have space, tell what attracts you about the company, the research, or the position itself.
Resume summary example
What makes you an outstanding scientist and employee? How do you approach inquiry and experimentation? The summary section of your scientist resume is the place to explain those aspects of your professional personality using strong descriptive words and complete sentences.
A summary, AKA a profile, gives you an opportunity to highlight your biggest career success and tell your prospective employer both why you want to work for them and why they should hire you. While this section may not be the first spot a recruiter's eye lands, if they are intrigued, you can bet that they will come back to it. 
Adaptable resume summary example
Passionate Public Health Scientist constantly seeking to improve public health systems by conducting in-depth observational and experimental studies and recommending appropriate public health interventions.
Employment history sample
Your scientist resume needs to project a story of success and your employment history is the place to detail that success. This section tells your prospective employer what you have already achieved and gives them an idea of what you will be able to achieve for them.
If you have chosen a functional resume, brevity is of the utmost importance. Start each bullet item with an action you took and follow it up with a phrase that focuses on your achievement. Choose only the top two or three for each position you have held to leave more space for your skills. 
If you are using reverse chronological order, you may take a bit more space to add data or details to back up your accomplishments and you may list more than one or two per position. Choose those successes that most directly relate to the job you want – a convincing resume offers ample evidence for the value you will bring to the organization.
Adaptable resume employment history sample
Public Health Scientist at Leonard Science Institute, New York
July 2017 - Present
Investigate large sets of data related to household health behaviors and explore what questions can be answered using these data sets to draw out causal inferences.
Utilize multi-disciplinary methods incorporating epidemiology, biostatistics and health services to promote health and prevent disease.
Evaluate the distribution of health resources in communities.
Work to maximize population health while achieving other goals.
Conduct 5+ public biosafety inspections per week.
Dive deep into the psychology of public health, seeking to improve quality of life for the general public.
Work to improve the data and methodology in current mathematical/statistical models.
Successfully interpret and report test results on specimens submitted to the State Public Health Laboratory.
CV skills example
Creating a skills section devoted to your scientific knowledge shouldn't be difficult since you have an abundance of them to mention in your scientist resume, but great scientists have more than a depth of knowledge – also called hard skills because they are attributes learned for a specific career. 
Great scientists also have soft skills, i.e. interpersonal and emotional awareness abilities. Don't make the mistake of ignoring these in your scientist resume. Having an inquisitive nature is a prerequisite for a scientist, but here are a few other soft skills you should consider adding to your skills section:
Critical thinking and problem solving
Communication
Teamwork
Business acumen
Self-motivation
Adaptability
Presentation abilities
Adaptable skills section resume example
Analytical Thinking Skills
Project Management
Public Health Systems
Epidemiology
Bioinformatics
Data Analysis
Complex Problem Solving
Scientist resume education example
Working scientists typically have at least a bachelor's degree in their field and many have master's degrees or doctorates. The education section of your scientist resume lists all your academic achievements, again in reverse chronological order. 
Unless you are a recent graduate, you should not list your GPA, and then only list it if it is exemplary. You may list any academic honors you have received. If you do have an advanced degree, there's no need to include your high school experience.
Expert tip
Additional sections
If you have credit on many scientific papers, consider creating a separate publications section or linking to your portfolio of credits from your resume document. Resume.io's builder tool allows you to do just that.
Other sections to consider are awards and accolades, patents, and conference presentations. 
Adaptable resume education example
Master of Science in Public Health, NYU, New York
September 2012 - May 2015
Graduated summa cum laude.
Resume layout and design
The first job of your scientist resume is to make a professional first impression and that comes down to your layout and design. Certainly, a recruiter may read over your qualifications if your presentation isn't pleasing to the eye, but why take that chance?
Keep in mind that legibility takes precedence over cramming that one last skill or achievement into this one- or two-page document. Use easy-to-read fonts and choose no more than two.
Create a header that stands out with a splash of color or a bold face for your name. Include the best phone number and email address to use to contact you. You want recruiters to quickly be able to schedule that all-important interview.
If your text looks too dense, try altering the lengths of your bulleted items to create some white space. The eye tends to wander past big blocks of type without settling in for a read.
You can get a head start on your layout with the expertly-designed resume templates we offer.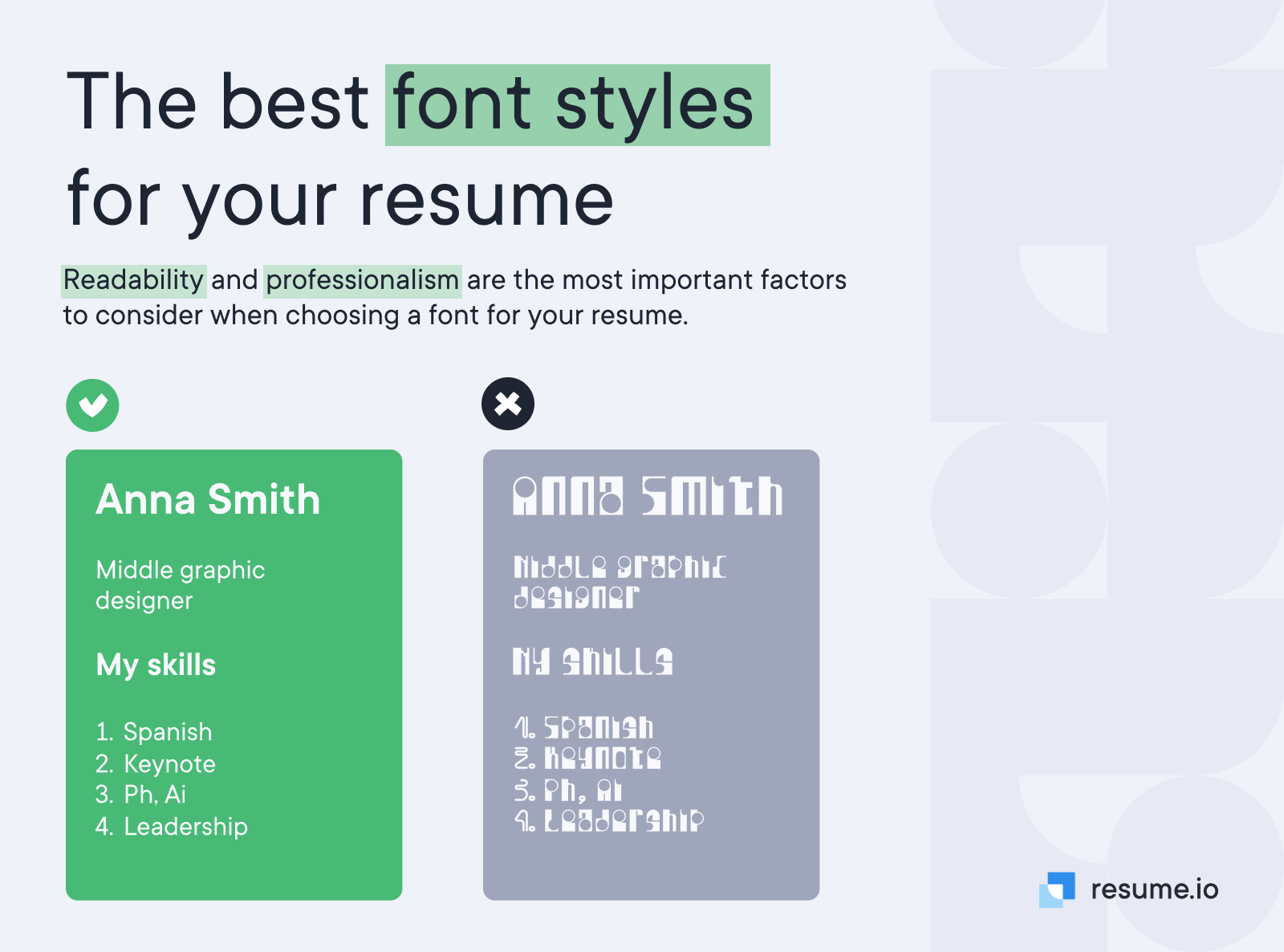 Key takeaways for a scientist resume
Scientists are experts in a broad range of fields within three categories: Earth, life, or physical science.
The best-paid scientists are physicists, but medical scientists will be in great demand through 2030.
If you have specialized scientific knowledge, a functional resume may be your best choice,
The most important aspect of your resume design is legibility.
Resume.io's resources are a great way to get your job hunt going today.