You're smart, you're good with numbers, and you love science? If you're nodding your head in agreement, a laboratory job may be calling your name. Before you can land the spot, however, you need a stellar application. Luckily, we've got you covered with an expertly-written lab technician resume example alongside some handy tricks and tips for writing yours.
Finding the winning formula doesn't have to be hard. Whether you have years of experience as a lab technician or you're new to the field, you can easily write an excellent resume. You simply have to use a logical approach. It's all about figuring out what the best elements are and using them to your advantage. So, are you up for the challenge?
If you're looking for resume models, you can check out our resume examples for 350+ professions plus make your own with our easy-to-use resume builder. Impressing potential employers has never been easier.
In the following writing guide, we will cover:
What a lab technician does including the core job tasks
How to write a lab technician resume — plus a resume sample
The perfect layout for your lab technician resume
Support on what to write in each of the sections (summary, experience, education)
Design hints to help you 'wow' recruiters from the offset.
Follow along with our corresponding lab technician resume example.
What does a lab technician do?
Lab technicians primarily assist scientists in laboratories. That may include offering general administrative support, working with complex systems, collecting and analyzing data, and providing other services. You may be asked to help keep the laboratory safe and assist the core researchers with any additional tasks. 
Your everyday responsibilities may differ depending on the project at hand. However, it's wise to get an idea of the main activities you will be doing. Here are some of the basics: 
Keeping accurate records and producing data reports
Assisting scientists with long and short-term research projects
Technical duties — such as maintaining the equipment
Communicating scientific information concisely
Overseeing laboratory supplies and reordering when needed
Sanitizing equipment after use and keeping the site safe
Different lab technician jobs will have different duties. When you're applying for a role, take a close look at the job description to understand what is expected of you. You may also want to ask about the tasks during the interview stage of hiring.
Statistical insight
Before you apply to become a lab technician, you need to know how much you'll get paid. In the United States, the average salary for this job is $62,943 per year. Should you land a role in this sector, you can expect to make between $55,094 and $74,239.
How to write a lab technician resume
Before you can perfect your lab technician resume, you need to know what elements to include. Luckily, there's a straightforward equation you can use here. When creating your application, your resume should include the following key components: 
The resume header
The resume summary (aka profile or personal statement)
The employment history section
The CV skills section
The education section
Got an inquisitive mind? Good stuff! You will need to do as much research as possible before writing your application. Demonstrating an understanding of the particular scientific sector or the research project will win you points with an employer. As you can see from our resume example, tailoring your application to each specific position is the way to go. 
It's smart to take a look at any projects the laboratory has previously completed. You should find that it's relatively easy to look this up online. When you have a baseline understanding of the research the institute undertakes, you can adapt your resume accordingly. Ensure that your skills and experience align well with the laboratory's needs. 
Aside from doing research, there are a few other ways to ensure your resume hits the mark. Writing this document can be intimidating at first. However, if you follow some ground rules, you should get the results you want. Be sure to do the following: 
Use clear and concise language! Not all recruiters will understand scientific jargon and phrases. Make sure that your resume can be understood by everyone.
Adopt a formal tone. Lab technicians are respected professionals. You should demonstrate your ability to toe the line within your resume.
Highlight your Unique Selling Point (USP). What is it that sets you apart from the crowd? Focus on any special skills or knowledge you happen to have.
Pepper your resume with keywords to get past the Applicant Tracking System (ATS). Refer back to the job description to find the exact words and phrases to use.
Choosing the best resume format for a lab technician
For most lab technicians, the reverse chronological approach works best. To use this format, you should start with your latest experience and qualifications. Next, work your way backward in time as you move down the page. This structure allows recruiters to quickly identify your most recent accolades. Put simply, it makes their decision easy. 
Of course, that's not the only option. If you want to showcase knowledge of a particular niche or complex skills, you may want to use the functional resume format. This style of application has a larger skills section than other resumes. That means that you can focus on the technical talents that you have gathered over your career. Alternatively, you can use a combined approach, effortlessly blending these two styles of applications.
Generally, we recommend using the reverse chronological approach. However, should you have a particular skill-set you want to highlight, the functional approach is a good option. 
Resume summary example: introduce yourself 
The resume summary is located directly below the header. Much like an abstract outlines what a study is about, your summary gives an overview of your professional experience. This is a four-to-five line blurb that should sell your expertise to a potential employer.
Every word counts. When you're writing your resume summary, you don't want to waste space. For that reason, you should cut out any "I," "I have," or "I am" phrases and get straight to the point. So, instead of saying "I am an Experienced Medical Lab Technician," go ahead and say "Experienced Lab Technician". Keep things short and concise. 
As the most creative part of your lab technician resume, the summary can seem daunting. To get things moving, consider what makes you a unique and valuable candidate. Do you have experience with certain equipment? Have you previously worked in a clinical setting? Draw on whatever elevates your application. Check out our resume sample for inspiration. 
Adaptable resume summary example
Experienced Medical Lab Technician adept at supporting clinical delivery teams by performing standard laboratory office functions efficiently, with a strong ability to make appropriate technical decisions regarding testing and problem solving. 
Employment history sample: tell your story
The next step is telling an employer about your work history. As we have already covered, you will most likely need to use the reverse chronological approach here. Start with the basics: the company or laboratory name, your job title, and the dates of your employment. Below this information, you can add bullet points that go into more detail about each role. 
Consider what the hiring manager is looking for. You should have already conducted your own research — so you know what skills and expertise they require. Use this section to show off how you align with the job description. It's all about drawing key comparisons between the recruiter's needs and the experience you have gathered so far. If you're not sure where to start with this feat, take a quick look at our resume sample. 
Adaptable resume employment history example
Lab Technician, Labcon, Las Vegas 
Aug 2018 - Present 
Performs routine and complex technical procedures according to departmental standard operating procedures.
Routinely collects and manages 60+ patient samples per day.
Conducts clinical laboratory test procedures and offers results in an accurate and timely manner.
Consistently adheres to all local, state, and federal regulations to ensure patient privacy and reliability in testing.
Organizes and prioritizes job duties and tasks to achieve completion within expected time frames.
Assists with managing the inventory of chemicals and laboratory/office supplies.
Discards laboratory chemicals and supplies according to expiration dates.
Performs cleaning, organizing, and general housekeeping of the lab as needed.
Lab Technician, Smart Laboratory, Las Vegas 
Oct 2014 - Jun 2018  
Worked on an emergency team serving patients between 6 p.m. and 6 a.m.
Ensured the health and safety of all patients and employees by complying with all safe work practices and policies.
Performed basic analysis of samples following prescribed procedures.
Routinely tested cylinders for safety and filled cylinders to required specifications.
Set up and calibrated testing equipment to required standards.
Maintained data using both hard copies and electronic records.
Achieved 100% error-free documentation in my four years with the company.
CV skills example: share your talents 
An extensive and robust skill-set is the fast track to a high-performing CV. When you've covered your experience, you might want to move onto this core section. Take the opportunity to optimize your resume for the ATS here. Check out the specific words and phrases the recruiter has used in the job description. You can slide a few choice ones into this section. 
Choosing the right CV skills is all about balance. Yes, you are applying for a technical role but that doesn't mean you should only include hard skills. To turn the recruiter's head, you need a mixture of both hard and soft skills. For example, you may include "analytical thinking" and "clinical chemistry" as hard skills while throwing in "communication" as a soft skill. Let the hiring manager know that you can handle both sides of the job with finesse. 
Adaptable resume cv skills example
Medical Laboratory Best Practices
Venipuncture
Knowledge of Human Anatomy & Physiology
Hematology & Hemostasis
Clinical Chemistry
Analytical Thinking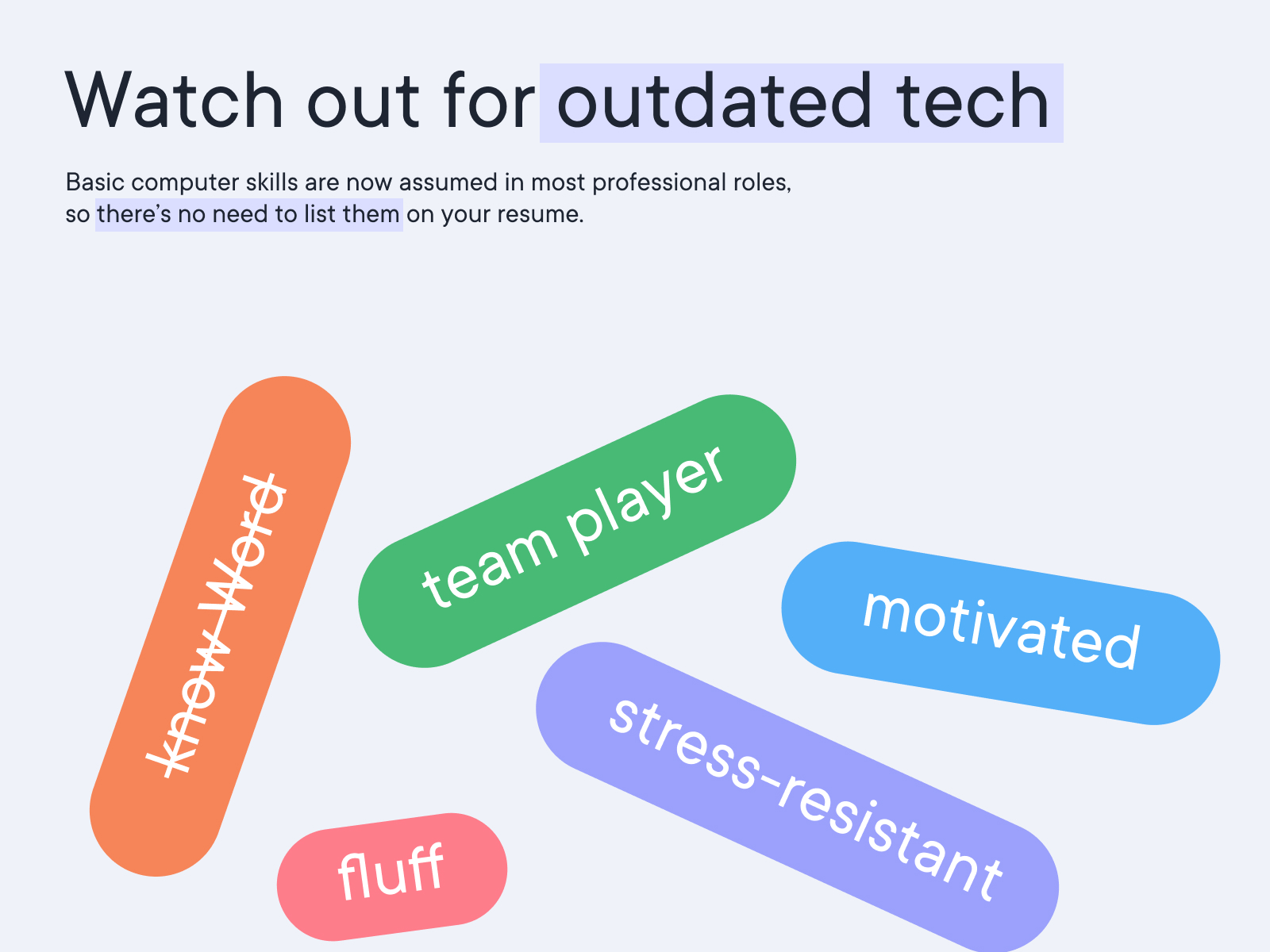 Lab technician resume education example
If you're applying for a lab technician role, you likely have a science-based qualification. Now is the time to shout about it. Once again, you should use the reverse chronological approach — starting with your most recent achievements at the top of your resume.
You can slip in any additional training here too. For example, if you have completed a qualification using a certain program, process, or system, you will want to let an employer know about it. Include it here along with the institute and dates of completion. 
Adaptable resume education example
Weber State University, Medical Laboratory Technician Associate of Applied Science, Ogden, UT 
Sep 2012 - May 2014 
Resume layout and design: first impressions
Recruiters spend around seven seconds looking at each resume before making a decision. That doesn't give you a lot of time to make the right first impression. Designing your resume doesn't have to be hard. However, there are some core rules to follow:
Do
Choose no more than two fonts to use throughout your resume
Leave white space around the various sections of your resume
Make sure that your resume has consistent spacing throughout
Don't
Use a super colorful or overly complicated resume design
Include imagery or graphs — aside from your profile picture
Write a lab technician resume that is more than one page long
We won't beat around the bush. Designing your resume from scratch — and getting the style just right — is a timely task. If you want to make things speedy, check out our field-tested resume templates and let us take care of all of the hard work for you. 
Key takeaways for a lab technician resume
There's a winning formula to writing a lab technician resume — you simply have to learn which elements to include.
Use a combination of hard and soft skills when writing your resume. Recruiters will be looking for a balance of both.
Always do your research! Before writing your resume, look into the job role in-depth.
Take the hassle out of designing your lab technician resume by using a template.