Human resources professionals, and especially the all-important HR director, are an increasingly critical part of the corporate landscape today. And to get a job leading this crucial team, it's more important than ever to have an outstanding HR director resume. 
This HR director resume example and writing guide will cover all the bases of preparing this job-search document. What we'll cover here:
What does an HR director do?
How to write an HR director resume
The five elements of a winning resume
Choosing the best resume format for an HR director
Resume.io is a leading global provider of resume samples and writing guides for workers in all occupations. Take some time to review some of our 300+ resume examples for more tips.
What does an HR director do?
HR directors oversee Human Resources departments, which are responsible for managing a company's most important asset – its human capital. HR departments and their directors play an increasingly proactive role at companies today, not just dealing with problems as they arise but preventing them from arising in the first place.
In this evolving occupation, HR directors have an important place among leading executives at a company. They are involved in long-term strategic planning, recruiting and retaining new talent, training the workforce and overseeing employee performance.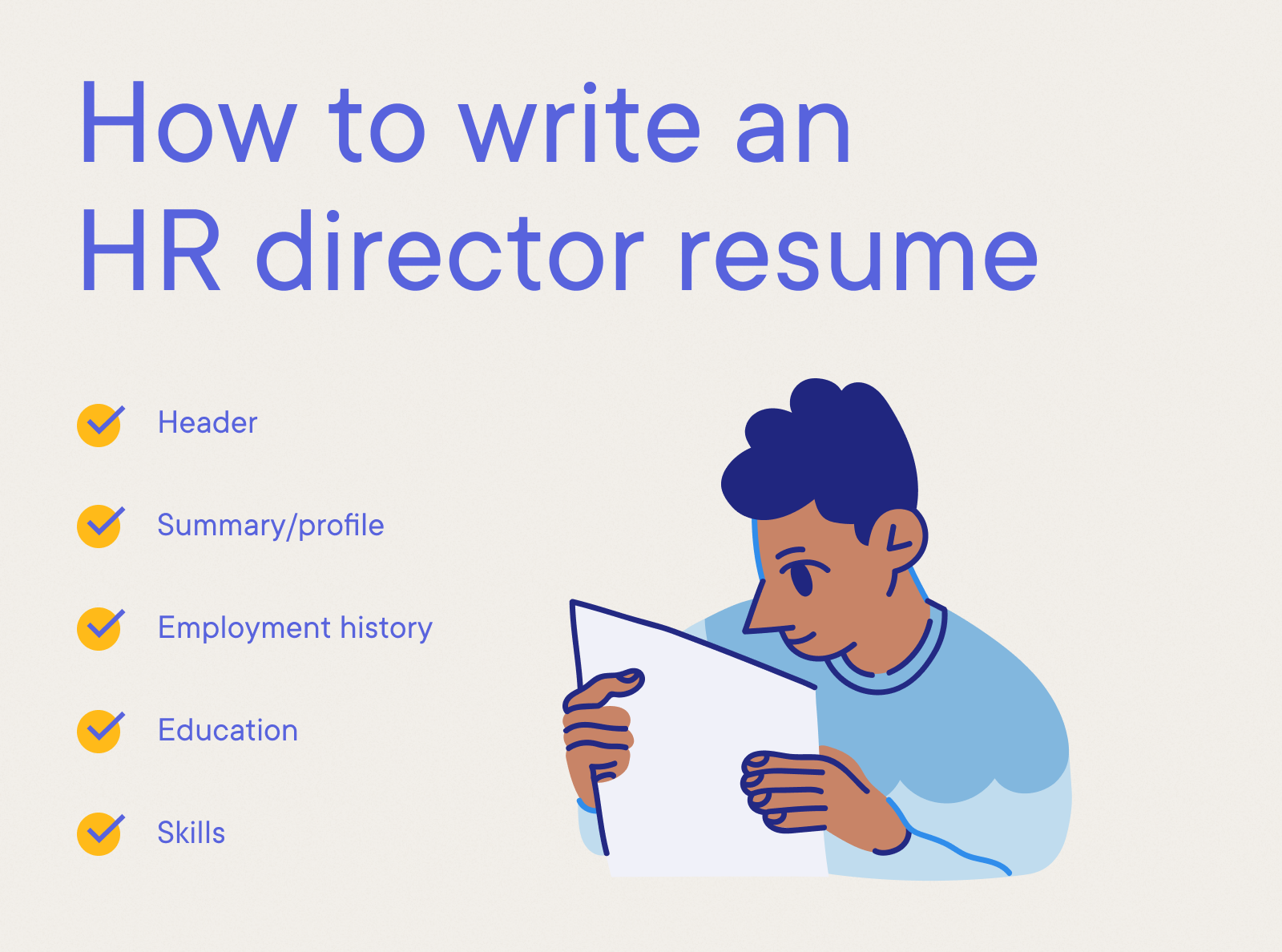 Stand out from the crowd! See other resume examples from the Human Resources field:
How to write an HR director resume
An HR director resume should generally be one page only, consisting of just five elements:
Header
Summary/profile
Employment history
Education
Skills
The header at the top should contain the applicant's name, occupation, address, phone and email. In addition to providing vital contact information, the header should be thoughtfully and attractively designed to set a professional visual tone for the rest of the page. 
Choosing the best resume format for an HR director 
One of the most important formatting considerations is whether to list your employment history in the reverse chronological or functional format. The former is by far the most common, and is most appropriate for those with a mostly continuous history of employment in their fields because it features an employment history section where you can list your previous roles. But the functional format can be useful for those with gaps in their work history, as well as for those who have largely worked as contractors or freelancers rather than full-time employees. You can find out more in our resume formats guide.
Resume summary example: Your professional profile
The resume summary, also known as a profile or personal statement, is a description of yourself and your job qualifications in your own (well-chosen) words. It's usually 2-3 sentences, though these are not necessarily complete sentences, as the word "I" is generally not used.
The summary needs to pack a punch by using original, compelling language, not bland cliches. Typically it will focus on job-related experience, which is key for anyone applying for an HR management position. It may also highlight your education, training and special skills.
Below you'll find the summary from our HR director resume sample. 
Adaptable resume summary example
Experienced and dynamic HR director with 8+ years of experience managing a successful human resources department and providing employees with access to training programs and professional development initiatives.
Expert tip
Be wary of Applicant Tracking Systems ( ATS), which are software programs that employers use to rank resumes according to whether they contain crucial keywords. Employers input the key qualifications they are seeking into the system, which then filters resumes according to searches for these keywords.
Resumes that lack these keywords are often rejected without any human being even looking at them. That's why it's very important to read job listings closely to understand what employers are looking for, and then to make your resume match those job listings as closely as possible. This is also why you should customize your resume for each job application.
HR director employment history sample: Your experience
The employment history section is the place to list your previous jobs: employer name, the location, job title and the duration of your employment. Usually you'll want to list these in reverse chronological order, meaning the most recent position first.
In the bullet points under each heading, be specific, using facts and figures where possible, like the number of employees in your HR department and/or in the overall company, the number of hires you oversaw per year, etc. Check out the employment history section from our HR director resume example.
Adaptable resume employment history example
Human Resources Director, Harold Jones, New York
Mar 2016 - Jul 2021 
Advised a team of 12 HR employees about all strategic decisions.
Fostered employee advocacy to prevent issues from affecting company productivity and employee satisfaction.
Piloted 4 employee programs to raise company morale and employee engagement.
Reviewed and analyzed data and recommended solutions to improve the overall success and productivity of the company.
Established and interpreted HR core processes including: performance management, staffing, and salary planning. 
 
Human Resources Manager, Alessia Corporation, New York
Jun 2012 - Apr 2016
Provided coaching, feedback and development for 30+ employees.
Utilized strong interpersonal and team building skills.
Oversaw and managed all HR functions, programs, and practices.
Ensured proper on-boarding for all new hires.
Helped to manage and oversee annual performance review processes.
Worked to effectively manage the resolution of complex employment matters.
Resume education sample: Your formal training
A college education is usually required for an HR director, preferably in some business field. In this section, name the universities you've attended, their locations, the years you attended and the degrees you earned. Use reverse chronological order, listing your highest degree first. 
You may also list any special training or certifications you hold. If you have a postsecondary degree, it's not necessary to mention what high school you went to. The education section from our HR director resume sample appears below.
Adaptable resume education example
Manhattan College, Bachelor of Science in Human Resource Management, New York
Sep 2008 - May 2012
Magna Cum Laude 

Iona Preparatory School, High School Diploma, New Rochelle
Sep 2004 - May 2008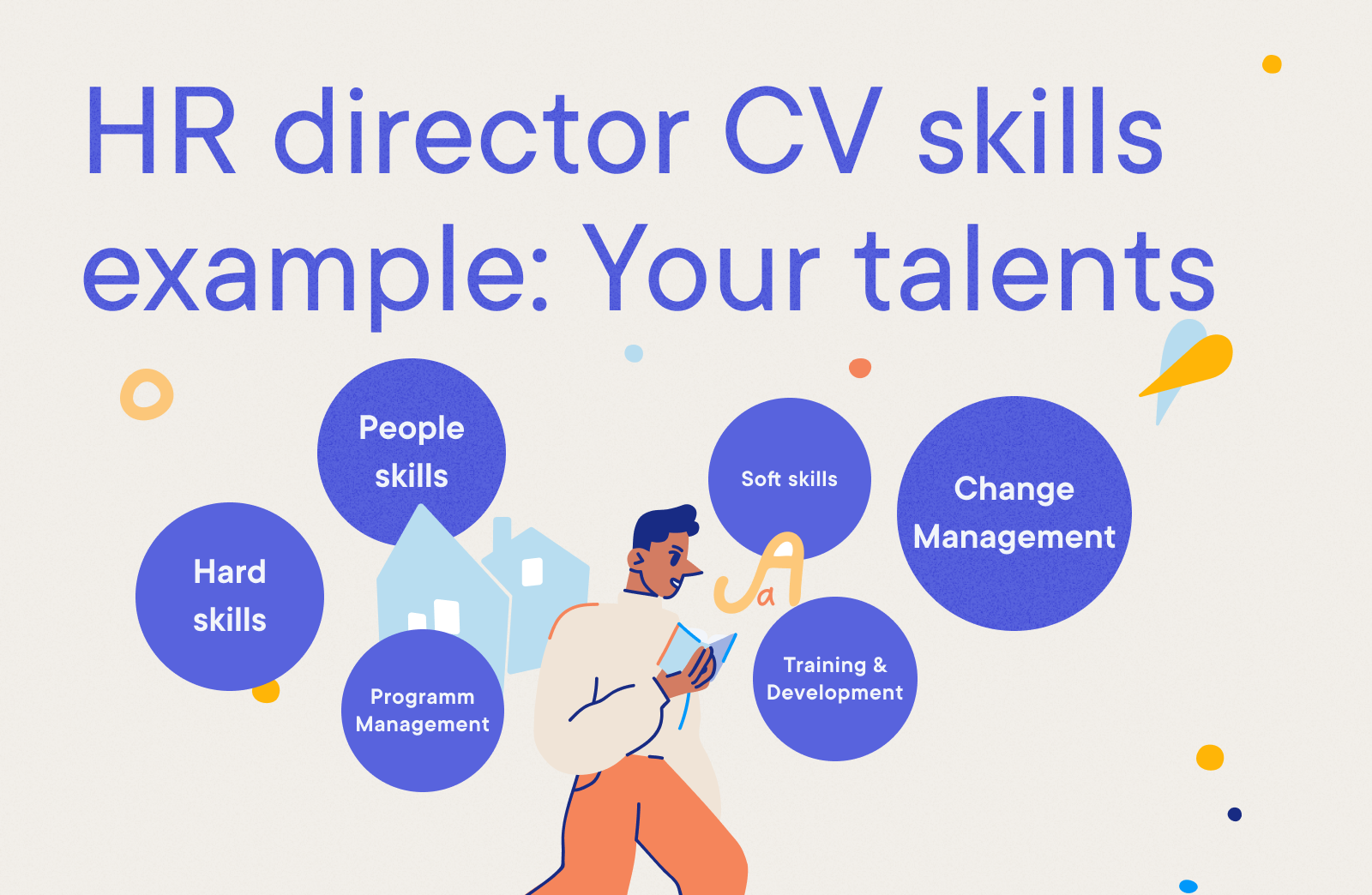 HR director CV skills example: Your talents
Include a list on your CV of your special skills. (A CV, by the way, is merely the word used to describe a resume outside of North America.) 
Try to include a mix of hard and soft skills. Hard skills are technical capabilities needed for your occupation, typically learned through special training or on the job. Soft skills are interpersonal " people skills" like good communication and leadership talents.  
See the skills section from our HR director resume sample below.
Adaptable resume skills section example
ATS & CRM Software
HRIS Technologies
Training & Development
Program Management
Change Management
Employee Recruitment & Retention
Resume layout and design
The look and feel of your resume helps you portray yourself as a serious and motivated candidate. That's why it's important to send the right message from the moment the hiring manager sets eyes on the layout and design. Make sure to balance the amount of white space to text and use the same 1-2 professional font styles throughout your resume.
If you don't want to leave anything to chance, you may consider using a resume template which will allow you to focus on the writing while still giving you the option to customize design elements.
Key takeaways
Your HR director resume should contain the five essential sections of a great resume.
Pay attention to the demands of ATS software, and be sure you are delivering a resume that contains the qualifications the employer is looking for.
Tailor your resume for each employer, highlighting the skills it's looking for.
Check out our HR director resume example for more ideas on how to create an effective layout and design.
Best of luck in your job search!