Ready for your next career move as a legal assistant? You'll need an outstanding legal assistant resume for 2023 and beyond to stand out in any large pool of job applicants. 
But you've come to the right place, as resume.io is a global leader in occupation-specific resume examples, templates and preparation advice. That includes more than 300 different job-winning resume samples and writing guides.
Let's take a deep dive into what a legal assistant is and the all-important resume that will land you your next job. This resume writing guide, along with the corresponding legal assistant resume example will cover these topics:
Role of legal assistants and the job market outlook
General writing tips for a legal assistant resume
The best format for structuring your legal assistant resume
Advice on each resume section: header, summary, work history, education and skills
Professional resume layout and design hints.
What does a legal assistant do?
The first thing to know about applying for a legal assistant job is that there is broad disagreement on what a legal assistant is. "Paralegals" and "legal secretaries" are both non-lawyers who assist lawyers. The question is whether "legal assistants" means paralegals or legal secretaries. 
Paralegals have legal training, assist attorneys directly in preparing cases, generate hours billable to clients, and usually make more money. Legal secretaries generally perform administrative tasks in a law office and require less specialized training. 
The American Bar Association (ABA), the top regulatory body for attorneys in the United States, in 1997 updated its definition of "legal assistant" to include paralegals. However, in 2020 the ABA adopted a new definition of "paralegal" that excludes "legal assistants", leaving the second term in limbo. 
Adding to the confusion, the Bureau of Labor Statistics (BLS), the leading source of occupational information in the U.S., still compiles data for "paralegals and legal assistants" as if they are one and the same. In fact, in charting employment and wages for "Paralegals and Legal Assistants" in its Occupational Employment Statistics, the BLS includes a note that says, "Excludes 'Legal Secretaries'."
So according to the ABA, a "legal assistant" is not a paralegal, but according to the BLS, a "legal assistant" is not a secretary! Having said all that, the job descriptions, qualifications and skills needed by paralegals and legal secretaries are similar. Consult our guide to resume preparation strictly for paralegals. And consult our expert advice on preparing a resume for any occupation. 
Gray areas aside, this guide will offer step-by-step advice on how to prepare an outstanding resume for any lawyer's assistant. What we'll cover:
The job outlook for legal assistants depends entirely on how you define them, and the news is both good and bad.
Whether you're in a job market that's growing or shrinking, an outstanding resume is essential to landing the job that's right for you.
Your resume must offer prospective employers a succinct, persuasive and well-written pitch that makes you stand out from the crowd.
Resumes must avoid the sand traps of automated electronic systems that can mark them for deletion before a human being even looks at them.
Legal assistant job market: good news and bad
The BLS job outlook for paralegals (and legal assistants defined as paralegals) is gangbusters, with a projected growth of 10% between 2019 and 2029 — much higher than the average for all professions. One reason is that law firms seeking to streamline their costs are turning increasingly to paralegals/legal assistants to create hybrid roles somewhere between what lawyers and lower-level support staff previously handled. 
If you've ever seen a TV commercial saying, "We don't get paid unless YOU get paid," you may surmise that law firms have an interest in cutting their overhead. A law firm where highly paid lawyers handled everything would have to pass these high costs on to clients, thus attracting fewer clients and adversely affecting the firm's bottom line. But the less it costs law firms to manage legal cases, the lower the costs they must pass on to their clients, increasing both their client base and their profits. Enter the "legal assistant."
However, the news is not good for the sector defined by the BLS as "secretaries and administrative assistants," which includes legal secretaries. Employment for secretaries/executive assistants of all kinds is expected to decline 9 percent from 2019 through 2029. Employment for executive secretaries/executive assistants is expected to plunge 22%. And employment for legal secretaries is projected to plummet 22%. The only good news here is for medical secretaries, a sector in which job demand is expected to grow 10%.
Statistical insight
BLS employment projections data for secretaries and administrative assistants, 2019-29:
| | | | |
| --- | --- | --- | --- |
| Occupation | Employment 2019 | Projected Employment 2019 | Percent Change |
| Secretaries and administrative assistants | 3,638,800 | 3,311,400 | -9% |
| Executive secretaries and executive administrative assistants | 593,400 | 472,400 | -20% |
| Legal secretaries and administrative assistants | 171,800 | 133,800 | -22% |
| Medical secretaries and administrative assistants | 623,400 | 682,700 | +10% |
What does this mean to you? If you are seeking a job as a legal secretary, now is the time to find one, because you can expect slim pickings in the years ahead. But in any employment market, at any time, an outstanding resume is essential to compete successfully for a limited pool of jobs. 
How's the pay? 
The median annual salary for paralegals/legal assistants in the U.S. was $52,920 in May 2020, according to the BLS. Not bad for an occupation that doesn't usually require a college degree. Legal secretaries, as defined by the BLS, were not far behind with an average annual salary of 48,980. (By comparison, lawyers earned a median salary of $126,930 in 2020 — the better to get busy paying an average student loan debt of close to $150,000.)
Statistical insight
According to the BLS, the industries employing the most legal secretaries in May 2020 (paralegals not included) were the following: 
| | | |
| --- | --- | --- |
| Industry | Employment  | Annual Mean Wage |
| Legal services | 132,740 | $53,110 |
| Local government*  | 10,210 | $49,430 |
| State government*  | 8,470 | $48,990 |
| Insurance carriers | 1,270 | $57,080 |
| Management of companies and enterprises | 1,150 | $58,600 |
*Excluding schools and hospitals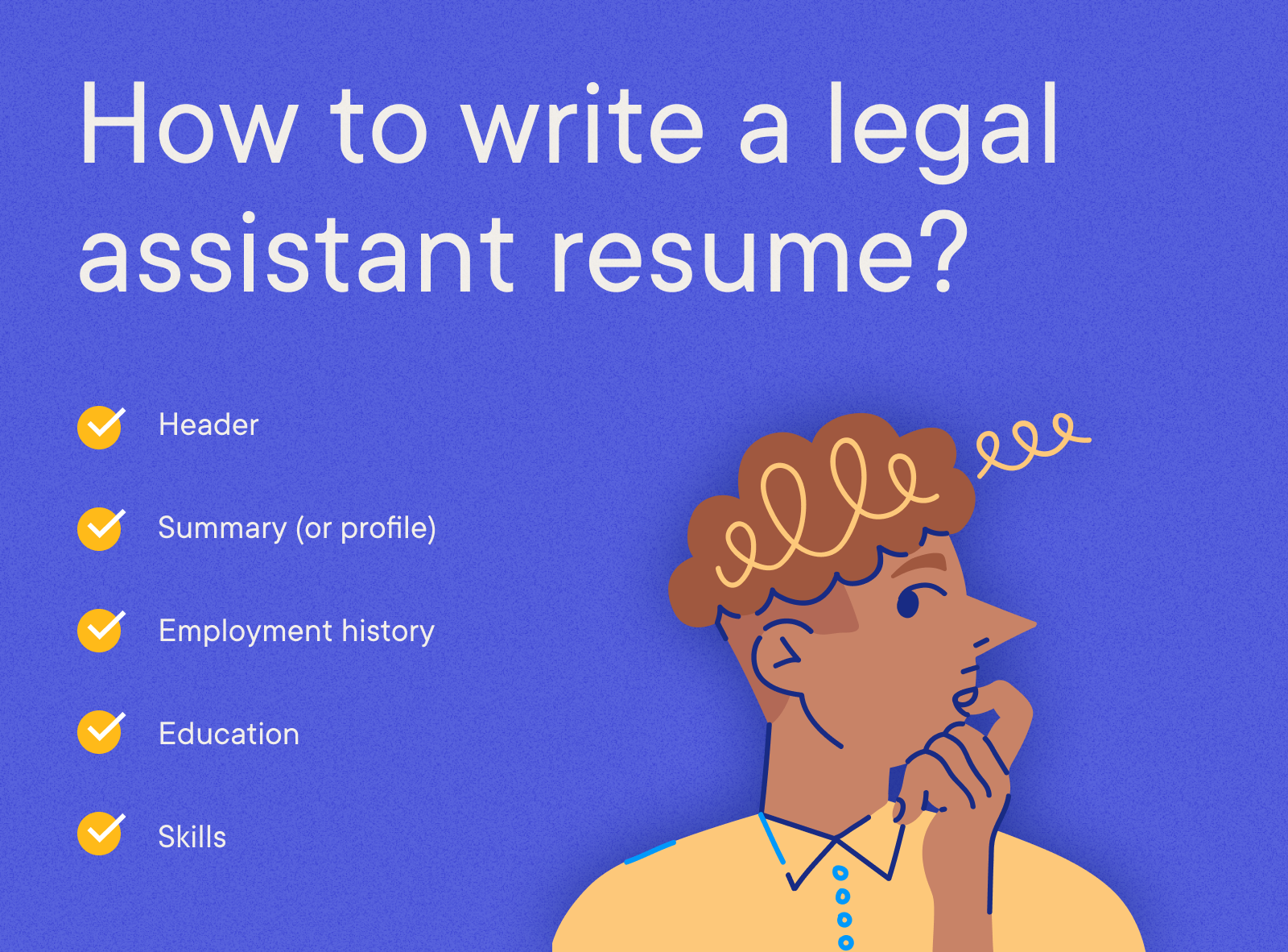 How to write a legal assistant resume
Law firms stand on formality, propriety and tradition, and your legal assistant resume should reflect all of these principles. 
Formality: Make your resume look professional and polished, buttoned-down and all business. Avoid anything splashy or gimmicky.
Propriety: Your sense of humor may be appreciated once you get the job, but make your resume proper and no-nonsense.
Tradition: Follow the time-honored style and structure for resume structure, and don't try to reinvent the wheel.
A legal assistant resume should be one page only, a maximum of 400 words, and you need to choose those words very carefully. These are the essential elements in your legal assistant resume:
Header
Summary (or profile)
Employment history
Education
Skills
Start with a well-designed header that contains your name, occupation, address, phone number and email. Your contact information is obviously important so that employers can reach you if they're interested. But the header also serves as an important design element at the top of your page, making the resume look attractive at a glance.
Take a look at some of Resume.io's expert-designed resume templates to get an idea of what attractively designed headers look like. Choose a design, replace the header text with your own, and you're off to a good start.
We'll talk about the other four resume components, step by step, after briefly mentioning format options.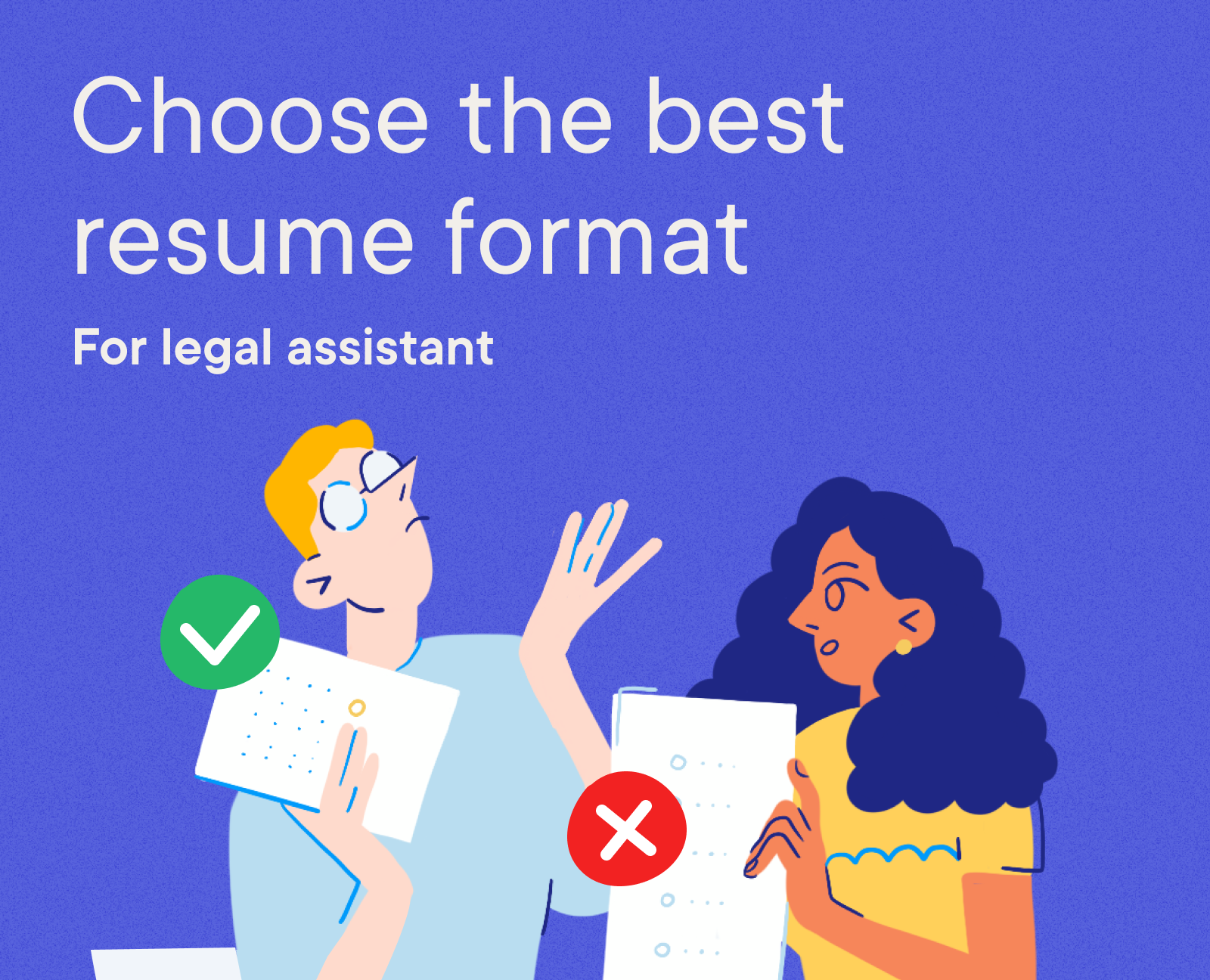 Choosing the best resume format for legal assistants
The most commonly used chronological resume format is likely the best choice for structuring your legal assistant resume. It provides the most straightforward overview of your career highlights in the employment history section, where previous positions and accomplishments are listed in reverse chronological order.
But if you are making a radical occupational change, or your background has not followed a linear path of employee positions, you might want to consider another resume format. A functional or hybrid (combination) resume format may be suitable for highlighting specific skills or accomplishments instances that are especially relevant or transferable. 
Resume summary example: make your case
Your legal assistant resume summary (sometimes called the profile of personal statement), is a description of your professional character, history, achievements and qualities. In your own words, it makes your first, best case for why you would make an outstanding hire. 
The profile is the part of your resume that employers will read first, so make it count. You must make an irresistible pitch, selling yourself as precisely the candidate your target is looking for. Make this personal, be creative, and pull out all the stops (without artificial exaggerations). You may be accustomed to toiling in a quiet supportive role, never blowing your own horn. But this is not the place to be humble.
Be assertive, be positive, be confident. It's been said that one key to becoming a powerful person is to act more confident than you feel. That's not a bad rule of thumb in writing your resume summary. Remember that if you don't make a strong case for your candidacy, nobody else will. 
Good English spelling, grammar and punctuation are also crucial, so don't even think of sending off a resume with a careless typo. If necessary, find an editor to revise your English to perfection (and/or use online tools that streamline the writing process).
ATS: Get past the gatekeeper
Because job listings often generate a flood of resumes, most medium-size and large employers use an applicant tracking system (ATS) to filter them. This is an electronic algorithm that searches for keywords and phrases that the employer inputs to the ATS as critical to the listed job. If your resume does not mention these crucial job skills, the ATS bot will rank it as unworthy of review by a human being. That means … case dismissed! Nobody will even bother to read your resume in such a scenario. 
On the other hand, if your resume mentions the precise qualifications the employer is looking for, the ATS algorithms will give it a high ranking, green-lighting it for further review. 
How do you pass this test? Don't fly blind! If you're responding to a job listing, read it carefully to find out precisely what job skills the employer is seeking. If you have these skills, be sure to mention them in your resume. 
Expert tip
Be mindful of varying terminology and professional jargon. The words or acronyms you use may be different from the terms used by the employer or job listing, even if they describe the very same skill, phenomenon or certification. Err on the side of caution and use the same job description wording as listed, since the ATS software may be blunt at times in its evaluation.
If you are targeting an employer that isn't advertising a specific job, scour its website (or other sources) to determine what kinds of legal assistance would be sought. Do some research, study your target and tailor your resume to that employer. Bear in mind that a resume should be a flexible, editable document that you revise for each prospective employer. All jobs are not created equal, and all resumes shouldn't be either.
Below is a legal assistant resume example summary you can customize.
Adaptable summary resume example:
Highly effective and experienced Legal Assistant with extensive knowledge of the general office procedures and support required to assist in a legal environment. Bringing forth knowledge and experience of court procedures, government regulations, drafting research documents, and handling legal correspondence. Adept in creating and revising legal documents, including depositions and court filings. Experienced in maintaining office and client records by applying excellent organizational and office management skills on a daily basis. An effective collaborator who maintains close working relationships with co-workers, supervisors, and clients.
Employment history sample: your relevant experience
If you have years of experience as a legal assistant, you probably have a good idea what to do here. List the jobs you've held in reverse chronological order (most recent  job first), with bullet points under each employer describing what you accomplished there or how you handled your duties. 
Avoid saying "Assigned to" or "Responsible for," and use strong action verbs to describe what you actually did: "Managed database of clients," "Researched relevant case law," "Drafted letters and briefs," etc. If you interned or volunteered at a law firm or a similar entity involved in legal issues, by all means mention that here.
If you don't have a job history in the legal field, take a close look at the job experience you do have and describe how your past employment shaped you for a career as a legal assistant. All work is honorable, and just about any job may have helped prepare you for this career. 
Legal assistants need to be meticulous, motivated, organized and self-directed. Give some thought to how your past jobs demonstrate that you have these qualities, and point this out on your resume.

You can find a legal assistant employment history resume sample below.
Here's an adaptable legal assistant employment history resume sample:
Acted as liaison with the Assistant District Attorney's Office to determine charges and submit orders of protection
Coordinated immigrant detainee correspondence and other legal materials
Answered email and phone inquiries about issues of immigration law
Performed research for relevant cases presented to the District Attorney's Office.
Legal assistant resume education example: Let the record show
For a job that pays about $50,000 a year, it's a bit surprising that paralegals, legal assistants and legal secretaries do not necessarily need a 4-year bachelor's degree. For paralegals (and legal assistants defined as paralegals), a 2-year associate's degree in paralegal studies is the norm, or else a bachelor's degree in any field and a paralegal certificate from a program approved by the ABA. Paralegal coursework typically includes classes in legal research and writing, computer skills and various types of law. 
While the terms "paralegal" and "legal assistant" are often used interchangeably, the more prestigious "paralegal" designation is generally applied to those who have earned certification in the field. For more information on certification for paralegals, go to the National Association of Legal Assistants. 
Legal secretaries (and legal assistants defined as such) generally need no more than a high school diploma, supplemented by some amount of job-specific training. Whatever your educational history, present it in this section of your resume in reverse chronological order. Include any certifications or other job-specific credentials. 

Below is the education section from a legal assistant resume example.
Resume example of a legal assistant education section:
2001-2005 London College, Bachelor of Business Studies, Wembley, UK
1997-2001 The Hampshire School, High School Diploma, Chelsea, UK
CV skills example: may it please the court
Make sure to devote ample attention to your legal assistant CV skills section. (And by the way, in most cases a CV is simply the common word used for a resume in countries outside the U.S. and Canada.)
Skills are the bread and butter of most professions, but they're vitally important for you as a legal assistant. While a lawyer or a manager can wow people simply with their eloquent profile or rich work experience section, you are more of a hands-on specialist. 
Whether you're a bricklayer or a brain surgeon, your resume should include one section that spells out the special skills that make you unique. But you're not a bricklayer, so…. Organization. Communication. Research skills. Ethics. Computer skills. Knowledge of the law. Your talent here. 
There are also lots of clichés to choose from, like "team player," "self-starter," and "detail oriented." To quote another cliché: Don't go there. 
This age-old resume advice also bears mentioning here: value both your hard skills and your soft skills. The first category is your bread and butter: the practical technical skills, legal (or law-adjacent) knowledge. Basically, anything that requires pragmatic expertise or is related to a specific task is a hard skill. 
Your soft skills are a bit vaguer, but often no less important. They define your interpersonal interactions, dealings with clients and co-workers, self-discipline and so on. You can choose to highlight these as personal qualities in your summary section, as long as you don't repeat yourself.  What matters is not neglecting to show your human side at least a little. 
To narrow down and prioritize the skills you choose to mention, we suggest keeping a master list handy. Start by brainstorming ALL your skills and list them on a separate document (go wild there). Then when tailoring your resume to this specific job and employer, cherry-pick from the master list those skills that are most appropriate. Always remember that bloating your resume is the cardinal sin, so choose wisely.
Statistical insight
These are some of the vital skills for paralegals and legal assistants, according to the BLS:
Communication skills: Critical for presenting research and other relevant information to supervising attorneys
Computer skills: For legal research, litigation support and organization of important documents
Interpersonal skills: To develop good relationships with clients and fellow legal professionals
Organizational skills: The ability to juggle multiple cases at once on changing deadlines
Research skills: For gathering facts specific to a case and researching relevant laws and regulations
Check out a legal assistant resume sample for the skills section below.
Adaptable example of the skills section on a legal assistant's resume:
Client Acquisition
Excellent Customer Service Skills
Negotiation and Closing Techniques
Strategic Planning.
Resume format and design: without objection
Keep your resume clean, simple, direct and free of gimmicky design elements or splashy colors. And keep it short. 
One of the biggest oxymorons in law is the term "legal brief," since lawyers tend to write as if they're being paid by the word. The 1998 Starr Report, summarizing the special prosecutor's evidence for the impeachment of President Bill Clinton, was 453 pages long — prompting one entrepreneur to print it on a roll of toilet paper. 
You don't get 453 pages. You get ONE. Make it count. We've all paged through a magazine (or scrolled through a website), not so much reading the words as scanning the visual elements. When we see an eye-pleasing layout, we stop to read, but when we see big blocks of black text, we turn the page. Think of hiring managers like magazine readers, paging through dozens of resumes, and give them a reason to stop and read.
And by the way, if you're planning to create your resume in ClarisWorks on your 1998 iMac, think again! Unless an employer requests otherwise, resumes should never be submitted in any format except PDF (the main exception being some very specific ATS systems that require Word files).
Whatever computer you're using, and whichever version of whatever application, it may look fine on your screen and look terrible on someone else's. PDF is the gold standard for preserving clean and elegant formatting. 
The aforementioned ATS software, incidentally, will also filter out resumes with buggy formats. Sidestep these traps by using Resume.io's proven resume builder tool and HR-tested templates.  In no time, you'll have a professionally designed resume with none of these problems.
Key takeaways for a legal assistant resume
The definition of "legal assistant" is in flux, with "paralegal" jobs on the rise and "legal secretary" jobs on the wane. Position yourself to take control of your career.
Tailor your resume to each prospective employer, always mindful of the automated systems that can disqualify you at the starting line.
Make your case with a strongly written resume summary, employment history, education section and skills list.
Creating an eye-pleasing page that is complete but not too dense.
You get one shot to submit a flawless resume the first time. There are no appeals!
Take no chances by using the proven resume maker and templates at resume.io, designed by experts to help you put your best foot forward.