When new job prospects intersect with a pastor's calling at promising career crossroads, it takes more than divine intervention to influence hiring outcomes in your favor. While eloquence in preaching may be a deciding factor when the hiring team interviews you, that won't happen without a pastor resume showcasing the whole gamut of your talents and accomplishments.
As a testament to this universal job search reality, Resume.io has created more than 350 occupation-specific resume samples and writing tips.
The guide you're reading now is designed to help pastors shine a light on their worthiness as guiding shepherds. Here's what we'll cover in this writing guide and corresponding adaptable pastor resume example:
What pastors practice when not preaching to their congregation
How to write a persuasive pastor resume, founded firmly on the proper structure and most suitable format
Making connections between your past performance and future promise in each resume section: header, summary, work history, education, and skills
Visually projecting the professional, yet approachable, image befitting a pastor
What does a pastor do?
Not all pastor jobs are cut from the same cloth — pardon the pun — nor is everyone in comparable clergy roles referred to as a pastor. Aside from the distinction of usually being leaders of Christian (typically Protestant) church congregations, pastors perform many of the same spiritual functions as their counterparts in other religious faiths and denominations. That includes organizing and conducting worship services, and performing ceremonies such as baptisms, weddings, and funerals.
The Latin noun pastor means "shepherd," while the verb pascere, means to tend or feed a flock. The modern-day shepherd metaphor for a church congregation leader is rooted in numerous biblical references.
Preparing and preaching sermons is at the core of most pastor job descriptions. Providing spiritual and moral guidance to members is another duty, along with visiting the sick and comforting those going through difficult times.
In addition, there are parallels with a CEO's management duties, The scope of this operational role usually depends on congregation size, financial resources, governance complexity, and how many church employees and volunteers serve in supporting capacities. No matter how large or small the church, pastors typically have a role in coordinating fundraising and community outreach activities.
Statistical insight
According to job-evaluator.com, annual U.S. pastor salaries in 2023 range from $35,000 to $112,000, depending on level of experience and expertise. The average (mean) is $59,000. 
Church size is a significant factor affecting pastor salaries. A 2019 National Congregations Study determined that 68% of all U.S. evangelical churches have less than 100 people in their congregation, and 90% have less than 350 people attending each week.

Stephan Coté elaborates in a churchstaffing.com article on other key salary considerations, including type and scope of pastor role, church budget, geographic cost of living differences, and congregation member income.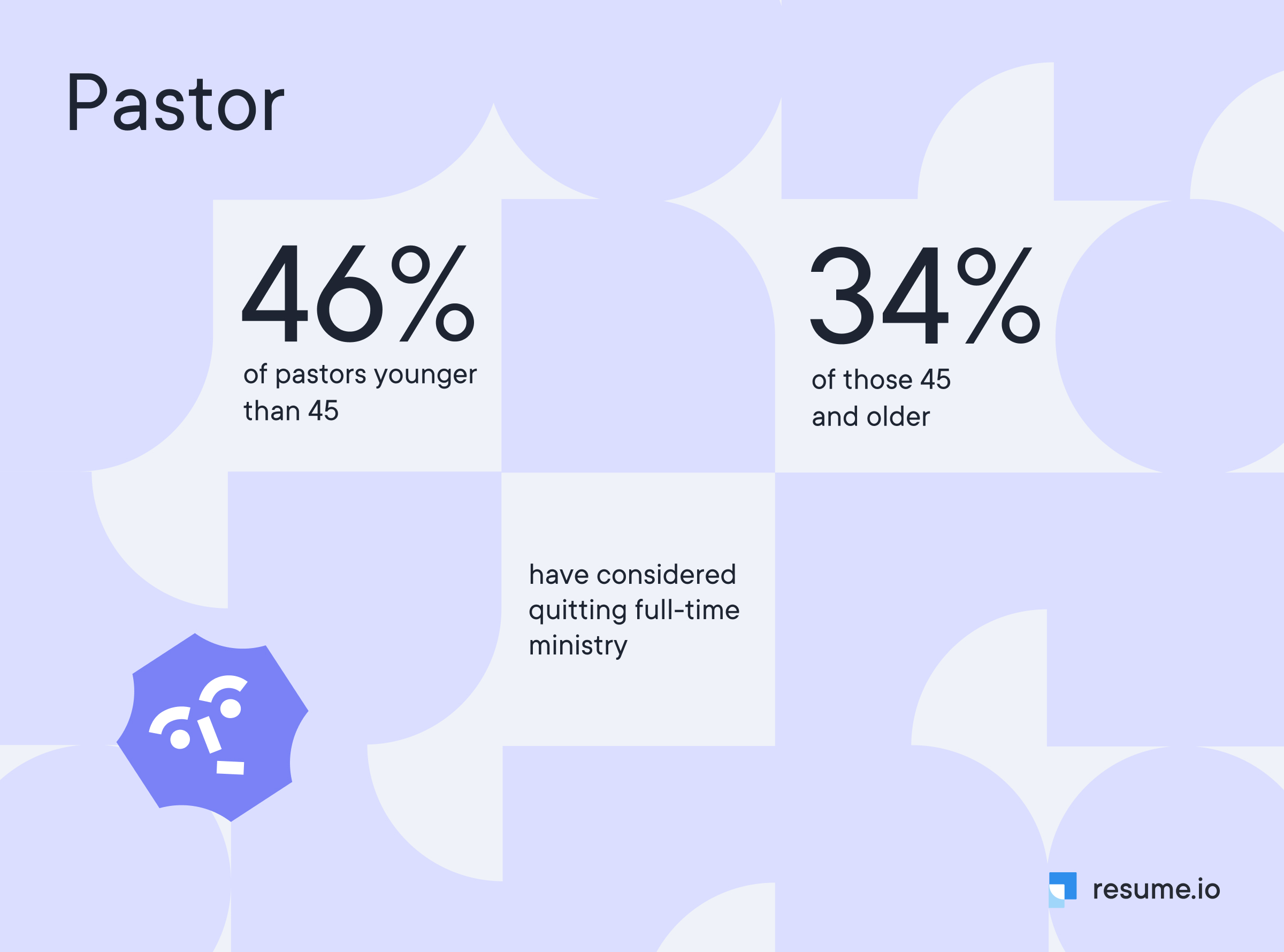 How to write a pastor resume 
From scripture readings and council meetings to baptisms and wedding ceremonies, structure and order are integral to a pastor's core presiding roles. The same goes for writing a resume, which should always be organized to include these essential sections:
Header
Summary
Employment history
Education
Skills
The sum of these parts will be a cohesive one-page overview of your most compelling attributes as the best pastor job match. It's crucial to target your resume to the specific hiring requirements. Become thoroughly familiar with what the job entails, as outlined in the posted recruiting ad. Do additional research online and through your own contact network. Only then are you equipped to customize your resume with directly relevant content. 
Also, pay attention to job ad language that you can replicate in your pastor resume. Incorporating keywords is the best safeguard against rejection by an applicant tracking system (ATS) if the hiring organization uses one to screen online submissions. 
Choosing the best resume format for a pastor
With rare exceptions, the chronological resume format is the best way to structure your pastor career overview. Professional experience highlights appear below dated employer headings, starting with your current or most recent position and working back to your earliest.
Consider using another resume format only when it makes sense to emphasize key skills instead of employers. If you lack pastor experience or are changing careers, a functional resume or the hybrid (combination) format, might suit your needs.
Resume header
When choosing an eye-pleasing header design for your pastor resume, you'll find many degrees of visually ideal separation between lackluster and flamboyant. Select one that inspires confidence in your professionalism while being distinctive enough to get noticed and remembered. Reinforce the impact by applying the same header design to your pastor cover letter.
Consider the header's functional purpose too. Its placement at the top of the page, or along one side, adds white space so the whole page looks more inviting to read.  And the prominence of your identifying information — name, occupation, email, and phone number — ensures recruiters will see this first and can easily retrieve it later to contact you. 
Pastor resume summary example
Only with an exceptional pastor resume summary can recruiters be instantly persuaded that you're an exceptional candidate. This upfront career snapshot is no warm-up act; it's a wake-up signal to readers whose eyes are glazed over from the sameness of everyone else's job application.  
Confined to just a few succinct statements, the summary — sometimes called the profile or personal statement — is where you pinpoint the employer's hiring priorities in a "why hire me?" value proposition. Lead off with your highest-level match to the experience and expertise being sought. Then cite two or three of your most glorious pastoring achievements.
Show, don't merely tell, what you can do for the hiring church by following your own precedents. Grow the congregation? Improve church attendance? Increase offering envelope amounts? Adding pertinent facts and figures lends credibility and optimizes the "wow" impact.
Below is a pastor summary sample you can modify to write your own.
Adaptable summary resume sample
Progressive pastor with proven dedication to caring for the spiritual needs of a diverse community in accordance with the tenets of Christian faith. Demonstrated success in increasing compassion, trust, and hope by providing a safe and inclusive space for worship. Skilled church administrator, adept at managing budgets to fund multiple services per week, staff salaries, building upkeep, community programs, and other expenses.
Employment history sample
Again, the specific requirements you've researched for this pastor position are the foundation for your resume's work experience section. Compose bullet-point descriptions for each church post you've held, zeroing in on what your next employer needs and wants. For instance, if that congregation has struggled with declining youth participation or unmet fundraising targets, any relatable success stories you can share take precedence here.
While illustrating growth and progress over time, your employment history does not have to cover every past job or learning curve. Avoid repetition by describing similar relevant duties or accomplishments only once.
Also, avoid boring the church hiring team with generic lists of pastor responsibilities that are taken for granted. Talk less about what you did, and more about how well you did it to achieve beneficial results. Recruiters are keenly interested in specific problems you helped solve by taking specific actions. As noted earlier, quantifying your bullet points with numbers, percentages, or dollar amounts to illustrate impressive outcomes is an effective way to stand out from the crowd of other pastor contenders.
Below is a pastor employment history example to illustrate.
Adaptable employment history resume example
Pastor at Church of Christ, Ewing, NJ
August 2018 - Present
Oversee the spiritual health of a diverse community, supporting the religious needs of parishioners of all ages.
Write and deliver engaging, relevant sermons, effortlessly connecting biblical tenants to current real-world problems.
Cultivate relationships with community leaders and position the church as a key resource in addressing critical issues.
Lead programs providing food, clothing, and other resources to all community members in need, regardless of religious affiliation.
Diligently manage church funds, track expenditures, and drive fundraising initiatives to increase donations.
Revitalized congregation and grew weekly church attendance from ~25 to more than 150.
Assistant Pastor at New Tennant Church, Englishtown, NJ
November 2015 - August 2018
Collaborated closely with senior pastor to care for congregation's spiritual needs.
Assisted in managing budget, controlling expenses, and effectively using limited funds.
Prepared and delivered sermons at mid-week and evening services.
Pastor resume education example
Education requirements for pastors are not uniform, but a master's degree in divinity, theology, or a related field is often a hiring prerequisite.
Start your resume's education section with a list of relevant college degrees, in reverse chronological order, from highest to lowest level. Then add any commitments you've made to lifelong learning through certificate programs, certifications, courses, workshops, conferences, and society memberships.
Below is the education section from a pastor resume you can adapt.
Adaptable education resume example
Master of Arts in Social Justice at Union Theological Seminary, New York 
September 2020 - June 2022
Master of Divinity & Social Work at Union Theological Seminary, New York
September 2015 - June 2019
Bachelor of Arts in Religion at Thomas Edison State University, Trenton, NJ 
September 2011 - June 2015
CV skills example
It goes without saying that pastor job applicants have the ability to preach and to lead and care for congregation members. Obviously, these core strengths must come across in your pastor CV — either on the skills list or implied in your summary or employment history highlights.

But what else do you have to offer your next employer in the way of game-changing skills? How could you gain an edge over other worthy applicants by mentioning them in your pastor resume?
The churchstaffing.com article 7 Skills Every Pastor Must include on a Resume provides some ideas for identifying your own highly sought skills.
| | |
| --- | --- |
| Skill | Usual Synonyms |
| 1. Pastor | spiritual care, shepherding |
| 2. Relator | soft skills, people skills, interpersonal skills |
| 3. Communicator | public speaking, speaker, large group communication, teacher |
| 4. Builder | team building, organization, administration, planner  |
| 5. Inspirer | vision casting, guiding capacity, |
| 6. Multiplier | leadership development, discipleship |
| 7. Creator | culture creator  |
Check out a pastor CV sample for the skills section below.
Adaptable skills section resume example
Spiritual counseling
Community engagement
Conflict resolution
Public speaking
Sermon writing
Fundraising
Practical theology
Program coordination
Interreligious engagement
Resume layout and design
According to church employment expert Shayna Heron, deficient resumes are the no. 1 reason pastor job applicants fail to land interviews. "This one piece of paper represents everything professional about you to potential employers," she stresses. "Make it count. Don't sell yourself short with a sub-par resume."
That includes not stopping short of visual excellence, after painstakingly ensuring your resume content checks every best-hire box. Strive for simplicity, which need not be synonymous with staid or somber.
An orderly resume layout guides readers from one clearly labeled section to the next. Design elements enhance legibility, never detracting from a clean, uncluttered overall look. All text formatting details have the same goal, from font styles and sizes to line spacing and margin widths. 
Expert tip
Let Resume.io be your guiding light on the path to a great-looking pastor resume. Our field-tested resume templates are yours to adopt as you wish. From the four style categories available, we recommend a simple or professional design. Our builder tool makes it easy to personalize with your own replacement text.
Key takeaways for a pastor resume
As any pastor can attest, there's a lot more to the job than pulpit preaching. Don't overlook your other shepherdly strengths when writing an interview-winning pastor resume.
Seldom are any two pastor positions exactly alike, and neither should any two job applications you submit. Be sure to tailor a new version of your resume to precisely fit each set of pastor job requirements.
Set aside your modesty when highlighting the professional achievements that recruiters care most about.
Visual excellence improves the odds of your resume getting more than a passing glance. Using a professional resume template is the ideal way to achieve flawless results.