Depending on your personal circumstances, the trials and tribulations of self-employment might be a welcome relief or a logistical necessity. Either way, a self-employed resume is a powerful tool in pinning down lucrative client jobs.
One of the beauties of being self-employed is that there are a variety of ways to communicate your skills and services. However, the truth is that many clients simply know what to expect when it comes to reading a good, old-fashioned resume. When this is all that's standing between you and sealing the deal, you want to make sure your resume sells you as the right person for the contract in question.
Resume.io has helped millions of people write job-winning resumes. Their online resume builders, resume templates, and resume examples can help you craft a resume that will draw new clients to you like magnets. We've compiled this step-by-step guide to help you land your next self-employed contract. This resume guide and the corresponding self-employed resume example will cover the following topics:
What does a self-employed professional do?
How to write a self-employed resume (tips and tricks)
The best format for a self-employed resume
Advice on each section of your resume (summary, work history, education, skills)
Professional resume layout and design hints.
What does a self-employed professional do?
Being self-employed is a way for professionals to operate independently of an organization hiring them. This can work in a number of ways logistically and can be attractive due to the control it offers over your location, projects, or schedule. A self-employed professional may operate in almost any industry.
Organizations of all kinds may find it attractive to take on a team member on a project basis due to the temporary necessity of a specific skill set. For that reason, self-employed individuals can find themselves in demand across a range of industries and professions. Whether you're a graphic designer, construction worker, or trusty accountant, there is money to be made.
Statistical insight
How many people are self-employed?
With the exception of a dip during the pandemic, the Bureau of Labor Statistics reports that the number  of self-employed professionals has been steadily rising over the last 10 years.
How to write a self-employed resume
When writing your self-employed resume, you should consider who you are writing it for. Perhaps you are applying for a particular project or signing up for a freelance platform to put yourself forward for a range of services. Whatever the case, it's important to regularly update your self-employed resume so that it accurately shows off your most up-to-date and relevant experience.
The very first step is understanding how to communicate that through the fundamental sections of your self-employed resume. Your CV should contain the following elements:
The resume header
The resume summary (aka profile or personal statement)
The employment history section
The resume skills section
The education section
Statistical insight
Make it to the top 25%
On average 75% of resumes don't even make it in front of contracting personnel. Why? Applicant Tracking Systems (ATS) are the algorithms responsible for rejecting resumes deemed irrelevant. 
That means if you want your resume in the top 25% that makes it in front of human eyes, you need to include the keywords that the ATS is programmed to filter. These keywords are usually based on the language used in the job ad. If you're applying for a gig digitally - let's face it, that's probably 99% of you -  this is worth keeping in mind, even if you are self-employed.
Depending on your sector, you might find it beneficial to look at some other resume samples for inspiration. The resume sample content throughout this guide as well as our real estate agent resume example, web developer resume example, or freelance writer resume example could be good starting points.
Choosing the best resume format for a self-employed professional 
Deciding which resume format to use for your self-employed resume is essential when preparing to craft it. Points to take into consideration include your occupation, the type of project you're applying for, and the industry of the organization looking for collaborators. Ultimately you need a resume format that makes it clear to see you're the right fit.
The reverse chronological format means the client can see at a glance what you have been working on most recently. This can be a great option for you to cherry-pick the best projects you want to showcase to a potential client. 
On the other hand, a functional resume format can be a great way to draw the client's attention to specific skills. Let's face it, often the person in charge of contracting you is not the same person who understands nuanced explanations of why your work is good. Whatever you choose, make sure your resume format is not easier for you to write than it is for the target reader to understand.
Resume header
A clear resume header is a sure-fire way to make sure your professional profile stands out on your self-employed resume. You want your name and job title to be clearly visible at the top of your resume. Make sure your job title matches the language the prospective client has used if you are responding to a job listing. You should also include your contact details and a link to your website or portfolio, if applicable.
Expert tip
Seeing is believing
It's wise to make sure you have a simple link that will lead clients to your portfolio, website, or client testimonials. You can include this link in your resume header.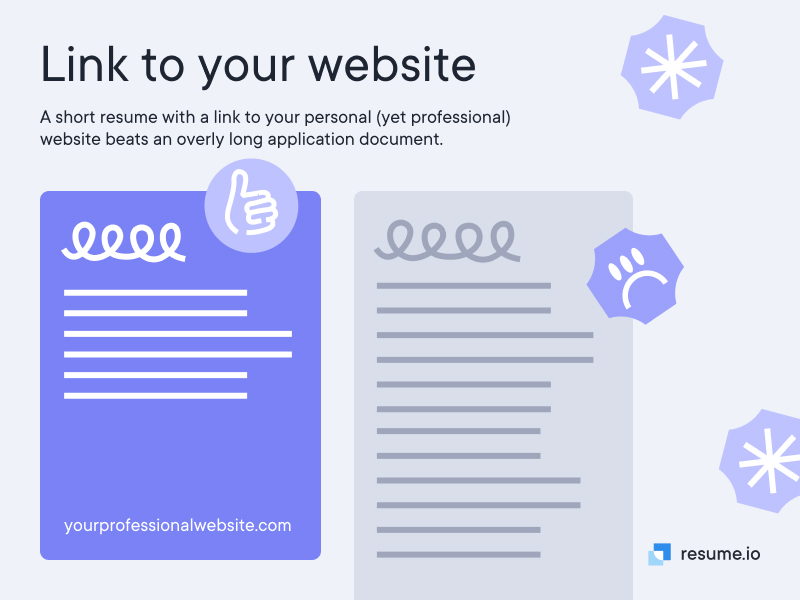 Resume summary example
In a nutshell, why should this client work with you? This is the question you should answer in this short introductory section known as the resume summary. Depending on your occupation, this condensed presentation of your professional profile could look quite different. 
Mention the most pertinent career highlights and skills in this section so you can hook in the client and tell them in no uncertain terms that your resume is worth reading. Another way to make your self-employed resume summary stand out from the crowd - in the best way possible - is to write with passion. Strong action verbs are a great way to leave a lasting impression and avoid sounding like a cookie-cutter version of every other applicant. Check out the resume sample content below if you need some ideas. 
Adaptable summary resume sample
Dynamic and creative professional with expertise in designing marketing strategies that drive brand recognition for diverse clients. Cultivate productive relationships with key stakeholders to ensure alignment with requirements.
Employment history sample
The employment history section of a "regular" resume can seem pretty straightforward compared to a self-employed resume. Perhaps you have a mix of full-time employment history, as well as projects you've carried out since becoming self-employed. It may take a little creativity to communicate this mix of experiences clearly.
There are two key approaches for adding self-employed work to your resume. The first is to add the entirety of your self-employed activity as a single entry on your list of previous contracts. Each entry of your employment history should include a job title, the name of the organization (this could be independent contractor, or perhaps the name of your sole proprietorship, or perhaps simply "freelance"), the location, and finally, the dates worked. Underneath each entry, you can enter several bullet points of your most important responsibilities and role highlights. Check out our project manager resume example and sales representative resume example for ideas on what to include.
If you find this too restrictive in explaining the variety of work carried out during your time being self-employed, the second option is to break down your previous employment into a section that communicates your previous projects. You can still include your previous full-time roles as "normal" subheadings and corresponding bullet points. 
However, you will add a separate subheading with the name of your client for each project you want to include. Include the role you carried out for them, as well as the location and dates of the specific project or client contract duration only. Just make it clear in the bullet points underneath that you were contracted as a self-employed professional.
Adaptable employment history resume example
Freelancer at Self Employed, Sequim, WA
January 2012 - Present
Bagels R Us: Doubled customer base in only two weeks by creating outdoor signage and redesigning business logo.
Maple Horse Riding: Grew client revenue by 25% by designing branded apparel, including working with third-party vendor.
Crosswell Biggs Gifts: Triggered 50% increase in Facebook page likes and relaunched Instagram account.
MK Jewelry: Developed new concept for company website focused on showcasing custom jewelry pieces.
Kenning & Co.: Built entire marketing strategy fors tart-up business, defined brand, and created all collateral.
Endora Tech: Devised digital campaigns to reach key target audiences across B2B and B2C channels.
CV skills example
Your excellent skills are likely what have propelled you through your career as a self-employed professional. Depending on the format you have chosen for your CV, the skills section could be the focus. So take a moment to really think about which skills are most relevant.
If you are responding to a project posting, you may already have a good idea of the key skills the client is looking for. Make sure you match the language and word choice they have used. While you shouldn't neglect to include the main hard skills - i.e. the technical competencies - that the client is looking for, don't forget about your soft skills. Soft skills talk about the way you carry out your work. As you will know all too well from client interactions, they are just as important in people wanting to work with you again.
Adaptable skills section resume example
Client Relationship Management
Social Media Engagement
Brand Development
Budgeting & Forecasting
Marketing Strategies
Digital Advertising
Project Management
Vendor Management
Self-employed resume education example
In many sectors, your past education won't be nearly as important as the proof of quality work. On the other hand, certain sectors like accountancy and architecture often rely on official accredited training even if they are self-employed. Regardless of your occupation, there are clients and industries that will want to know about your formal education background.
With your most recent qualification at the top of your self-employed resume education section, list the title of your qualification and the name of the institution where you received it alongside the dates of the course and its location. If you have a postgraduate qualification or higher, there's no need to include your high school accreditations.
Adaptable education resume example
Master of Business Administration, University of Washington, Seattle, WA
September 2016 - June 2018
Bachelor of Arts in Marketing, Seattle Pacific University, Seattle, WA
September 2008 - June 2012
Resume layout and design
You know that communication is key, and it's no different when it comes to optics. Visual communication plays a big part in how clients perceive you, so it's unwise to overlook the layout and design of your self-employed resume. 
Take time to match your resume's aesthetics with the tone of its content. If you found a financial advisor whose resume was glitter unicorn-themed, would you trust them with your life savings? Well, probably not.
If you want to relieve some of the pressure about making a great first impression, consider checking out our range of professionally designed resume templates. Not only will you lose less time formatting and designing, but there's a range of options depending on the visual tone you want to hit for your next client application.
Key takeaways for a self-employed resume
Keep the reader in mind when planning and amending your resume's content.
Don't be afraid to adapt the format of your self-employed resume depending on who will read it.
Match the language of your prospective client for the best results with the ATS and the human reading your resume.
Use your creativity when choosing the clearest approach to display your previous professional experience.
Make a first impression that counts by thinking through your resume's visual presentation.