Where you lead, people follow. You have a natural flair for motivating those around you, following guidelines, and keeping everyone on track. If that sounds about right to you, chances are you're an excellent supervisor. Yes, you're the person the team looks to when they need help. If this job has your name written all over it — and you're thinking of throwing your hat in the ring — you need a perfectly-written supervisor resume. 
You might be bubbling with potential and have all the leadership skills you need to excel, but how are you going to share that with a potential employer? Here at Resume.io, we have got you covered. We offer 350+ resume writing guides, along with expert resume examples, to kickstart your career. 
In the following guide and corresponding supervisor resume example, we will cover these topics: 
What a supervisor does and why it matters
How to write a supervisor resume — along with a resume sample
How to select the right format for your one-page application
Visual tips to help you make your supervisor resume stand out.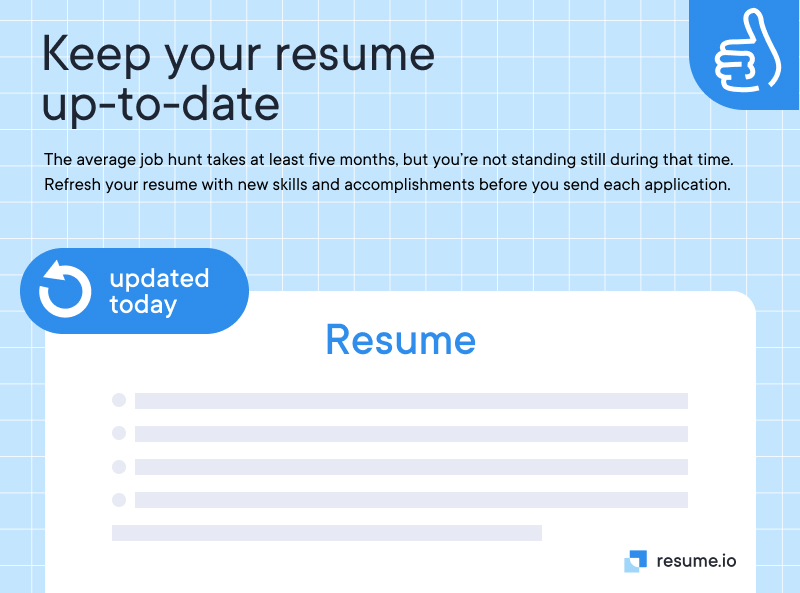 What does a supervisor do?
Supervisors have to lead a team by providing guidance, support, and instructions. You may be overseeing just one person or a small group. You may find yourself training new starters, disciplining members of staff, providing feedback, organizing team events, and relaying information, among other day-to-day duties. 
While that is the broad brushstrokes of what a supervisor does, keep in mind that the core duties of this role will differ depending on the industry in which you work. A supervisor in a bar will likely be tasked with different things than a supervisor in a law firm. Regardless of that fact, the skills that you will need to get the job done will overlap between sectors. 
Statistical insight
The average annual salary for a supervisor is $47,768, according to talent.com statistics. However, how much you take home will depend on a range of factors. 
For example, supervisor salaries vary from state to state — with professionals in Connecticut making an average of $67,150 at the top end and those in West Virginia making $34,125 at the bottom end. 
Additionally, the sector in which you work will dictate how much money you take home. When you are searching for new supervisor jobs, it's worth thoroughly investigating the pay package and benefits you will get before you accept any offers. 
Looking to level up your career? If the answer is yes, bagging yourself a supervisor role could be the way to go. It will allow you to showcase your skills as a leader and influencer. Should upper management notice your efforts, they might consider making you a manager. 
How to write a supervisor resume
How do you showcase your stellar leadership skills on just one page? That's a good question. Before you start writing your supervisor resume, you need to understand what sections to include. Your CV should contain the following elements and structure: 
The resume header
The resume summary (AKA profile or personal statement)
The employment history section
The resume skills section
The education section
No two supervisor resumes are created the same. When you're writing your application, it's vital that you tailor this document to both the job and sector to which you're applying. Yes, there will be some overlap here — the core skills you will need will likely be the same. However, ensuring that your resume suits the industry at hand will increase your chances. 
Do as much research as possible. Employers know when you're sending the same tired application out to multiple companies. The lack of detail and vague terminology will be a dead giveaway. Don't make that mistake. If you want to get ahead, investigate the business and ensure your supervisor resume aligns with its values and overall mission. 
The tone of your supervisor resume needs to be professional and somewhat formal. You should, of course, avoid using jargon, which can alienate hiring managers. Instead, stick to plain English and easy-to-understand phrases. If you are in doubt about whether you've nailed the tone, ask a friend or someone you trust to quickly proofread your application.
Expert tip
Let action verbs lead the way! 
Choosing your words wisely may boost your chances of getting an interview. Pepper your supervisor resume with some powerful action verbs — such as "coached," "outperformed," and "spearheaded" — to make it stand out. 

You are painting a picture of yourself as a capable and experienced leader. Back yourself.
There's an art to writing your supervisor resume that turns heads (for the right reasons!). You might need to create a couple of drafts before you get this right. To help you along the way, take a quick look at our resume sample, and note the style and tone. 
Choosing the best resume format for a supervisor
You don't want to leave anything to chance, so make the hiring manager's job simple. Most of the time, the best resume format is the reverse chronological structure. Start with your most recent accomplishments and experience at the top of the page. Work your way back in time as you move downward. Hiring managers expect to see this structure. It allows them to easily see what you've been up to and determine if you fit the job spec. 
Of course, there is another resume format. If you're a career changer — and want to showcase your transferable skills from prior roles — you may find that the functional resume works better for your needs. This structure allows you to shine the spotlight on your strengths rather than your experience. Take a look at our complete formatting guide.
Resume header 
Most candidates overlook the resume header but you shouldn't make that mistake. If you get this part of your application right, you can set yourself apart from the competition. This line goes at the top of your application and covers who you are plus your contact details. You need to make sure that it is clear, concise, and easy to read. With that in mind, you should use a simple typeface — such as Arial — and space the information evenly. 
Resume summary example
Next up, it's time to write your summary. Sometimes called a profile, this short bio is your elevator pitch. In just a few lines, you have the opportunity to sell yourself to a potential employer. Consider what it is that they are looking for in a new hire. You might want to refer back to the job advert and re-read the description. How closely do you match it?
Resume real estate is valuable. You don't have space to waste here since you need to fit all you have to say in four lines or less. You should cut out any unnecessary "I am," "I have" or "I can" statements. You can skip over these words and get straight to the point. The summary doesn't need to read like a story. It simply needs to get the message across. 
Before you start typing away, consider what value you add to the company in question. What is a hiring manager going to see in you that no other candidate has to offer? You may want to focus on your prior successes — as we have in our resume example — or quantify your achievements with numbers and statistics. The choice is yours. 
Adaptable summary resume sample
Results-driven supervisor with history of success leading, training and mentoring world-class teams. Experience scheduling, monitoring and evaluating performance of staff across multiple shifts. Proven talents in opening and closing retail stores and ensuring proper, accurate cash register balancing. Prepared to advance in career to a challenging new leadership role.
Employment history sample
To nab yourself a supervisor role, you will need to have a consistent track record of work experience. The easiest way to show off your employment history is to use the reverse chronological approach. List your company and position first with the employment date below it. Beneath that, you can bullet-point any tasks or awards that are notable. Don't simply cram in any old information — consider what applies to a supervisor role first. 
Adaptable employment history resume example
Assistant Supervisor at Lexington-Fayette Sports Gear, Lexington, KY
November 2015 - Present
Assist store manager in daily store operations.
Supervise, train and mentor team of 4-6 retail staff.
Open and close store and balance registers.
Contribute to staff scheduling, promotions and performance evaluation.
Deliver exceptional customer support and resolve escalated issues.
CV skills example 
Your skills are like the fuel of your supervisor CV. Without them, you're going nowhere fast. This is a good chance to slide in a few more of the powerful action verbs we've mentioned.
Your CV skills list needs to be a mixture of both hard skills and soft skills. Hard skills are ones that are technical and directly applicable to the job or sector. On the other hand, soft skills are the talents that allow you to work well with others. These strengths are particularly important when you're in a supervisor role as you need to manage your team. Showing that you have a balance of both of these skills will impress any hiring manager. 
Adaptable skills section resume example
Adaptability
Leadership
Ability to Work in a Team
Ability to Work Under Pressure
Customer Service
Employee Training
Scheduling
Inventory Management
Cash Handling
Supervisor resume education example
The education section of your resume should be straightforward. As we have already covered, it may be worth using the reverse chronological order here. Start with your most recent qualifications, and then work your way back in time as you move down the page. If you have completed any supervisor-centric training, either in the workplace or online, you should include it in this section. Showing that you've invested in yourself will never hurt! 
If you're not sure how to get started, we've got you covered. Take a quick look at our supervisor resume example to see how you can lay out this part of your application. 
Adaptable education resume example
Associate of Science in Business Administration, Bluegrass Community and Technical College, Lexington, KY 
September 2013 - June 2015
Resume layout and design
Looking to catch a hiring manager's eye? You could have the best supervisor resume in the world but, if it looks a mess, you'll miss out on that interview. Follow these tips when selecting your resume layout and design: 
Do
Choose a professional resume template that is clean and legible.
Make sure that your supervisor resume fits on one A4 page.
Choose a couple of colors to use throughout your supervisor resume.
Don't
Mess around with too many colors, pictures, or graphics.
Try to cram in information. Stick to the important details here.
Use multiple font styles. It will make your resume look chaotic.
Key takeaways for a supervisor resume
Supervisor roles are a great stepping stone in your managerial career. To land your next position, you will need a well-written resume that tells your professional story.
Make your resume stand out by including powerful action verbs throughout it.
Before you start writing, make sure you have the right structure in mind. Take a look at some of our resume examples to give you inspiration.
Take all of the hassle out of creating your next supervisor application by using our field-tested resume templates!