If you're ready to tackle logistical challenges and make sure companies source the materials they need within the right time frame, a career in supply chain sounds like a great fit. To get there, you'll need a resume that captures your problem-solving skills, tenacity, and ability to communicate efficiently.
Luckily, Resume.io is here to help. With 300+ resume examples and writing guides, we're an expert resource for job seekers in all fields and stages of their careers. We'll help you transform your experience and qualifications into a supply chain resume that's as dynamic as you are.
Here's what we'll cover in this guide and the corresponding supply chain resume example:
What does a supply chain professional do?
How to write a supply chain resume (tips and tricks)
The best format for a supply chain resume
Advice on each section of your resume (summary, work history, education, skills)
Professional resume layout and design hints
What does a supply chain professional do?
Broadly speaking, supply chain jobs revolve around the procurement of materials or products from the supplier of the initial elements all the way to the hands of the consumer. Supply chain jobs vary greatly depending on the industry or company operations.
Supply chain jobs demand a variety of skills, from organization and leadership to communication and data analysis. Some examples of duties of supply chain managers include sourcing and purchasing raw materials, scheduling shipments and deliveries, coordinating with internal teams, processing payments and creating financial records, evaluating data, and proposing changes to improve efficiency.
Statistical insight
Supply chain job market and outlook
If you're in the market for a supply chain job, the odds are in your favor. The Bureau of Labor Statistics predicts that jobs for supply chain professionals (categorized as logisticians) are expected to grow by a whopping 28 percent over the coming decade. That's a lot faster than the average for most professions.
How to write a supply chain resume
A great supply chain resume should contain the sections hiring managers are looking for. Your CV should contain the following elements:
The resume header
The resume summary (aka profile or personal statement)
The employment history section
The resume skills section
The education section
Since no two supply chain jobs are the same, it's important to read the job description closely and try to get a feel for the exact needs of the employer and the duties of the role. Make sure to research the company to better understand its operations and workplace culture. This information will help you tailor your resume and show that you're not just interested in any supply chain job – you're serious about working for their company.
Choosing the best resume format for supply chain jobs
Most supply chain professionals will find the reverse chronological format to be their best choice when creating a supply chain resume. That's because this is the structure hiring managers are expecting to see when it comes to hiring for professional roles. The reverse chronological format gets its name from its emphasis on the employment history section where previous jobs are listed starting with the most recent and working backward through the past 10 years of experience.
While other resume formats exist, they are better suited for first-time job seekers or independent workers. Using an alternative structure for a professional position like a supply chain manager can give the impression that a candidate is inexperienced or has something to hide.
Expert tip
Don't forget the ATS
Another reason to choose the reverse chronological resume structure is that it's the model favored by Applicant Tracking Systems. ATS algorithms scan resumes and can filter out up to two-thirds of applicants before they are ever reviewed by the hiring manager! By creating clear section titles and including an employment history section, you can increase your chances of overcoming this obstacle.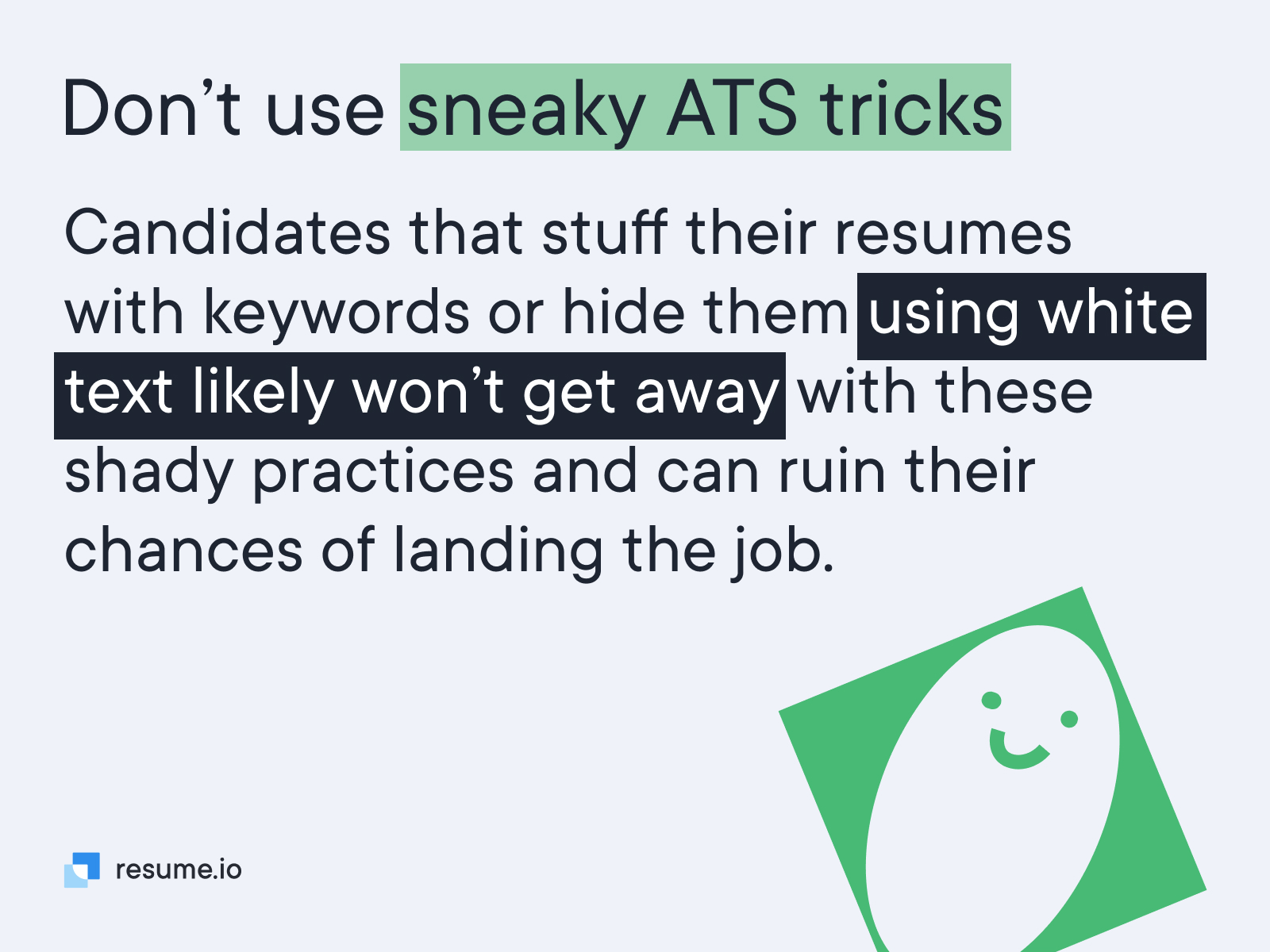 Resume summary example
Since supply chain jobs can encompass so many different responsibilities, the resume summary provides a valuable opportunity to introduce yourself and your strengths. Use these 3-5 sentences at the top of your resume to showcase your most impressive experiences and relevant skills. Show the hiring manager that you understand the company and have created a resume specifically for them. See our adaptable summary resume example below.
Adaptable summary resume sample
Dynamic Supply Chain leader with a proven talent for managing large-scale supply and logistics operations within fast-paced environments. Experienced
in shaping efficient sourcing, acquisition, and production initiatives, enabling timely distribution and delivery to end customers. Demonstrated ability to build and maintain relationships with vendors and suppliers to ensure streamlined procurement, production, and distribution activities.
Employment history sample
The employment history section offers the employer an overview of your previous positions and their relevance to the job you're applying for. For each previous role, make sure to include the job title, employer name, dates worked, and location. Then add 4-5 bullet points that capture your responsibilities, achievements, and skills. Choose action verbs that convey a sense of initiative and don't be shy about including numbers or statistics that back up your accomplishments. See our adaptable resume sample below.
Adaptable employment history resume example
Supply Chain & Procurement Lead , New York Co., New York, NY
January 2018 - Present
Consulted with leadership to identify production demands and shape aligned supply chain and sourcing plans.
Created monthly and quarterly supply projections and collaborated with vendors to negotiate pricing, schedules, and contract terms.
Evaluated market trends to predict procurement needs and shifts.
Managed supply levels, tracking inventory across multiple facilities to maintain
alignment with production requirements.
 
Supply Chain Analyst , Fraser & Fraser, Albany, NY
August 2011 - December 2017
Oversaw inventory operations, ensuring supply levels in alignment with projected demand.
Coordinated business-to-business (B2B) and business-to-consumer (B2C) product shipping, leveraging order fulfillment system to support on-time delivery of purchased products.
Evaluated supply chain operations to identify and remediate inefficiencies, increasing customer satisfaction and overall profitability.
CV skills example
Your CV skills section is a round-up of your key competencies, not only for the hiring manager but also for the ATS which scans this CV section to find keywords relating to the job description. Make sure to use the employer's exact language and keep a balance of hard skills (technical abilities) and soft skills (personality traits.) While the supply trade might seem like solo work, many applicants are surprised by the variety of people skills they end up using in the role. See our adaptable skills resume example below.
Adaptable skills section resume example
Supply Chain Management
Sourcing & Procurement
Logistics Coordination
Vendor Contract Negotiation
Project Management
Solution Development
Customer Relationship Management
NetSuite
SAP
ENVI
Supply chain resume education example
Most supply chain jobs require a degree in supply chain management, business, logistics, or other related fields. The education section is important to show the employer that you have the base knowledge needed to handle the duties of the role. Make sure to list your education in reverse chronological order and offer the school name, degree earned, dates attended, and location. If you've completed higher education, you may leave off your high school. See our education resume example below.
Adaptable education resume example
Bachelor of Science in Logistics Management, Local School, Albany, NY
January 2008 - May 2011
Maintained a full 4.0 GPA all four years
Resume layout and design
The layout and design of your resume are the very first things a hiring manager will look at when they evaluate your application. The design sets the tone for your document and shows the employer your level of professionalism before they ever read a word on the page.
A good layout should use easy-to-read fonts in the appropriate sizes. Make sure to stay consistent about design choices and use standard 1-inch margins. While formatting might feel like a pain, the time spent here might just land you the interview. A professionally designed resume template can help avoid confusion and save time by allowing you to focus on the writing.
Key takeaways for a supply chain resume
Supply chain jobs are in high demand so now is the perfect time to begin preparing your resume.
Since supply chain roles can look different at different companies, it's important to read the job description closely and tailor each application you submit.
Don't overlook the summary as a great place to call the hiring manager's attention to your top skills and qualifications.
A great resume layout can make all the difference when it comes to making a professional first impression – check out our adaptable resume sample to get started.