Inventory managers are supply chain specialists who ensure shelves are stocked with the products customers have come to know and love. The rise of e-commerce and quick delivery means inventory managers are also responsible for making sure warehouses have plenty of items ready to ship at a moment's notice.
The inventory manager role isn't going anywhere anytime soon. In fact, companies are constantly looking for highly qualified supply chain experts who can work across internal teams. If you're ready to land your next job as an inventory manager, you've come to the right place. This resume guide along with the corresponding inventory manager resume example will cover the following topics:
What does an inventory manager do?
How to write an inventory manager resume (tips and tricks)
The best format for an inventory manager resume
Advice on each section of your resume (summary, work history, education, skills)
Professional resume layout and design hints.
Expert tip
Applying to multiple job postings? Resume.io has more than 300 occupation-specific resume examples and guides full of advice on how to land your next position.
What does an inventory manager do?
Inventory managers are logistics and supply chain experts who know how to source items and get them on store or warehouse shelves. Inventory manager roles can look different depending on the company's operations but there are a few key tasks that are generally found across positions. Some of the common duties of inventory managers include:
Communicating with suppliers to source products
Deciding which types of products to buy and how much to order
Reviewing current stocks to evaluate consumer buying habits
Optimizing warehouse space and inventory storage for maximum efficiency
Coordinating with various teams and warehouse staff
Inventory managers need a variety of skills to understand the markets, logistics, and supply chain structures that affect their industry and company. While the role is not customer-facing, they'll also need a good sense of the needs and wants of their consumer base in order to stock the right products in the right quantities.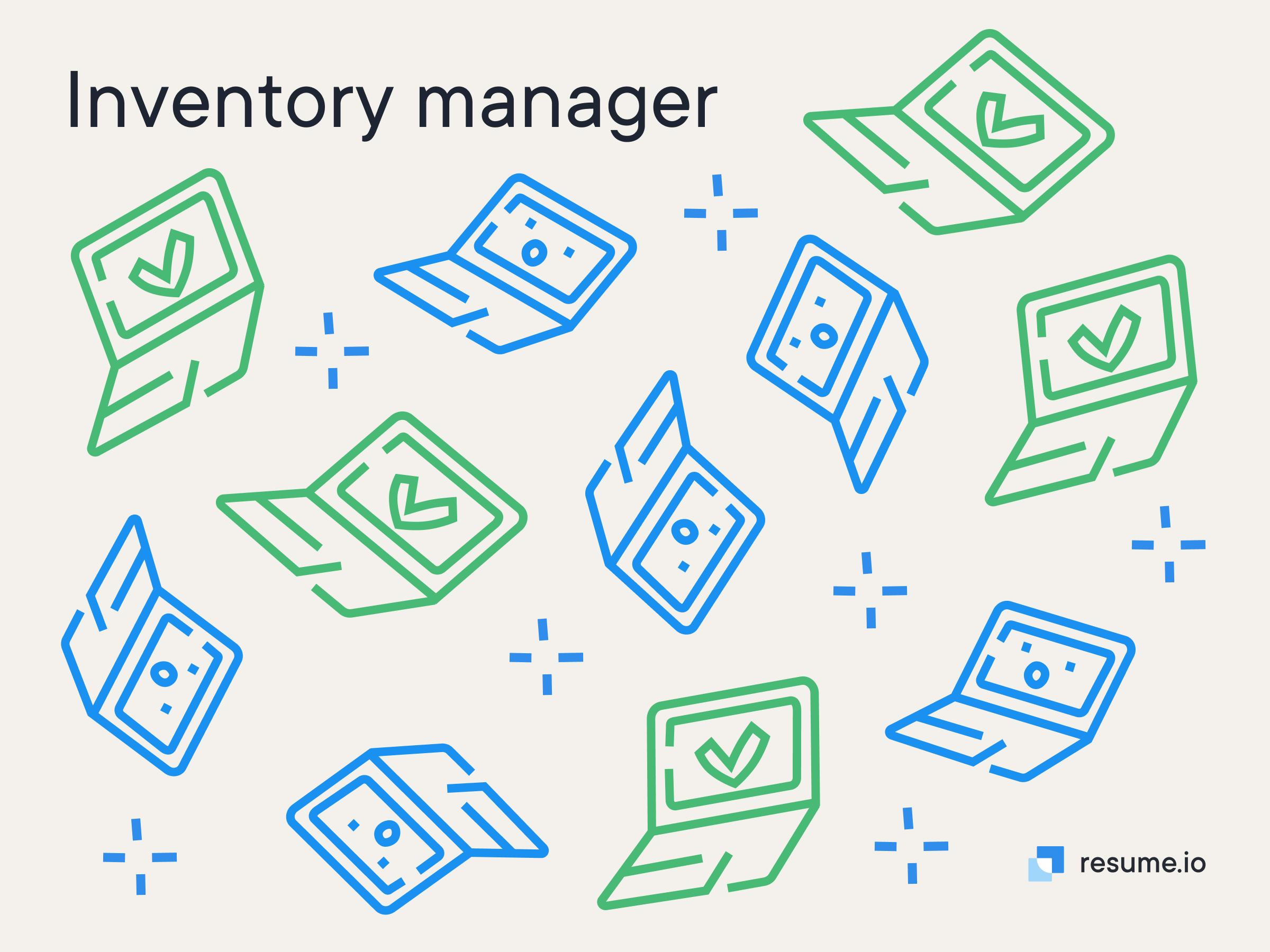 How to write an inventory manager resume
The very first step in writing your inventory manager resume is understanding what sections to include. Your CV should contain the following elements:
The resume header
The resume summary (aka profile or personal statement)
The employment history section
The resume skills section
The education section
Before you begin to write your inventory manager resume, it's important to consider the job description of the exact position you're applying to. While there may be overlapping duties between inventory manager roles, you'll want to take the time to tailor each resume you submit to the needs of the particular company. This could mean anything from updating your skills section to adjusting the bullet points of your employment history section to highlight examples of your experience that are most relevant to the new job.
Your inventory manager resume should be no longer than one page in length meaning you'll need to make every sentence count. Focus on action verbs that describe your leadership and decision-making skills. Offer numbers and concrete information that show your impact and get a hiring manager excited about the results you could create for their company.
Expert tip
Consider the ATS
If you're applying to a medium or large-sized company, there's a strong likelihood that your resume will be scanned by an Applicant Tracking System. ATS, as they are known, search for keywords (usually skills programmed from the job description) and then rank your resume against other candidates. Only the top-scoring move on to the hiring manager for review. Follow these steps to reduce your chances of being filtered out:
Read the job description closely and highlight skills or duties emphasized by the employer
Place these keywords in the appropriate section of your resume (if they are true for you!)
Create a clear format with common section titles like "Employment History" or "Education" to help the ATS find the information it's looking for.
Choosing the best resume format for an inventory manager
Inventory managers should generally opt for the reverse chronological resume format. This is considered the "standard" structure since it focuses on the employment history section where you'll be able to highlight the relevant experience you've gained from previous roles. The employment history section should begin with your most recent (or current) position and work backward through the past ten years, or all the relevant experience you have.
While other resume formats such as the functional or hybrid models exist, we generally recommend them for recent grads or those with specific technical skills. Supply chain and logistics professionals, like inventory managers, should stick with the reverse chronological structure, otherwise, they may come across as inexperienced in their field.
Resume header
At the top of the page, the resume header is the place to include your name and contact information so the hiring manager can easily get in touch with you to set up an interview. The header should be easy to read and contain your name, phone number, and email address (a street address is no longer considered necessary.) A LinkedIn profile can also help your header to stand out. See our adaptable inventory manager resume sample to help you get started.
Resume summary example
Beneath the header, you'll want to include a professional resume summary. This section is where you'll introduce yourself and your experience in order to catch the hiring manager's attention and encourage them to read the rest of your resume. The summary should describe your most prominent attributes and highlight the names of any reputable employers that you don't want the hiring manager to miss. You may choose to mention major job-related accomplishments here but save the other details of your work experience for further down on your resume. You can see how this is done in our adaptable summary resume example.
Adaptable summary resume sample
High-energy inventory and logistics professional known for expertly leading sourcing, purchasing, and warehousing processes to ensure optimal inventory levels. Proven capacity for coordinating with diverse teams and stakeholders to identify and meet supply demands. Strong insight into customer needs, leveraged to proactively shape inventory strategy.
Expert tip: Find more inspiration for your resume summary in our related guides including our:
Employment history sample
The employment history sample is likely the section that the hiring manager will pay the most attention to, so it's important to customize this section for the exact inventory manager role you are applying to. To do this, start by creating subheadings with your previous job title, the employer name, the dates worked, and the location. Under each subheading, add four or five bullet points describing your responsibilities and accomplishments in that role. As an inventory manager, it's important to include numbers and data that clearly demonstrate your impact on the company. This could be anything from impressive quantities ordered to record sales numbers. Make sure to show a hiring manager what you could bring to their organization if hired. See our adaptable resume sample below for more insight.
Adaptable employment history resume example
Inventory Manager, Portland Computers, LTD Portland, OR 
January 2020 - May 2023 
Analyzed sales data to shape demand projections and develop tailored inventory purchasing plans.
Partnered with vendors to source products and negotiate costs.
Directed a mid-sized team in the planning and execution of inventory processes to ensure optimal performance.
Continuously monitored and updated inventory procedures.
Inventory Manager, Seasons Plumbing & Lighting Portland, OR 
December 2018 - December 2019 
Sourced and purchased new product, evaluating potential vendors and placing purchase orders.
Oversaw and documented all shipment and delivery processes.
Managed a large-scale inventory tracking system to ensure exemplary accuracy across all products.
Inventory Clerk, Suzannah's Books Portland, OR 
January 2017 - December 2018 
Maintained inventory levels and catalogs in alignment with current and projected customer demand.
Conducted regular inventory counts and quality checks, ensuring optimal levels and product quality.
Reported inventory discrepancies to to management and loss prevention team for remediation.
CV skills example
As an inventory manager, your supply chain skills and market knowledge are essential to the work you do. The CV skills section is the best place to communicate your areas of expertise and highlight the abilities that would make you a great fit for your prospective employer. Think of the skills section as a "greatest hits" list and focus only on the most relevant information. While you'll want to include a handful of hard skills mentioned in the job description, you'll also want to toss in a few soft skills to round out your CV. See our skills resume example below.
Adaptable skills section resume example
Inventory Management
Logistics & Supply Chain Processes
Team Leadership
Demand Forecasting
Quality Management
Trend Analysis
Cross-Functional Collaboration
Product Sourcing
Vendor Relations
Expert tip
Wondering what the difference is between hard skills and soft skills? Hard skills are technical abilities and are generally job-specific. Examples of hard skills for an inventory manager may include barcoding and inventory management software.
Soft skills, on the other hand, are the innate qualities and personality traits that make you a great colleague and effective team member. Some examples for your inventory manager resume may include cross-team collaboration and organization skills.
 
Inventory manager resume education example
While inventory managers may not be required to have a degree, most companies will look for candidates with some educational experience in a related field of study such as supply chain, logistics, business, or management. Therefore, you'll need to include an education section on your inventory manager resume. As with your previous jobs, make sure to list your schooling in reverse chronological order, starting with the most recent degree and working backward through all relevant education. Be sure to include the degree name, school, dates attended, and location.
The education section is also a great place to mention any continuing education courses, leadership positions, awards, or memberships that are relevant to the role.
Adaptable education resume example
Master of Science in Logistics and Supply Chain Management, University of Portland Portland, OR 
January 2013 - May 2017
Bachelor of Science in Business, University of Portland Portland, OR 
August 2008 - December 2012
Resume layout and design
While inventory managers won't need a flashy or brightly-colored resume, that doesn't mean your layout should be an afterthought. The design of your resume helps communicate your level of experience and seriousness about the opportunity. For logistics professionals like inventory managers, a clean and clear layout will get the job done. Opt for one accent color in the header or a neutral color scheme. Use bold font for your header and for the section titles to help them stand out. Here are a few more tips for your resume layout and design:
Do
Keep a balance of white space to text
Add "inventory manager" to the header of your resume
Try out a professionally-designed resume template to save time when creating a layout.
Don't
Change the margin size to cram in more information
Add a headshot to your resume unless common in your country
Forget to proofread before submitting
Key takeaways for an inventory manager resume
Inventory managers have a great career outlook, so now is the time to start preparing a thoughtful and tailored resume for the job you want.
We recommend the reverse chronological resume format as the best option for professionals like inventory managers.
Make sure to include numbers, data, and other concrete information in your employment history section to highlight your effectiveness as an inventory manager.
Don't overlook your layout. Our adaptable inventory manager resume sample can help you get started with creating a great design.