Where do you begin to create an operations director resume without downplaying any of your vital abilities? Your bird's-eye oversight of ground-level operations requires an unusual degree of close-up knowledge from all freestanding but interconnected corners. To stand out from other job contenders with the same bragging rights in their resume, your sky view must be focused through the target employer's lens.
You're in the right place for advice on channeling everything your next boss needs into a persuasive resume. Resume.io has created occupation-specific writing tips and resume examples for job seekers in more than 350 fields.
Here's what we'll cover in this operations director resume writing guide, with reference to wording from a corresponding resume example:
What operations directors do and a job market snapshot
How to write an operations director resume — starting with the correct structure and best format
Optimizing the impact of each resume section: summary, employment history, skills, and education
Professional resume layout and design hints. 
 
What does an operations director do?
Operations directors occupy a senior management role, commonly one level below the Chief Operating Officer (COO) in larger organizations, or instead of the COO in smaller businesses or nonprofits. Either way, they are the functional bridge connecting other managers at higher executive or department levels. Their focus is on ensuring all operations are efficient, effective, and aligned with the organization's goals and objectives. 
Depending on the industry, company size, and organizational structure, operations directors generally have a hand in one or more of the following: strategic planning, process optimization, resource management, performance monitoring, cross-functional collaboration, quality assurance, risk management, and leadership and team management. Their diverse preoccupations often overlap with other administrative roles.
Statistical insight
According to the U.S. Bureau of Labor Statistics (BLS), the median annual wage for general and operations managers in May 2021 was $97,970. 
In September 2022, Glassdoor.com estimated the total pay for an operations director in the U.S. was $147,991 per year. This represents an average annual salary of $89,855, plus an additional amount of $58,136, which could include cash bonus, commission, tips, and profit sharing. 
Salary.com reported that $150,690 was the average U.S. operations director salary in May 2023, within a typical range between $139,193 and $172,442.
BLS projections for operations director employment growth is 7%, only slightly faster than the average for all occupations.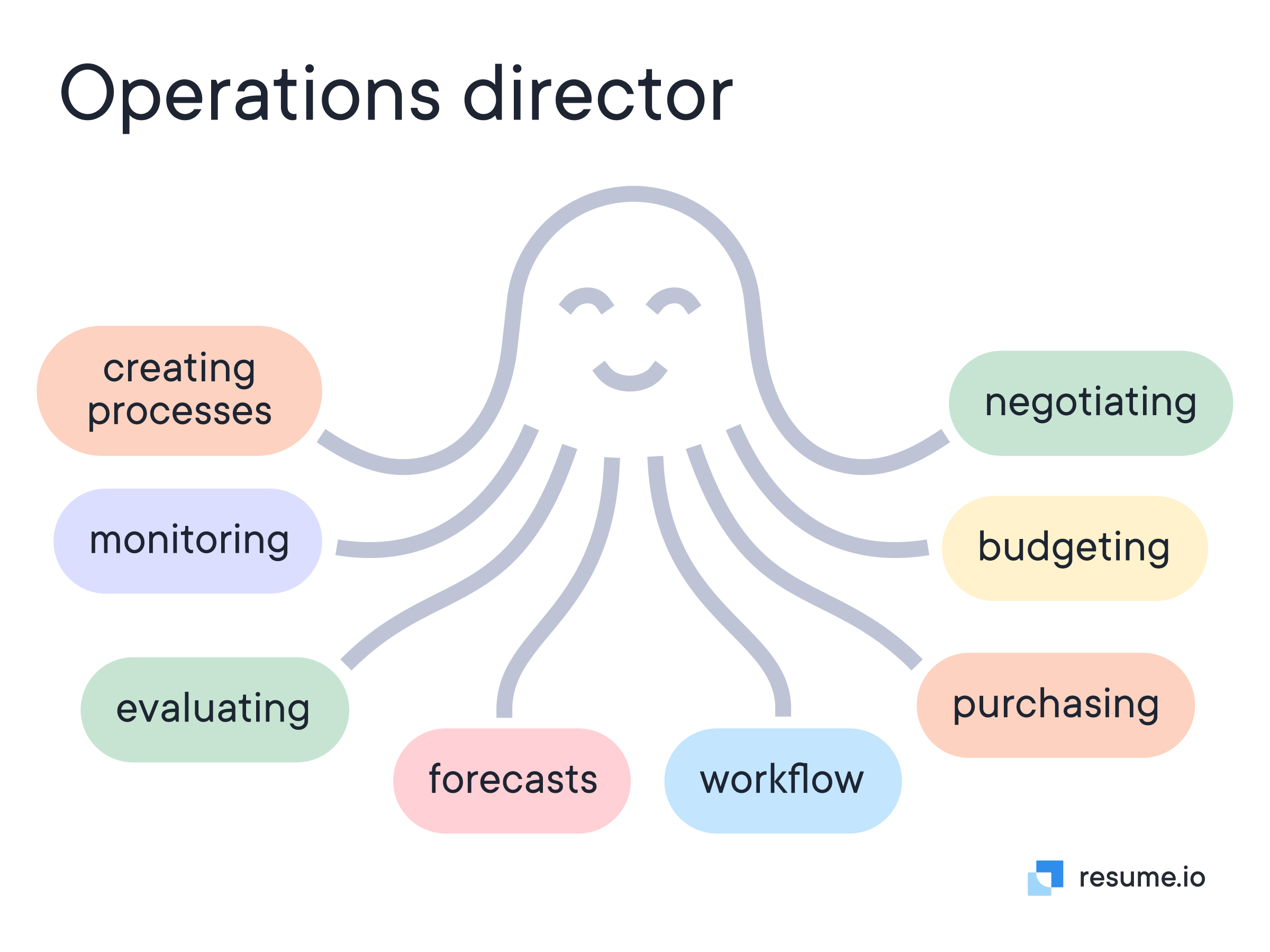 How to write an operations director resume
As an operations director you lead to succeed with a logistical mindset. No detail is too small, no relationship is too inconsequential. When essentially everything and everyone matters to that extent, the prospect of doing justice to your organizational strengths in a concisely compelling resume can seem daunting. 
To put your mind at ease, start by getting a handle on the set structure that keeps all resumes on track. Regardless of a job seeker's occupation, these are the essential resume sections that all hiring managers expect to find:
Header
Summary
Employment history
Skills
Education
Your operations director resume should be no different when it comes to putting all the right content in the right place, so recruiters won't get lost looking. But catching and holding their attention for longer than 10 seconds — that's the longest resume skimming time on average  — depends on a lot more than an orderly framework of sections.
To convince any employer of your potential value on their senior management team, you need a solid understanding of hiring priorities. Scrutinize the career ad posting to pinpoint what counts most. This will guide your judgment in keeping all resume content specific and relevant.
Expert tip
The employer's posted job description terminology is also crucial for matching your resume wording. Identify keywords to include wherever possible to help avoid rejection by the automated applicant tracking systems (ATS) software that is used by a majority of hiring organizations today.
Don't
Ramble or repeat the same information.
Digress from the specific job and employer requirements.
Don't include irrelevant or unimportant work experience details or skills.
Stuck or stymied for some reason? Try taking a look at some of our other writing guides and resume examples from the production category:
Choosing the best resume format for an operations director
Of the three different resume formats available to job seekers, the chronological format is the best choice in about 90 percent of instances. That includes the vast majority of operations director resumes, where professional experience matters most to hiring managers. The employment history section thus takes precedence in telling a story of progressive growth and experience in employee roles, organized in reverse order from most recent to earliest dates. 
Only if the position you're seeking is a significant career departure, or your management background is less straightforward, might you consider a functional or hybrid resume format instead.
Resume header
Suppose your operations director resume is shortlisted and the hiring team is ready to invite you for an interview. You've made that easy by displaying this identifying information in an eye-catching header: your name, job title, contact information and LinkedIn URL. 
Besides helping your job application stand out visually from the rest — especially effective on a matching pair of resume and cover letter documents — the header makes everything else on the page look more reader-friendly. 
Resume summary example
During the brief moment you have to wow recruiters with an exceptional resume summary — sometimes called the profile or personal statement — your future prospects with any target employer hang in the balance. 
While capturing your key experience and expertise in operational leadership roles, limited space allows you to hit only the high notes of what's directly relevant. Frame these as bottom-line results you could deliver to your next employer, showing you're familiar with this hiring organization's needs and inner workings
Ultimately, you want recruiters to be thinking, "How remarkable! We must find out more about how this operations director might pull off the same thing for us. This resume needs our full attention." 
Below is an operations director resume summary sample you can customize.
Adaptable summary resume sample
Experienced Operations Director known for ensuring exemplary business performance, agility, and productivity. Proven capacity for shaping and executing on ambitious business strategies, driving improvement and optimization in line with core corporate or stakeholder targets. Dynamic team leader with a track record of fostering stellar organizational cultures through leadership, career growth, and mentorship.
Employment history sample
Even if the summary was enough to get your resume shortlisted already, the employment history section will reinforce that duly impressed readers are onto a good thing. It's time to double down on the evidence that you're not just a qualified operations director, but rather the operations director that this organization must hire. You've already proven capable of meeting its goals but for a previous employer. 
The more extensive and diverse your work experience, even when confined to a specific industry, function, or type of operation, the more selective you must be in highlighting relevant accomplishments. Revisit the posted job requirements as a basis for crafting descriptive bullet points that show you've done your homework and are cut out for the job. Start each one with a dynamic action verb such as grew, raised, cut, streamlined, oversaw, or improved — but never responsible for or handled.

As noted above, bottom-line results are the key to captivating recruiters. They are keenly interested in what you did and how well you did it, with successful outcomes expressed in "why" and "how" terms. Did you help turn losses into profits, boost company-wide efficiencies, or reduce staff turnover? Was there a challenge to overcome or a problem to solve? What approach was taken — perhaps a new policy, streamlined communication process, or updated project management software? As an operations director, you can likely access performance metrics to quantify these success stories — so much the better.
This employment history section from our operations director resume sample can give you ideas for writing your own.
Adaptable employment history resume example
Operations Director at Target. Orlando, FL 
January 2017 - March 2023 
Drove optimization initiatives, implementing metrics and Lean Six Sigma practices to identify and capitalize on improvement opportunities.
Championed a culture of performance excellence, building deep insights into team and individual strengths to inform strategic planning.
Consulted with leadership to identify and implement long-term corporate goals and vision, steering operational improvements in line with key objectives to ensure positive change.
Director of Operations at McDonald's. Orlando, FL
September 2012 - January 2017
Headed a high-impact team in the planning and execution of business strategies, driving continuous growth in line with branch and corporate goals.
Cultivated top-tier branch cultures, aligning workforce standards and processes with core corporate mission and standards.
Generated comprehensive analyses and reports on business performance, communicating wins and anticipated challenges to leadership/stakeholders for remediation.
Established tailored, effective operational plans to support long-term business growth and profitability.
CV skills example
From leagues of expert sources, you're sure to find endless variations on the hard skills and soft skills deemed vital or useful for an operations director. And you likely possess an impressive number of them. But again, you must be scrupulously selective in determining which ones belong on your list for this particular role. Deciding which ones to exclude may be tougher than you expect.
Start by making sure all the top hiring priority boxes are checked — each and every skill stipulated in the posted job specs. This can be an added opportunity to ATS-proof your resume using keywords. Any additional insights you have into the moving parts of this employer can reinforce your choice of skills.  
Check out our operations director resume sample for the skills section below.
Adaptable skills section resume example
Business Strategy
Operations Management
Profitability Optimization
Team & Culture Leadership
Stakeholder & Leader Engagement
Performance Management
Agile Processes
Lean Six Sigma
Metrics & KPIs
Operations director resume education example
The education section of your operations director resume should start with a list of your relevant postsecondary degrees — typically a bachelor's degree in business, IT, data science or a related discipline, and perhaps an MBA. These should appear in reverse chronological order, from highest to lowest level.
Continuous learning opportunities you've pursued should also be listed here — perhaps leadership training programs and courses in specific areas such as product management or sales. Be sure to also mention certifications in professional or project management, or in specialized areas like change management, in addition to professional organization memberships.
Below is the education section from an operations director resume you can modify.
Adaptable education resume example
University of Central Florida. Orlando, FL
January 2008 - May 2012
Master of Business Administration (MBA)
Rollins College. Winter Park, FL 
September 2003 — December 2007
Bachelor of Science in Business Administration (BSBA)
Resume layout and design
However conscientious you are in saying all the right things the right way, this could all be in vain if your operations director resume fails to look as good as it sounds. The attention and effort you put into eye-pleasing visual details will never be wasted. 
Strive for a professionally polished impact that's stylish but gimmick-free. Less is more when it comes to an impeccably clean, uncluttered, reader-friendly layout, and no more than two complementary font styles. Be generous about page margins and white space to balance the text-heavy sections. But go easy on graphic flourishes and color splashes.
Expert tip
Even if you know where to turn for graphic design expertise, or your own instincts and talents are reliable, Resume.io's ready-made resume templates offer a time and hassle-saving alternative without sacrificing originality. Take your pick from a wide selection of field-tested designs, click to download, and use our builder tool to customize the wording. 
Key takeaways for an operations director resume
An outstanding operations director resume connects your past and future successes in advancing the employer's goals across all teams at every level.
With a background and talents that are likely diverse and extensive — even if concentrated in a particular industry or type of organization — you must target the employer's specific hiring needs to stand out from other job candidates with similar abilities and work experience.
Our usual custom-tailoring tips hold true for a persuasive operations director resume. Let the posted job requirements be your guide for keeping it directly relevant and for keyword use to avoid ATS rejection.
Using one of our expert-designed resume templates frees you from fretting over the design details so you can focus on writing impressive content.