Success in the insurance business hinges on your understanding of each client's specific needs when offering something intangibly priceless — peace of mind. A job-winning insurance agent resume takes the same approach, conveying your effectiveness in targeting the employer's key requirements. 
In fact, this is pivotal to the peace of mind that job seekers in all fields can attain from the experts at Resume.io. Our online resources include 350+ occupation-specific resume examples and writing guides. The guide you're reading now will take you through our proven resume writing process, with wording you can adapt from an insurance agent resume example. We've got you covered with:
An overview of what insurance agents do and the job market outlook
The correct structure and best format for an insurance agent resume
Writing advice geared to what busy recruiters look for in each resume section: header, summary, work history, education, and skills
Professional layout and design tips for visual flair
What does an insurance agent do?
Insurance agents are professionals who act as intermediaries between insurance companies and individuals or businesses seeking coverage. They help clients understand and choose the insurance products and services that best suit their needs. They may also assist in the application process, provide guidance during the claims process and handle policy renewals.
Some insurance agents work exclusively for one company, selling only policies provided by their employer. Others work independently, offering a variety of policies available from several companies. They may generalize or focus on any of the following types of insurance policies: 
Property and casualty insurance — individual and business coverage related to vehicle accidents, property damage, theft, personal injury liability, workers' compensation, product liability, and professional malpractice
Life insurance
Health and long-term care insurance
Some insurance agents are also licensed to sell mutual funds, variable annuities, and other securities. 
Average insurance agent incomes vary by experience, location, types of insurance, and employer commission structures. Typically, they earn a base salary and commissions based on the policies sold. 
Statistical insight
According to the U.S. Bureau of Labor Statistics (BLS), the median annual wage for insurance sales agents in May 2021 was $49,840. 
Glassdoor estimated the total pay for U.S. insurance agents in September 2022 was $67,913 per year, representing an average annual salary of $49,758. An additional $18,155 could include a cash bonus, commission, tips, and profit sharing. 
BLS projections for insurance sales agent employment growth between 2021 and 2031 is 6%, about as fast as the average for all occupations.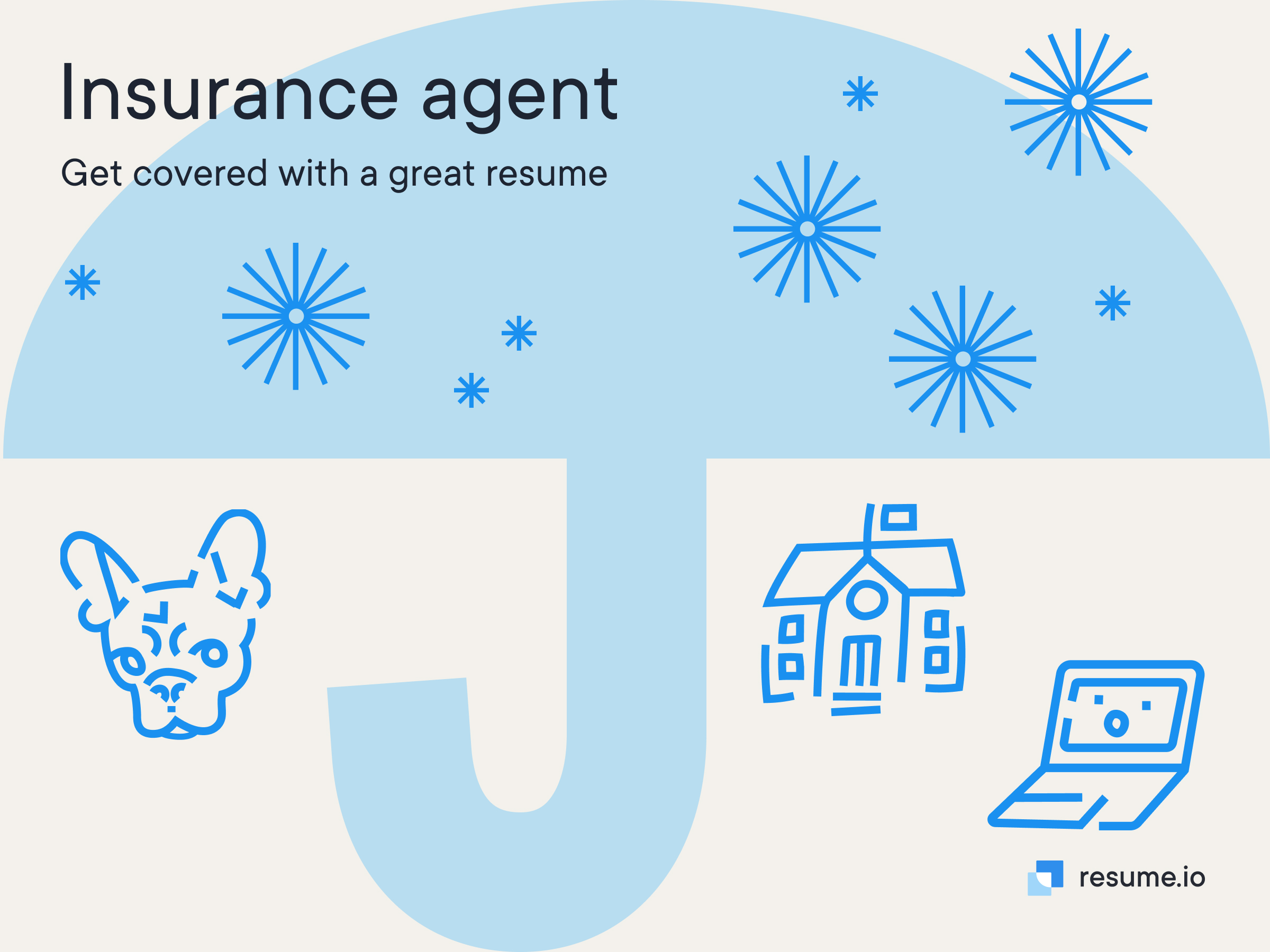 How to write an insurance agent resume
Before touching on the resume targeting tips that apply to each new insurance agent job application, let's look at what virtually all resumes should have in common. Regardless of occupation, there's a set structure consisting of these essential resume sections:
Header
Summary
Employment history
Skills
Education

This framework can help you stay on track when organizing your insurance agent resume content. You will likely start out with more information than space will allow. Determining the right length for a resume can be tricky — shorter is better without sacrificing anything vital to the job. However, details that hiring managers are not interested in should be omitted. 
It's a matter of pinpointing the most directly relevant qualifications and customizing your resume accordingly. The more precisely it fits the advertised job requirements the more likely it will stand out from the rest.
The posted job ad is also where you should extract keywords to incorporate into your resume. This helps optimize it to avoid rejection by an applicant tracking system (ATS) that may be used to screen online submissions.
For more ideas and inspiration, take a look at some of Resume.io's other writing guides and resume examples. We suggest these in particular: 
Choosing the best resume format for an insurance agent
Unless you are working as an independent insurance agent, the most common chronological format is the best choice for organizing your resume content. This emphasizes your progressive work experience as an employee, with highlights listed in reverse chronological order from most recent to earliest dates. 
Insurance agents working on their own or switching careers might consider the functional resume format, giving more prominence to skills rather than employers. A third option is the hybrid resume format, combining both chronological and functional elements.
Resume header
A distinctive header serves as a visual branding element, serving both a practical and aesthetic purpose in creating a memorable first impression. It draws the reader's eye to your identifying information on the page: name, occupation, contact information, and LinkedIn URL. This makes it easy for recruiters to revisit your shortlisted resume and get in touch with you for an interview.
White space offsetting the body text adds eye appeal and makes the page look more inviting to read overall.
Insurance agent resume summary example
The summary of your insurance agent resume (sometimes called the profile or personal statement) should hook the reader's attention straight away. As a concise synopsis of your key qualifications, it connects past achievements and future potential from the ideal-hire perspective. Appeal to what the employer needs from the problem solver you promise to be — so much the better if you refer to the company by name.
Besides indicating how much relevant experience you have, highlight one or two examples of stellar performance. By how much did your upsell rate surpass the department average? What about your lead-to-sales conversion track record or the average annual value of new sales you generated? Substantiate these claims in percentage or dollar terms. At the same time, hints of your personality and passion for the role will leave no doubts about your relationship-building strengths.
Below is an insurance agent resume sample summary you can customize.
Adaptable summary resume sample
Motivated, results-driven insurance expert who excels at detail-oriented and efficient claims and insurance management. Successful career encompassing experience handling a wide range of complex insurance claims. Highly adept at executing thorough assessments of major insurance claims requests. Excel at conducting in-depth claims investigations and compensation evaluations.
Employment history sample
Having piqued the recruiter's interest in your resume summary, it's time for some evidence of what you can deliver. You offer the employer peace of mind in the same way you exhibit good faith to your clients.
The employment history section of your insurance agent resume should tell a story of professional growth, leading logically to this mutually beneficial next stage. Again, focus on relevant work experience that will make the recruiter pay keen attention. Differentiate yourself by composing uniquely dynamic bullet points highlighting accomplishments, not generic responsibilities. Action verbs in the past or present tense will contribute a sense of energy and momentum.
Try to quantify beneficial outcomes in terms of profitability, product and service integrity, and client satisfaction. Convey the lengths you go to research new insurance offerings and evaluate their potential to satisfy your clients. Talk about the effectiveness of your client communication strategies, and give examples of how well you work independently and as part of a team. 
Below is the employment history section from our insurance agent resume sample.
Adaptable employment history resume example
Insurance Agent at Country Financial, Portland, OR 
May 2017 - Present 
Coordinate claims adjudication.
Liaise with subrogation and salvage unit in handling third-party recoveries.
Work with underwritiers to present claim updates and advise on policy wording.
Conduct ongoing monitoring of claims activities and report to management.
Insurance Sales Agent at Farmers Insurance, Portland, OR 
June 2010 - May 2017 
Facilitated sales of insurance products and services.
Solicited new prospects and provided exceptional support to existing clients.
Answered inquiries from policyholders and educated clients on available options.
Conducted community networking, and attended sales conferences.
Insurance Agent Trainee at Farmers Insurance, Portland, OR 
January 2010 - June 2010 
Acquired insurance sales skills in a hands-on environment.
Scheduled appointments with prospective clients to ascertain financial resources and insurance needs.
Generated sales through life and health insurance policy recommendations.
Consistently delivered outstanding customer service.
CV skills example
Carefully selecting the right mix of hard skills and soft skills to list on your insurance agent resume is consistent with the targeted approach we've been stressing. A winning combination of learned abilities and innate personal attributes will assure prospective employers that you've got them covered on all counts. 
Refer once again to the posted job requirements as a checklist of abilities that should take top priority on your resume. Besides demonstrating your responsiveness to the employer's needs, this is another way to naturally include keywords as an ATS-proofing safeguard. 
Otherwise, specifying insurance-related skill applications can help set you apart from other job contenders whose skill list is more generic. For example:
Specific sales skills can include upselling, cross-selling, qualifying leads, cold calling, and client relationship building.
Administrative and technical skills might encompass report generation, CRM software, and application submission.
In addition to insurance product knowledge, an understanding of tax and legal implications may be important, as well as clients' personal financial considerations.
Interpersonal, communication, and customer service skills might encompass empathy, honesty, emotional intelligence, dependability, and putting the needs of clients first.
Check out our insurance agent resume example for the skills section below.
Adaptable skills section resume example
Insurance Sales
Customer Service
Underwriting
General Insurance
Claims Management
Commercial Insurance
Casualty Insurance
Health Insurance
Claims Reviews
Microsoft Office
Insurance agent resume education example
The education section of your insurance agent resume should start with a list of your relevant postsecondary degrees, certificates, or diplomas, in reverse chronological order from highest to lowest level. High school information can be omitted if you have a bachelor's degree or higher. 
On-the-job training should also be mentioned, along with continuing education to update your knowledge of tax laws, government benefit programs, and state or federal regulations affecting the insurance industry. The same goes for any courses required for state licenses to sell insurance, and in addition, securities and financial products if applicable.
Be sure to list certifications, along with professional memberships and any awards or special honors you've earned.
Below is the education section from an insurance agent resume you can modify.
Adaptable education resume example
Associate of Science in General Studies, Portland Community College, Portland, OR 
September 2007 - May 2009
Resume layout and design
Your resume should visually project to hiring managers the same professional confidence you display when discussing insurance options with clients. There's no room for any deficiencies in document layout, design, or formatting. But there's still some creative leeway to convey the enthusiasm that makes your client interactions engaging.
You can't go wrong with an uncomplicated layout that appears neat, clean, and orderly at first glance. Ample white space in the page margins and between the lines and paragraphs allows the text to breathe. With legibility trumping all other formatting considerations, take care in choosing no more than two compatible font styles — one for body text and another for titles and headings. Sparing graphic elements and touches of color are fine if they don't detract from reader-friendliness.
The hassle-free way to take care of these visual details is to leave it up to Resume.io. Simply choose one of our professionally designed and field-tested resume templates, available in four style categories. Once you've downloaded the design you like, our builder tool makes it a snap to drop in your own replacement text. The job will be done in no time!
Key takeaways for an insurance agent resume
Your insurance agent resume is the perfect vehicle for demonstrating how attuned and responsive you are to the needs of clients or employers seeking perfectly-matched solutions.
A custom-tailored resume begins and ends with the advertised job requirements — first to assess the employer's needs and finally to serve as a checklist for making sure everything is covered.
Keyword use is like insurance against ATS rejection.
A visually attractive and professionally polished resume document is assured when you use a ready-made resume template.