If you've ever seen the TV show "The Office," the words "assistant manager" may conjure up images of Dwight Schrute and the power struggle in his role as "assistant to the regional manager." 
Fictional workplaces aside, assistant managers are the right-hand men and women of leadership teams. This essential role is often the liaison between upper management and junior employees. While responsibilities may vary from company to company, the need for a strong resume that highlights your leadership skills is a must no matter where you plan to work.
Luckily, Resume.io is here to help. This resume guide, along with the corresponding resume example will cover the following topics:
 
What does an assistant manager do?
How to write an assistant manager resume (tips and tricks)
The best format for an assistant manager resume
Advice on each section of your resume (summary, work history, education, skills)
Professional resume layout and design hints.
Expert tip
With 350+ resume examples and writing guides, Resume.io is an expert resource for job seekers in all fields and at all stages of their careers.
What does an assistant manager do?
Assistant managers must be prepared to handle a variety of tasks that may change depending on upper management's decisions and the company's needs. Some common tasks delegated to assistant managers include
Scheduling meetings between teams and management
Assisting with hiring procedures, performance reviews, and terminations
Assessing employee morale and working to improve corporate culture
Answering questions and providing guidance to junior employees
Supervising budget and spending decisions
Filing reports and documenting progress
Handling customer complaints and applying company policy accordingly
Assistant managers work across industries and are commonly found both in office-based jobs and in retail or customer service positions. The industry plays a big part in the type of duties that will be assigned to an assistant manager.
How to write an assistant manager resume
The very first step in writing your assistant manager resume is understanding what sections to include. Your CV should contain the following elements:
 
The resume header
The resume summary (aka profile or personal statement)
The employment history section
The resume skills section
The education section
While these sections will be found on resumes across job titles, an assistant manager should view each of them as an opportunity to focus on the leadership and conceptual skills that are vital to this role.
The job description is an essential first step in deciding how to approach your resume. Make sure to read it closely and pick out any duties or qualifications highlighted by the hiring manager. By using the employer's exact language on your resume you'll not only show the hiring manager your top selling points but also increase your chances of passing the Applicant Tracking Systems (ATS) in use at many medium and large companies.
Expert tip
What is an ATS?
Applicant Tracking Systems, known as ATS for short, are resume-scanning algorithms built into the majority of today's online hiring portals. If you're applying for a job online, chances are your application will pass through an ATS before reaching the hiring manager's desk.
ATS programs were designed to simplify the hiring process and save time for the HR manager by sending only the best candidates for human review. Oftentimes, however, perfectly qualified candidates get filtered out because they haven't included the right keywords on their resumes. That's why it's important to look for those duties and skills in the job description and place them on the appropriate sections of your resume using the employer's exact wording.
Choosing the best resume format for an assistant manager
As management professionals, assistant managers really only have one option when it comes to choosing a resume format: reverse chronological. This structure gets its name from the fact that it's based around the employment history section where your previous jobs are listed starting with the most recent and working backward through all relevant experience of the past 10 years. 
If this sounds familiar, that's because the reverse chronological resume format is considered the standard for professionals and those with some degree of previous experience. Since the assistant manager role is not an entry-level one, this is the structure that hiring managers, not to mention the ATS, expect to see. 
While alternative resume formats like the functional or hybrid models exist, we only recommend them for students, first-time job seekers, or those in independent fields.
Resume header
The resume header is the section at the very top of your resume that contains your name, contact information, and relevant social media profiles like LinkedIn. This section is essential because it makes it easy for a hiring manager to contact you if they'd like to set up an interview. Your resume header should mimic the tone of the company you're applying to, so you may need to choose different looks for different openings. We'll discuss the design of your resume later on in this guide.
Resume summary example
The resume summary is the first section under the header designed to capture your key skills and qualifications in order to entice the hiring manager to keep reading down the page. The summary should be about 3-5 sentences in length and should feature key success metrics of your experience. Make it clear why you're the right candidate for the job with a succinct and direct summary. Check out our summary resume example below.
Adaptable summary resume sample
Accomplished leader with broad background of success contributing to operations oversight for busy retail operations. Excel at leading
and mentoring world-class, multidisciplinary teams. Exceptional budgetary and financial analysis acumen. Record of success bolstering revenue through development of innovative sales, marketing and business development strategies.
Employment history sample
The employment history is the most vital section of your resume and the one that will likely draw the hiring manager's eye first. This is the place to show the impact you've had in your previous positions and the value you can bring to an assistant manager role in the company you're applying to.
Start by creating subheadings with the job title, employer name, dates worked, and location. Underneath, add 4-5 bullet points highlighting your responsibilities and achievements. Offer statistics and concrete data wherever possible in order to drive home your effectiveness in leadership positions. See our adaptable resume sample below for more insight.
Adaptable employment history resume example
Associate Manager at Furniture Depot, Inc., Knoxville, TN
June 2014 - Present
Progressed through initial management training role to quickly gain accountability for key support in operations management.
Assigned to lead, train and mentor cross-functional team of 15+.
Integral contributor to development, analysis and forecasting of multimillion-dollar annual budget.
Formulate and implement innovative, revenue-generating sales and marketing strategies.
Customer Service Manager at Big Department Store, Knoxville, TN
June 2010 - May 2014
Rose quickly from cashier to responsibility for oversight of 10-member retail team.
Planned, scheduled and monitored daily tasks of team members.
Interfaced directly with customers on a daily basis and resolved escalated issues.
Closed out store and balanced cash registers.
CV skills example
The skills section of your CV is usually formatted as a bullet point list. That means that it's a great place to call the hiring manager's attention to your can't-miss qualities. Make sure to include any technical skills, also known as hard skills, mentioned in the job description along with a few essential soft skills, or personal traits, that make you a great leader. The skills section is one area of the CV that ATS pays particular attention to when looking for keywords, so don't forget to use the exact wording from the job description. See our adaptable resume example below.
Adaptable skills section resume example
Microsoft Office
Ability to Multitask
Leadership and Teamwork
Customer Service
Budget Management
Marketing & Sales
Business Development
Staff Scheduling
Employee Training
Assistant manager resume education example
The educational requirements for an assistant manager will likely vary depending on the industry. While sales or business professionals may be required to hold advanced degrees, retail or hospitality managers may be able to apply with a high school diploma and previous experience in the field.
To write a great education section, first create subheadings with the degree or diploma name, school, dates attended, and location. You may also include 1-2 bullet points to mention relevant coursework or leadership achievements. Once you've completed higher education, it's OK to leave your high school off your resume. Check out our adaptable resume sample for more guidance on writing the education section.
Adaptable education resume example
MBA, University of Phoenix, Online
February 2022 - Present
Bachelor of Arts in English, University of Tennessee, Knoxville, TN
September 2006 - May 2010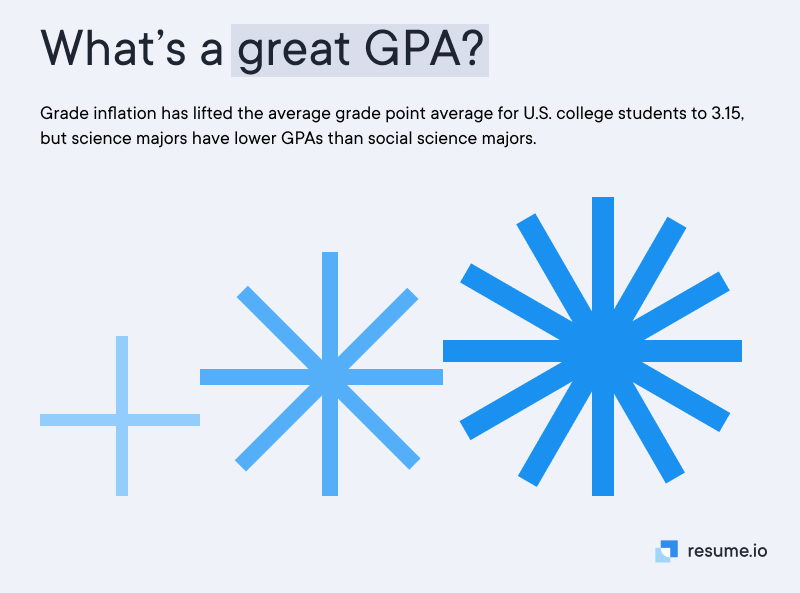 Resume layout and design
The layout and design of your resume speak volumes about your professionalism and seriousness about the assistant manager position. Make sure to consider the company's tone and style when choosing a layout. When in doubt, a neutral or monochromatic color scheme is often the best choice as it is pleasing to hiring managers and easy for the ATS to scan. Our professional resume templates make it easy to try out different styles and submit a resume free of spelling or grammatical errors. Here are a few more tips:
Do
Keep consistent font styles and sizes throughout your resume
Create clear section headers that stand out
Use standard 1-inch margins
Don't
Create a flashy or overly colorful resume – clean is best
Overcrowd the page leaving no white space
Forget to proofread before submitting
Key takeaways for an assistant manager resume
Assistant managers serve a vital role as liaisons between executives and staff.
The duties will likely vary between companies so make sure to read the job description closely and tailor your resume.
Use your summary to highlight your key qualities and encourage the hiring manager to keep reading the rest of your resume.
The employment history section should contain data that shows your effectiveness as a manager.
Get a head start on your resume design by checking out our adaptable assistant manager resume sample.