You're the man or woman behind an innovative idea. Packing strength, determination, and a will to succeed, you've built businesses from the ground up. It hasn't been easy but you did it… and now you're ready to share your expertise by joining an existing company, in a new role. 
If you're looking to write an entrepreneur resume, you've come to the right place. Here at Resume.io, we provide expert-backed writing guides and well-written resume examples for 350+ professions. In the following guide, and corresponding entrepreneur resume example, we will be covering these core topics: 
What entrepreneurs do
The market outlook for starting a new business
How to write an expert entrepreneur resume
Advice on what to include in each section of your application
Design and layout tips to help you get started.
What does an entrepreneur do?
An entrepreneur is a risk-taker — the visionary who spots a gap in the market and decides to fill it. These are the savvy individuals who have the spark of an initial idea and start a business. They create concepts, structure the business, and work on logistics. 
Of course, no two entrepreneurs are the same. Bill Gates' day won't be identical to Mark Zuckerberg's day, after all. The daily activities of each entrepreneur will differ depending on a few factors; the size of the business, the industry, and how involved they are. 
When the business is in its infancy, the entrepreneur will have to wear a whole bunch of hats. One day, they will be the salesperson, trying to gather funds for the project. Next, they may be the ideas person, coming up with new products and services. Then, they may switch to the HR manager, looking for new staff and onboarding the team. 
However, as the business grows, the entrepreneur may start to take more of a back seat. Since they will have hired people for the above roles, they can focus on the broader brush strokes of running a business — its vision, values, and overarching strategy too. 
Starting a business outlook
The future may be bright for entrepreneurs. Between March 2020 to March 2021 — in the heat of the pandemic— around 1.1 million new small businesses opened in the US. The rate of startups took over the rate of business closures. That means that there were roughly 180,000 more new businesses than ventures that had to close their doors. 
It's worth noting that making a startup profitable isn't as easy as it sounds. According to B2B Reviews, 21% of companies fail by their first year and 28% by the second year in their lifecycle. It doesn't end there. By the fifth year, that failure stat soars to 48% and a massive 65% by the tenth year. Put simply, creating the next Apple isn't a walk in the park.
However, you shouldn't let that hold you back. As Paulo Coelho wrote in The Alchemist, "There is only one thing that makes a dream impossible to achieve: the fear of failure." Should the business world knock you down, it's important to get back up and try again.
Statistical insight
Your business is your baby! 
Do you love your startup venture like a child? Hear us out — there might be a reason.
While it sounds hyperbolic, new research suggests that entrepreneurs experience the same emotion toward their businesses as parents do toward their children. 
The study found that both entrepreneurial and parental love are supported by the same reward and emotional processing structures within the brain. 
How to write an entrepreneur resume
Ready to put pen to paper? As an entrepreneur, your business experience is certain to make any hiring manager's jaw drop. While you might have a lot to share, it's important to stick to a solid structure. With that in mind, your CV needs to contain the following:
The resume header
The resume summary (aka profile or personal statement)
The employment history section
The resume skills section
The education section
Using the above structure will help you keep your resume on track. It can be all too easy to start going off on a tangent. You're not delivering a TED talk here. Instead, your entrepreneur resume needs to reflect your professional journey in a clear way. Resist the urge to meander down memory lane. Save those nuggets for your memoir. 
When writing an entrepreneur resume, your mission is simple: You want to land a brand new position based on your business expertise. You only have one page to show off your skills and experiences so far. For that reason, the resume real estate is valuable. It pays to be selective about what you include and the snippets of information you share. 
Be sure to do some essential research first. If you are applying to a company and want to nab the top spot, you need to know your stuff. Dig deep into the history of the business, how it started, and what its future holds. As an entrepreneur yourself, you should be fascinated about how another enterprise came to be. Use that curious mind of yours.
Expert tip
Optimize your resume for success! 
Before the hiring manager takes a look at your resume, it might need to beat the bots. Applicant Tracking Systems (ATS) are becoming more and more popular. This software ranks incoming applications by how well each of them fits the core job specification. 
If you want to increase your chances of success, you should optimize your resume. Take a look at the keywords and phrases used in the job advert. By including some of these throughout your resume in an organic way, you may just get past the ATS software.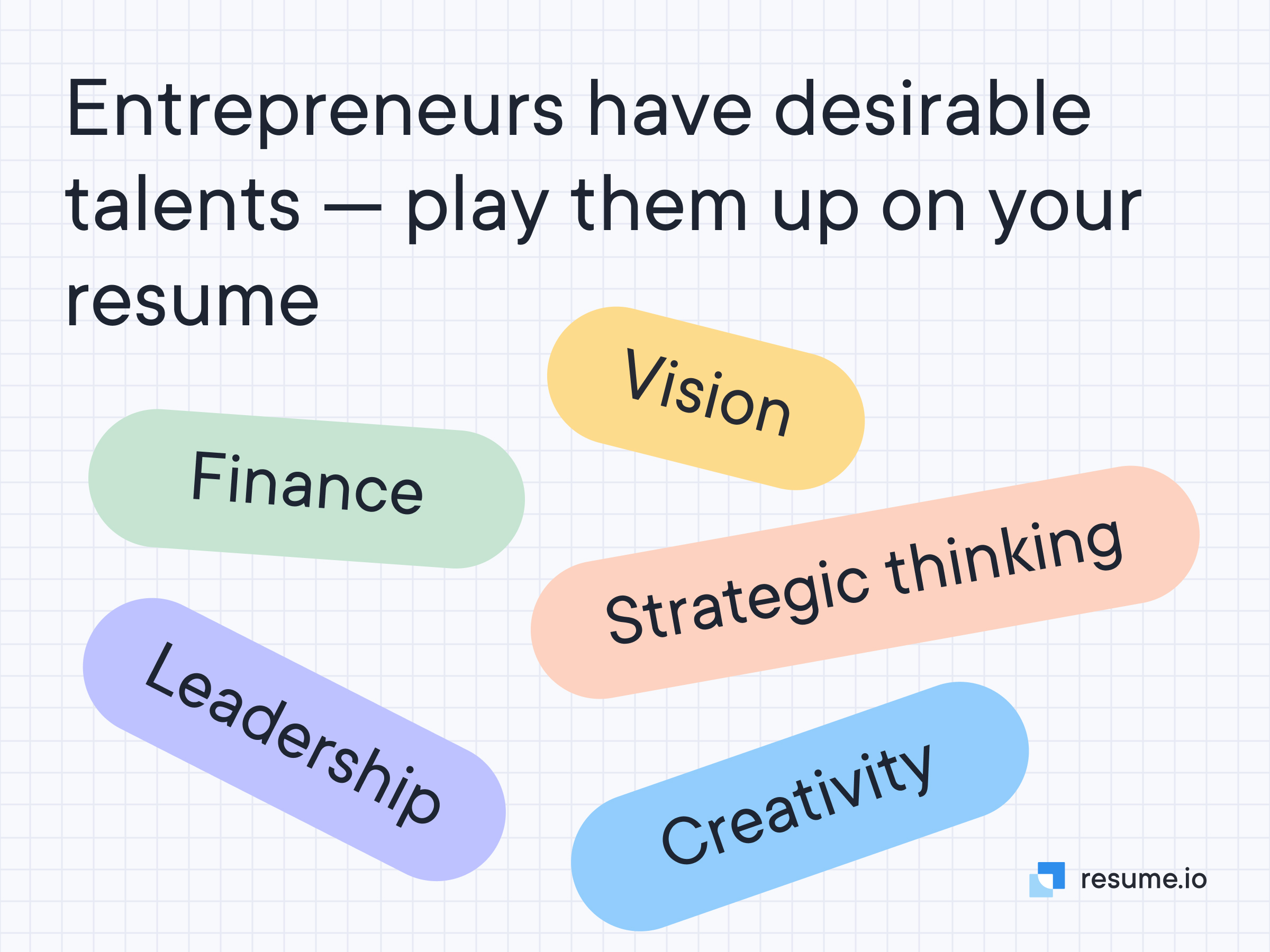 Choosing the best resume format for an entrepreneur 
As a rule, you should use the reverse chronological approach when structuring your resume. That means starting with your most recent experience at the top of the page and working your way backward. At a glance, the hiring manager can see your top accolades. 
However, entrepreneurs' professional lives are rarely linear. You may find that you benefit from a functional resume format or even a combination approach. To help you determine which option works best for your case, take a look at our complete formatting guide here. 
Resume header
An eye-catching resume header can set you apart from the crowd. Just like you, this section of your application needs to be bold, dynamic, and clear. This part includes your contact information — your name, phone number, and email — so a hiring manager can easily reach you. Don't make things too complicated here. Get straight to the point. 
Resume summary example 
If creativity runs through your blood, you're in luck. The resume summary is the perfect place for you to flex those muscles. What is it that makes you a unique candidate? What business experience do you have that nobody else brings to the table? Can you quantify the impact you've had on the enterprises you've led? Keep these questions in mind. 
While the summary is the most freeform part of your entrepreneur resume, don't get carried away with the word count. You only have two or three sentences to play with. Select the most pressing information and place it front and center. To save space, you can leave out any needless openers, such as "I am," "I have," or "I did". Get to the point. 
Pick out your most impressive feats so far and let them speak for themselves. You don't need to tell your whole life story here. Think of your summary as your highlight reel. 
Adaptable summary resume sample
Accomplished business leader with recent MBA and proven, hands-on business management skills. Expert talents in financial management, forecasting and recordkeeping. Exceptional capacity for customer and account relationship management, retention and growth.
Employment history sample 
Since you're an entrepreneur, you may never have held a standard job. That's okay. You can list your experience as a business founder in the employment history section. As we have already covered, you may want to use a reverse-chronological approach here. 
Start with your most recent experience — e.g. the business you recently launched — and work your way back in time. Include your title, the company name, and when it was founded. Beneath those headers, you can bullet point your biggest achievements. 
Adaptable employment history resume example
President & Operations Manager, Nadia's Bookkeeping Services, Montgomery, TX 
February 2015 - Present
Launched business to provide bookkeeping services to a diverse client base.
Manage all aspects of business operations, strategy, and finances.
Pursue, manage, and retain client accounts.
Handle client accounts of various sizes, including individuals and small- to mid-sized businesses.
Server, Al Aseel Grill and Cafe, Houston, TX 
March 2013 - March 2013
Provided friendly, efficient service to patrons of Middle Eastern restaurant.
Maintained high levels of accuracy in taking orders and handling special requests.
Took cash and credit card payments from patrons and provided accurate, timely change and receipts.
Selected shortly after hire to provide training and coaching to new servers.
Entrepreneur resume education example
The education section may not be as important as your entrepreneurial experience but that doesn't mean you can neglect it. List the qualifications you have under your belt in reverse chronological order. You should include the institute, the dates you attended, and the full name of the certificate you received. Be clear and concise about your schooling.
Adaptable education resume example
MBA, University of Houston, C.T. Bauer College of Business, Houston, TX
March 2021 - April 2022
Graduated with honors.
GPA: 4.0/4.0.
B.Sc. in Business Management, University of Bahrain College of Business Administration, Zallaq, Bahrain 
September 2008 - September 2012
Graduated at top of class.
CV skills example 
A robust list of skills can be a real selling point on your entrepreneur CV. This is an excellent opportunity to sneak in some of the keywords you noticed on the job posting. 
Your CV skills need to be a balance of both hard and soft talents. Hard skills include those that are directly applicable to the job at hand. For example, if you work in tech, you might include "computer programming" or "computer-aided design". Your soft skills are the ones that allow you to work well in the business, like "communication" or "teamwork", for example.
Adaptable skills section resume example
Bookkeeping & Accounting
Business Management
Business Development Strategies
Project Management
Leadership Skills
Analytical Thinking Skills
Interpersonal Communication Skills
Multitasking Skills
Account Management
Resume layout and design
Ready, steady, go! You have a matter of seconds to make the right first impression. It doesn't matter how impressive your skills, experience, and education are if the recruiter dislikes the way your resume looks. Luckily, we have some top tips to help you get started.
Do
Make a big visual impact. Choose a resume design that packs a real punch with a dynamic look.
Include white space. You don't have to fill every space on your resume. Allow for a small buffer.
Focus on readability. The #1 thing you need to focus on is whether the information is clear for the reader.
Don't
Get taken in by gimmicks. You need to make sure that your entrepreneur resume is clutter-free.
Cram in TMI. Trying to fit too much information onto the page? That's a quick way to overwhelm the reader.
Use too many fonts. Differing styles can make your resume look messy. Stick to one or two here.
Is graphic design your weak suit? Don't panic. You can take all of the stress and hassle out of this task by using one of our field-tested r esume templates. Since the most tedious formatting tasks are taken care of, you can focus on the content of your resume.  
Key takeaways for an entrepreneur resume
Showcasing your experience and skills in an entrepreneur resume is a tall order. By sticking to a solid structure — like our resume sample — you can get it right.
Be selective about the information you share. You might have a long story to tell but your resume should read like a "highlight reel" of your key skills and experiences.
Ensure that the design is bold and eye-catching but steer clear of a busy look.
Make sure you do your research before you get started on your next resume!