A business career can take you in many different directions. You've started investigating where to go from where you are now and you understand that no matter what you decide, you know you need a great business resume.
The best resumes alert employers to your skills while putting emphasis on what you can do for them. They follow an easy-to-use format and step up to the line of self-aggrandizement without touching it. After all, if you don't have the confidence that you have what it takes, why would a recruiter think you do? To help you find the perfect tone, take a look at not just this guide and resume example, but Resume.io's wealth of resources for job hunters, including our resume examples for dozens of business careers.
Within this resume guide and the corresponding business resume example, you will find information on the following topics:
What do business people do?
The framework for writing a business resume plus tips and tricks
The best format for a business resume
How to compose the summary, employment history, education, and skills sections
Ideas for creating a professional layout and additional design hints.
What does a business person do?
What does a business person do? That's a big question. Business people conduct a whole host of different operations for companies with different functions. Within those categories fall many different jobs. That means your business resume must be tailored to the type of business and function you desire.
Businesses may be mom-and-pop operations, multinational corporations, or somewhere in between. The three main functions of businesses are service, merchandising, and manufacturing. 
Most businesses are organized into five umbrella departments:
Finance
Human resources
IT
Marketing
Operations management.
Statistical insight
How much can you earn in a business career?
The sky's (almost) the limit, but your income will depend on your role, your experience level, and your education.
Here are the highest paying jobs for mid-career business majors, according to Payscale:
Finance director, $119,000
Accounting director, $113,000
Corporate controller, $110,000
Portfolio manager, $106,000
Tax manager, $104,000
How to write a business resume
The best businesses have structures for achieving their goals that make critical thinking and problem-solving easier. Right up front, you can demonstrate your ability to follow structure by using the common components all resumes contain within your business resume.
Your business CV should contain the following standard elements:
The resume header
The resume summary (aka profile or personal statement)
The employment history section
The resume skills section
The education section
Yes, your resume will follow a structure, but the best business people understand that structure allows for freedom. Take advantage of the content of your application by addressing each human resources department individually. In other words, tailor your message to fit the role, the industry, and the company. Especially if you are looking for an HR position, you do not want to apply with a generic document.
Expert tip
How to personalize your business resume
Before you decide that since you are looking for similar jobs, one resume is enough, here's why you need to adjust each application:
Applicant Tracking Systems (ATS): When you apply online, you're using an ATS, which scans your data and then ranks your business resume using algorithms that include keywords and phrases from the job listing. Make sure you include the skills that are important to your prospective employer for the best chances of passing your first test.
Recruiters see hundreds of resumes and they can tell when someone has put in the extra effort – and when they haven't.
Choosing the best resume format for a business person
Once again, structure plays a role. Your goal is not to reinvent the wheel, but to allow the HR department to quickly scan your business resume for relevant information. To achieve that, your best bet is a reverse-chronological order format. 
It is likely that the most important initial information for HR is your most recent title and position, your contact information, and your skills, so make sure that when you compile your resume, those pieces stand out. If they like what they see at that point, they will either read on or put you in the "to interview" pile.
This format mostly affects your employment history section, where you will begin with your most recent experience and work your way backward (no more than ten years unless you have very relevant earlier experience).
You may consider other options, such as the hybrid resume format, if your career has followed a more circuitous route, you are a newly-minted business graduate, or your career has spanned more than a couple of decades.
Resume summary example
Seize the opportunity of your business resume summary to hone in on who you are as a business person. Get to the heart of your experience and professional personality to answer the questions: "What value will you bring to the business?" and "Why should I hire you?" 
Especially if you are looking for a marketing or sales position, you need to prove you can influence others by selling yourself and your skills. Highlight your greatest achievement and describe your working style and business philosophy. Add a sentence about why you chose to apply for this particular job.
This section is a mere 100 or so words, but it can make all the difference in whether or not you get that interview. 
Adaptable resume summary example
Dedicated Business Analyst with a strong understanding of finance, operational proficiency, and business development. Adept in project management and trend analysis. Committed to gaining extensive knowledge of the structure, policies, and operations of an organization, to properly recommend solutions that improve business processes.
If you want to read summaries for specific careers, head over to our resume samples including
Employment history sample
The employment history section of your business resume offers employers the best opportunity to see the rate of your career growth and how you have applied the skills you have and learned new ones. This is where you detail how you got to this point in your career. 
This section is typically written using bulleted lists to save space. Start each item with a strong action word and follow it up with the results of your action. Your goal is to present a story of career growth, so leave out the basic responsibilities of your higher-level positions and focus on the challenges you successfully faced. Use as much data and details as you can to back up your claims and offer concrete evidence of your successes. If you are a recent graduate, see the expert advice below.
Adaptable resume employment history example
Business Analyst, Lexagon, New York 
Jun 2019 - Present 
Steadily provide direct support to process improvement in customer service operations.
Analyze, define, and develop complex business process methods to simplify and improve the customer experience for this busy recruiting firm of 80 associates.
Work directly with business users to understand requirements and expectations, while making recommendations for business and process improvements.
Research best business practices both internally and externally to establish benchmark data.
Build test scripts to thoroughly test the accuracy of loaded data.
Assist in the financial analysis and due diligence process for key projects, helping to cut costs by 40% in my first year of employment alone.
Evaluate existing processes, and recommend optimal solutions and improvements.
Expert tip
How to write a business resume with no experience
That title is a misnomer. You do have experience. The key here is remembering that HR departments know everyone starts somewhere, so they are looking for the soft skills that make a good employee as well as the basic business knowledge you learned in school.
List internships (even if they are not directly related to the position you seek), summer or part-time jobs, and volunteer work. All of these show that you are reliable, responsible, have time management skills, and can communicate with others.
Bump your education section up above your employment history and list coursework and projects that apply to your desired career.
CV skills example
Think of the skills section of your business resume as a snapshot of the best attributes you have that fit the job. Far from a simple section to create, this is a highly curated listing taking direct aim at the skills your prospective employer seeks.
Go about this by analyzing the job listings and taking note of all the skills the position requires. Then, match those with 4-7 items in this component of your resume. Many applicants choose to rank their skills as well as list them. If that is you, mention only skills in which you are proficient or an expert.
Harvard Business School lists these as the ten skills every business professional needs:
Understanding of economics
Emotional intelligence
Networking
Leadership
Business management
Project management, planning, and organizing
Financial management
Communication and negotiation
Financial accounting
Data analysis.
You should also try to illustrate these attributes in your employment history and summary sections, which afford you the opportunity to expand upon your skills section.
Adaptable CV skills section resume example
Business Development and Management
Leadership
Problem Solving
Attention to Detail
Interpersonal Skills
Finance and Accounting
Business resume education example 
Many business people have undergraduate degrees in business administration or a related field, but that is not a hard-and-fast rule. No matter what you majored in, your business resume is incomplete without an education section.
Once again, employ reverse-chronological order, so if you have an MBA or doctorate, list that first. If either is the case, there's no need for you to include your high school experience. Your GPA is also only relevant if you have just graduated and it is 3.5 or above. If you are still in school, list your anticipated graduation date.
Other items to consider for this section are any industry awards or honors you have earned. If you have more than a few, you may create a separate section to highlight these achievements.
Adaptable business resume education example 
NYU, Leonard N. Stern School of Business, Bachelor of Science, Finance, New York
Sep 2015 - May 2019
Overall GPA: 3.65; Major GPA: 3.89
Resume layout and design
Image may not be the only thing that gets you noticed by prospective employers, but it may be the first thing. That's what makes the look of your business resume so important. Your design is a function of the business sector and area in which you work.
If you work in merchandising for a hip apparel designer, your resume will look a lot different than if you are an accountant at a Fortune 500 firm. Use your judgment about how artistic your resume should look. Ask yourself the following questions to guide your process:
Is it readable?
Do my name and contact information stand out?
Does it project professionalism?
Is the formatting correct? (To avoid even thinking about this, use an online builder tool such as the one from Resume.io.
Do my design elements overwhelm the text?
Does the text look too dense? If so, try to alter your line lengths to add white space.
One more tip: Never hit the send button until you proofread. Better yet, get a second set of eyes to proofread for you.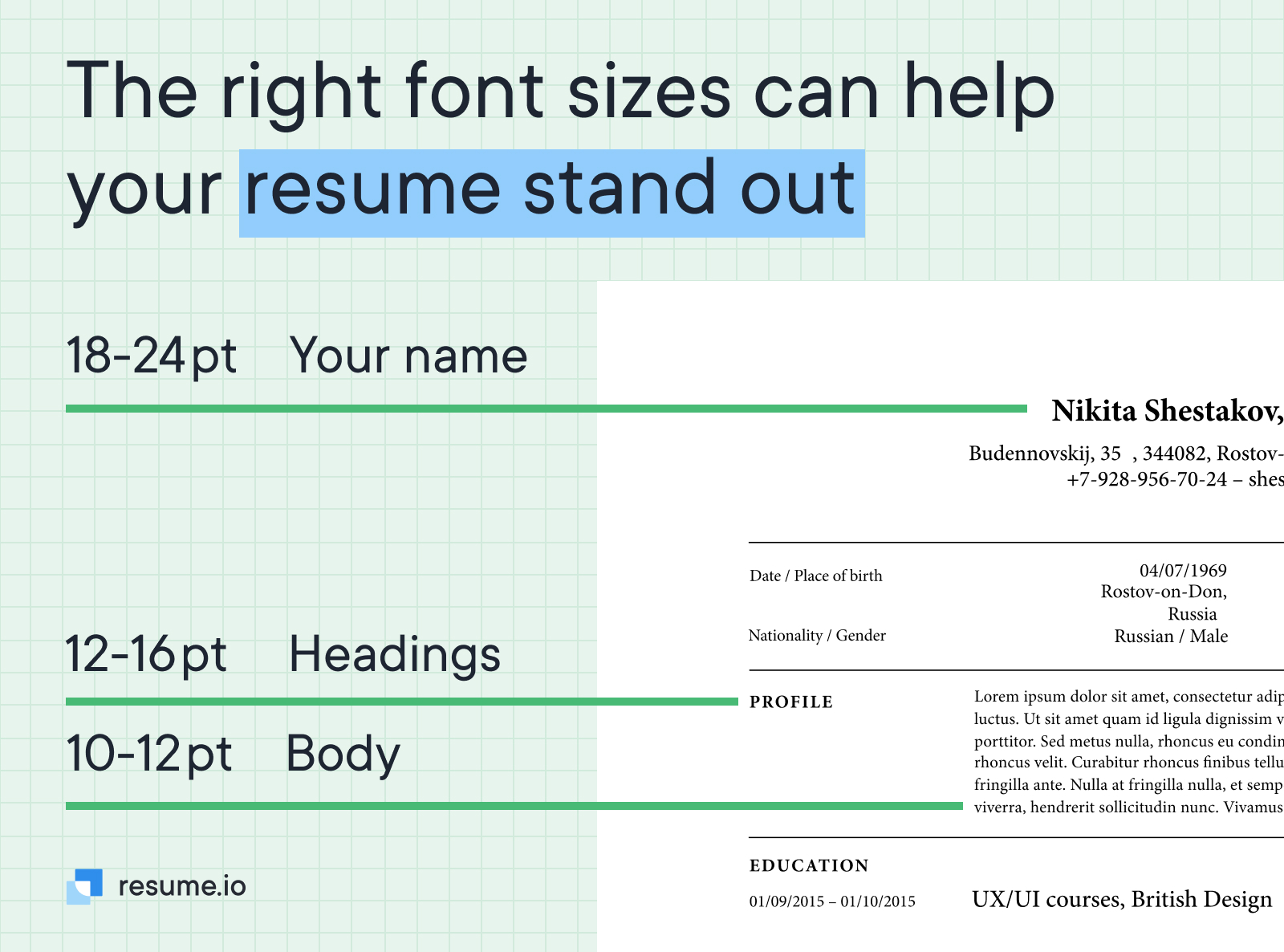 Key takeaways for a business resume
The category "business" encompasses a world of options from multinational to tiny shops and from creative marketing to numbers crunching.
Your business resume needs to reflect both the career you're pursuing and the needs of the employer you're targeting.
Write a summary that tells the recruiter exactly why you're an excellent candidate.
If you're new to the job market, play up your educational experience.
Get a head start on your layout with the expertly-designed resume templates Resume.io offers.