Making a commitment to a property can be a bit nerve-wracking. You want the right space at the right price. After all, you'll be making a financial and time commitment. Great leasing consultants understand the needs of their clients, whether they be businesses or individuals, and pair their needs with the perfect – or close to perfect – space.
The key to finding your next great job is relating how you accommodate clients and property owners within your leasing consultant resume. That's where we come in. Resume.io hosts resources that will make creating your application package and hunting for the right position easier. They include resume guides and resume examples for 350+ professions and an intuitive resume builder. 
Within this resume guide, you will find the following topics:
What does a leasing consultant do?
How to write a leasing consultant resume (tips and tricks)
The best format for a leasing consultant resume
Advice on each section of your resume (summary, work history, education, skills)
Professional resume layout and design hints.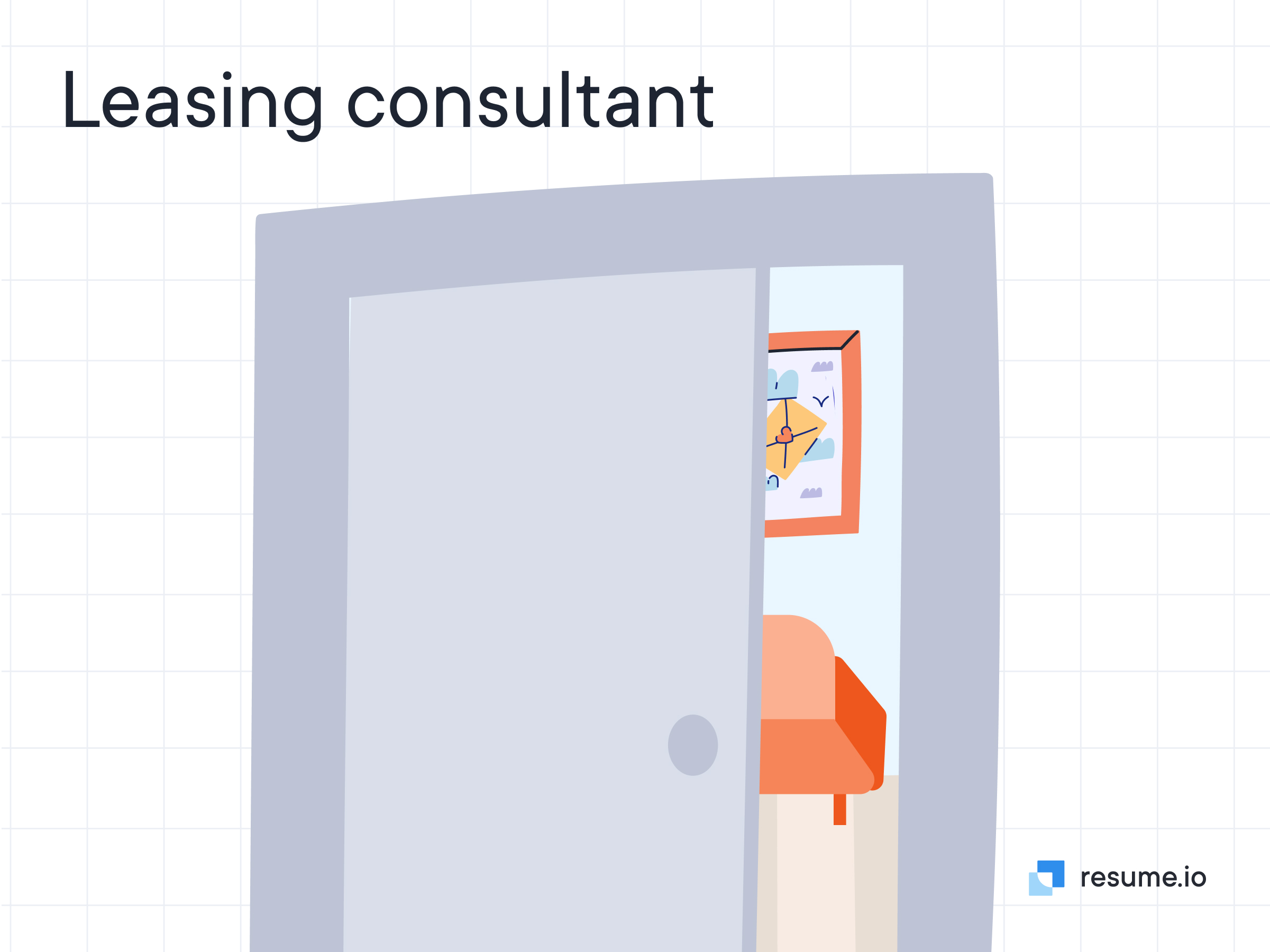 What does a leasing consultant do?
Leasing consultants find housing or office space for clients or work for property owners to find appropriate tenants for their apartments, homes, or office rentals. 
If they are working for the lessor, consultants must be good listeners who understand the needs of their clients. They develop lists of potential rentals and present them to their clients. They adjust their search parameters as necessary to ensure clients see all the best options for them. Leasing consultants then make appointments to see the properties and show each of them to their clients, pointing out the pluses and minuses.
Leasing consultants may help clients fill out paperwork, including background and credit checks, and negotiate and explain the terms of the lease.
Those who work for property owners assess applicants who wish to lease a property and negotiate for the property owner, schedule property viewings, follow up with interested potential lessors, and update property information.
Leasing consultant job market and outlook
There's no way to sugarcoat it: the pandemic and the increase in remote, hybrid, and work-from-home jobs have depressed the commercial real estate market. As much as 330 million square feet of U.S. office space is expected to go unused by the end of the decade. That's a 55 percent increase in vacancies, Fortune magazine reports.
The residential rental market remains hot but is showing signs of price softening. The good news for leasing consultants is that this is partially a reflection of the new housing supply. An expected 600,000 apartment units will be available this year. Additionally, 563,000 multifamily building permits have been issued, according to U.S. News. Builders and property owners will need agents to help them fill those units.
While the U.S. does not track employment numbers for leasing consultants, the Bureau of Labor Statistics estimates that the market for property, real estate, and community association managers will grow only 3 percent by 2031 and that for real estate brokers and sales agents will grow 5 percent in that timeframe.
Statistical insight
How much do leasing consultants earn?
The typical salary range for a leasing consultant is $29,676 and $36,449 with an average of $32,829, Salary.com data shows.
Working for a large corporation can greatly increase your bottom line. According to Glassdoor, these are the companies that pay the best for leasing consultants:
S2 Capital
Quarterra
RMK
Tripalink
W3
Birge & Held
Bozzuto
Priderock Capital Partners
S.L. Nusbaum Realty Co,
Lone Star Fund
How to write a leasing consultant resume
Before you jump into writing your leasing consultant resume, you need an overview of what it should contain and how to organize your information.
Your CV should contain the following elements:
The resume header
The resume summary (aka profile or personal statement)
The employment history section
The resume skills section
The education section
Expert tip
Get personal
As you know, no two clients and no two properties are alike. Apply this same knowledge to writing your leasing consultant resume. No two jobs are alike and you need to reflect that in your job application by personalizing it.
Address each employer's needs by tweaking your skills and summary to appeal directly to them. You may also change the order of your examples in your employment history section or swap out less relevant tasks for ones that relate better to the specific job.
Recruiters read tons of resumes and can spot a generic version, which is likely to go straight into the trash, even if it makes it through the Applicant Tracking System (ATS). That's the other reason to personalize. Keywords and phrases matched to the job listing will help you rank higher in the ATS algorithm and be passed along to the HR staff.
Choosing the best resume format for a leasing consultant 
The format of your leasing consultant resume is not the place to get creative. Unless you have special circumstances, we recommend reverse chronological order, which mostly affects your employment history section. Begin with your most recent position and work your way back about 10 years.
The reason for this is that you have limited time to impress and if recruiters can't readily find the information they seek, they will move on. Especially in such a tight market, you want to ensure that your excellent record of customer service and closing the deal stands out quickly.
If you're new to the job market or a career-changer, you may consider a hybrid-style resume that allows you more space to list transferable skills.
Resume summary example 
The summary of your leasing consultant resume gives you the freedom to express the personality that helps you connect with your clients. Within these 100 words, your mandate is to explain why you want this job and how you will enhance the company if you're hired.
If you've been itching to get creative, here's your spot. While you need extensive knowledge of the real estate market, your communication skills will be the difference. At heart, you're a salesperson with the empathy to understand what makes clients comfortable in their surroundings, so describe just how you do that.
Include a great deal you closed or how you handled a difficult situation to provide your prospective employer with an idea of how you solve problems and bring value to your workplace.
Adaptable summary resume sample
Dynamic, engaging, and driven Leasing Consultant with broad record of success in prospecting reliable tenants for property owners. Exceptional customer service and sales capabilities, with ability to present assets of properties while minimizing downsides. Highly analytical and detail-focused in maintaining property records.
We offer many great resume examples that include summary sections to get your creativity flowing. Check out these related resume samples:
Employment history sample
This section of your leasing consultant resume details your professional achievements. When reading your employment history, recruiters want to know not just what you have done, but what successes you have had and how you have grown and taken on greater responsibility as a leasing consultant.
No need to repeat that you showed apartments in every job description. Instead, beef up your bullet points with facts and details that tell the story of how you find the perfect spaces for your clients and how much repeat business you attract.
If you're working for a property owner, extoll your occupancy rate and how long your tenants stay with you.
Adaptable employment history resume example
Apartment Leasing Consultant, Highmark Residential, Lexington, KY 
July 2017 - Present
Prospect new residents for residential rental properties.
Meet with prospects to gather information on finances and housing needs, and to conduct property tours.
Process lease applications, assist new tenants with paperwork, conduct background / credit checks and negotiate lease terms.
Leasing Consultant, Anderson Communities, Georgetown, KY 
June 2013 - July 2017
Conducted thorough assessments of rental applicants, including background and credit checks.
Scheduled and conducted property viewings, presenting property features and assets to prospective renters.
Facilitated lease negotiations on behalf of property owner.
Maintained and updated property information records.
Leasing Agent, BRG Realty Group, Richmond, KY 
May 2009 - June 2013 
Handled all facets of property leasing and marketing, ensuring adherence to target occupancy rates at all times.
Supported Community Manager with various clerical, administrative and recordkeeping functions.
Greeted prospective residents, responded to phone and email inquiries and managed front office.
Cashier, Walmart, Berea, KY 
June 2008 - May 2009 
Greeted customers and processed payments.
Delivered consistently excellent customer service.
Assisted with locating and returning stock.
Do
Use specific details to show results:
Leased 125,000 square-foot office space after a one-day search for major corporate client
Completed contracts for corporate relocation of 300 employees all within 10 miles off new office
Despite flagging commercial real estate market, maintained occupancy of 90 percent in downtown building
Don't
Rely on generic statements:
Helped large corporation find office space
Found apartments for 300 employees who were relocated
Lowered rent to keep building occupied
CV skills example
What does it take to be successful in real estate? The skills section of your leasing consultant resume should highlight what you believe to be the answer to this question. Of course, you have more than the 5-7 skills you have room for, so how do you choose?
The first step is to review the job listing so you know which are most important to your prospective employer. Then, match your skills to that list making sure you include a mix of hard and soft skills. Choose your most impressive attributes, but also try to add something you were unable to mention elsewhere in your application documents.
We've mentioned communication, but you can break this down further to make it clear that you are always listening to the needs of your clients. Here are some ideas for hard skills, or learned attributes:
Knowledge of the real estate market
Expertise in real estate law and the Fair Housing Act
Negotiation
Sales ability
Customer service
Here are some soft skills to consider:
Organization
Problem-solving
Adaptability
And, of course, communication.
Adaptable skills section resume example
Effective Time Management
Customer Service
Sales
Leasing
Contract Negotiation
MS Office
Data Analysis
Financial Analysis
Marketing
Property Tours
Leasing consultant resume education example
There are no formal academic requirements for your career, but you still need an education section in your leasing consultant resume. Most employers require a high school diploma or a GED and many prefer a bachelor's degree in real estate, business, or a related field.
In addition to your degrees, add any real estate, sales, or other training you have had that makes you a more desirable candidate. If you have won sales or other awards, you may include them here or add an Awards section to your resume, if space allows.
Adaptable education resume example
Bachelor of Science in Finance, Berea College, Berea, KY 
September 2004 - May 2008
Resume layout and design
As a real estate professional, you're aware that staging can make all the difference in whether a client is impressed or turns around and walks back out the door. The same holds true in your job hunt. Your leasing consultant resume makes your first impression.
Put as much thought into your layout and design as you put into your text. Your priority is legibility, so with that in mind, choose fonts accordingly. Other keys to legibility are font size (at least 10 point, but 11 or 12 is better), adequate margins (¾-1 inch all around), and section headings that stand in contrast to your text. A couple of other tips for legibility: vary your line lengths to avoid big blocks of type and always set the type to ragged right instead of justifying.
If you want to use a dash of color, that's fine, but don't overdo it and stick to more muted tones. Bright colors look a little childish and can strain eyes that have been scanning resumes all day. 
For assistance in your document layout and to avoid the tedious task of formatting, start with one of our customizable and expertly-designed resume templates.
Key takeaways for a leasing consultant resume
It's tough out there in the commercial real estate world, but the residential market is still booming.
By far the most important soft skill you have – and need to demonstrate on your resume – is your excellent communication.
Data and details will help you distinguish yourself and tell a broader picture of your career.
The design of your resume equates to the staging of a property: make sure that first impression counts.