It's hardly far-fetched to envision machine learning breakthroughs that fully automate the job application process. But for now, your machine learning resume isn't going to write itself. And ironically, to end up in human hiring hands, it must bypass a machine learning application that's "trained" to reject a surprising majority of online resumes. 
For anyone needing help communicating in the universal language of human recruiters, Resume.io has you covered. Our job search resources include more than 350 occupation-specific resume examples and writing guides.
This step-by-step advice refers to adaptable wording from a machine learning resume example. We'll discuss:
What machine learning engineers do and the job outlook
How to write a machine learning resume containing every essential part in the best format
Ensuring each resume section resonates with the employer: header, summary, employment history, education and skills
Getting the visual details right for a reader-friendly resume
What do machine learning engineers do?
We've all heard about self-driving cars, even if unable to fathom their existence outside of science fiction. Yet, the infiltration of artificial intelligence (AI) into our everyday lives has long been taken for granted. From Netflix picks and Amazon shopping suggestions to Siri playing songs on command, machine learning engineers can take credit for humanizing countless interactions we have daily with an automated "someone." 
Machine learning is a computer science branch focused on data-driven simulations of what humans do naturally: learn from experience. Like its close AI cousin, machine learning enables computer systems to "train themselves" for making informed decisions and predictions, with gradually increasing accuracy. Without being programmed to do so, they automatically parse massive amounts of data and identify patterns that put that data to good use.
Machine learning engineers develop and implement the self-running algorithms and systems that facilitate this digital "thinking for yourself" process. Typically, they work closely with data engineers and data scientists, perhaps in roles that overlap depending on the employer.
Statistical insight
Machine learning engineers are relatively high earners, with some annual incomes exceeding $200,000. The U.S. Bureau of Labor Statistics (BLS) places them in two crossover categories, corresponding to these 2021 median annual salaries: data scientists —  $100,910 and computer and information research scientists —$131,490.
A 2022 LinkedIn report puts the annual salary range for machine learning engineers at $72,600 to $170,000. Glassdoor indicates an average annual salary of $132,136, within a range of $104,000 to $170,000. Payscale posts a salary range of $79,000 to $155,000, with $114,271 being the average..
Rather stealthily, machine learning enables our consumer habits and preferences to be tracked, analyzed and catered to 24-7. While there's nothing new about businesses collecting immense volumes of data along these lines, machine learning has unlocked ways of using that information to strategic advantage. Beyond the most obvious retail and entertainment applications, machine learning has transformed facets of medical diagnoses, financial market analyses, and insurance claim oversight, to name a few.
Statistical insight
Machine learning has remained a rockstar on influential job growth charts in recent years.
BLS employment growth projections for 2021 to 2031 drastically surpass the 5% overall occupational average in both of these related instances:
Machine learning ranked fourth on LinkedIn's 2022 Jobs on the Rise list of the 25 fastest-growing positions.
A 2018 LinkedIn report on India's top 10 emerging jobs reveals a 43-fold increase in machine learning engineer jobs during the previous five years.
The World Economic Forum's Future of Jobs Report 2020 predicts that AI technology will create more new jobs than it automates by 2025.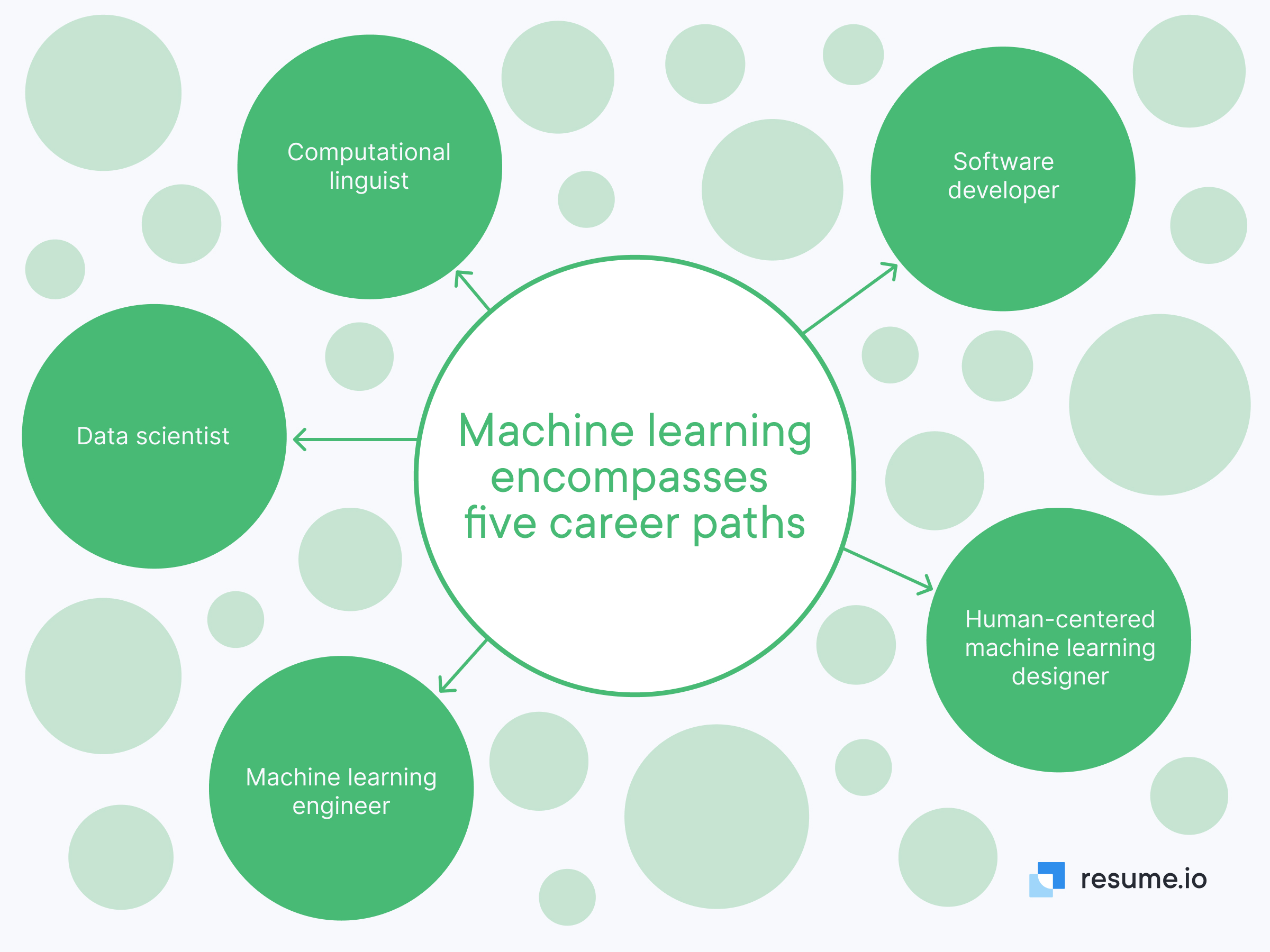 How to write a machine learning resume
Consistent with the experience-based principles of machine learning itself, the universally endorsed resume structure ensures busy recruiters can readily find what they're looking for.  What all resumes have in common are these components, ideally fitting on a single page:
Header
Summary
Employment history
Education
Skills section
In other respects, your machine learning resume will be unlike anyone else's and also unique to each job application. A fresh case must be made, one opportunity at a time, for being an outstanding match to what this employer needs and wants. Scrutinize the advertised job requirements for insights, reinforced by additional research about the employer and where machine learning fits strategically.
There's another crucial reason for paying close attention to the posted job ad. Detecting keywords there and replicating them in your resume will greatly improve the odds of it ever being seen by human eyes. In effect, you're outsmarting the "machine" that's learned to block keyword-deficient job applications from proceeding past the online entry point. With you not needing a crash course on how algorithms work  — in this case with an application tracking system (ATS) — we'll just point out how well these increasingly common e-gatekeepers work as a recruitment tool, relegating about 75% of resumes to the digital dustbin.
Expert tip
Find inspiration for your machine learning resume by looking at some of the other writing guides resume examples in our IT category. We recommend these in particular:
Choosing the best resume format for a machine learning engineer
Most job seekers are well-advised to adopt the chronological resume format. This likely holds true for machine learning engineers too, if your professional experience has grown in a series of employee positions. With your success story unfolding in reverse order, from latest to earliest jobs, the most impressive and relevant accomplishments will appear first when recruiters review your employment history. 
If your background includes any employment gaps or career path departures, or you've worked largely on a freelance consulting basis, there are two other options worth considering: the  functional (skills-based) resume format and the hybrid (combination) resume format.
Resume header
Distinguishing yourself visually from other job contenders starts with an eye-catching resume header. The purpose is to display your name, occupation and contact information in a way that gets noticed right away and is easy to revisit later when hiring managers want to get in touch. It also makes everything else on the resume page look well-proportioned and inviting to read.
Showing this much regard for communication details is an indicator of being conscientious. To reinforce the impact, create a matching cover letter document with the same header design. 
Machine learning resume summary example
The summary of your machine learning resume should intrigue readers with some up-front evidence of your excellence as a well-matched job candidate. If they like what they see here, it's unlikely they'll dismiss your resume as "meh," after reading further. 
Think of the summary — sometimes called the profile or personal statement — as your resume "trailer." Lead off with a dynamic adjective preceding "machine learning engineer with x years of experience in <the most relevant job requirement." Highlight your key qualifications and cite one or two of your most impressive accomplishments in a previous role. Help the prospective employer envision your beneficial contributions on its team. 
Precisely descriptive language is how you keep the summary concise. Strong action verbs are your friend, and ATS-beating keywords are a bonus.
Here is a resume summary example that machine learning engineers can adapt to their situation.
Adaptable summary resume sample
Experienced machine learning engineer with expertise in algorithm design, statistical analysis, and deep learning. Adept at collaborating with teams on large and complex projects to deliver innovative, data-intensive solutions that improve software and platform performance. Proficient in TensorFlow, C++, Python, and PyTorch.
Employment history sample
The work experience section of your machine learning resume could have a make-or-break impact. To gain an edge over other job contenders, you need to connect with recruiters on a relevant and relatable level. 

"Here's what I can do for you," is the message to send when crafting bullet points that describe accomplishments, not responsibilities. Bridge from your past success stories to an unwritten chapter involving your future employer. For context and credibility, use concrete facts and figures to quantify your achievements. Exactly how big was the "big data" involved? Did your algorithms help boost market share or profits? What about the impact on cost savings and efficiency improvements?

Below is a machine learning employment history resume sample you can modify.
Adaptable employment history resume example
Machine Learning Engineer Aurora, Pittsburgh, PA
January 2018 - Present
Design scalable machine learning algorithms to enable self-driving software to identify safe and efficient routes.
Created image processing algorithms and toolkits to enable systems to quickly analyze data from multiple sources.
Played a key role in development of next-generation software, transforming concepts into early-stage prototypes.
Lauded for proactively identifying risks and partnering with colleagues to devise effective solutions.
Machine Learning Developer PNC Financial Services Group, Pittsburgh, PA
July 2016 - January 2018
Built statistical models using Bayesian inference and other ML methods to analyze trading data and predict market trends.
Leveraged knowledge of TensorFlow, Scikit-learn, and Keras to develop neural network models based on deep learning and data mining technologies.
Delivered presentations to senior executives and stakeholders on strategies to improve profitability and reduce risks using ML, AI, and natural language processing.
Machine learning resume education example
More so than for other occupations, the education section of your machine learning resume might remain important to employers no matter how much work experience you've accumulated. A bachelor's degree in computer science or a related discipline is almost always a minimum hiring prerequisite, and sometimes postgraduate degrees are required. 
Whatever degrees you have should be listed here in reverse chronological order, from highest to lowest level. Also mention any on-the-job training or relevant skills development courses you've completed, as well as certifications and professional society memberships.

Below is the education section from a machine learning resume you can modify.
Adaptable education resume example
Bachelor of Science in Mathematics and Computer Science, Carnegie Mellon University, Pittsburgh, PA
September 2012 - June 2016
Dual Major; Minor in Women's Studies
CV skills example
Undoubtedly, your master list of skills — a brainstormed document that you update constantly and keep handy for job quests — could fill a page or more on its own. Thoughtful cherry-picking for each custom-tailored CV is required to fit the space available. 
Top priority must go to all the skills stipulated in the machine learning job ad. Revisit that listing and replicate the exact wording on your resume skills list — a further ATS-proofing measure. 
Otherwise, pinpoint abilities that could set you apart from other candidates. Omit mainstream skills that recruiters will take for granted. 
Expert tip
Take advantage of opportunities in your resume's work history section and summary to demonstrate specific skills in action and the beneficial impact. Then, to save space, there's no need to include them on your separate skills list.
To offset the hard skills listed on your resume, be sure to include some of the soft skills that are integral to a machine learning role. These might include analytical thinking, problem solving, teamwork, organizational, communication, problem solving, and detail-oriented.
Check out a machine learning CV sample below for the skills section.
Adaptable skills section resume example
Machine Learning Concepts
Algorithm Design
Deep Learning
Artificial Intelligence
Natural Language Processing
Probabilistic Modeling
Neural Networks
Resume layout and design
Conservatively confident is a good look for your machine learning resume — somewhere between bold and blah extremes. Counter the complexity of your job by keeping it clean and simple. 
Graphic touches and even color splashes are fine if sparing and understated. Reader-friendliness should guide all of your document layout, design and formatting choices. One clearly labelled section should flow logically into the next, so your resume content is the undistracted reader's sole focus. Your objective is the same when it comes to font styles, white space, and margin widths.
Expert tip
Using one of Resume.io's ready-made resume templates saves precious time and energy. You can concentrate on creating compelling resume content while we take care of the visual details. There's a great selection of simple and professional designs that are ideal for a machine learning resume. Download your favorite, then it's a snap to populate with your own text using our builder tool.
Key takeaways for a machine learning resume
Even with explosive job growth for machine learning engineers, a head-turning resume has never been more essential in this competitive field.
No matter how impressive your qualifications, a successful resume always hinges on your understanding of the employer's needs and how effectively you articulate being an ideal match.
The advertised job requirements provide direction for custom-tailoring your resume and ATS-proofing with the right keywords.
When postgraduate degrees are a hiring factor, your resume's education section will carry weight even if your professional experience depicts a seasoned superstar.
High-caliber visual results are assured when you use one of our field-tested and expert-designed resume templates.