Free Resume Templates
And just like our resume examples and resume guides our resume templates are free to download. Within our free plan, you can use the builder tool to create a great resume from scratch using our free resume templates. Once logged in, you can download your resume for free as a .txt file to design on your own. 
To make things even easier, you can also download our resume templates as a .pdf or Word file. Our builder allows for maximum customization so you can add, delete and rearrange sections all based on your personal needs. And with our payment options you can easily download your resume as a .pdf.
At Resume.io, we understand that the job hunt can be a stressful time. That's why it's our mission to make the process as easy as possible. That means the best templates for resumes, a hassle-free online builder tool and free online guides. 
When it comes to picking the perfect resume template, you might be overwhelmed by your options. Don't be! There are a few simple rules that can help you narrow down the field to only the best templates that are a good fit. Then, the choice is yours. There's no rule against showing off your personality and what makes you truly unique.
From a bigger salary to fresh skills, a new job can open a world of possibilities. But in today's increasingly competitive job market, you simply can't get there without the perfect resume template. That's why Resume.io is by your side, with the best resume templates to help you create the best resume that shows off your strongest attributes and gets you hired in a flash.
The Top 10 tips below are meant to guide you through picking the best resume template to land not just any job – but a dream position that will open new doors to a meaningful career. Let's go!
Top 10 tips for picking a resume template
Understand the standards of your industry
Familiarize yourself with the tone of your company
Decide on the self-image you want to present
Reflect on which sections are most important for your career
Think about where you'll need to add the most writing
Evaluate the presentation and attractiveness of the template
Pay attention to whether icons and color are appropriate for your industry
Check if you'll have space for a photo or logo if it's needed
Assess the most eye-catching section and make sure it matches your needs
Choose the resume that captures your personal style and feels right for you!
If there was one resume template that worked for everyone – well, our website would be much, much smaller. But the truth is, a variety of templates are important to help capture the uniqueness of each candidate. And as beautiful as each resume template might be, a hiring manager doesn't want to see the same one 100 times in a row. At the end of the day, the choice comes down to you. It's important to evaluate the level of professionalism in your industry and at the company you're applying to and decide if a modern, stylish resume or a more traditional one would be in line with those standards. 
Beyond that, it's about highlighting the experiences and abilities that make you unique. In some industries, a pop of color or a friendly photo can do the trick. In others, you'll have to rely on your expert writing to sell yourself as a top candidate 
Let's say you pick a template but find out the skills section just doesn't have enough space for all your talents. The best part about using our resume creator is that you can switch between templates with ease. So go on, pick a resume template and test it out. Changing your mind is never a problem.
What makes the best resume template
Most resumes contain the same basic elements: contact info, a profile summary and sections for experience, education, skills and achievements. While our builder tool makes it easy to add or delete sections based on your industry and needs, it's a good idea to start with a resume template that offers you the best chances at customization. The best layouts make your information attractive and clear, with the right balance of text and white space. Color and icons should be used depending on the best practices for your industry, and whether or not to include a photo often depends on the country where you intend to work.
Our resume templates are expertly designed so that all your information fits on one page (strongly recommended for most industries and experience levels), without looking crammed or cluttered. Our resume builder tool, along with our guides, will help you create the best layout that makes the most of each element.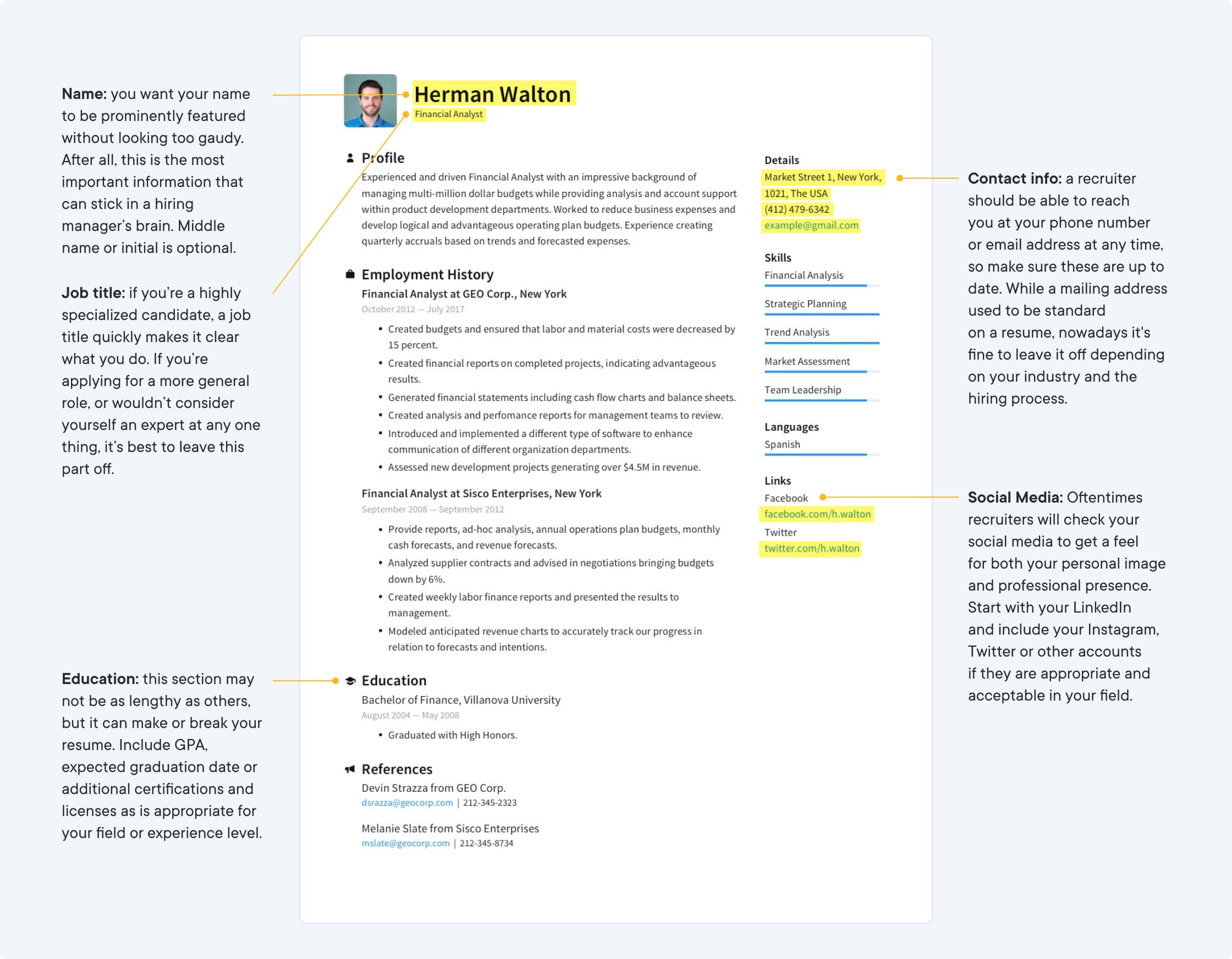 The job hunt is a fierce competition, and you'll want to take on this challenge from all angles. That means applying to multiple positions at once. Tailoring your resume for each and every opening is not only highly suggested, it's the reality of the 22st century hiring process. But that doesn't mean it has to be time consuming. With our subscription service, you can edit, update and change your resume as many times as you'd like and download each new version as a .pdf  to make the application process run even smoother.
CV Templates for every career
As a candidate, you are a unique individual with the skills and experience to get the job done. So why shouldn't your resume be just as interesting as you are? When it comes to convincing an employer to hire you, your resume is the best way to tell your story and make a strong first impression. That's why we've curated a collection of dozens of expertly-designed CV templates to fit a variety of fields and career levels. To make choosing a template even easier, we've divided our collection into five types: professional, modern, creative, simple and basic. These groupings offer a great starting point to explore the CV templates best suited for your field. Then, if nothing catches your eye, try another collection to find the right style and add your personal flair.
Modern resume templates
Modern resume templates are best for showing employers that you are a forward-thinking candidate who isn't afraid to be bold and be themselves. These templates offer blocks of color, strong lines and added emphasis to your name or title. 
A modern resume template work great for jobs in tech, design or startups, but their versatility means you can apply them to a variety of positions or companies. Does your potential employer have a focus on the here and now with a stylish image and young feel? That's a great hint that a modern template will do the trick. Pick this category and start crafting an effective resume right away. 
Professional resume templates
Professional resume templates are a safe bet for almost any position or industry, but they are particularly great for serious roles at traditional companies. Applicants for jobs in the medical field, administration, law or finance would all benefit from our professional templates, which offer crisp, clean formatting and a focus on skills. Within our free plan, you can use Resume.io to create a perfect resume from scratch using our free professional templates.
A Professional resume template can work in just about any position where you need to highlight your experience with just a touch of design and layout flair. Many of our professional templates also contain space for a professional headshot or logo which adds credibility and class to your resume.
Show all professional templates →
Creative resume templates
Creative resume templates are for times when thinking out of the box is not only encouraged – it's required. Candidates in creative fields are most likely to benefit from these templates, but they can also be used by a variety of professionals when the situation calls for a bold move.
These templates offer a variety of colorful accents, interesting backgrounds and space for headshots, logos and professional titles. When trying to show off your artistic prowess, you don't want a resume layout to hold you back. That's why these templates are perfect for getting the job done – creatively. Pick one and get started creating your resume masterpiece.
Simple resume templates
Simple resume templates are multitalented. Just about any job requiring a straightforward basic resume with a touch of class will benefit from the options in this category. With a simple template, employers aren't focused on bells and whistles – they're focused on you! After all, you're the star of this show.
Simple templates can work well for law, education, marketing – just about any position that requires a clean resume where the focus is on your experience and skills. When in doubt, keep it simple! Try a basic and simple resume template right now to land the job of your dreams in no time.