Why use our free resume templates?
Resume.io's resume templates are expertly designed to help you land your next great position. Whether you're in a hurry to submit your application or simply don't know where to start, our resume templates provide a strong foundation to make your experience and qualifications shine. 
Here are some of the advantages of our professional resume templates:
Easy to use: We're all about great design with no hassle. That's why our templates are intuitive and easy to use, saving you precious time when it comes to creating a great resume.
ATS-friendly: Hiring managers aren't the only ones who will be evaluating your resume. That's why we've created our templates with automated resume scanners in mind and made sure our templates are easy to read for both humans and robots alike.
AI-powered sample sentences: Our templates are powered by our intuitive resume builder that makes it easy to craft a job-winning resume with features like an AI-powered summary generator and sample sentences for hundreds of job titles.
Highly customizable: Every applicant and every job is different, so we've created templates that can be easily adapted to your needs. Change the color scheme, add a photo, or adjust the line spacing in just a few clicks.
Adaptable for all jobs and industries: Our collection of professionally designed templates range from simple and minimalistic to modern and professional to ensure there's a layout for every job and industry.
Free & premium options: Our trial and tiered pricing plans mean there's an option for everyone. Try for free or subscribe to Resume.io to download as many versions as you'd like.
Download as Docx or PDF format: Different employers require different formats for your job application, which is why we've created the option to download many of our templates as either PDF or Word Docx files.
Choosing the right resume template
Our resume templates are divided into four categories to help you quickly find the template that's best for you.
Our collection of professional resume templates are classic styles with tried-and-true fonts and formatting. These templates exude a sense of expertise and seriousness about the position for which you're applying. You can't go wrong with a professional template if you work in law, business, education, healthcare, finance, accounting, or real estate.
When you've got to go bold, look no further than our creative resume templates. This collection features larger-than-life font sizes, eye-catching headers, and fun color palettes with patterned backgrounds. These templates are perfect for creative professionals like artists, designers, photographers, actors, and anyone in this field.
When you're in need of a fresh look that's still professional, our modern resume templates are the perfect choice. These innovative designs use minimalist headers and clean dividing lines to add a spark that makes your resume stand out. Check out these templates if you work in IT, engineering, marketing, administration, HR, and sales.
If you're in need of a resume that's attractive and gets the job done, our simple resume templates are here to help. These formats are easy to read and offer just the right amount of color and design accents. If you work in hospitality, retail, transportation, or are a student or intern, our simple resume templates are the right choice for you.
What makes the best resume template?
The best resume templates contain the right sections and formatting choices to make your experience jump off the page. Here's what to look for in your next resume template.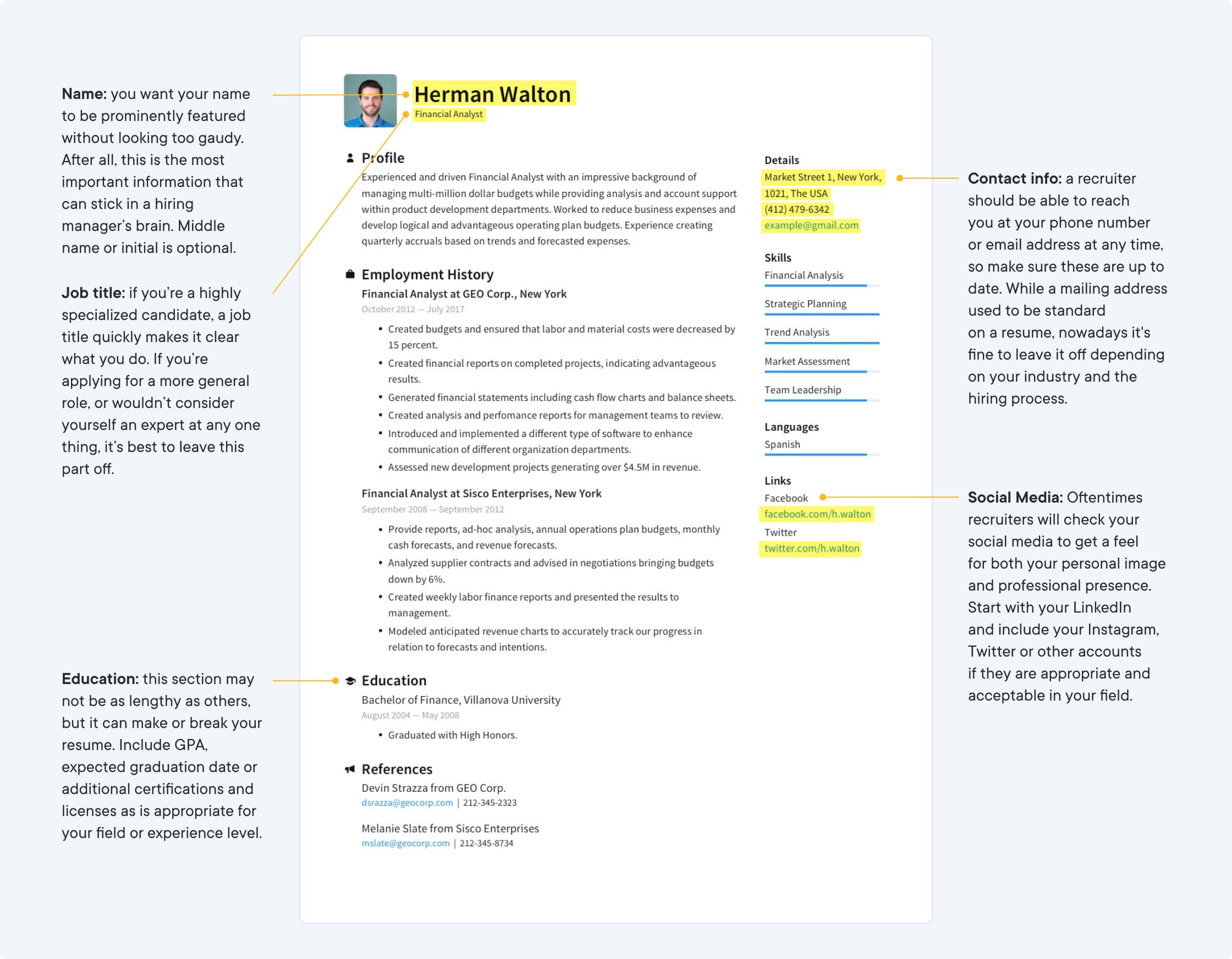 An attractive header: The resume header is arguably the most important part of the template because this is where most of the layout design will come into play. Always choose a template with a header that emphasizes your name and offers enough space for your contact details and links to your LinkedIn or professional portfolio.
Readability: A good resume template should be easy to read. While readability is determined by a combination of factors, including font and color, one of the key things to look for is a balance of white space to text. Your resume should neither feel empty nor overly crammed with information.
The right amount of space for your experience: When choosing a resume template, it's important to consider the amount of experience you have, and so the amount of space you'll need on the page. For mid and senior level applicants, look for templates that offer plenty of space in the employment history section. Students should look for page designs that can easily be filled with only two or three entries.
Professional font styles, sizes, and colors: Your font style should be easy to read and somewhere between 10-12 points in size. Also, make sure to choose a professional color scheme that stands out while still painting you as a serious candidate.
Customizable: A great resume template can be customized to your needs. Resume.io's templates are all housed inside of our intuitive builder tool, making it easy to create and download different versions in a few clicks.
The right file format: Make sure to check the job description carefully and download your resume in the version the employer is looking for. When in doubt, PDF is generally the best option for emailing, printing, and uploading to online application portals.
Resume template FAQs (frequently asked questions)
Is Resume.io builder free?
Resume.io's resume builder offers a free option, a seven-day trial option, and tiered pricing plans. Read more about using Resume.io for free here.
What are employers looking for in a resume in 2023?
Employers are looking for resumes that quickly get to the point and show why a candidate has the exact qualifications to fill a role at their company. Accomplish this by customizing your resume for each job you apply to. Learn more about customizing your resume here.
How many jobs should you list on a resume?
The general rule of thumb is to list as much relevant experience as you've obtained in the past 10 years. If you are a student or recent grand, we recommend including at least three jobs. As you progress in your career, make sure to remove less relevant positions to make room for more impressive roles.
How many pages should my resume be?
We recommend keeping your resume to one page in virtually all situations. However, exceptions may apply for executive level candidates, those with particularly impressive careers, or candidates applying in countries outside of the U.S. and Canada.
Which of the following should not be on your resume?
What to include on your resume header often depends on the country where you intend to work. In the U.S. and Canada, you should not include personal information such as date of birth, age, marital status, or religion. A headshot is also unnecessary except in certain industries where the candidate's appearance is part of the job.
Should you put your address on your resume?
We do not recommend adding a street address to your resume, as an email address and phone number are generally considered sufficient contact information. You may choose to add a state or city if you wish.
How many bullets should you have on a resume?
Each employment history entry should contain 4-5 bullet points. We recommend a minimum of three entries on each resume for a total of at least 12-15 bullet points.
Do employers like resume templates?
Employers want to see resumes that are easy-to-read and quickly convey the information they are looking for. While resume templates are a useful tool for creating a professional application, recruiters will not favor copy-paste resumes that have not been customized for the job description.
How do I write a resume summary?
A great resume summary will contain a combination of positive adjectives describing your character, your most impressive accomplishments, and any qualifications or experience required for the role.
How do I list skills on a resume?
The skills section of your resume is generally formatted as a bullet point list containing both technical and job-specific skills (hard skills) and personality traits or character qualities (soft skills). Make sure to refer to the job description before listing skills on your resume to determine what the employer prioritizes in the role.